Improve identifying high-frequency words by sight with this set of 52 Dolch sight word dominoes.
Using Dolch sight words to teach your students how to identify high-frequency words?
Then you will definitely want to add this activity to your reading center! 
Our Dolch Primer sight word dominoes challenge students to identify and match all 52 words specified for the Kindergarten reading level. 
Playing With Dolch's Primer Sight Words List
Use this resource in your reading center, as a guided reading activity, or a whole class exercise (see below) to practice reading and identifying Dolch Primer sight words.
To play, students will take turns saying the sight word on their domino and aligning either side with its identical match in the playing area.
For example, if a player were to lay down the "am | ran" domino, the next player could lay down a domino with "am" on the right, or "ran" on the left, being sure to say the word as they lay their piece down to practice identifying the sight word. Gameplay continues in this manner until all of the dominoes are gone.
Scaffolding + Extension Tips 
Challenge students who already understand the concept to put the words in alphabetical order. 
Support students who need help understanding the concepts by referring to your Primer list word wall or anchor chart as a reminder. 
Get our 10 Best Scaffolding Strategies here! 
More Ways To Use Dolch's Primer Sight Words List
Use this resource as independent practice for fast finishers, and for full-class learning opportunities like scoot activities, lesson reviews, formative assessments, and more.
🔗 Dolch Sight Word Chain (Scoot Activity)
Provide each student in your class with a domino. Challenge the students to find both of their other halves, creating one long chain of dominoes. For an extra challenge, ask the students to complete the task in silence!
🔔 Bell Ringer Activity
Leave the cards in a pile, and instruct students to grab one as soon as they enter the classroom. On a piece of paper, have students write the word for each side of the domino, and either draw a picture or use it in a sentence (depending on proficiency). 
🃏 Upcycle Into Playing Cards
When students tire of the dominoes element, turn this game into a deck of cards! Break out your scissors and cut the dominoes in half. Students can play games like Match It, Go Fish, or Snap, to name a few. 
Easily Prepare This Resource for Your Students
Print on cardstock for added durability and longevity. Place all pieces in a folder or large envelope for easy access. 
Before You Download
Use the dropdown icon on the Download button to choose between the PDF or Google Slides version of this resource. 
---
This resource was created by Lindsey Phillips, a teacher in Michigan and Teach Starter Collaborator. 
If you're deep in Dolch sight words, then these activities are a perfect match for your lessons: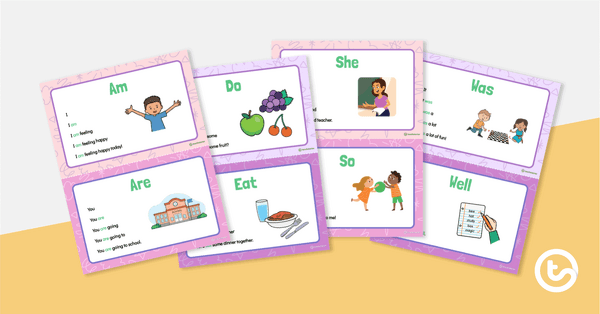 teaching resource
Practice and review the Dolch Primer List of high-frequency words with 52 short phrase cards for emergent readers.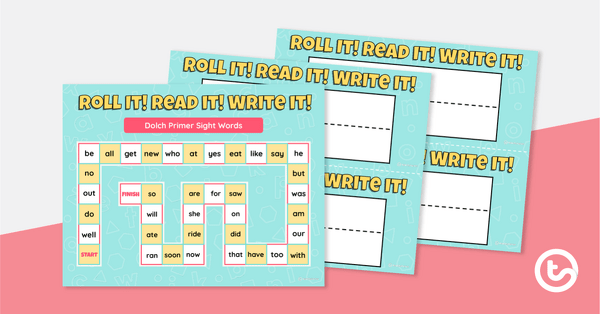 teaching resource
Practice reading and writing high-frequency Dolch Primer sight words with this board game for up to 6 players.