Practice weekly sight words to strengthen letter-sound recognition, spelling, and reading fluency with six weeks of sight word homework worksheets.
Sight Word Homework Activities for Early Readers
Reading and writing skills start with letter-sound recognition. 
But after that…
Reading fluency is the result of a lot of repetition and memorization.    
Each weekly worksheet in this resource introduces a group of six words from the Dolch Pre-primer word list. Each weekly worksheet focuses on a specific group of words and includes a different daily activity.
Monday: students read, trace, and write sight words.
Tuesday: students read and complete a color by sight word activity.
Wednesday: students write the sight words in rainbow colors.
Thursday: students identify the correct spelling of the sight words when given a list of three different spelling options.
Students complete each weekly worksheet and demonstrate they can correctly read and spell grade-appropriate words.
Need to change a word? Customize these worksheets in Google Slides!
Scaffolding + Extension Tips 
In addition to individual student work time, use this set of 36 spelling worksheets for a:
Reading center activity

ELA lesson warm-up

Fast Finisher activity

Homework assignment

Writing center activity
Students who need more of a challenge can practice spelling their words by writing sentences using the words.
Support struggling students by lowering the number of words included each week. 
Need to change a word? This resource is fully editable in Google Slides! 
Prepare This Resource in Advance!
This resource can be prepared six weeks in advance. 
No matter how you use this teaching resource, there are many ways to incorporate efficient practices that save time, resources, and the planet! 
We suggest:
♻️ Print Double-Sided 
If applicable to your lesson structure, save paper by printing worksheets double-sided. 
Before You Download
Use the dropdown icon on the Download button to choose between the PDF or Google Slides version of this resource. 
---
Don't stop there! Your spelling lessons wouldn't be complete without these activities and teaching resources too: 
teaching resource
A 43 page flip book for introducing new vocabulary to grade 4 students.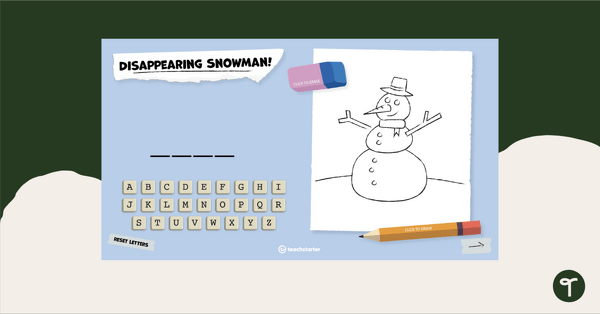 teaching resource
An interactive word guessing game.
teaching resource
A word building activity to practice spelling and vocabulary skills.