Practice blending phonemes in CVC and CCVC words with a set of 10 Tic-Tac-Toe board games.
With this phoneme blending activity, students will take turns blending sounds into words while playing tic-tac-toe. 
Blending Phonemes For Reading Practice
This resource can be used as a reading center activity or with your guided reading group to practice reading CVC and CCVC words by blending phonemes. You might also send the boards home for extra reading practice.
To play, provide each player with counters in a different color. Player 1 chooses a square and blends the phonemes together as they tap each dot. If they blend it correctly, they place their colored counter on the square. If they do not blend it correctly, the square remains empty, and it is Player 2's turn. Play continues until someone gets three of their colored counters in a row either vertically, horizontally, or diagonally.
Phoneme Blending Activities + Scaffolding and Extension Tips
In addition to reading center play, you can also use this game to create full-class learning opportunities like warm-up activities, lesson reviews, comprehension assessments, and more! 
Bell Ringer Activity
Make multiple copies of each game card and place them in the front of the room. Pair up students as they enter the classroom and have them play the cards until the day begins. Pairs can swap cards with other teams as they finish. 
Short CVC and CCVC Word Sentences 
Have students choose words from the game cards to put in sentences. 
Phoneme Manipulation
Have students substitute beginning and ending sounds in each of the words on their game board. If they can make a new word when the phonemes are changed, have them write the new words on a piece of paper. 
Looking for help scaffolding this activity and others? 
​​If students are struggling with reading the words, guide them in orally reciting the sounds and have the students blend the words together. After reciting several words, have the students take over and blend on their own. If students are still struggling, review letter sounds with a visual reminder, like an anchor chart or an alphabet display. You might also consider small group intervention. 
Easily Prepare This Resource for Your Students
Print on cardstock for added durability and longevity. Place all pieces in a folder or large envelope for easy access. 
To turn this teaching resource into a sustainable activity, slip the game boards into dry-erase sleeves. Students can cross off words with a dry-erase marker as they play tic-tac-toe on the game boards, then erase and reuse.
Before You Download
Use the dropdown icon on the Download button to choose between the PDF or Google Slides version of this resource. 
---
This resource was created by Lauren Piper, a teacher in Illinois and a Teach Starter Collaborator. 
Make phoneme practice part of your regular reading routine with these resources for blending, segmenting, substituting, and more: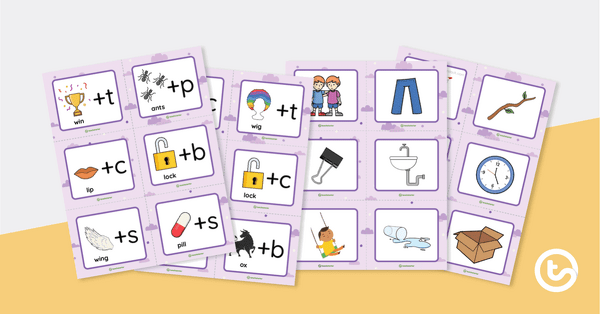 teaching resource
Create new words by adding initial phonemes through 32 match-up cards.