Reinforce understanding of the 4 types of sentences with this set of 20 task cards.
Knowing what goes into a sentence (parts of speech, punctuation, etc.) is an essential writing conventions skill. 
But WHY we write… that's a lesson on its own. 
You write to share your ideas and opinions; to inform your readers and entertain them. But to do that, you must first define your purpose to write clearly enough to ensure your message is understood by your reader. 
This is why we can't ignore sentence structure when building our students' literacy skills. 
This Scoot game is an additional way to learn the four types of sentences. Students will identify sentence types displayed on task cards as they actively move around the classroom, writing the answers for each card on their recording sheets.
Types of Sentences Practice and Play! 
This resource can be used as a full class activity (see below), or with your guided writing group, to practice identifying the 4 types of sentences. You can also use the task cards as a writing center activity. 
To play, hang the cards around the room. Then provide students with a recording sheet and assign each student to a starting card. Provide an allotted amount of time for students to read the sentence on the card and decide which kind of sentence it is. Students will write the answers on their recording sheet in the matching numbered box. Use a signal like clapping your hands, flicking the lights, or calling out, "Scoot!" to motion students to rotate. Students will move in numerical order. Play continues until the students return back to the card they started with. As an alternative, have your students put the correct punctuation mark instead of naming the type of sentence. 
More Sentence Types Exercises + Scaffolding and Extension Tips
These task cards can be used for individual instruction as a writing center activity for fast finishers. Get more ideas below for how to use these cards to create full-class learning opportunities like lesson reviews, content extension, comprehension assessments, and more. 
Sentence Practice
Once they have finished all 20 task cards, students can write their own imperative, interrogative, declarative, and exclamatory sentences on the back of their answer sheet.
Test Prep or Class Review
You can easily turn this game into a review session at the end of your lesson, or right before a test to give students some extra practice. Simply project and read the cards in order 1-20 out loud to your class, and ask them to on their recording sheet.
Knock Off
Have your students stand up and make a line across the room. Project a task card on the screen and use our Random Name Picker widget to draw a student's name to answer. If the student correctly identifies the sentence type, they tap the person on their left or right to send them back to their seat. If the student answers the card incorrectly, they must sit out. Play continues until there is only 1 student standing.
Looking for help scaffolding this activity and others? 
Pull struggling students into an intervention group, and work through each card by reading the sentences aloud to help them hear and decode clues. Students can verbalize their answers first to show understanding before writing it on their recording sheet.
Easily Prepare This Resource for Your Students
Print on cardstock for added durability and longevity. Place all pieces in a folder or large envelope for easy access.
Keep the task cards out of pockets or under desks: cut out the cards and punch a hole in the corner of each to place them on a binder ring. 
Before You Download
Use the drop-down icon on the Download button to choose between the PDF or Google Slides version of this resource. A recording sheet and answer key are also included with this download.
---
This resource was created by Rachel Angell, a teacher in North Carolina and a Teach Starter Collaborator. 
If you've come looking for sentence composition resources then you've found them! We think you're really gonna like these in particular: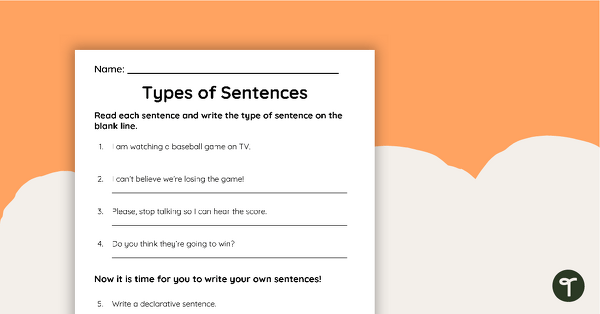 teaching resource
A worksheet to review the four types of sentences.
teaching resource
A set of match-up cards to use when teaching younger students about the types of sentences.
teaching resource
Practice identifying the 4 kinds of sentences by sorting all 30 cards by their sentence type and missing punctuation marks.