Practice distinguishing between long and short vowel sounds for letters /a/ and /e/ by sorting this set of 24 picture cards into categories.
Part of your students' reading proficiency depends on the ability to distinguish between long and short vowel sounds.  
This is why pictures are especially helpful in building phonological awareness. Until students can sound out the words, a visual cue provides a necessary crutch allowing them to focus on the sounds each letter makes. 
Make foundational language fun with our vowel sounds game that focuses on words with short and long sounds for letters /a/ or /e/. 
How to Play Our Long and Short Vowel Sort for Letters /a/ and /e/
This resource can be used as a reading center game for independent practice distinguishing between long and short vowel sounds. It can also be used with your guided reading group.
To play, students sort the picture cards with their matching vowel sound mat.
As a 2-player game, shuffle the picture cards and split them equally between players. Students then take turns placing one of their cards on the word mat that shares the same vowel sound, e.g., long /a/ = lake.
Get More Out of Long and Short Vowel Sort with Bonus Activities
There's more than one way to use these sorting cards in your classroom! Check out a few ideas to take this Long and Short Vowel Sort even further. 
Memory Match
Bonus points for this version of the game as it helps students with their memorization skills! As a game for 2 players, students will shuffle the picture cards and lay them all face down. Each player takes their turn flipping 2 cards at a time until either find 2 words with the same vowel sound (e.g., short /a/ cards = cat, sad) and sets the pair aside to keep score. 
Scoot Activity
Place each of the 24 picture cards around the room. Ask students to stand up with a blank sheet of paper numbered 1-24 to use as a recording sheet. Assign one card to each student (or pair) to start, having them rotate through each of the cards to write on their recording sheet whether the word in the picture contains a:
Long a

Short a

Long e

Short e
(NOTE: We suggest printing a second set of cards for this activity that you can number.)
Warm-Up/Exit Game
This activity can be done to recap the previous day's vowels lesson, or just after it as a formative assessment. Pull 4 cards, one for each long and short /a/ and /e/ vowel sounds, and project them on the board for the whole class to see. On a sticky note or sheet of paper, direct students to write the 2 words that have the /a/ sounds and/or the 2 words that have the /e/ sounds. 
To scaffold this activity for kindergarten students, show only the short vowel CVC words or known sight words. 
Change the Difficulty Level if Needed
Fast finishers can take this activity further after sorting the picture cards by putting them in alphabetical order. You can also ask them to think of more words they know with each long and short /a/ and /e/ vowel sound and draw pictures for those words. 
Struggling students would benefit from teacher support by working together to sound out each picture card word to help identify the vowel sound.
Easily Prepare This Resource for Your Students
Print on cardstock for added durability and longevity. Place all game parts in a folder or large envelope. 
Before You Download
Use the drop-down icon on the Download button to choose between the PDF or Google Slides version of this resource. An answer key is also included with this download.
---
This resource was created by Lindsey Phillips, a teacher in Michigan and a Teach Starter Collaborator. 
Don't stop there! Our English Language Arts section is full of learner-approved activities and tools just like these: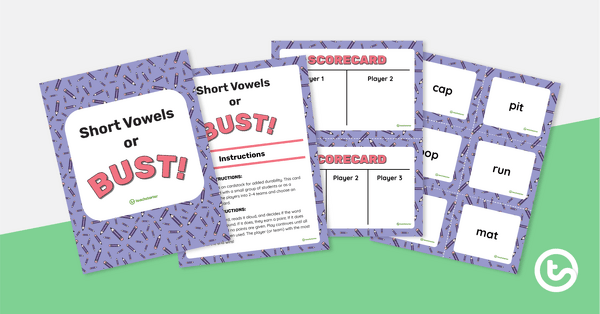 teaching resource
This phonological awareness activity awards points for correctly identifying the words with short vowel sounds.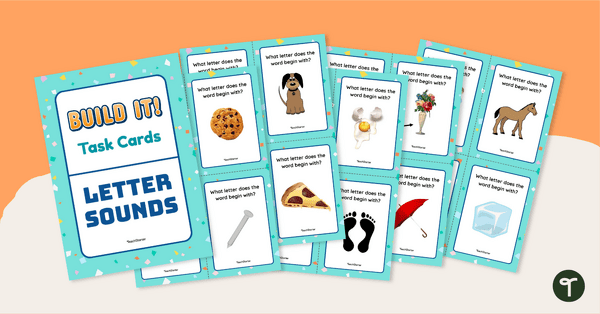 teaching resource
Practice identifying and writing the beginning sounds of words with this set of 28 task cards.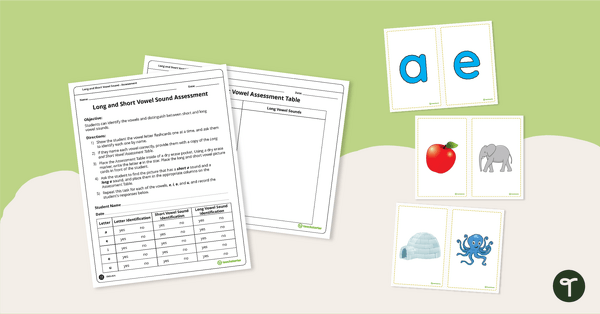 teaching resource
Test your students' long and short vowel sound knowledge with this phonics assessment kit.