Say thank you to a veteran with greeting card and letter to a soldier template.
Thank a Hero With Veterans Day Cards and Letters
Veterans Day is a special occasion when we come together to honor and express our appreciation for the brave men and women who have served in the armed forces, sacrificing their own comfort and safety to protect our country. While parades, ceremonies, and events are commonplace, one of the most heartfelt and personal ways to show appreciation is through the simple gesture of making and sending Veterans Day cards and letters. Handwritten notes are an easy way to help your students say "thank you" to our veterans.
This year, let Teach Starter help you get them thinking and writing to show that appreciation with printable Veterans Day Writing templates. This letter-writing template is ideal to use to show appreciation for veterans on Veterans Day, firefighters during Fire Prevention Week, and any other time you want to recognize a hero in your community.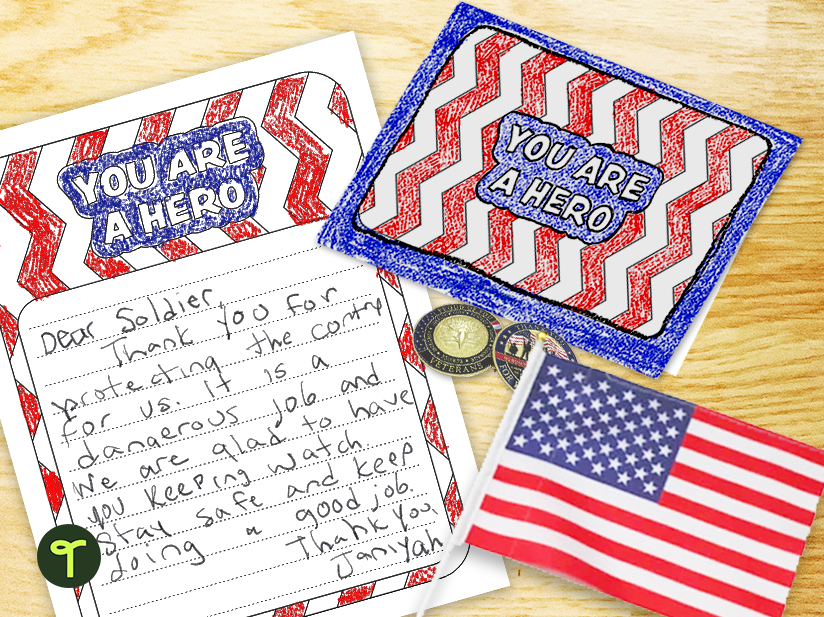 Download and Print Your Holiday Writing Templates With Ease
This resource download includes two variations of this writing activity so that your students can have a choice in what type of special Veterans Day gift they'd like to make. The variations include
Veterans Day Letter Writing Template
Veterans Day Foldable Greeting Card
Use the drop-down menu to choose between the PDF or Google Slide version.
---
Need More Veteran Card Ideas?
Check out these fun ideas for Veterans Day cards that you can print!
[resource:4863152]   [resource:4833802]   [resource:4376295]