Bucket List of Autumn Activities
Why not sit down with your class and plan some fun autumn activities together? We know that, particularly in the lower years, it's great to include the students when planning learning opportunities. A successful brainstorming session can draw out students' prior knowledge, uncover their interests and help them form questions.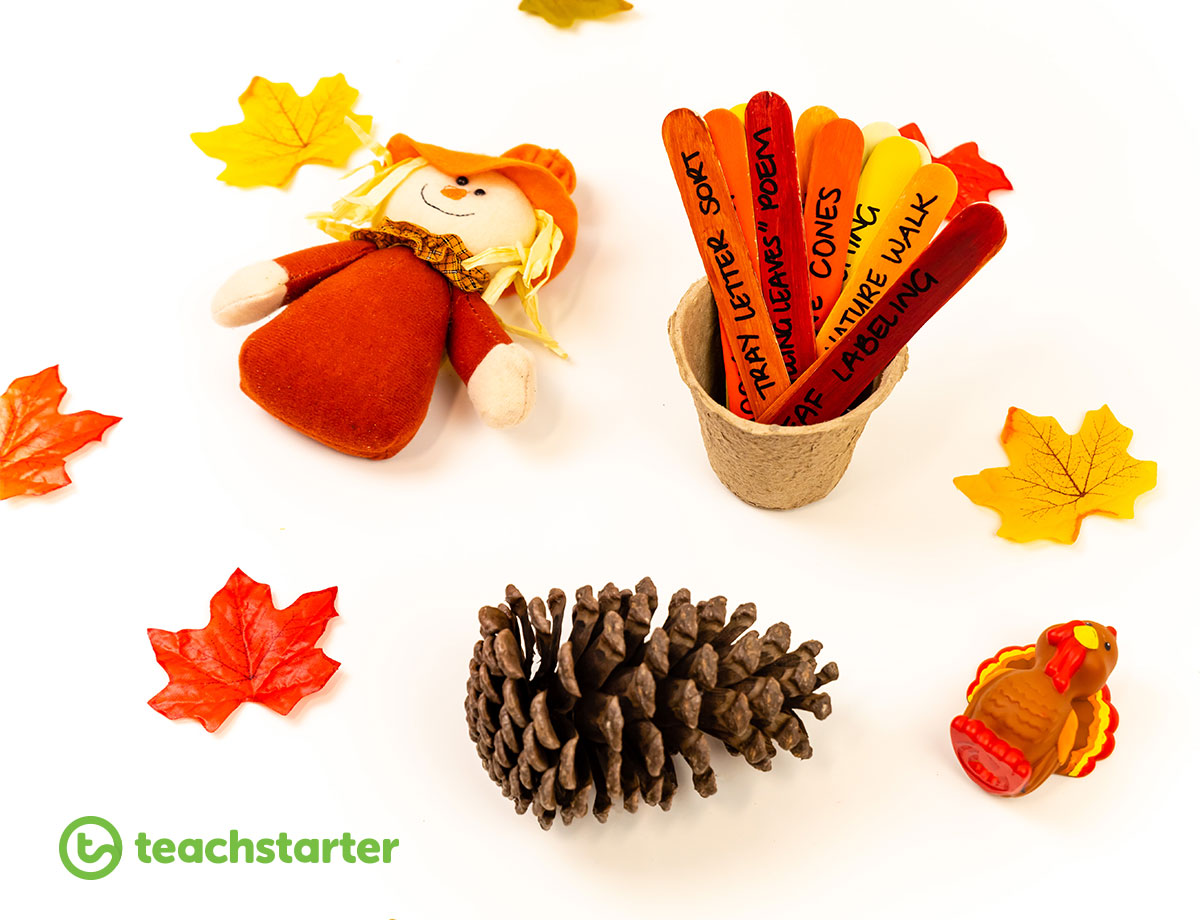 This autumn activities bucket list is a fun way to display activities you've planned to complete with your class. Simply write the activities onto colored pop sticks and display in a bucket or tin.
A gold star for the super organised teachers: Once your autumn activities are decided upon, you could package up the materials needed for each one as kits, set them aside, then have a student draw out a stick to decide the activity of the day!
Sensory Autumn Activities
Crunchy leaves, delicious baking aromas, cool breezes and autumnal hues as far as the eye can see; autumn is a sensory delight! If you've got students who love to explore in a hands-on way, a tray table full of fallen leaves can be used several ways:
with letter magnets as a scoop and sort (letter sound practice)
with marbles or shiny stones and tongs (fine-motor capability)
using a mix of leaves and other materials (felt scraps, paper, tissues, crepe paper) and asking students to close their eyes and only remove one type of material(sensory processing).
The possibilities are endless with a tray table!
Playdough is another kindergarten favorite at any time of the year, and you'll love these autumn-inspired recipes!  Beware: these variations are so delicious that some young ones might find them hard to resist! We've all had one or two students who require some extra close supervision around the playdough station!
Kids love playdough and so do we! If you're looking for some new ways to use playdough in your classroom this autumn, read our blog 10 Ways to Use Playdough in the Classroom.
Apple Pinch Pots
A fresh take on an old favourite, this autumn activity requires the maker to squash a perfectly round pinch pot at the top and the bottom, forming the shape of half an apple. Once dry, the clay is painted with acrylic paint and sealed with a lacquer (or even PVA glue) for a shiny gloss. They make cute little keepsakes, teacher or parent gifts and places for children to store special tiny things.
Friendly Autumn Scarecrow Activity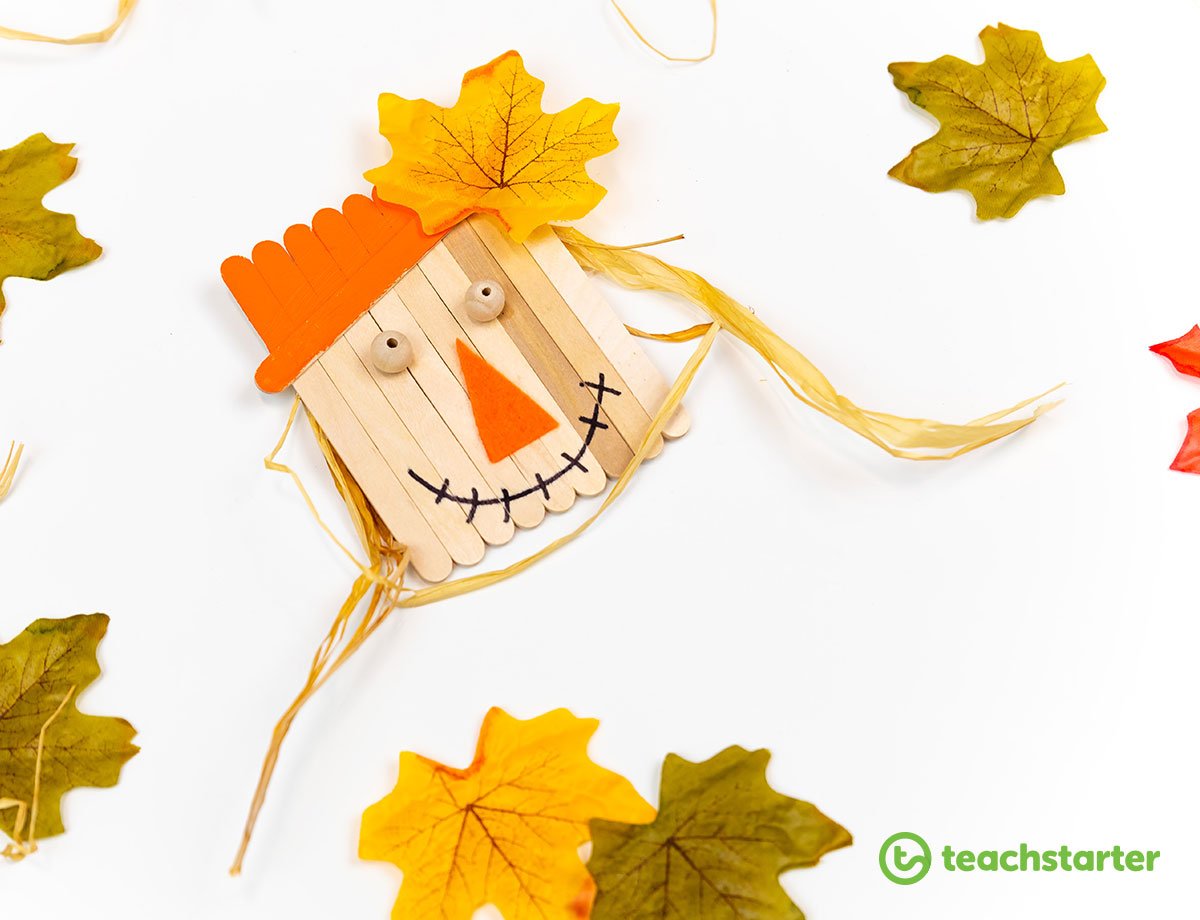 All you'll need to make this guy is 12 pop sticks, some orange paint, craft glue, some felt for a nose and some decorations for eyes (we used wooden beads but googly eyes would work, too!). Nine of the sticks are simply lined up, and reinforced with two horizontally glued sticks on the back of the scarecrow. The top portion of the sticks are painted orange, forming the hat, and another pop stick is painted and glued along the front of the hat, making the brim! Add some straw hair and glue on some eyes and your scarecrow is done!
Adventure Walk
Our Field Notes Holiday Activity Pack is the perfect resource to take along on an adventure walk this fall. Take advantage of the beautiful cooler weather and the color of the season with your class. It could be something as simple as a stroll around the school, or a planned field trip to a local wooded area or farm. If you're wondering what else to do on your walk, take a look at our free Scavenger Hunt Checklist!
Collect some specimens that may be used for observing, sketching, prompting writing and making crafts! Pine cones, leaves, sticks and photographs may come in handy!
Poetry – The Falling Leaves Autumn Activities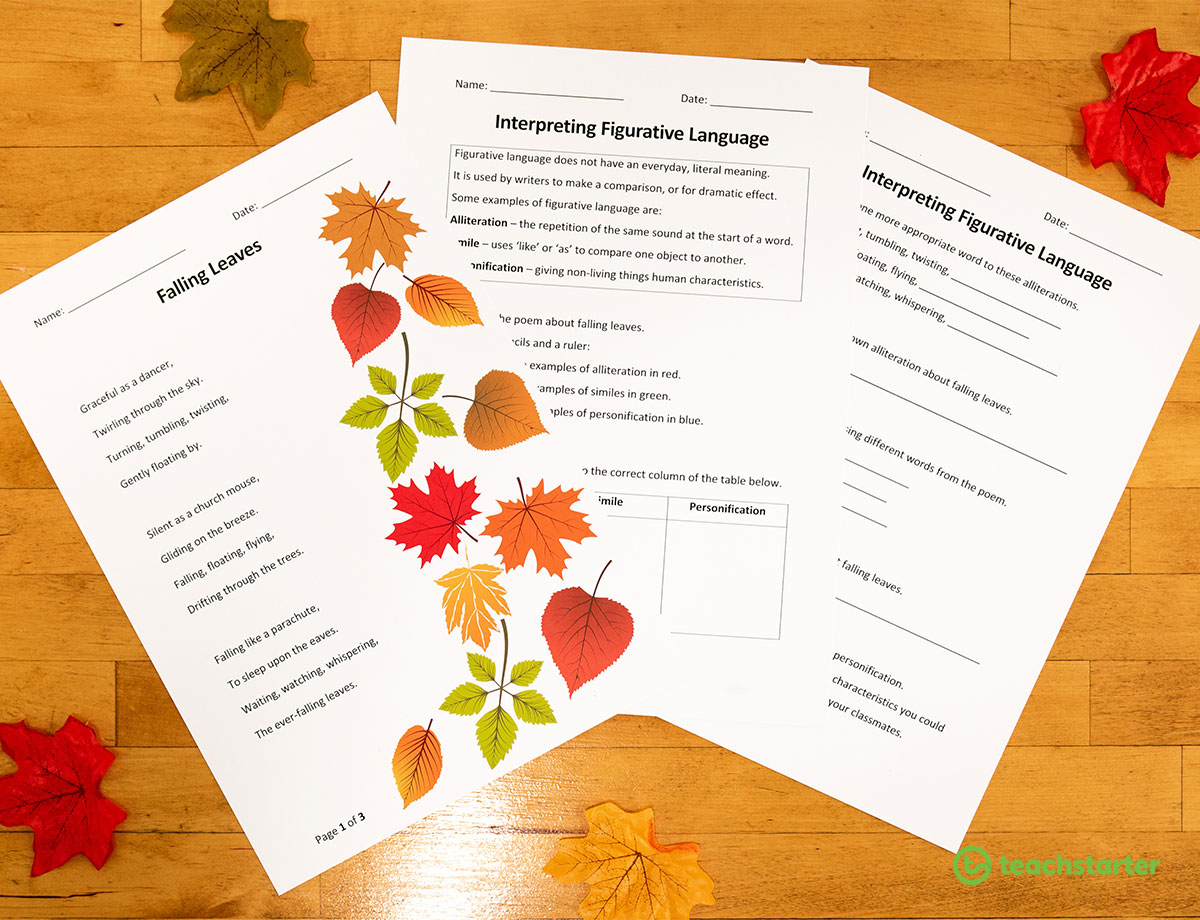 Whether you're teaching a poetry unit in class at the moment, or just after a lovely autumn literacy activity, The Falling Leaves is a great poem to explore. We have a great comprehension activity on interpreting figurative language ready to go!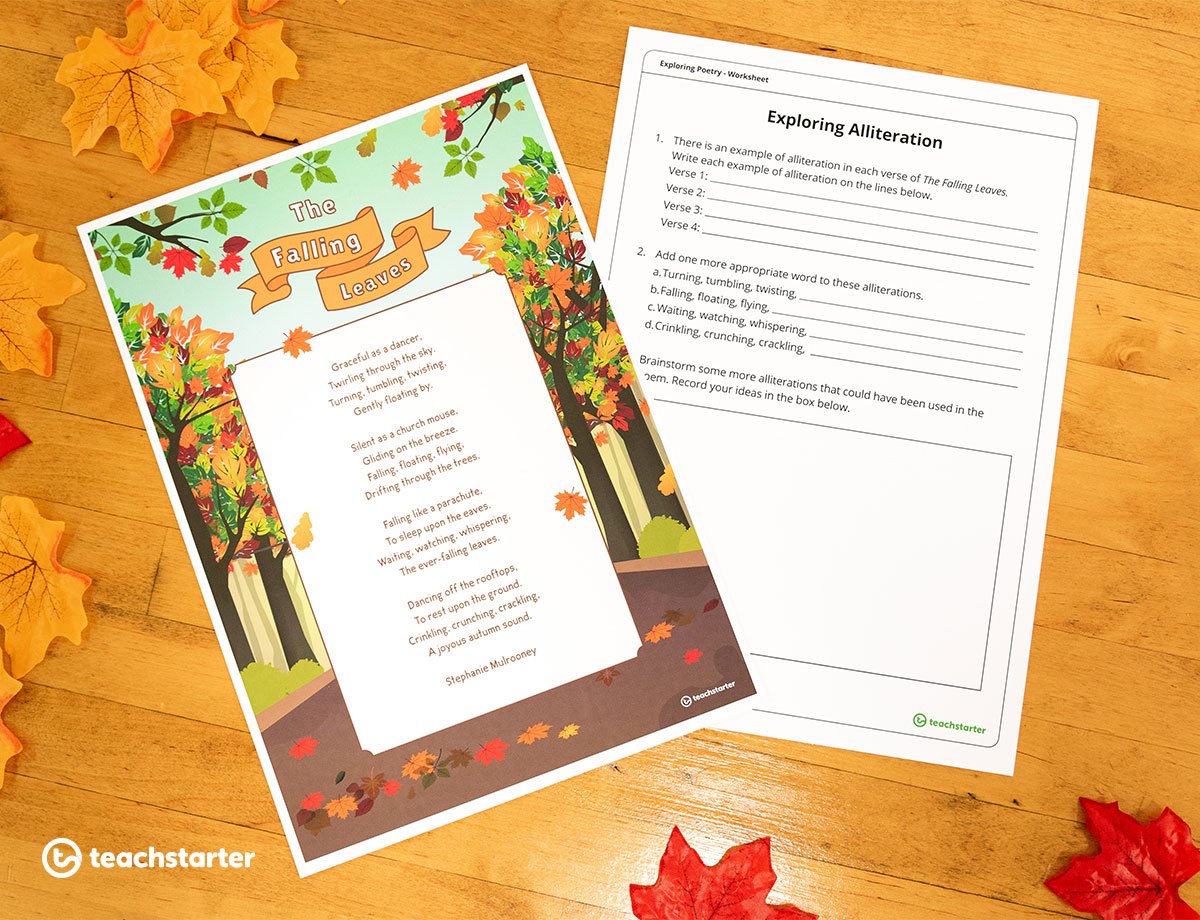 The poetic device of alliteration can be very effective when understood and applied by students. Help them on their way with this amazing alliteration activity (see what I did there?), connected to The Falling Leaves.
Pine Cone Foxes

These little forest critters are a great activity for an autumn crafternoon. You'll just need some pine cones, coloured felt, some strong craft clue and one of our Fox Craft Templates, which is free!
Gratitude Wall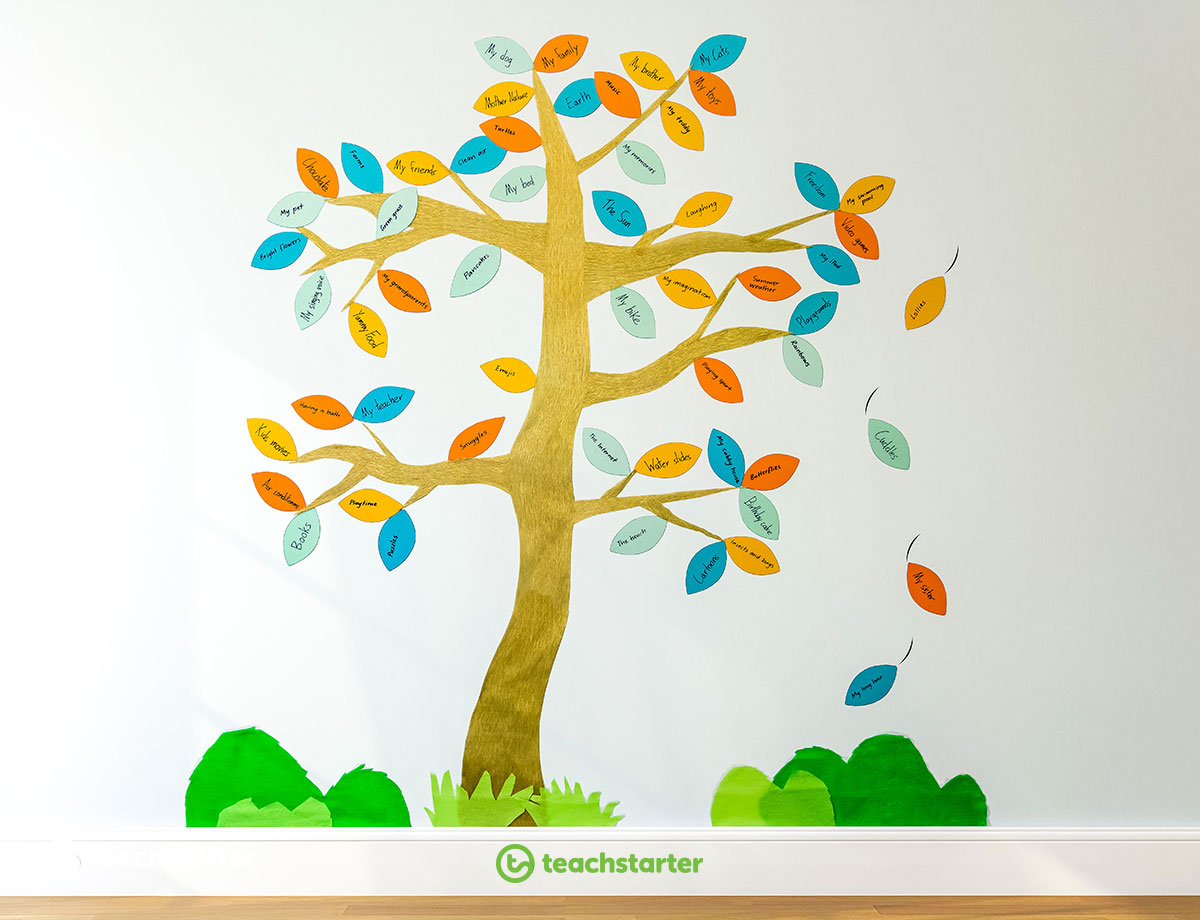 Autumn is the perfect time of year to appreciate everything that's great about our lives! Our blog Beautiful Gratitude Activities for Kids offers several lovely ideas for helping students develop an attitude of gratitude.
Gratitude is the act of giving conscious thanks for all that we have, and all that we don't! It's more than just a "thanks", gratitude is a mindset that chooses positivity over negativity.
This amazing Gratitude Tree visually displays students' ideas and offerings of what they are grateful for. Download our Free Gratitude Leaf Template to get started!
 Autumn Leaf Observation Activity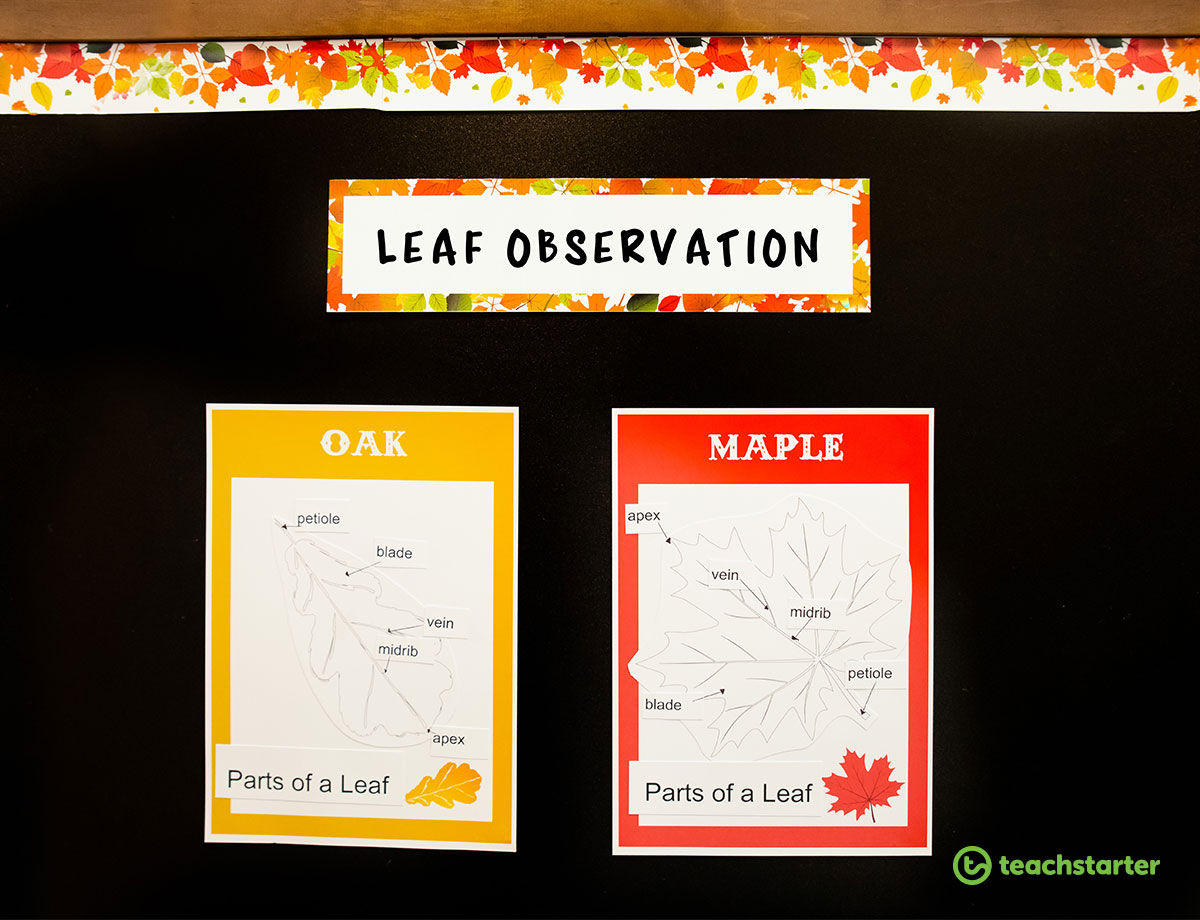 Gather some gorgeous golden autumn leaves and examine them! You may wish to have your students sketch their leaves, or print these sketches from the Field Notes Holiday Activity Pack and cut them out. The leaf name pages are part of our Autumn Leaves Classroom Pack.
Favorite Fall Food Bar Graph
Our Autumn Leaves Classroom Pack is also full of stunning leafy displays and useful charts. Here, the Autumn Leaves Class List has been adapted to become a bar graph, charting students' favorite autumn foods for a maths activity: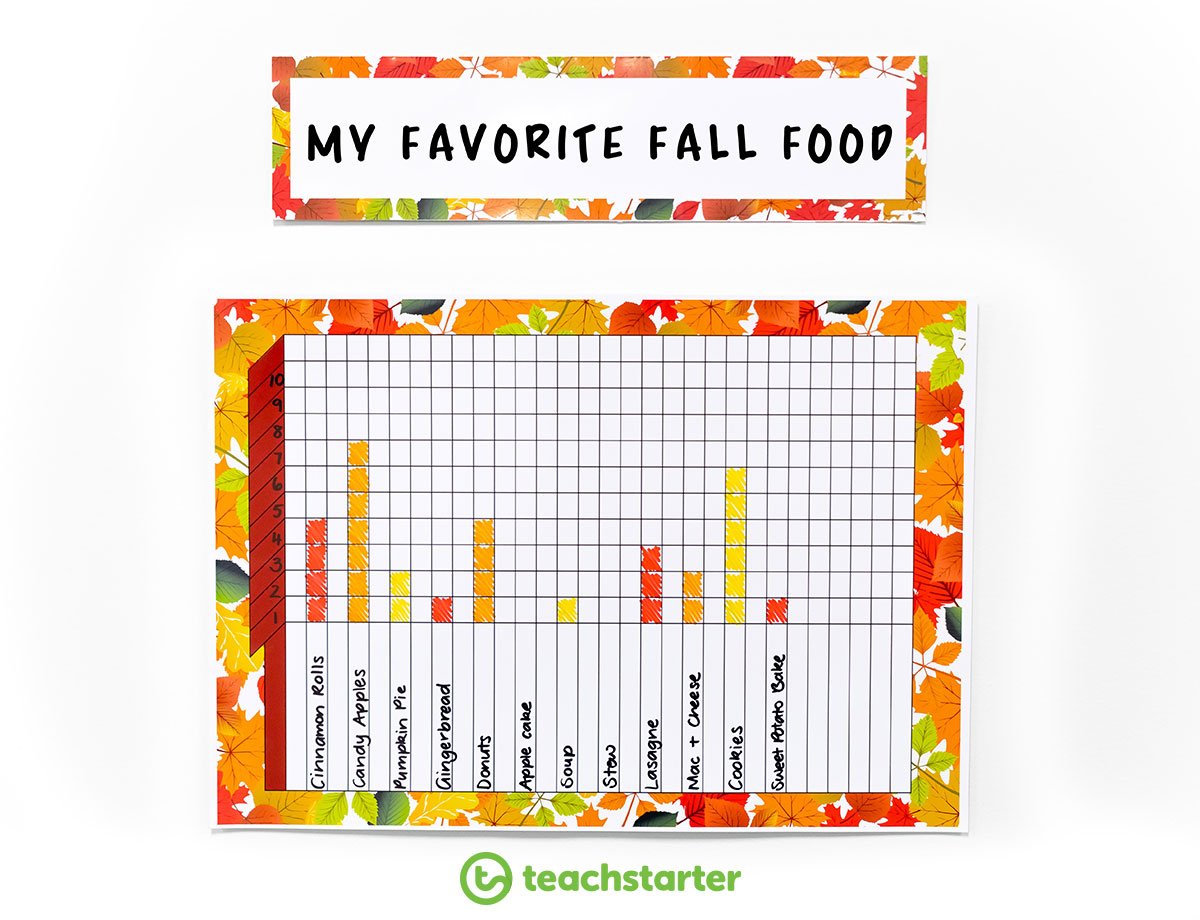 The pack also contains board borders, page borders (great for writing activities!), a hundreds chart, organisational charts and student rewards – perfect for autumn activities!
Wishing you all a very happy autumn!
We'd love to hear all about your autumn adventures with your students!