The teaching treasures you can find in a cheap shop…
Have you ever just wandered around a cheap shop?
I have often been asked, where do you get all of your ideas from? Apart from the obvious places such as Pinterest, Instagram and Teaching Bloggers. I will often just browse the aisles of my local cheap shop!
There are always amazing cheap teacher resources that could be used for a number of things within the classroom. So, on the weekend, I did my usual trip to my local cheap shop – Bargain City!
Here are my top 20 items I found in just one 20 minute lap…
---
Stamp It!
This gorgeous alphabet stamp kit could come in handy! Why not get your students to stamp the capital letter stamp and then write the lowercase letter! Perhaps they could stamp out their sight words?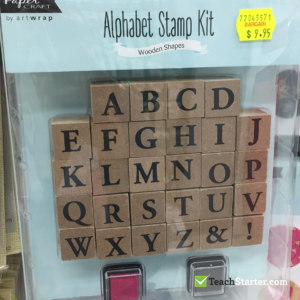 ---
Storage Galore!
If you're like me and love spending your money on storage baskets that you don't really need! A walk down the storage aisle at your local cheap shop could get expensive. But look at the
But, look at the colours….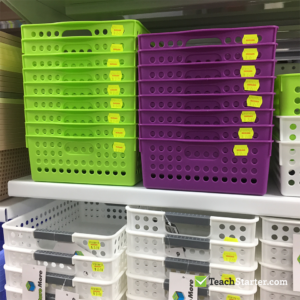 When we attended some expos, people really wanted to know how to store our fantastic teaching resources they had laminated and created. These clear case zip
These clear cases with a zip lock are stronger than a normal zip lock bag and come in A5 or A4 sizes!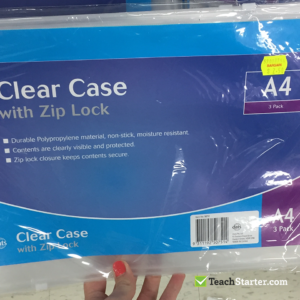 ---
BINGO!
Everyone loves a good game of Bingo and we have a huge selection of Bingo Games for the classroom, check out these bingo markers?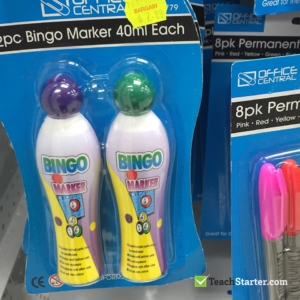 ---
Craft Supplies
Googly eyes and pompoms are always needed in an early years classroom!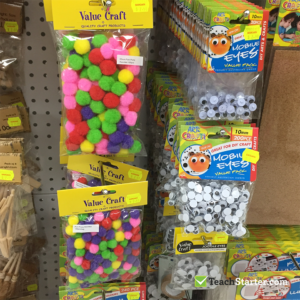 Glitter – it's a love/hate relationship for me! Check out this pack of three glitter packs!
They already have small holes in the top of each container for easy shaking out of the glitter. Relatively mess-free! As mess-free as glitter gets anyway…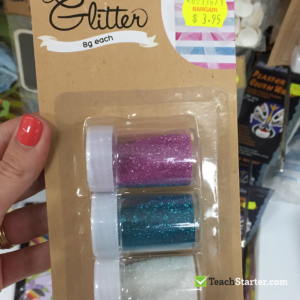 These paint pots are fantastic! Especially for the early years…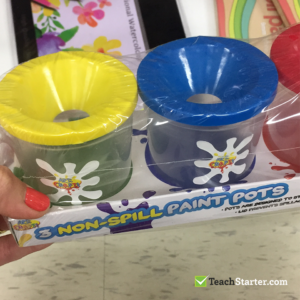 ---
Deck of Cards
It's amazing how many different learning experiences children can have using a deck of cards! They are a great learning tool to use as a maths lesson warm-up!
Check out our blog Nine Nifty Ways to Use a Pack of Cards in the Classroom for ideas.
How cool are the jumbo and super jumbo playing cards? Perfect for a small group activity!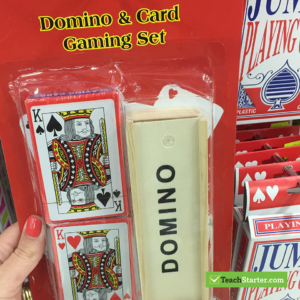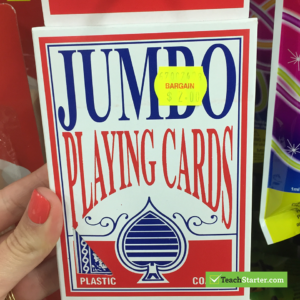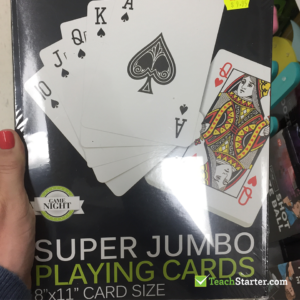 ---
Magnify It!
So many cool ways to use a magnifying glass, except for the obvious science lessons! Students become Guided Reading Detectives and search for clues within a piece of text!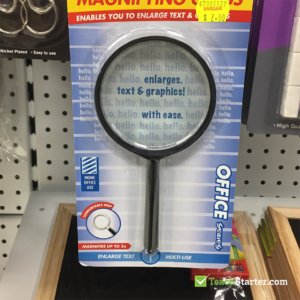 ---
Chop it!
There is no denying, teachers love laminating and creating resources. Use this small paper trimmer to get those flash cards perfectly straight!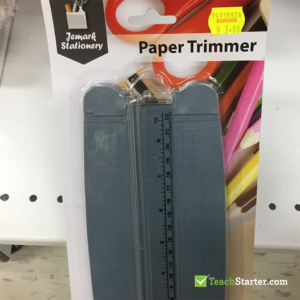 ---
Classroom Messages
These message magnets are super cute! Stick them up on your whiteboard with little messages or reminders for your students as they come into your classroom in the morning.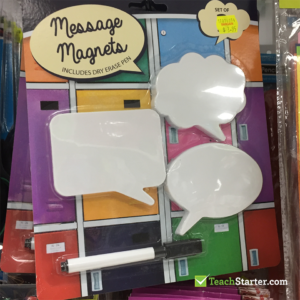 ---
Show Me, Boards!
I used small white boards in my classroom all the time. A great way to reflect on a lesson, or even to open a lesson.
For example, read out a spelling word and have students write the word down and show you as soon as they are done.
For maths, you could read out simple sums and get them to write the answer on the board. A quick and easy way to see how your students are progressing!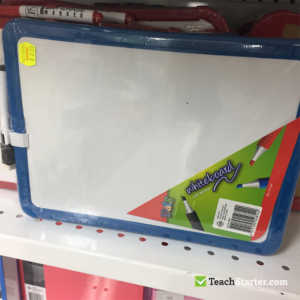 ---
Old Fashioned Blackboards
Most students are used to using whiteboards. So, small blackboards are sometimes a bit of a novelty. Students can practice their sight words or spelling words.
Alternatively, the popular way to use these is in photos with the students. The student holds the blackboard and writes different things like 'When I grow up I want to be a…'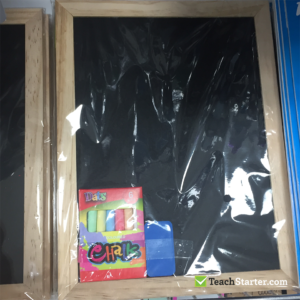 ---
Classroom Gardening
Setting up a classroom garden brings with it many benefits. It can reconnect your students with the natural world and the true source of their food! These cute seedling pots are a great way to start some gardening with your students.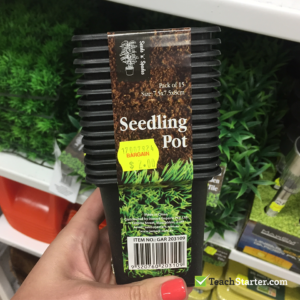 This water bottle is perfect for students to water their classroom garden. On really hot days, my students used to love lying down on the carpet, relaxing after running around in the heat and having some water sprayed on their face! A handy item to have in the classroom.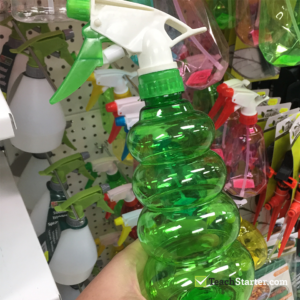 ---
Whistle
A whistle is always handy to have, especially whilst outside doing playground duty or even playing games with my class outside!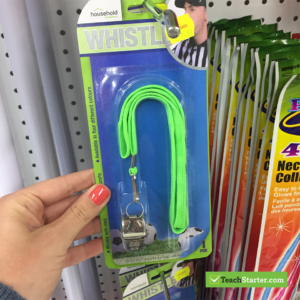 ---
Magnets
Yes, the uses for these craft magnets are endless! Here's something I prepared earlier, read our blog – 7 Classroom Hacks and Activities Using Magnets.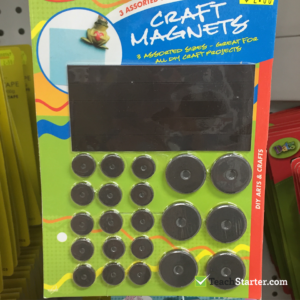 ---
Prize Box
If you have a prize box in your classroom. The selection of items you can add is endless in a cheap shop. Lot's of fun items your students will love!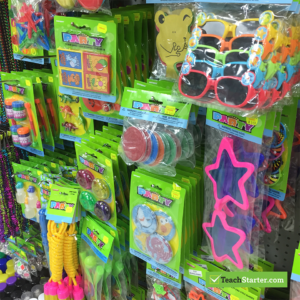 ---
Fine Motor Activity
Just as I was about to leave – I saw this great fine motor activity, a great way to help students learn how to tie their shoelaces. All while developing their fine motor skills.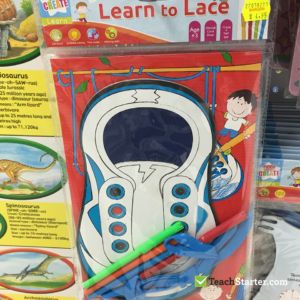 Who's addicted to cheap shops? ? Tell us something you have bought and how you use it in your classroom.