Class pets are far from new — from hamsters to frogs to fish, animals have been showing up in the classroom as both a teaching tool and non-judgmental friend for primary school kids for decades.
But if you're debating a classroom pet, you're probably wondering a few things: Are class pets a good idea? What is a good class pet? And heck, what is the easiest pet to have in class?
We talked to some teachers and did the research to help you choose just the right pet for your classroom!
Are Class Pets a Good Idea?
This is the sort of question you need to ask before you welcome any kind of pet — are you in it for the long haul? Even if you're looping, you've got these students for a year, and a class pet could live 2, 3, 5, or who knows how many years. So is it worth it to make this commitment?
Here are just some of the benefits you and your students may experience when adding an animal to the roll.
Animals create authentic, hands-on learning experiences (like scrubbing fish tanks at lunchtime… ?).
Caring for pets teaches compassion and responsibility.
Students learn to develop awareness and respect for living creatures.
What Are the Best Class Pets?
Hamster
You can thank author Betty G. Birney for ensuring keeping a hamster as a classroom pet would never go out of style. Her Humphrey the Hamster book series is a teacher and child favourite as it follows the trials and tribulations of a class pet when the class departs for the night. Think of it as Toy Story but with an animal in a classroom.
Hamsters tend to make good classroom pets because they require little maintenance and are fun to watch. Lessons about hamsters can focus on everything from habitats (hamsters tend to live in burrows) to eating habits (hamsters are omnivorous). Hamsters are nocturnal, so be aware that they will likely not be awake throughout the day, and because they tend to fight with other hamsters, they should be alone in a cage.
Axolotl
Beyond the glorious puns – somebody axoltl question, amirite? — these salamander-esque creatures from Mexico are fashionable on social media for good reason.
Carnivorous in nature and as teeny as a teacup, an axolotl can live for over a decade, and they're particularly valuable for the classroom because of their appearance in the popular Minecraft video game — allowing teachers to play on a real-life correlation.
Put good pet care centre stage with a pet care comprehension task! 
Fish
There are countless fish you can add as a classroom pet, and almost as many reasons as there are species to go this route! Not only are fish self-contained — ahem, you never have to worry about your kiddos handling them too much — but they also offer a soothing and tranquil addition to a corner of your room. You might even want to add them to your chill spot in your classroom!
Teacher Victoria (@msvsbusybees on Instagram) shared this fun set-up with us, including class rules on how to interact with your class pet!
Raising fish in the classroom is also a great way to teach children about life cycles, and you may even be eligible for outside funding to make it happen!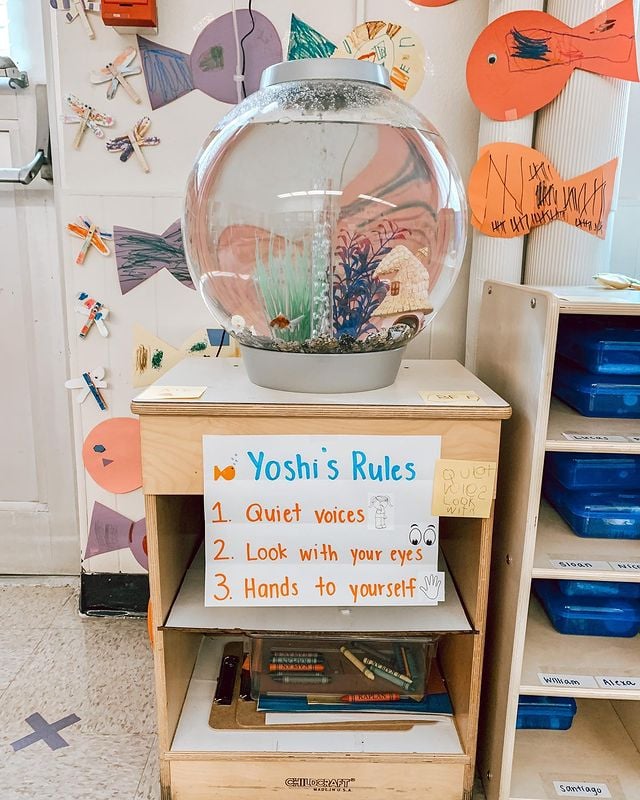 Your Own Pet
No, we're not suggesting you bring Fido or Peaches in from home. But a photo or cardboard cut-out that turns them into a class mascot can make for a lot of fun! Not to mention it's good for class morale. First-grade teacher Lisa Carnes, for example, shared this adorable 2D version of her corgi Finley who is now a part of her class!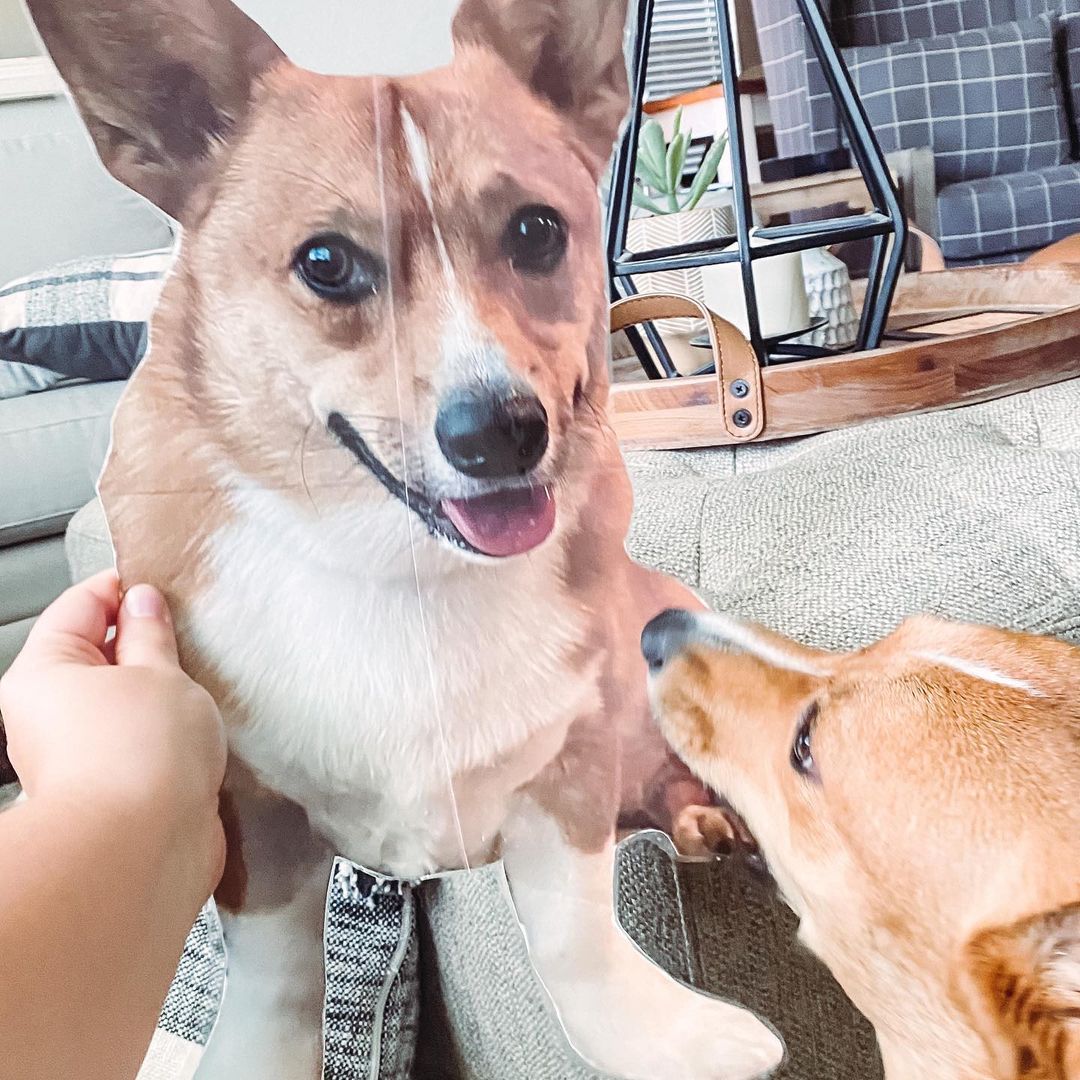 Story dogs
Keen for the benefits of having a classroom pet, but not sure about whether you want to commit. Why not contact Story Dogs! A volunteer will come in and do some reading with your students with their dog. It's a great program for reluctant readers – read more about the benefits of animals in the classroom.
Worst Classroom Pets
As much as we'd love to bring our cats and dogs to school, we all know that's just not going to cut it. And while I would never say any animal is "bad" per se, and these are simply bits of information to keep in mind when considering "is this pet good for my classroom"!
Ferrets
Depending on your tastes, ferrets may seem adorable and perfect class pets. But not only are the critters known for biting — albeit small nips and play-biting that may be OK in a home setting but not so much in a classroom — they also have a distinctive musky smell that can permeate your classroom.
Chickens
They make excellent pets, yes really, and there's the added science lesson that comes with their egg-laying, but chickens need a ton of space to thrive.
Birds
While we're on the topic of chickens, it's worth talking about their species in general. Although there is plenty to be learned from observing birds in the classroom, and they're often highly intelligent, the CDC warns that many birds carry a host of diseases that may make you shy away when it comes to a class pet.
Lizards
They seem like their care is easy, but lizards tend to need very specific temperatures — which means leaving on a Friday and coming back to school on a Monday after the heat went out could be a big, big problem.
A Few Things to Consider Before Committing to a Class Pet
Those of us who have, or have had pets in the past, will know that it's not really as simple as choosing a fish and creating a fish-tank cleaning roster for your students. Deciding to care for a class pet is a big decision and one that shouldn't be taken lightly. As mentioned above, these living creatures will be depending on you, your students, and quite possibly other members of your class community, to provide them with a safe and comfortable life.
You will need to consider:
What is the temperature like in your classroom when it is not occupied? If air conditioning or heaters are turned off when the humans leave, is the environment still okay for your pet?
Who will care for your class pet over weekends and school break? Is the pet easy to care for if going home with students and their families?
What is the lifespan of your class pet? Will it outlast your time as a teacher?
Do the species travel well? Class pets can do a lot of travel!
How much will it cost to feed and provide care for the pet, and who will pay for it?
If you have more than one pet of the same species together, have you ensured they cannot breed?
How will you cover the pet's veterinarian bills?
Tell us, have you ever had a class pet?
Share your experience in the comments below, and check out some of our animal-related teaching resources!
Banner image via shutterstock/morrowmind