Discussing how authors create characters using language and images comes up regularly in the Australian curriculum. It's also a lot of fun to explore with your students…
Exploring how you can use adjectives to describe a character's appearance, feelings and traits is a crucial element of teaching narrative writing to your students, especially in the early years. This flows onto them being able to create their very own characters when they begin to write narratives. The more book characters you can explore, the better!
Fun Character Analysis Activities for the Classroom
Picking the right stories and book character studies is crucial to ensure your students can easily engage with activities and discussions.
---
Use Anchor Charts
Teaching your students to understand how you can describe a character is important to help them get a greater understanding of how authors create and build up a character.
I absolutely love this anchor chart – creating something like this WITH your class gives them a sense of ownership over their understanding. It is also something that can continually refer to. This is the perfect start to exploring characters in stories!
Character Teaching PowerPoint
Use our Exploring Narrative Texts PowerPoint – Year 1 and Year 2 PowerPoint to explore character building using appearance, character traits and feelings in a more explicit manner.
---
Create a Character Adjectives Classroom Display
Provide your students with words that could be used under the headings of Character Appearance, Character Traits and Character Feelings.
By creating this display, you are providing them with the tools necessary to adequately describe different book characters. This is fantastic scaffolding for their developing comprehension skills.
You can use our Character Traits Posters or create your own word wall using our Narrative Writing Word Wall and customised to your students' needs.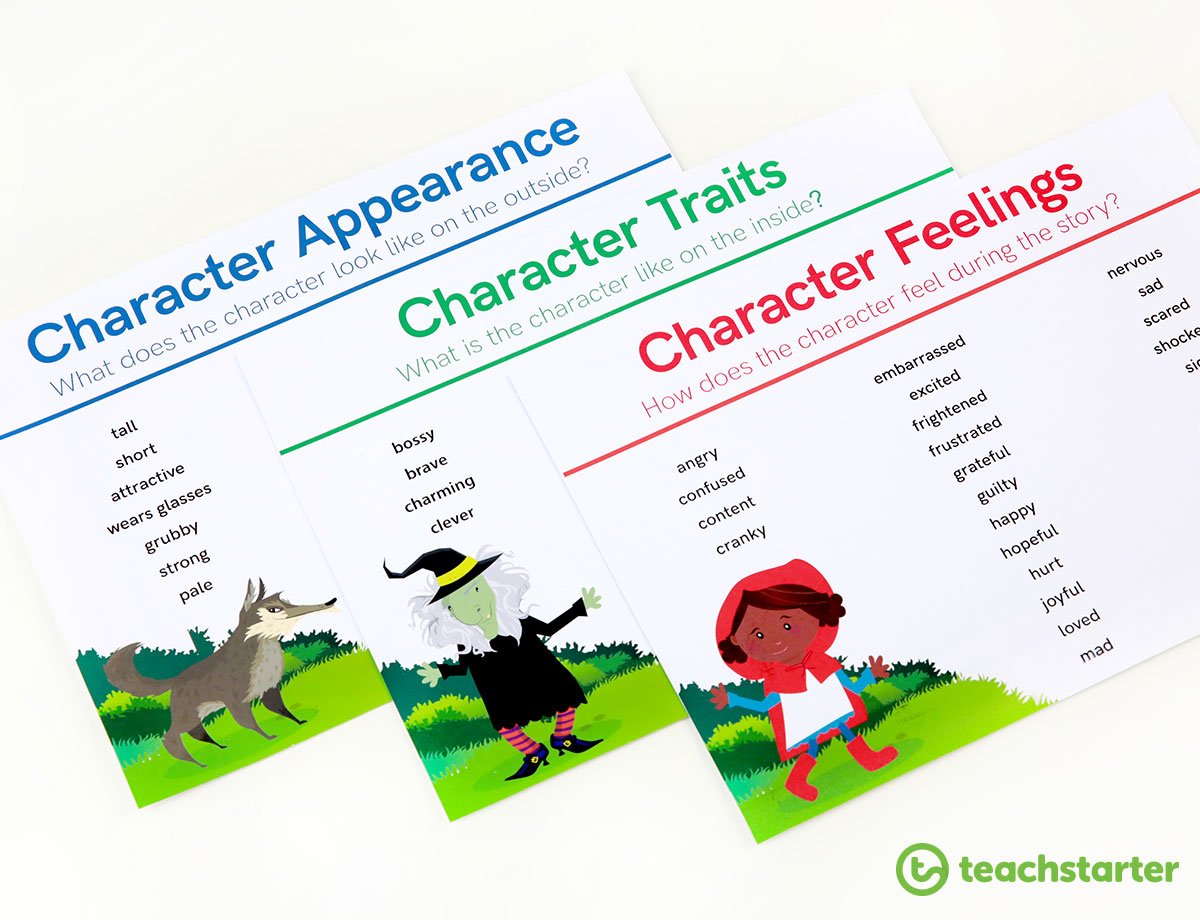 ---
Character Concertina Activity
How cute are these character concertinas?!
This is a fun way to display different words that describe book characters. You can get students to write words that describe what a character is like on the inside and the outside.

---
Play Celebrity Heads
After you have studied a character from a story add them to your celebrity heads list. At the end of a lesson, students can volunteer to be up and you can place a different book character on their head with a sticky note. Encourage students to really think about the questions they may ask their fellow classmates to work out what book character they might be.
---
Great Stories for Character Analysis in the Early Years
The Rainbow Fish
This was always one of my most favourite stories to read as the character The Rainbow Fish is easy to describe using adjectives.
It's also an interesting story as there is a clear change in the character's personality and traits throughout the story.
Here are some questions you could ask your students after they watch the above YouTube clip:
How would you describe what the rainbow fish looks like?
How would you describe what the rainbow fish is like as a character? Does he change?
What feelings does the rainbow fish feel during the story? Do his feelings change?
Use our Character Profile template and have your students complete it about The Rainbow Fish.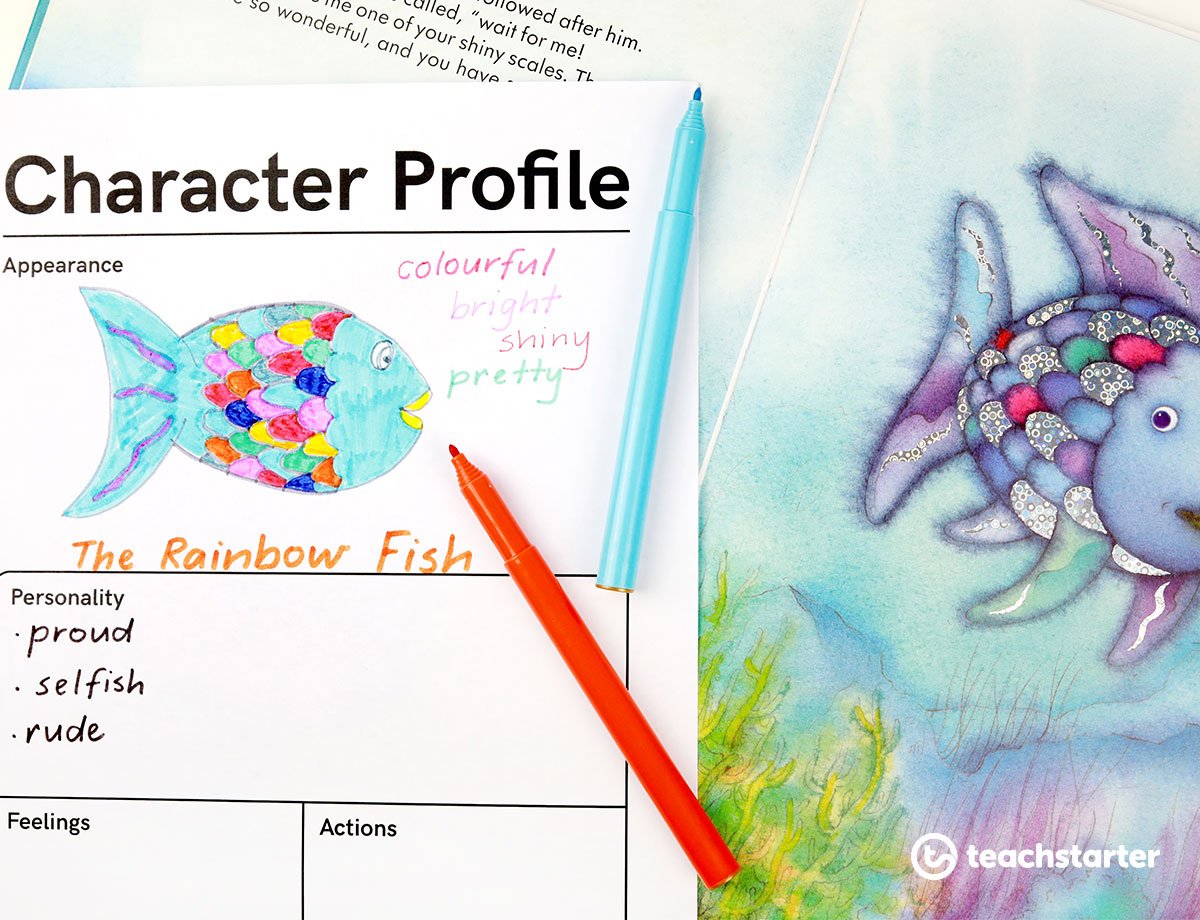 ---
Harry the Dirty Dog
Kids love listening to stories about animals. Harry is a super cheeky little puppy dog! And, he gets up to such mischief! He also goes through lots of different feelings throughout the story, making him perfect for a character analysis.
Here are some questions you could ask your students after they watch the above YouTube clip:
What do you think Harry is like on the inside? What is his personality like?
Does he have any feelings during the story? Why does he feel this way?
---
Fairy Tale Characters
Picking characters that the students already know well makes it easier for them to think of the correct adjectives that describe them as a character.
Use our Fairytale Character Brainstorming Sheets (complete with an illustration!) to help your students brainstorm words they can use to describe each character.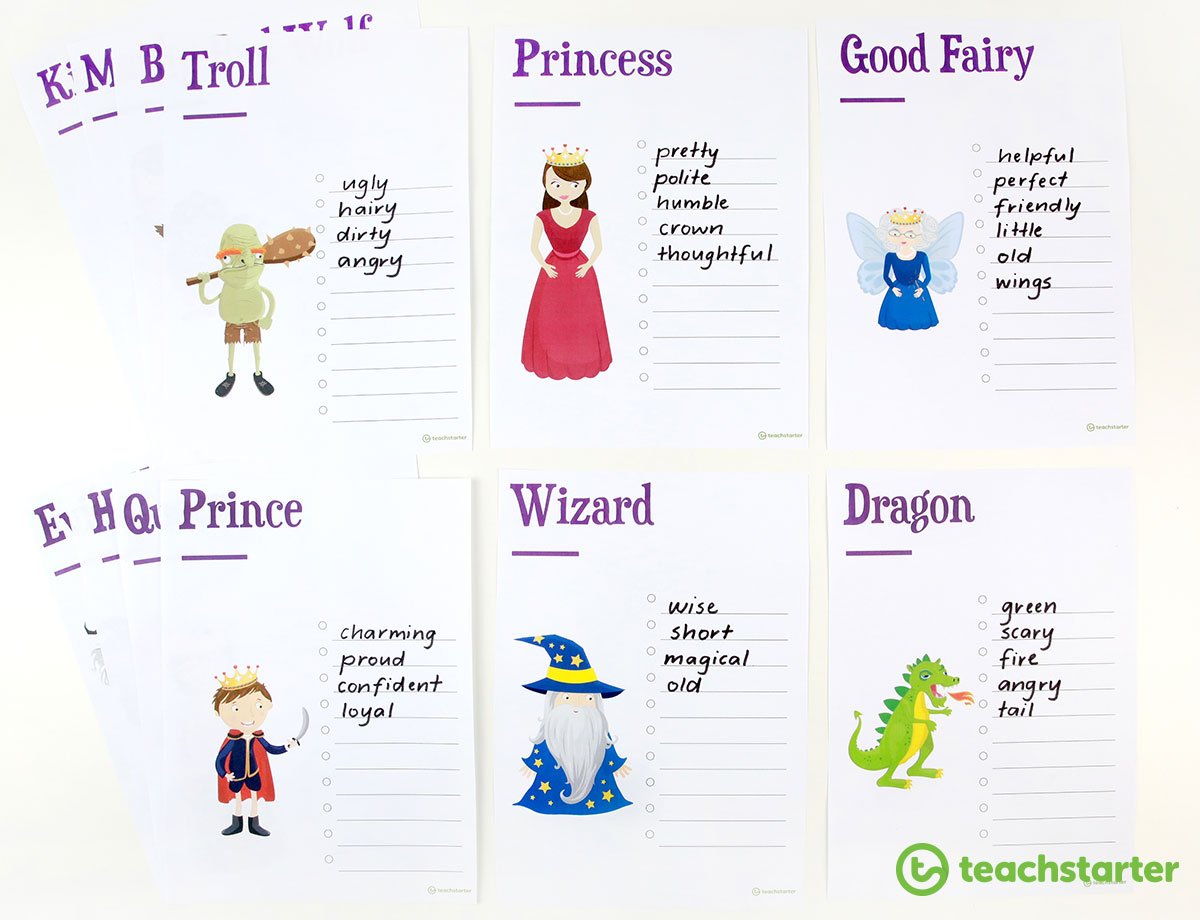 ---
Check out our huge range of resources exploring narrative texts for more inspiration