With only weeks to go in the school year, you may be starting to think about gifts for teachers. What can your family possibly give to thank the teacher who has educated, nurtured, encouraged, listened to and loved your little ones, especially in a year like 2020?
I mean, teachers are kind of a big deal.
I'm both a parent and a teacher, and I can tell you that there's no need to stress. Teachers never expect gifts, but we're always grateful when we're given tokens from the heart. If you do choose to give your child's teacher a small gift, it will be appreciated.
Real Teachers Share Their Favourite Gifts From Students
As you may or may not know, many of the staff here at Teach Starter are teachers. So I did a quick poll and asked each of them:
What is the most treasured gift you ever received from a student?
I'm hoping their responses may inspire you as you put together gifts for teachers this year.
Handmade with Love
'In my first year of teaching, a very special student decorated a glass jar for me. She wrote really beautiful messages about me on tiny scrolls of paper and then put the scrolls into the jar. She said the messages were to make me feel good if I was ever having a bad day. I still have it.'  – Steph
'My favourite gift was from a student who had written a letter to me about how much she liked being in my class and then the mother had it framed for my desk. Another gift that I really liked was a small pot plant for my desk.' – Holly
Gifts that Give Twice
'I used to suggest making a donation to a charity in my name.' – Paul
Gifts with Meaning
'My first year teaching in Australia a student got me a compass (the directional kind) with a message about keeping students pointed in the right direction. That was really special for me.' – Kristian
'Last year I received two ancient coins from a student – one depicted Minerva, Roman goddess of wisdom and the other Athena, Greek goddess of wisdom. They meant a lot to me as the boy and I had shared some great chats about our shared interest in ancient mythology. I put them on a necklace to wear as pendants.' – Emma
The Personal Touch
'Definitely the personal messages mean the most.' – Janeen
Student-Chosen Gifts
'I was given a small singing Father Christmas by a boy called Matthew. I still keep him in my Christmas decoration box. I love this gift because Matthew went to great lengths to choose him and he was so delighted to give him to me.' – Ali
Top Tips for Teacher Gifts
 1. Make it Personal
It may be tempting to sneak out and buy teacher gifts when you're shopping sans kids. But I suggest letting your children choose gifts for teachers themselves – after all, they know their teachers best.
For example, my six-year-old son said to me very early in the school year:-
"I already know what I'm buying my teacher at the end of the year. A coffee card with lots of coffees on it, because she loves coffees!!!"
(He's giving her a Keep Cup with a coffee shop voucher and one of our gorgeous Gift Tags For Teachers – Thanks A Latte! .)
2. Teachers Adore Gifts Made With Love
Early in my career, I was given a handwritten letter by a little girl whom I had taught to write. I was a Prep teacher, and at the beginning of the year she had no letter recognition or phonemic awareness (which is totally normal for students starting school). To receive her letter filled with perfectly legible, phonetically-spelled writing in structured sentences brought me so much joy.
Another memorable, hand-made gift, was from a special student who made me a little painted wooden book, with photographs of herself. On the final page was a picture of us both together.
Teachers are renowned hoarders and I'm no exception to that generalisation. I have a garage overflowing with boxes of teaching resources accumulated over the past decade. Tucked safely at the back is a copier paper box choc-full of gifts I've been given – I've never thrown one away.
3. We Love Practical Gifts for Teachers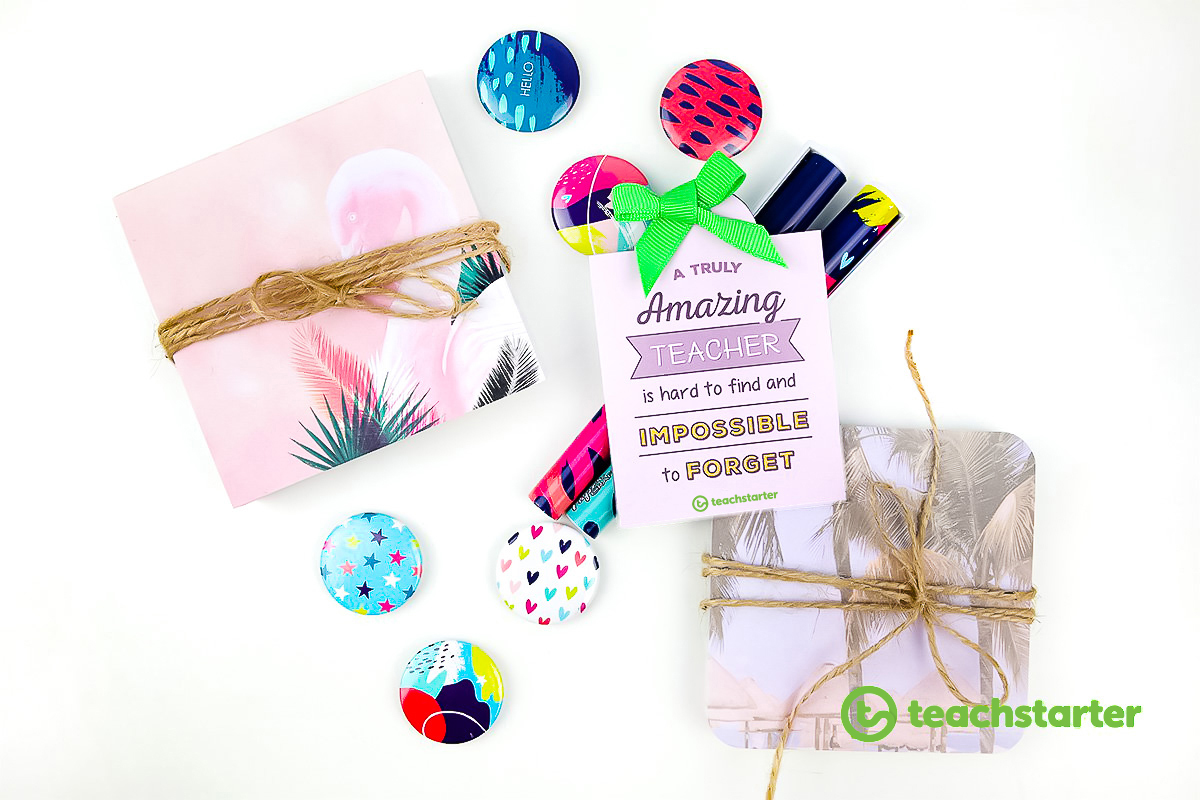 Teachers love stationery (and we use a lot of it!). Replenish your favourite teacher's stationery stash with some colourful items. Bright and beachy-themed stationery is always a huge hit, as it reminds teachers of their well-earned summer break. Next year, each time your child's teacher grabs a post-it note or magnet, they'll be reminded of them.
Our Gift Tags For Teachers – A Truly Amazing Teacher can be attached and personalised with a little handwritten note on the reverse side.
We hope this article on gifts for teachers has been helpful to you! In the end, whether or not you decide to bestow a special gift on your child's teacher, on thing teachers really want you to know is this:
We are so grateful to you for entrusting your most precious gifts (your kids) to us for the past year!