Phonics instruction in the early years classroom is paramount in the development of reading and writing in young children. Hence, setting a solid foundation by explicitly teaching the skills of phonological awareness is vital. Phonological awareness is a child's ability to recognise phonological patterns such as rhyme and alliteration, as well as the awareness of syllables and phonemes within words. These skills are introduced and consolidated best by using rich and authentic children's literature.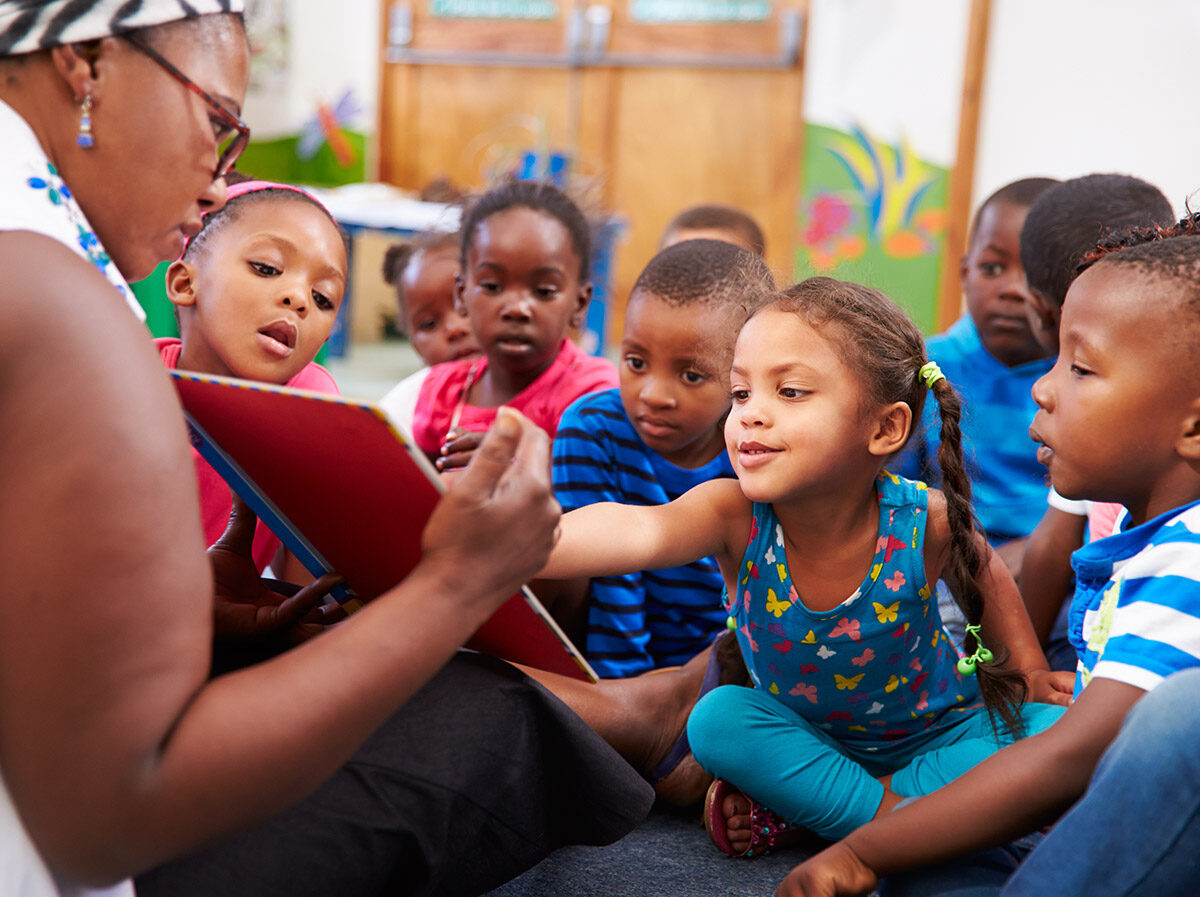 Shutterstock.com / Monkey Business Images
Teacher observations and anecdotal notes are a great way to track students' progress. However, it's also helpful to spend a bit of time one on one to delve deeper into their phonological awareness. This is where a phonological awareness screening test is a great tool for teachers to use!
---
Phonological Awareness Screening Test
Our brand new phonological awareness screening test is the perfect way to keep track and identify how your students are tracking with their phonological awareness.  This resource is available in a variety of school fonts and also includes the use of visual cues as much as possible.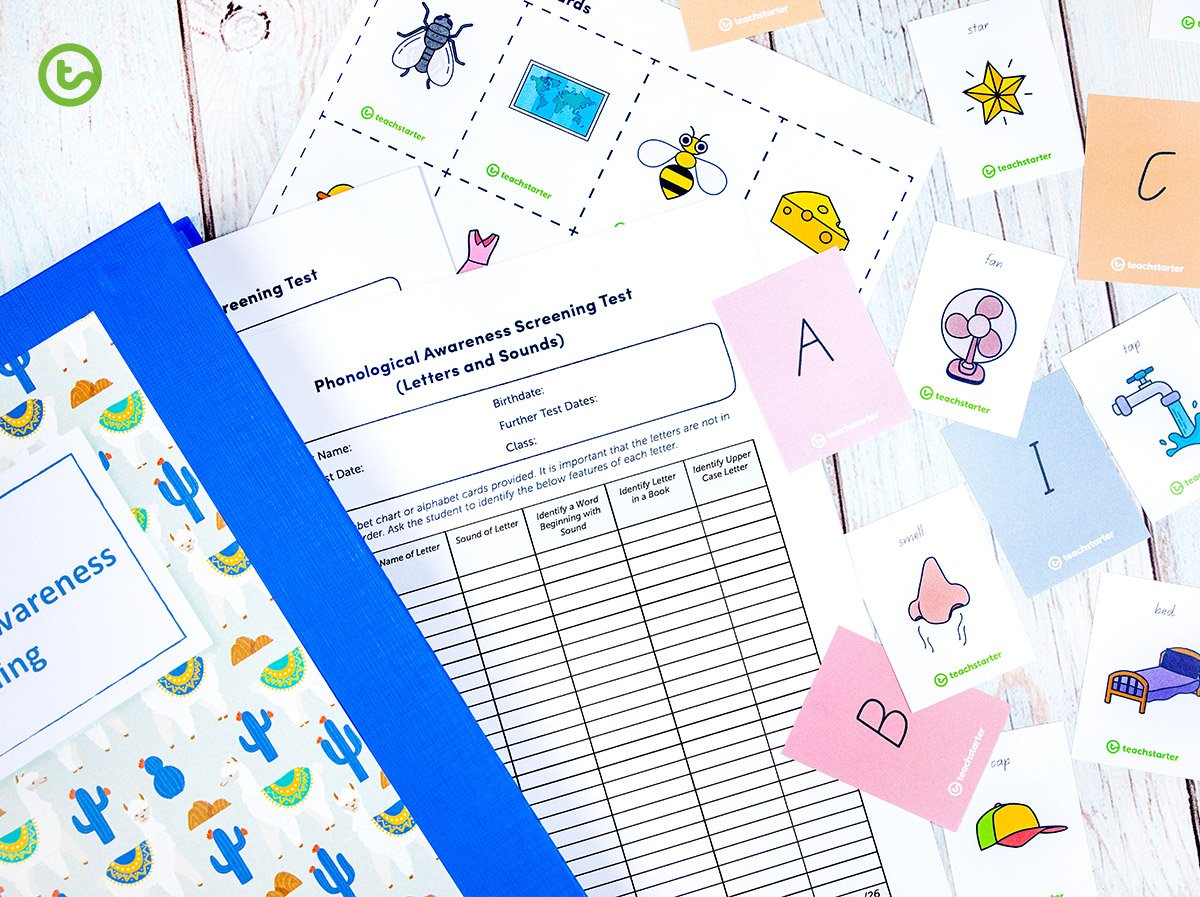 Letter and Sound Screening Test
This is a good starting point, and whilst letters and sounds aren't necessarily part of the phonological awareness list of skills – it's certainly an important factor in phonics instruction. And, it's good to begin to understand how your students are progressing with their letter/sound knowledge.  This screening test encourages students to answer the following:
name of the letter
sound of letter
word beginning with the sound
letter in the book
upper case letters.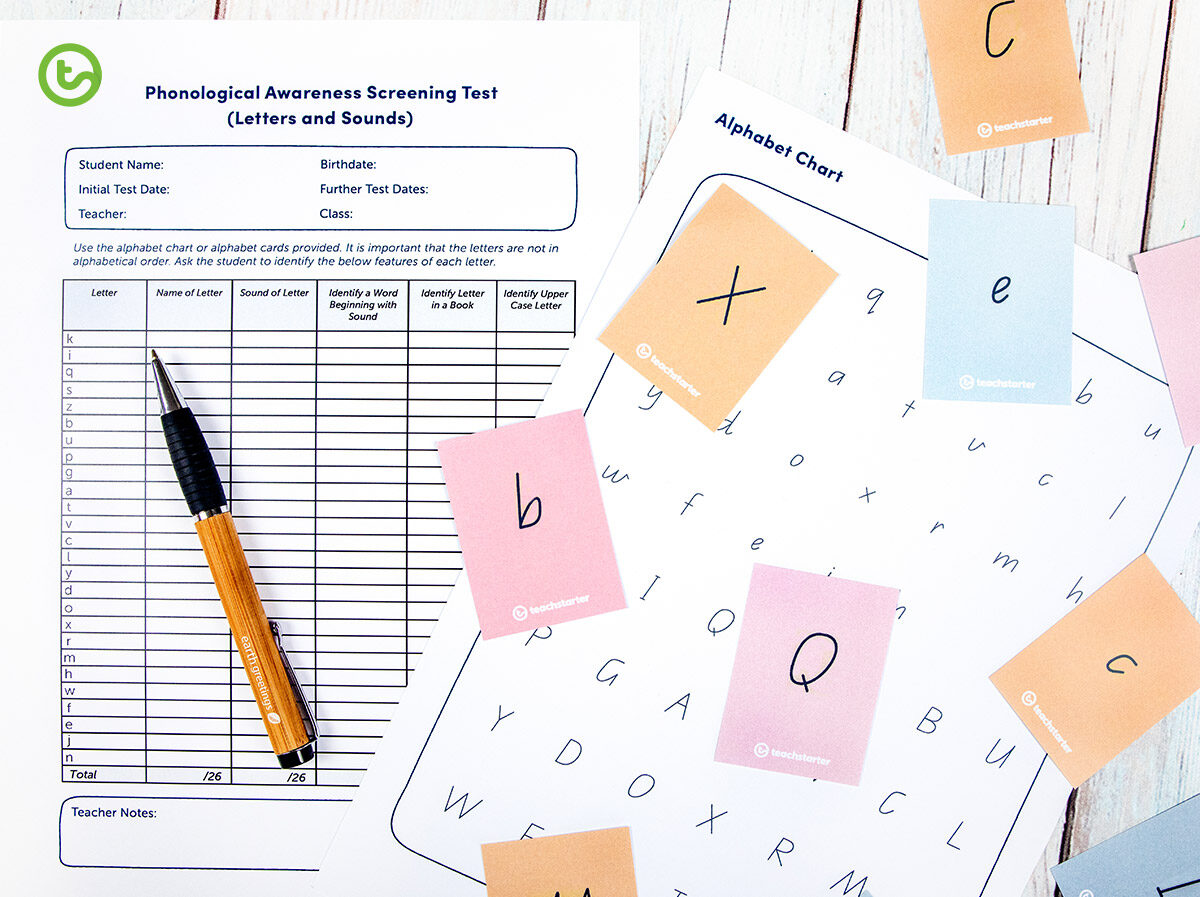 Phonological Awareness Diagnostic Tool
The main part of the phonological awareness screening test has been broken into subtests. Each subtest assesses one of the main skills required for phonological awareness:
rhyme recognition
rhyme production
word awareness
syllable awareness
initial sound identification and production
final sound identification
sound segmentation
sound blending
medial sound identification.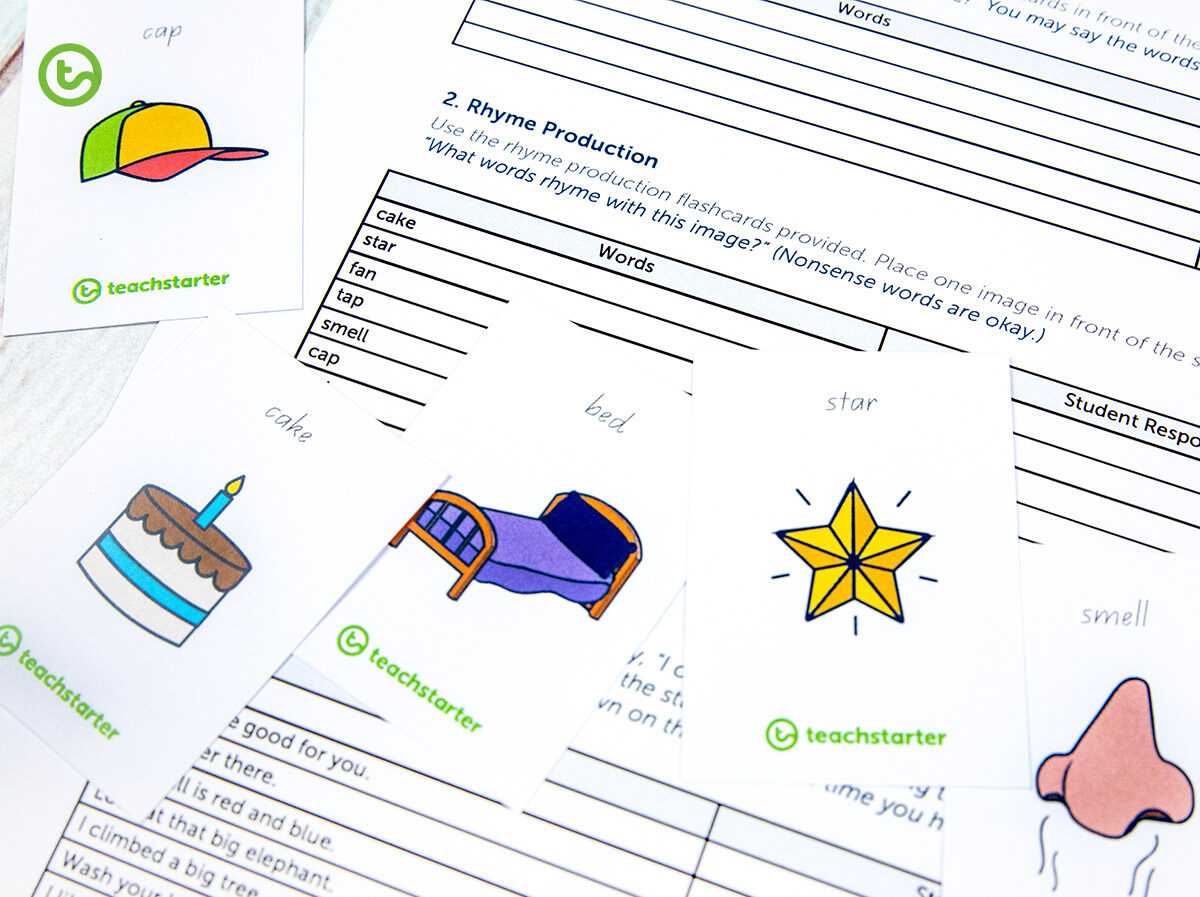 Each subtest either includes visual flashcards to use or a basic worksheet for the students to complete.
The example below shows the sound segmentation assessment.  Students need to write a line for each sound they hear beside each of the pictures. The ability to break words into their sounds is an important phonemic awareness skill!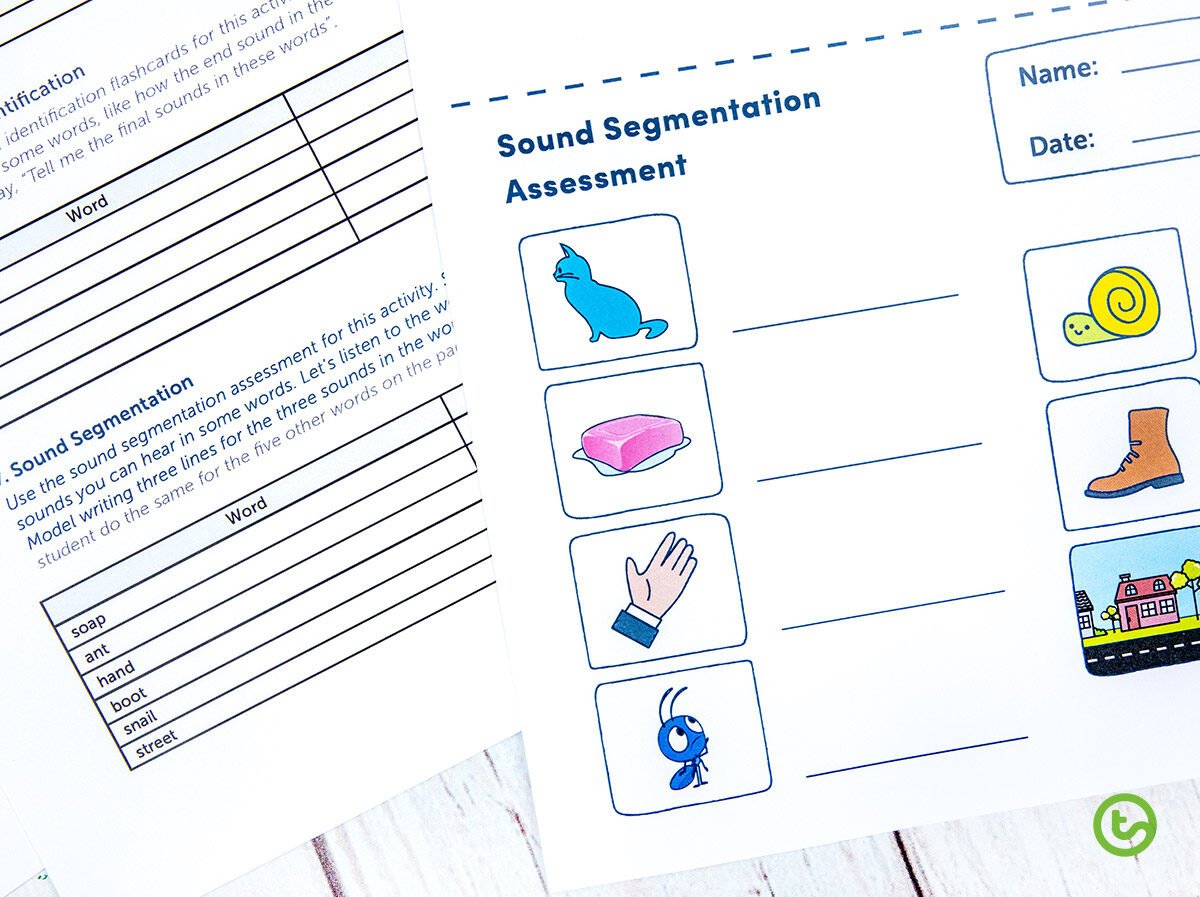 Flashcards are used as a visual cue for many of the assessments in this screening test.
For example, breaking words into syllables, identifying the medial sound in a word and the final sound in a word. This provides the student with both a verbal and a visual cue so that you are able to really identify how they are progressing.
Keeping Track of Progress
Included in this phonological awareness screening test is a whole class tracker that matches each of the subtests included in the download. Each subtest has a total mark at the bottom of the table. Once a student has completed this you can award each of the skills a grade. For example, the letter name assessment is out of 26. Get an overall picture of how your students are progressing by keeping track of all of their results in this table.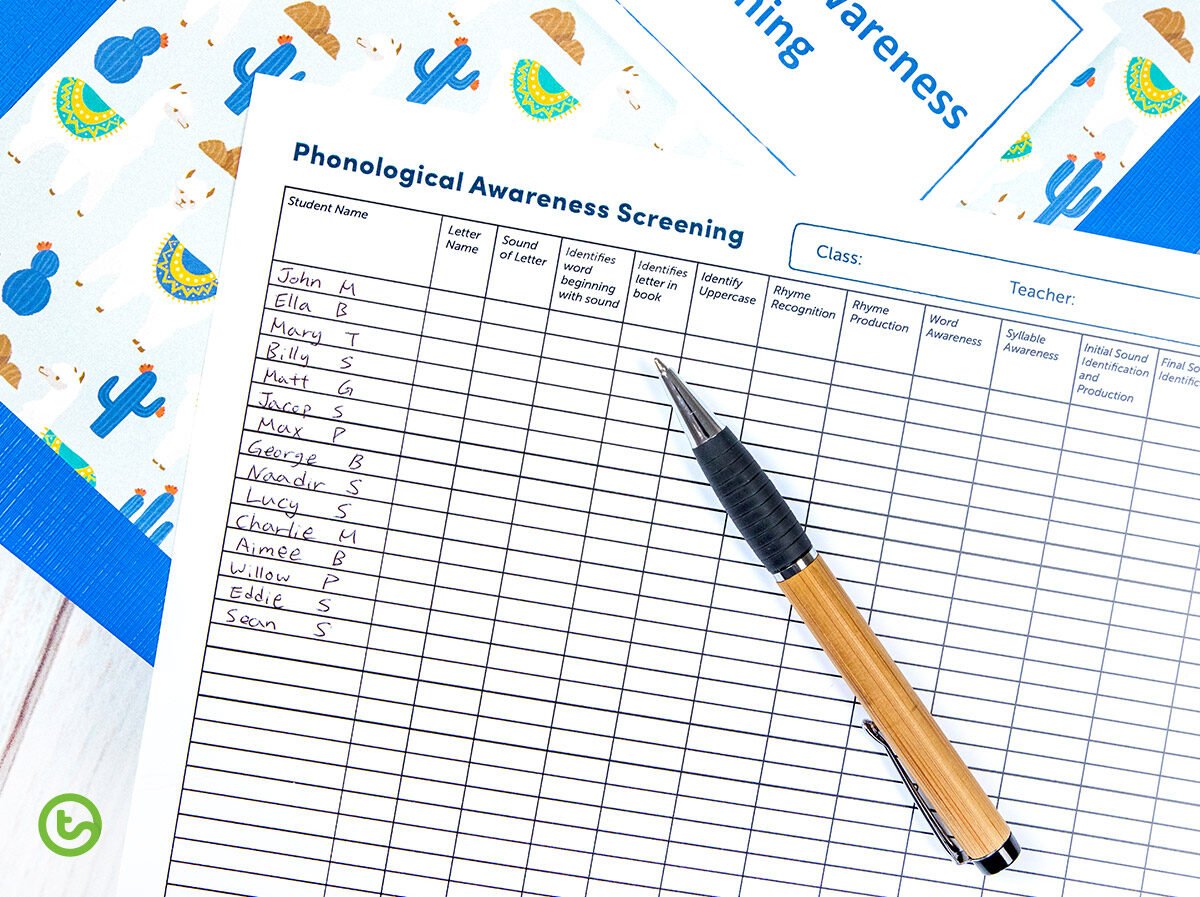 Each subtest has clear instructions for the assessor. This is so that you can get your teacher aide to help out with the assessment of your students' phonemic awareness. You may like to pick students' you have concerns about through your observations to conduct the assessment yourself and get your aide to help out with the other students who seem to be progressing well.
Check out our collection of phonics resources for more hands-on activities to use in the classroom.