Education is the kindling of a flame, not the filling of a vessel – Socrates
What is the Reggio Emilia Approach to Teaching?
A Classroom Teacher's Point of View
The Reggio Emilia approach to teaching and learning has always resonated with my teaching heart. However, when push came to shove and I was thrown into a classroom with a crowded curriculum, endless amounts of paperwork, and the day-to-day running of my room. The excitement towards this approach quickly dwindled.
I didn't have time to let the students in my class explore what they wanted to explore… we had expectations to meet! Curriculum codes to achieve etc, you know what it's like.
If you haven't heard of the Reggio Emilia approach, it has been evident in early learning centres for some time now.
It is the belief that children are born with amazing potential and come to our classroom with a wide range of abilities that we can foster. Makes sense right?
The Reggio Emilia approach has filtered through primary schools, especially in the early years, and I can see why! But, how is it possible to incorporate elements of this learning philosophy into a classroom with a strict curriculum to adhere to?

How to Incorporate the Reggio Emilia Philosophy in the Classroom
It's important to note that you don't have to adopt the whole Reggio Emilia philosophy. You can't train to be a Reggio Emilia teacher. You can attend workshops to understand the philosophy better, then you adapt the ideas to the needs of your learning community.
Here are my top ways to incorporate the Reggio philosophies into your classroom right now!
Learning Environment
Think of your classroom environment as the third teacher.
Take some time to look around your classroom and ask yourself, is this environment inviting and captivating?
Materials need to be easily accessible, uncluttered, and inviting.
Create a nurturing, home-like environment. This isn't hard to do in an everyday classroom.
Little touches, such as framed pictures, a vase of flowers, or a nice rug can help create a home-like environment.

Try to use as much natural light as possible and don't overload the classroom with bright colours.
Use colours that are very neutral and ensure a strong nature theme throughout.
Reggio Emilia-inspired classrooms are not themed on particular topics. Rather, areas are themed for particular learning areas, such as a Maths Exploring Area or a Science Exploring Area.
These areas can have items that relate to the topic you are currently teaching under the curriculum.
Reggio Emilia Inspired Morning Tables
This is a great way to settle your students into the school day. This is something that was very successful in my classroom.

In the Reggio Emilia philosophy, children are encouraged to wonder and think.
Set up a few tables in the morning for students to choose a topic to explore further.
These activity tables can be linked to what they are learning about in the classroom, as well as having a strong link to the Reggio way of learning.

Be a Co-learner Not an Instructor
I think most teachers that I know, already have this part of the philosophy down pat.
Here are some key points:
Provide knowledge and help guide your students.
Be a co-learner in their discovery.
Listen, observe, document and reflect.
Provide stimulation of discovery through dialogue.
Encourage your students to wonder and think.
Develop students' own questions and questioning skills.
Allow time for learning conversations.
Documentation is another important element.
Strong Parent Involvement
It's sometimes easy to forget that parents are a child's first-ever teacher. The Reggio Emilia philosophy believes in strong parent involvement in the classroom environment. Clear channels for the sharing of information, communication, cooperation, and partnership with parents is vital.
Parent involvement can be daunting for some teachers. Our blog on How to Manage Parent Helpers in the Classroom may be helpful.
Work is Presented and Appreciated
Art and creativity are key elements of the Reggio approach. Again, I think this is something that most early years teachers do well already.
Displaying students work is important to make them feel appreciated as a learner within their environment. I love this display that I found on the Including Play Outside blog. By using photos of your students, they instantly feel welcomed into the classroom environment like a home. The display doesn't need to be a piece of artwork, it could be a writing piece your students have been working on.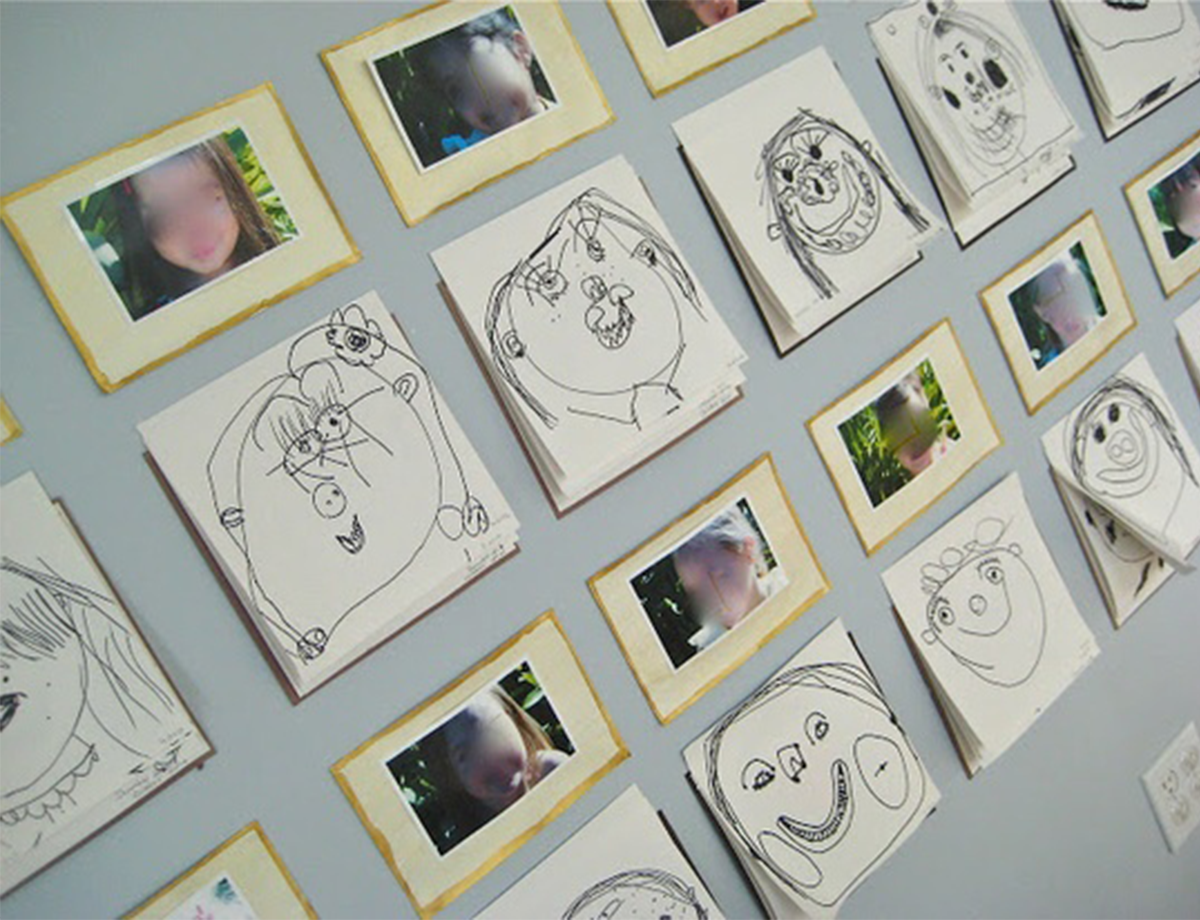 Share how you implement the Reggio Emilia approach in your early years classroom over on our Facebook Group – Teacher Talk.