Role play in the early years setting is vital to a child's cognitive and social development! Imaginative play is a crucial aspect of any early years classroom. Therefore, as part of our Little Learners Month, Emma wrote an inciteful blog about The Benefits of Imaginative Play in the Classroom.
We have some exciting news – we have just created the ultimate printable resource pack to help you and your students create the cutest fruit and vegetable shop in your classroom!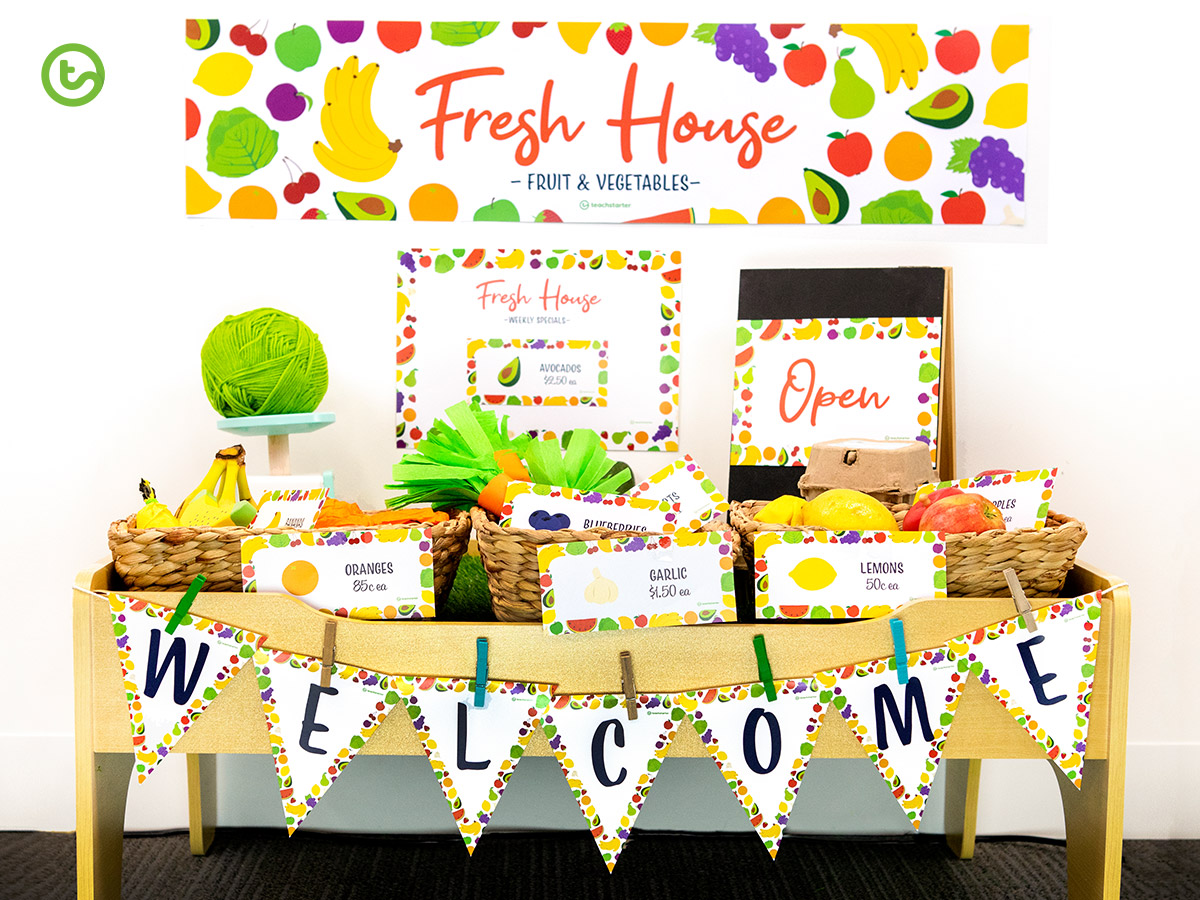 What learning opportunities are seen in a fruit and vegetable shop dramatic play area?
The understanding of exchanging money.
Language development – using language in context.
Life skills such as cooperation and turn-taking.
Literacy skills – writing and reading in a print-rich environment.
Imagination and creativity.
---
How to Set Up a Dramatic Play Area (Fruit and Vegetable Shop)
When setting up your fruit and vegetable shop in your classroom – there are a few tips that you can follow to ensure that it isn't a time consuming and expensive task. Firstly, you can download and print our collection of Fruit and Vegetable Shop resources to get you started.
Each download is available in colour and black and white. So, you can easily print the black and white on coloured paper to create your fruit and veg shop.
Fruit and Vegetable Shop Sign
To kick things off we have this super cute Fruit and Vegetable shop sign. Welcome to Fresh House – your very own classroom fruit and veg shop where you will witness all sorts of cute creativity happening!
How inviting? I'll be coming to this shop for sure!!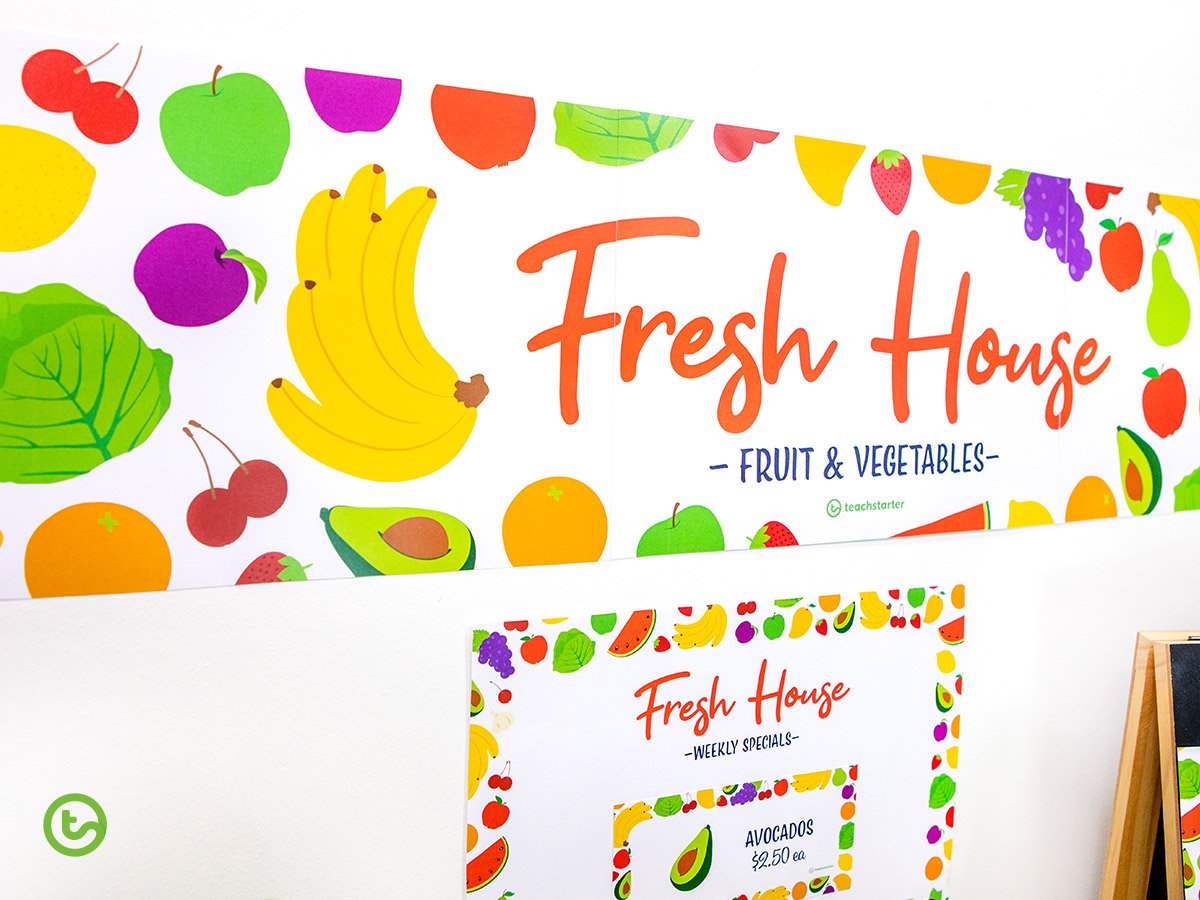 We also have a Fruit and Vegetable Shop – Weekly Specials Sign available to download and print! We just used one of our price tickets to pick our weekly special. Mmmmm yummy avocados!!
Fruit and Vegetable Shop Price Tickets
Of course, you need some Fruit and Vegetable Shop Price Tickets ready to go! We've created these super cute price tickets with a visual image of the product to help your students visualise what the price ticket is selling.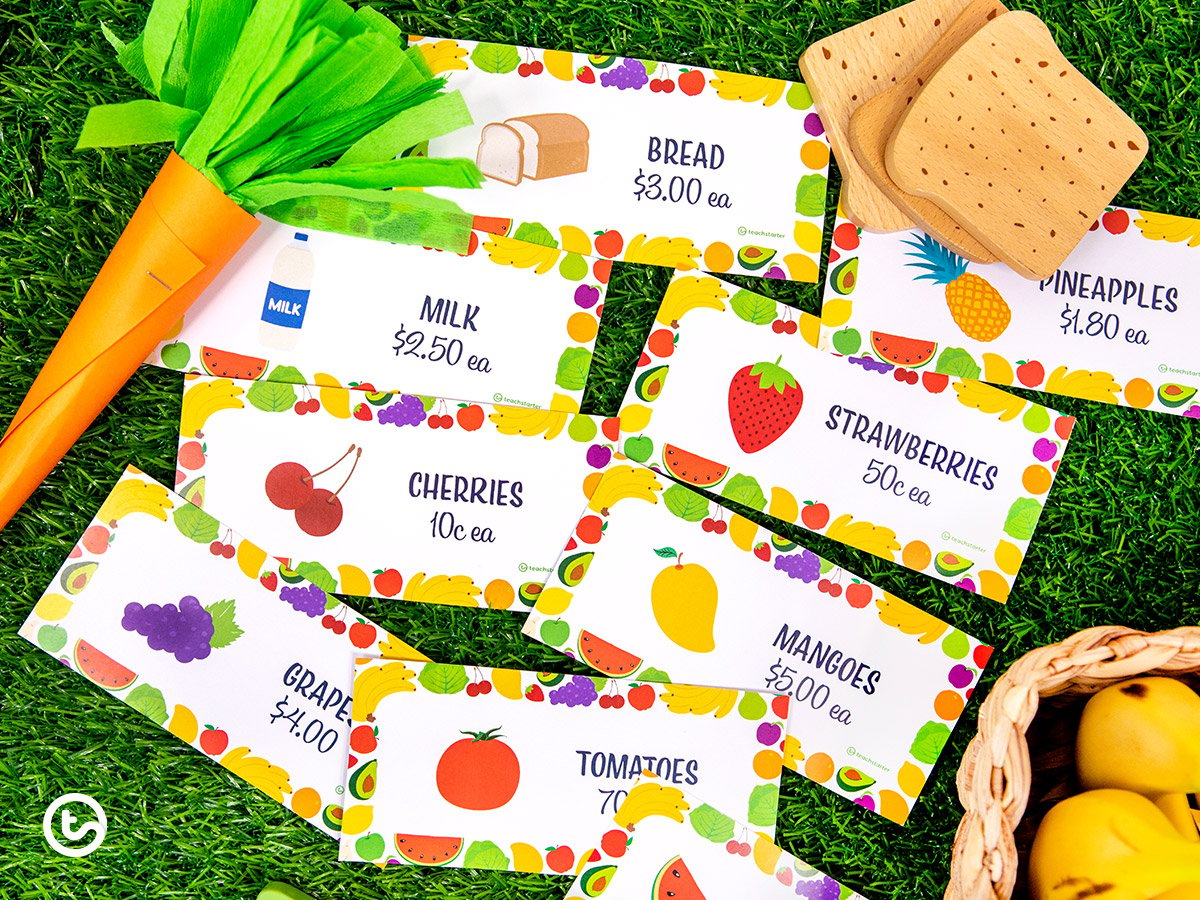 Fruit and Vegetable Dramatic Play Materials
The number one tip here is to get creative! Use as many things that you've already got available to you to set up the shop. And remember, it doesn't have to take up a whole corner of your classroom! We used a cheap Kmart table for this set-up!
These gorgeous baskets were also purchased from Kmart to be used as produce trays – at just $3.50 each! Also, we had a little bit of fun making some of the fruit and veg. As you can see, we made carrots out of orange paper and green crepe paper. For our delicious blueberries, we used blue pompoms. Next, we created oranges and lemons by using scrunched up crepe paper mixed. And we even included some real pieces of fruit and vegetables!
Oh and that little ball of string – that's a whole garlic!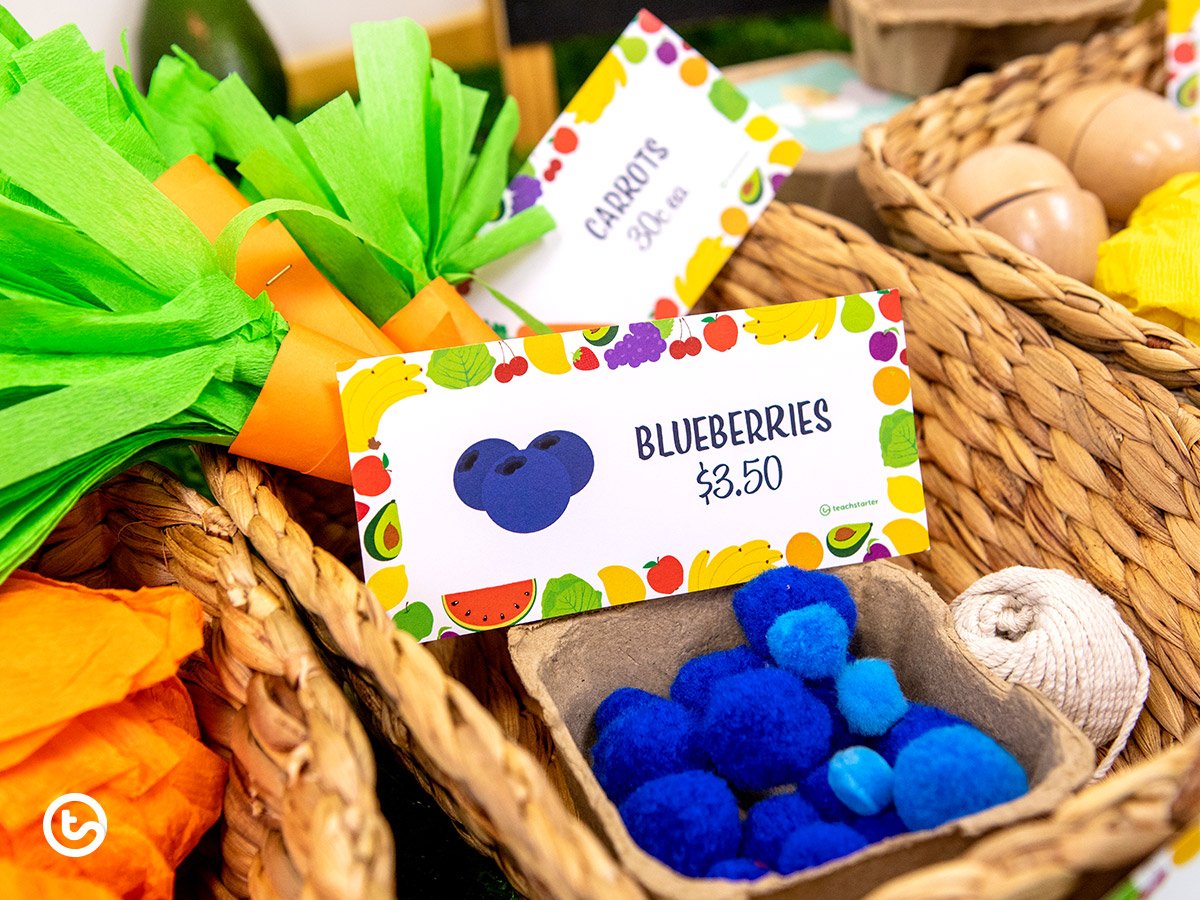 Shopping Lists and Paper Bags
At your fruit and vegetable shop, it's handy for your little shoppers to use a shopping list and some paper bags to store all of the fresh goodness they decide to take with them! We have some adorable Fruit and Vegetable Shop Role Play – Shopping Lists available to download in both colour and black and white. We also have an editable version should you wish to add your own products to your shop!
The shopping lists include a visual image of each product to make it easier for your little learners to know what is on the list.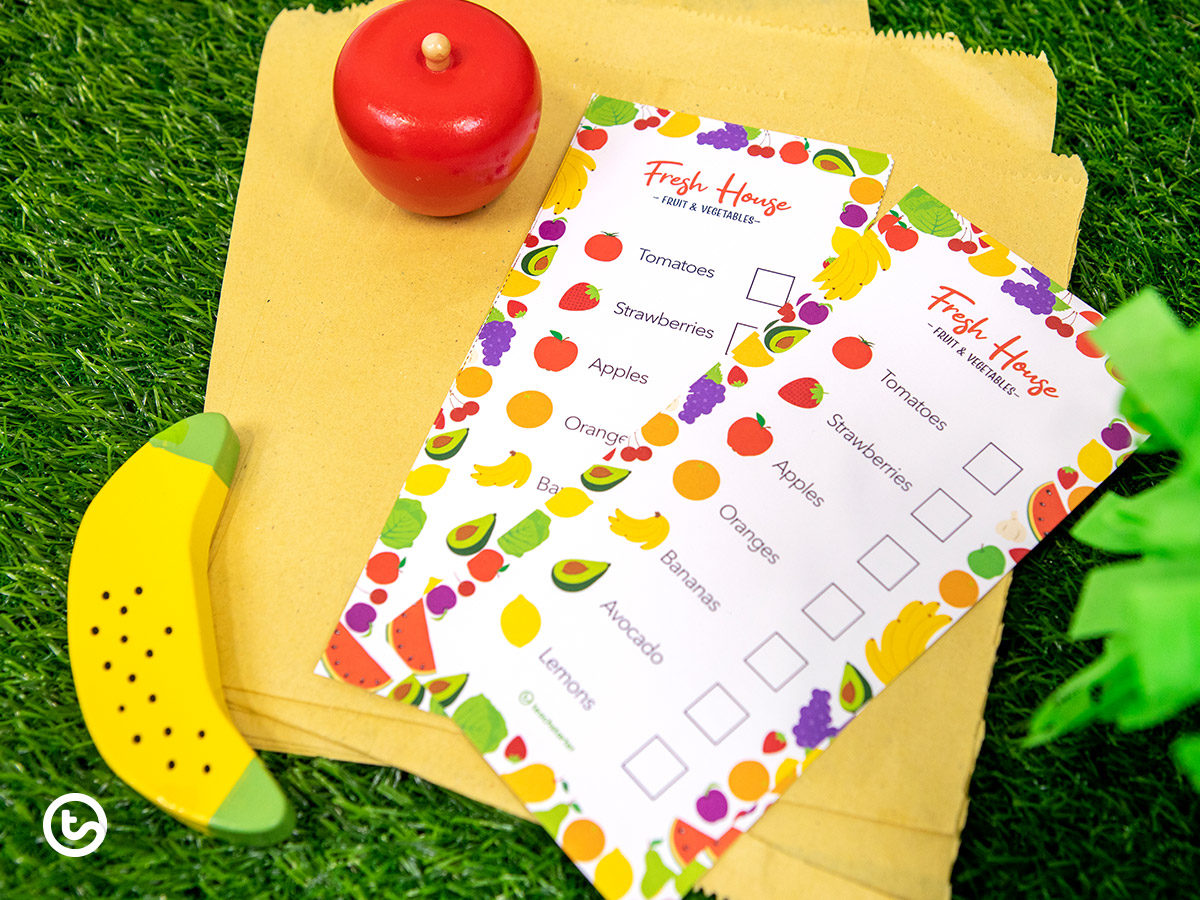 Open and Closed Signs
When all is said and done and the shop needs to close for the day – having a visual like this is a great way to remind your little learners that is time to close their Fruit and Vegetable shop for the day.
Print out our Fruit and Vegetable Shop Role Play – Open and Closed Sign and hang it where all your students can see it so they know when the shop is open for playing and when it is closed.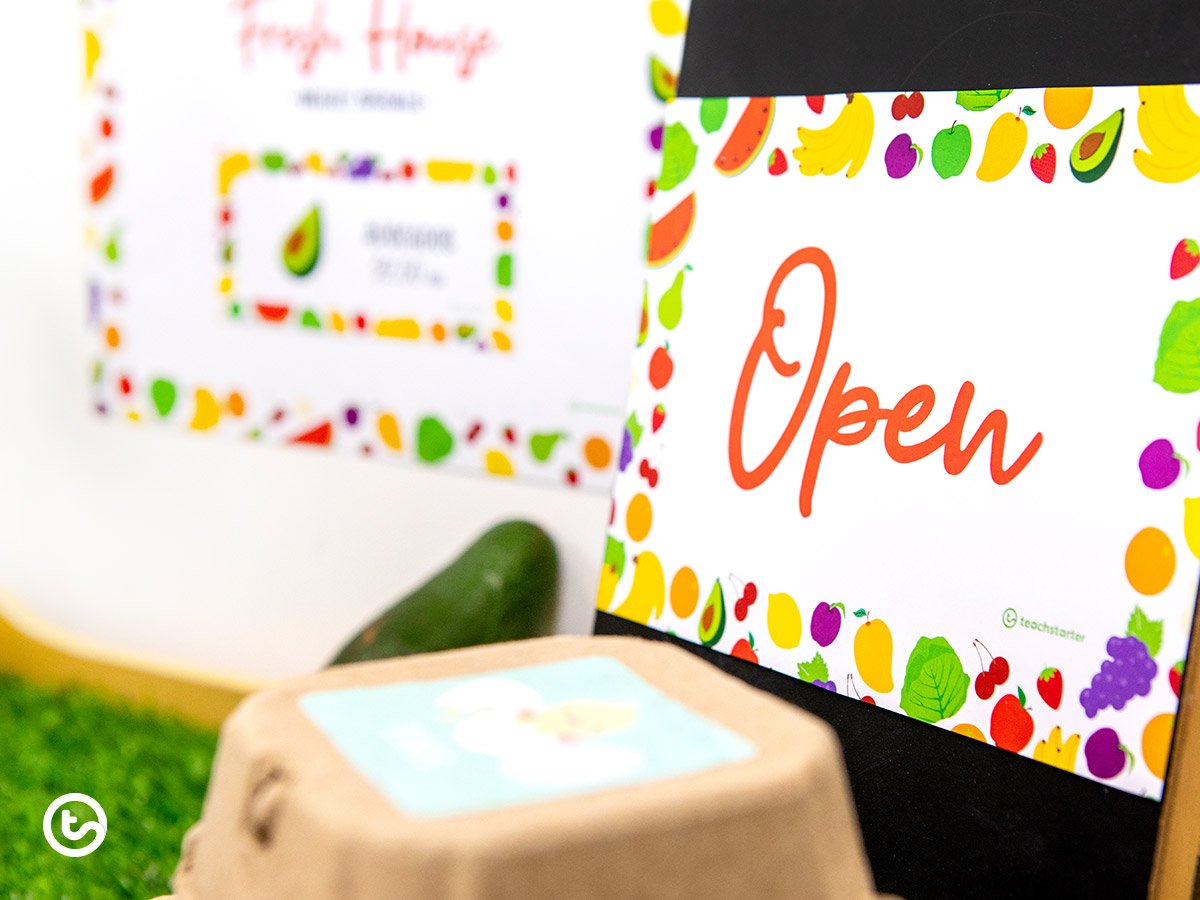 And, there we have it! A quick and easy guide for creating the cutest fruit and vegetable role play area in your classroom. Remember, use things you already have – get creative! Let the kids be involved in the set-up of the shop. They can brainstorm different ways they could make their fruit and vegetables.
We'd love to see your Fruit and Vege Shop set up in your classroom!
Tag us @teachstarter in your photos on Instagram.