We know how much teachers love teacher hacks, which is why we just can't help but write blogs that feature super clever hacks for the classroom. We've done #ikeahacksforteachers (twice in fact) with our 8 IKEA Hacks for the Classroom and 8 More IKEA Hacks for the Classroom. Then we moved on to another fav amongst the teaching Instagram community – Kmart! – with our 9 Kmart Hacks for the Classroom and Teacher Hacks That Will Blow Your Mind.
So, how could we leave out another favourite store that teachers seem to gravitate towards? We love its amazing storage supplies and other fun classroom supplies. That's right, it's Spotlight!
To help us find the best hacks so we don't waste too much of your precious time, we enlisted the support of the ever amazing Ally from @theyoungeducator.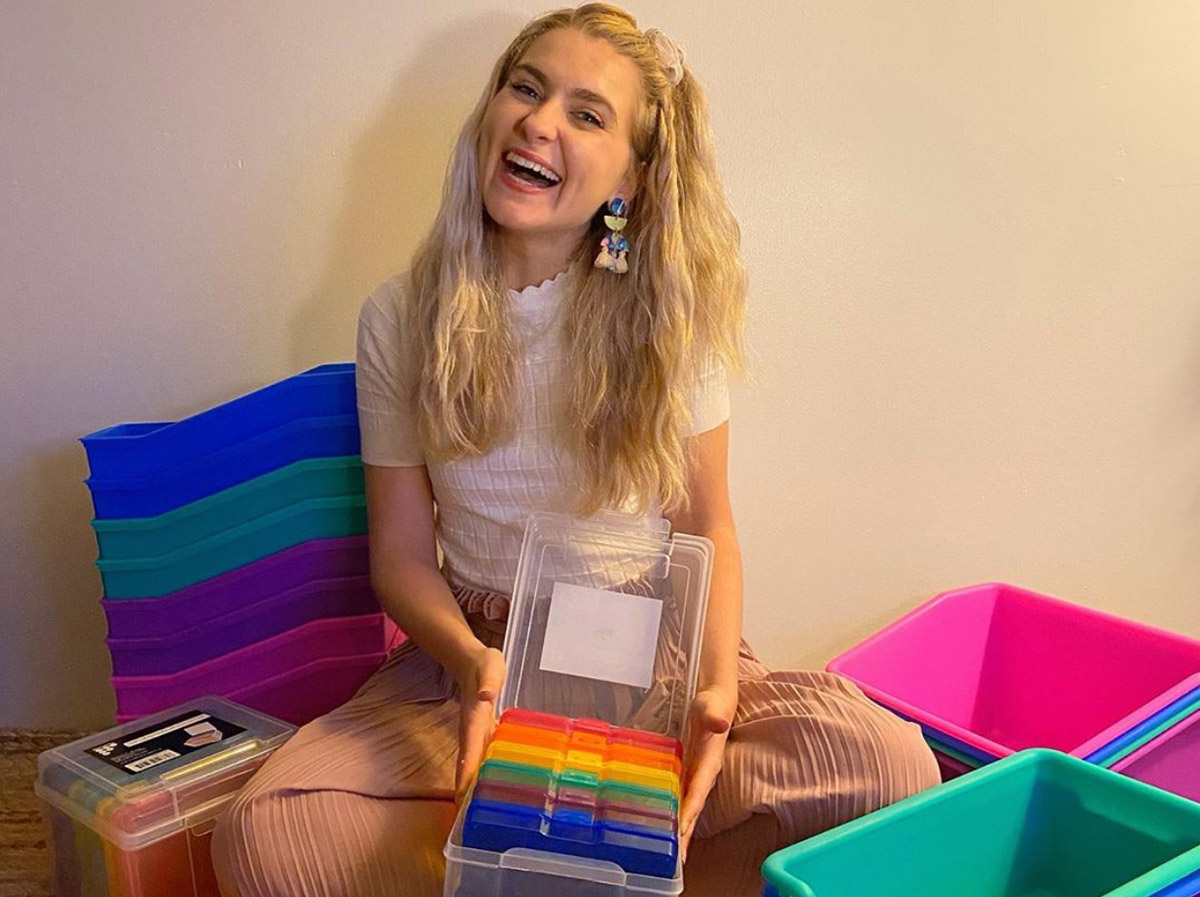 Ally confesses to being an absolute Spotlight fan!
---
 Spotlight Teacher Hacks for the Classroom
The Spotlight Trolley
If there's one thing you'll want to check out at Spotlight, it's the storage solutions at affordable prices! There is a selection of trolleys available that are the perfect solution to storing bits and bobs in the classroom.
Like any store, certain products come in and out, and the one featured in this photo isn't available at the moment. However, the ever-popular Recollections Lexington Cart will do the same job.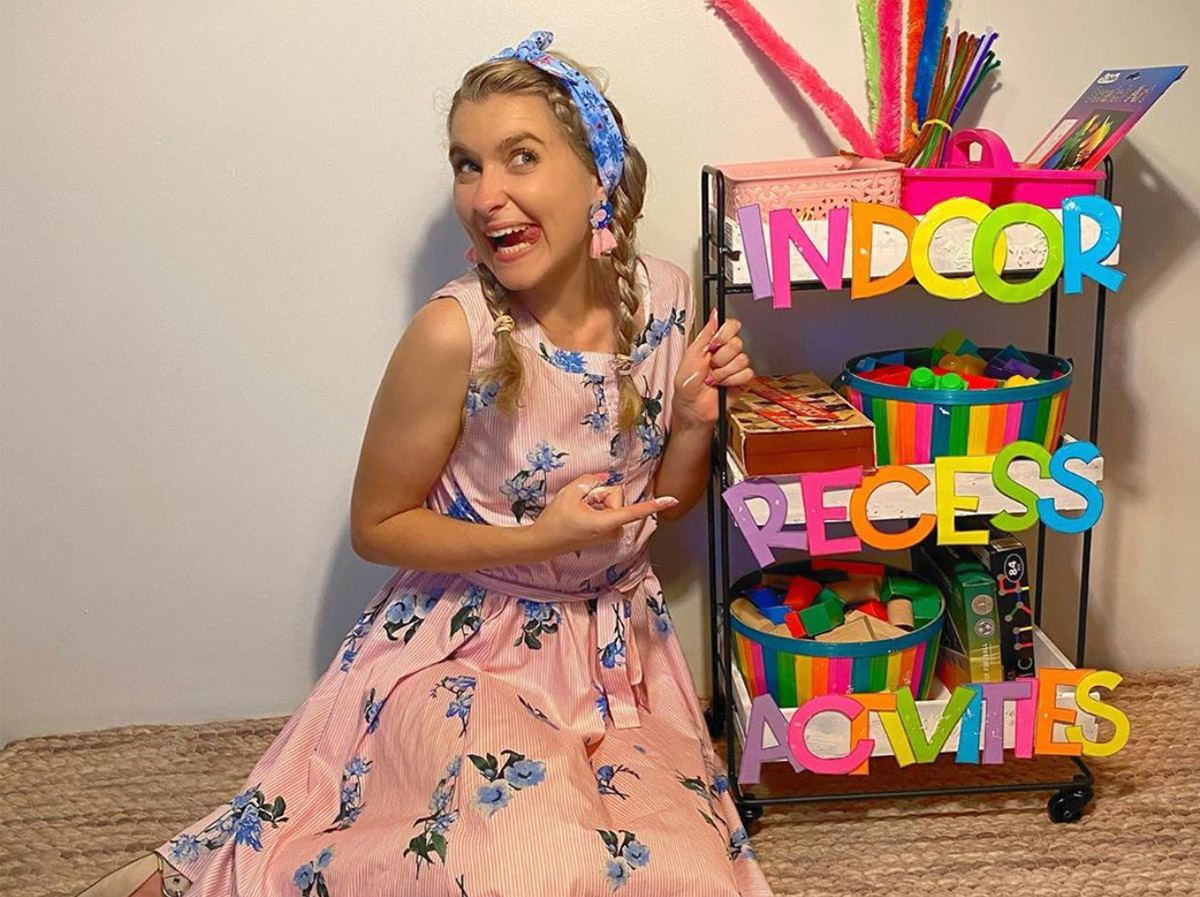 Ally uses a trolley to store all of her indoor recess play equipment in one handy spot. No rushing around trying to find things to occupy the kids when it's raining outside during playtime – it's all in one hand location!
Vinyl Table Cloth
This is one thing that I purchased in my first year of teaching and it was one thing that I used time and time again!
Especially handy for the early years teacher – this jellybean themed piece of vinyl can be purchased by the meter and comes in all sorts of fun patterns!
This was my painting tablecloth! I would often throw it over a group of tables during Art lessons. At the end of the class, you can just wipe it clean with a wet cloth.
Storage Solutions
Yep, we mentioned it before – but the storage solutions at Spotlight are #teacherstoragegoals!
This Multicoloured Drawer Organiser is super useful for a teacher who may be struggling with storage in their classroom. Especially handy to store worksheets or classroom games. The options are endless really!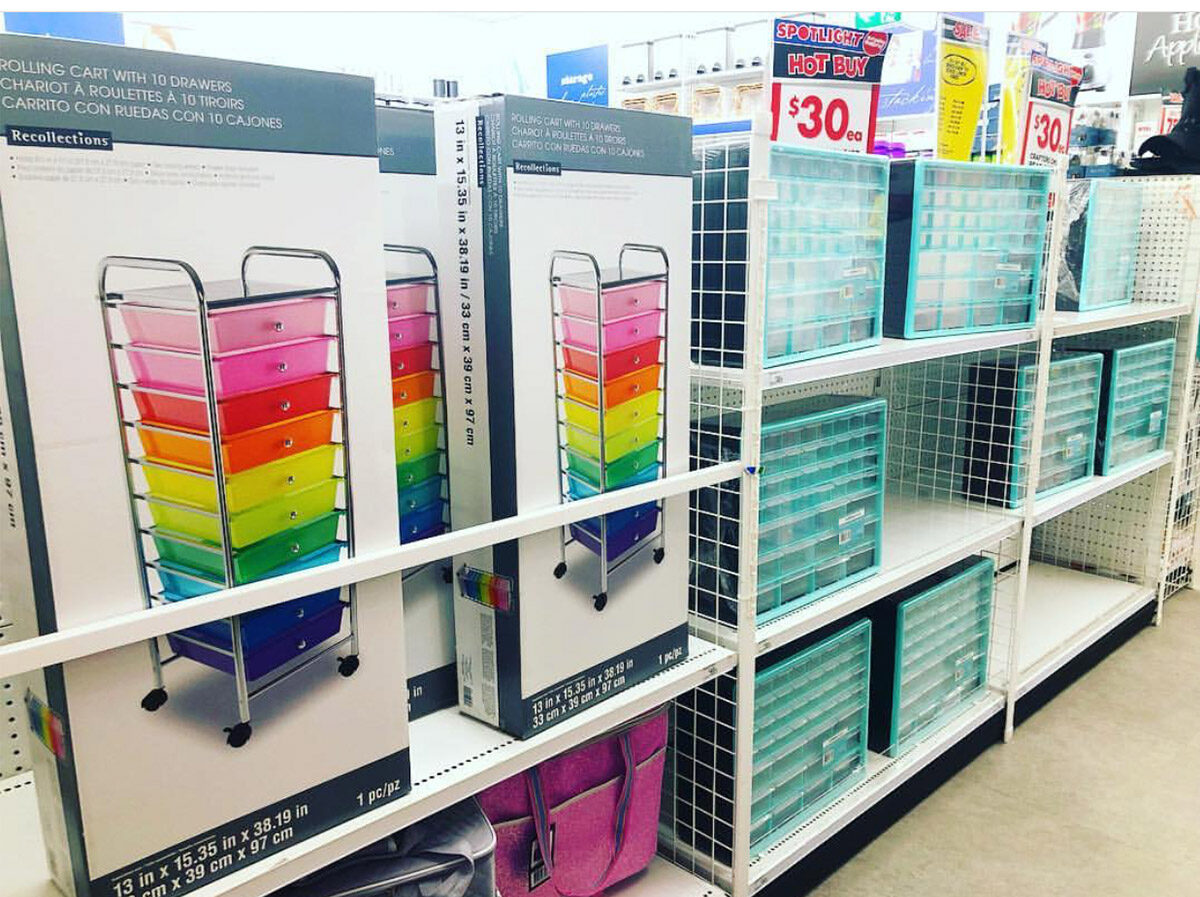 I had a set of these drawers next to my desk with all of the classroom games I had created!
Revamp Old Furniture with Fabric
If you're feeling a little creative and want to revamp some old furniture, the fabric section at Spotlight is where you need to head!
Check out these gorgeous stools that Ally revamped for her classroom using some fabric from Spotlight!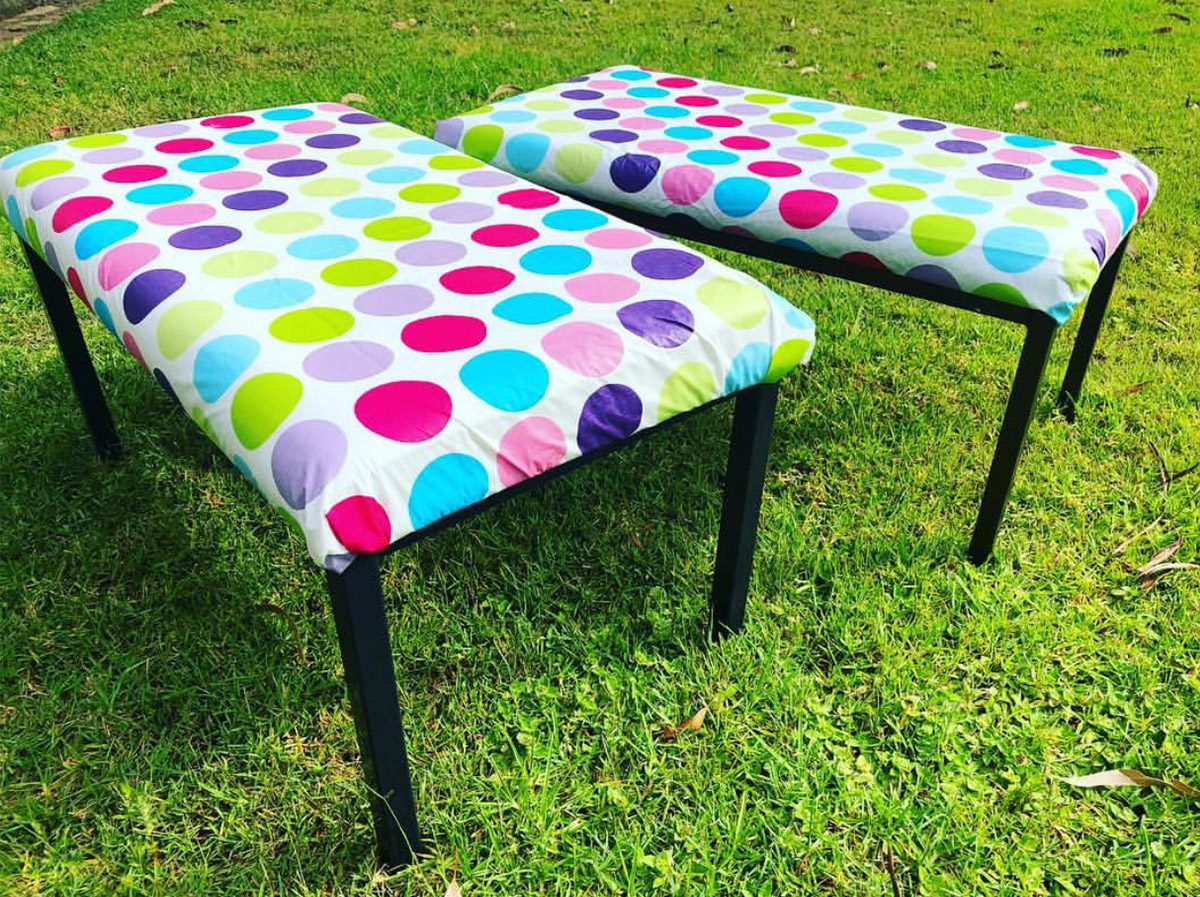 So bright and fun!
Wooden Trays for Hands-On Activities
You can purchase a variety of wooden trays for the classroom. These would be the perfect addition to any early years setting – especially for those messy hands-on activities where you want to confine the mess to one spot.
It's also a good way to store items required for morning group activities!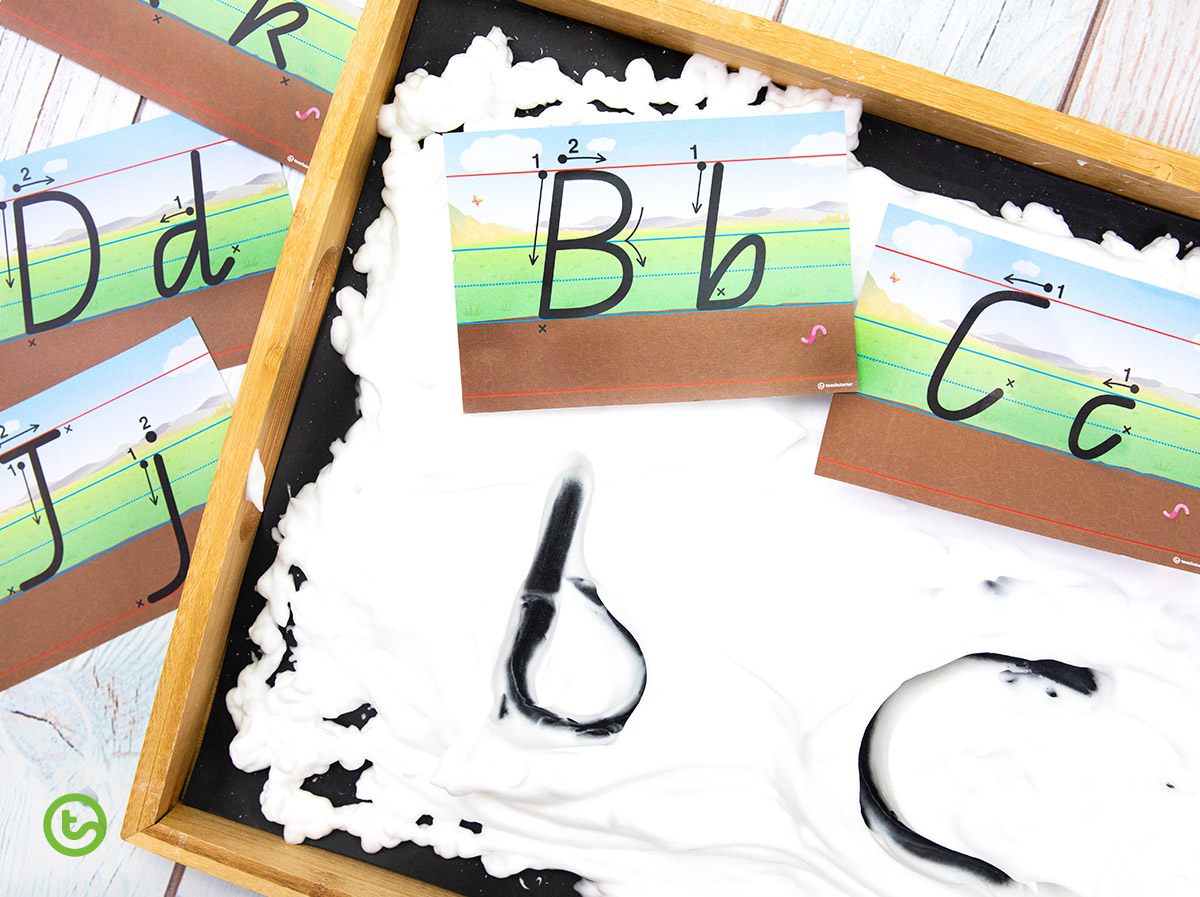 Wooden trays are perfect to keep the mess of hands-on activities in one spot!
Colourful Storage Containers
These craft storage containers are literally gold in teachers' eyes! There are SO MANY WAYS you could use these in your classroom.
Ally is a very lucky teacher and also has her very own cricut machine (which you can also purchase at Spotlight) and has labelled these containers for some extra super level organisation in her classroom!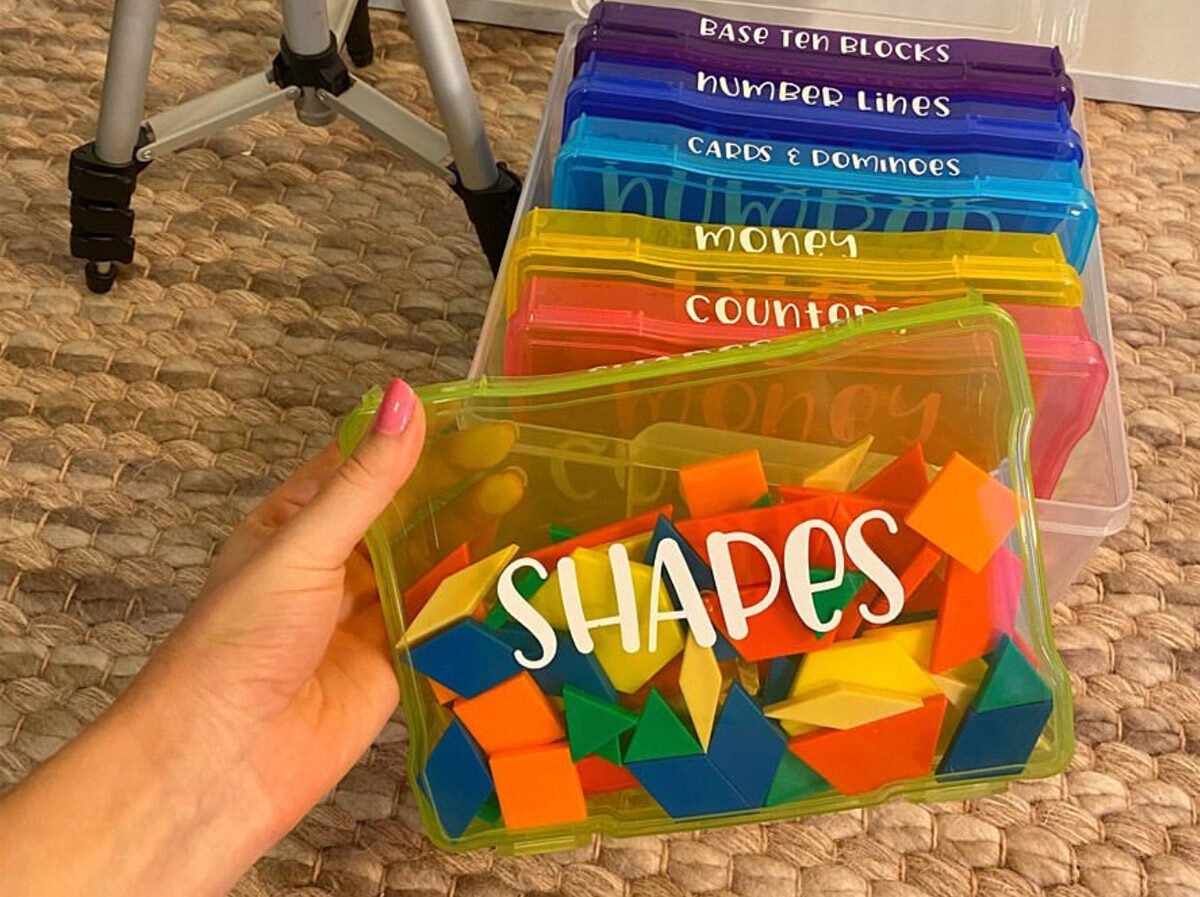 The perfect storage solution for task cards in the classroom!
Lap Trays for the Classroom
Flexible seating goals would be having some of these lap trays for students to choose to work on!
These are available in a variety of colours and are only $10 each – but keep an eye out for them at your local Spotlight store as they are often sold out! You can also try purchasing online!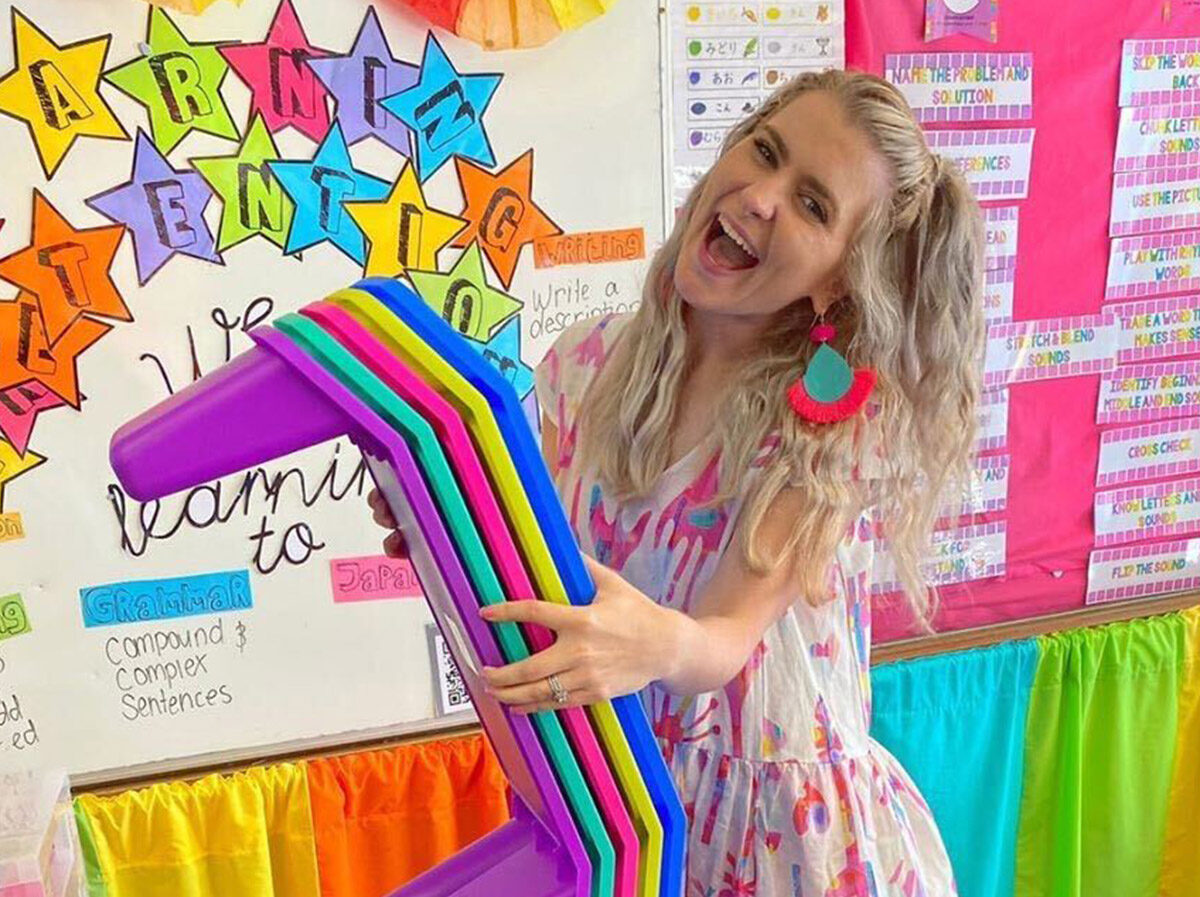 The look on Ally's face says it all! These lap trays are the perfect addition to your flexible seating classroom.
Utilise Fabric for Displays
Another #fabrichack for the classroom is utilising the material for backing on your classroom displays. Not only do they look super visually appealing but they are also great for the environment as they can be used time and time again.
Gone are the days of paper that just rips for the backing on classroom displays – hello fabric displays!
Quiet Critters or Warm Fuzzies
Shopping at Spotlight brings the added benefit of checking out the huge craft collection too!
Spotlight has everything you need to make some cute little quiet critters or warm fuzzies for the classroom to help with classroom management. Quiet critters are little colourful pompoms with eyes and sometimes little feet. They are used to encourage children to work quietly (when required). They come out and sit on the students' desks when it isn't too noisy but hide when it gets too noisy for them. Cute!
Spotlight has these bright and cheerful pompoms available as well as the googly eyes you need to stick on the pompoms.
Shutterstock.com / Lyudmila Epova
There are honestly so many amazing discoveries you'll notice when walking around a Spotlight store.
Share your favourite Spotlight items in the comments of this blog!