Who doesn't love IKEA hacks? The brilliance of IKEA hacks lies in the creativity, affordability, and doability of these ideas.
In the true spirit of making your life easier and bringing some creative buzz to your classroom, I have found some brilliant IKEA hacks just for teachers! And when you've finished here check out Holly's popular blog Spotlight Teacher Hacks You'll Love.
Flying Dart Game
Let's get off to a flying start and get your students up and active!
This super cool LUSTIGT Dart game can be used as the ultimate IKEA hack for teachers. The game includes a reversible dartboard so that you can use it to teach colours and numbers. Also included in the game are six cute figures that have a touch-and-close fastening on top. So they can be thrown easily and will stick to the board. 
There are limitless variations of the Flying Dart Game! For example, it's perfect for learning number bonds to ten in the early years. For middle to upper years, it's great for teaching place value.
To use this game to teach place value, download our 3-Digit Roll It, Make It, Expand It! – Place Value Worksheet. Encourage your students to:
throw the figures to generate a 3 digit number.
construct the number using base tens blocks.
expand the number to show the value of the digits.
Health Station
Are you on a mission to keep snotty noses and dirty hands under control? If you are then this is the IKEA hack for you. This practical and portable book display IKEA hack can be used to create a health station that your students will love to use!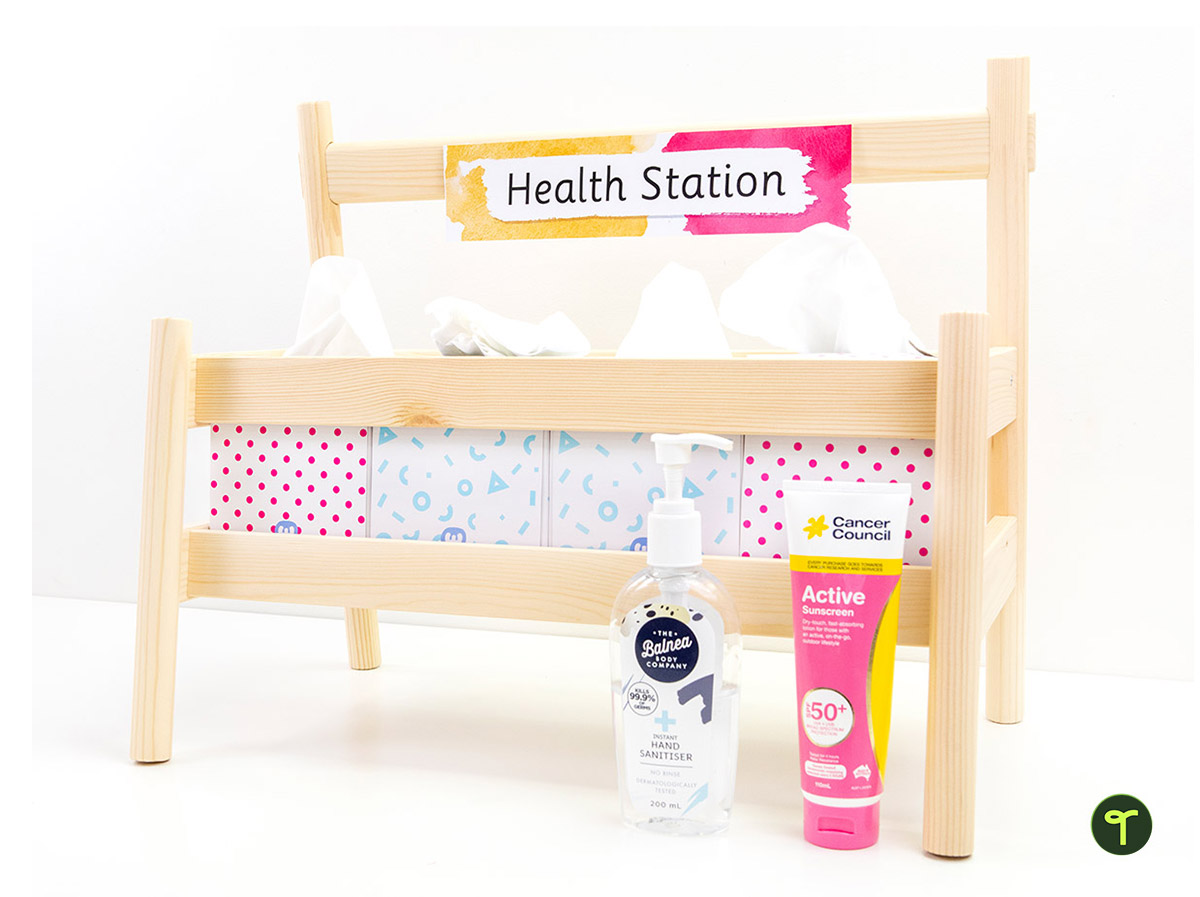 This neat FLISAT Book display allows your students to reach tissues, hand sanitizer and sunscreen. It's lightweight and the perfect size to place in the reading corner. In fact, you could put it just about anywhere as a gentle reminder to up levels of personal hygiene.
There are lots of other ways that this book display can be used. For example, it can be used as a:
maths rotation toolbox
teacher desk organiser
portable marking box.
For more tips on coping with germs read Emma's blog 5 Tips to Freshen Up a Stinky Classroom.
Wall Clock Display
Do you need a hand (no pun intended) with teaching time? If you do, you're not alone. Teaching and learning time is tricky because unlike other units of measurement, time is not concrete. So the answer is to make time as visible as possible with a wall clock display!
You can't go wrong with this bargain $2.49 STOMMA Wall clock in white because it is an ideal size and has no disturbing ticking sound! I teamed it up with our Clock Labels – 'Past' and 'To' to make a winning classroom display!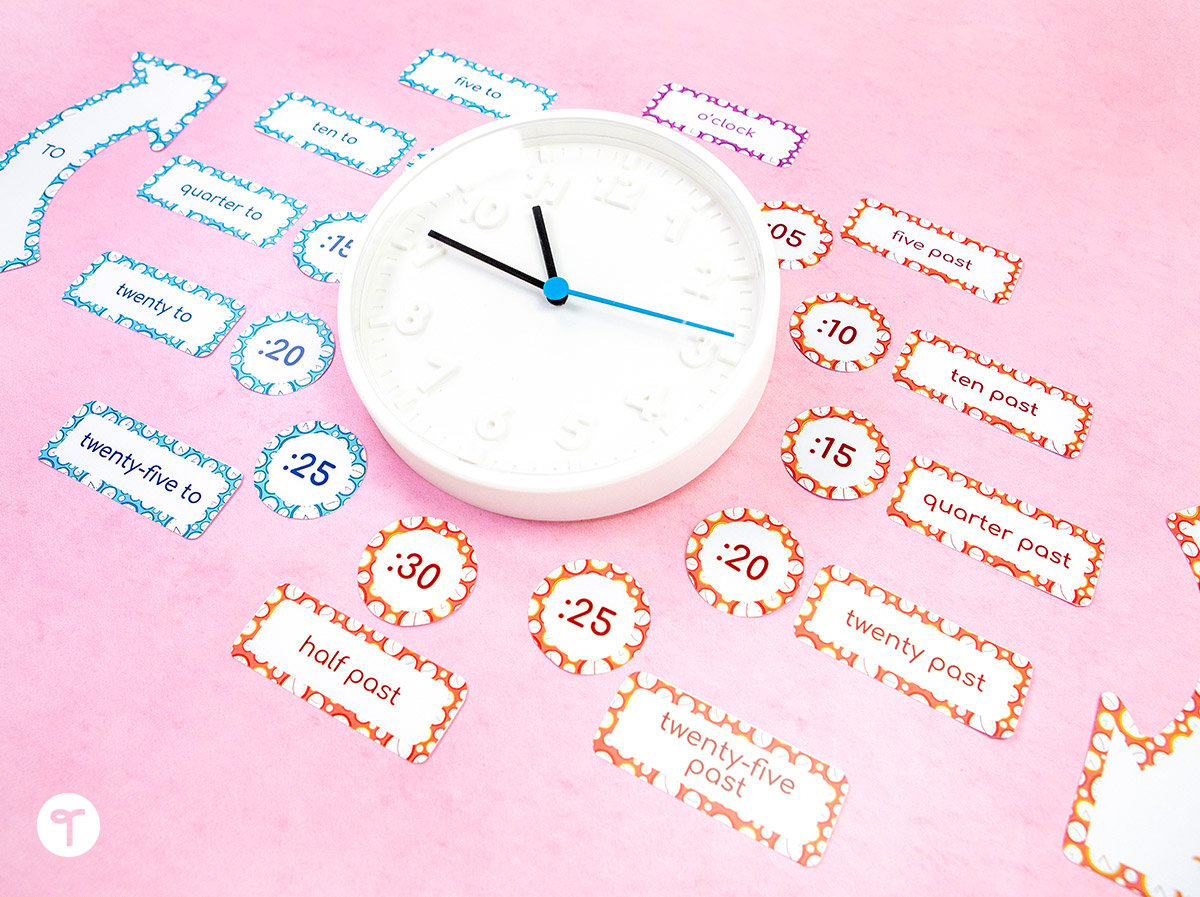 As you can see, this handy template helps students to read the time on an analogue clock using the language of 'past' and 'to'. And to support learning, each side has been colour coded.  Also, you'll find 'past' and 'to' arrows to help consolidate knowledge of the 'clockwise' direction.
For more clock ideas, read Bron's blog 9 Clock Hacks to Make Your Classroom Buzz!
Number Hop
Did you know that you can find kids games at IKEA? When I stumbled upon this LUSTIGT Floor game I saw endless teaching possibilities! This active game is ideal to use as a maths warm-up, brain break or a small group activity during maths groups.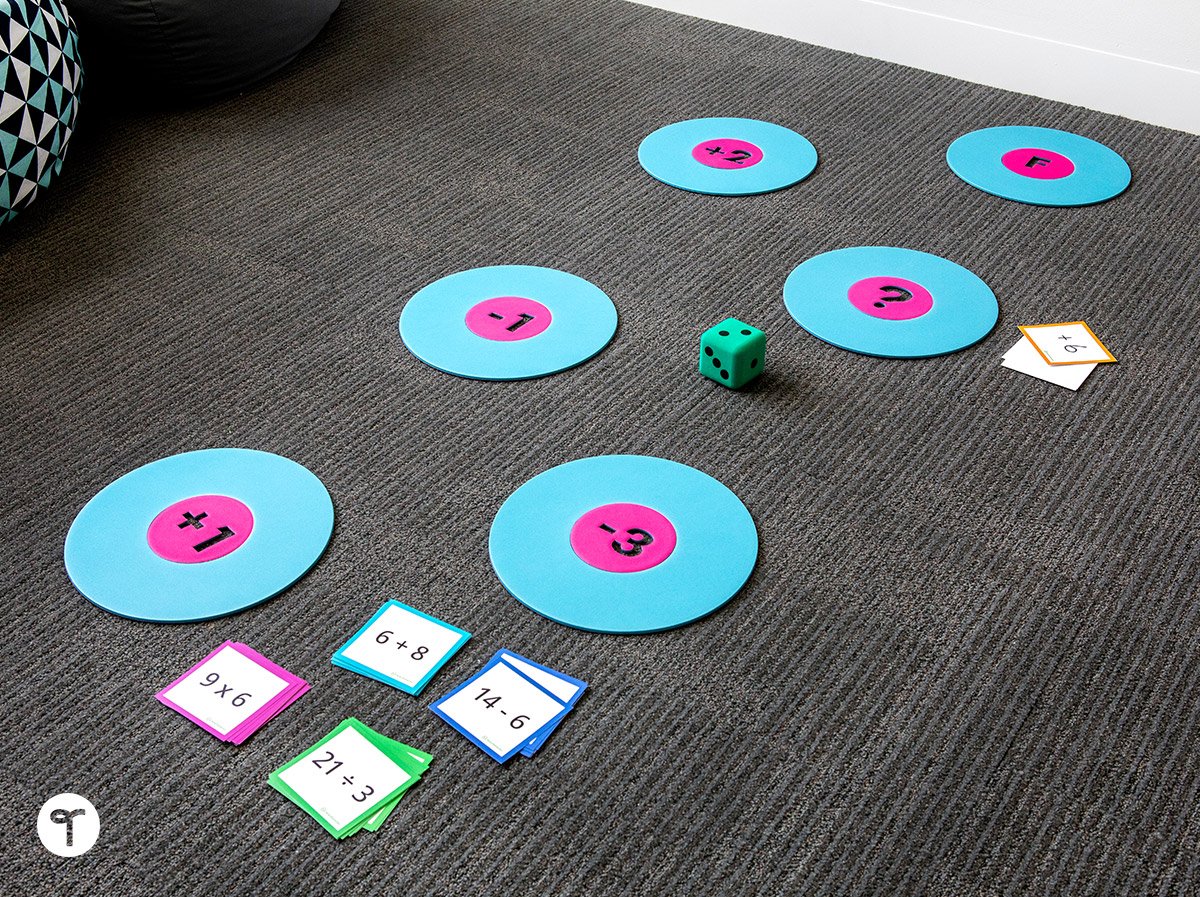 As you can see, this game can be varied infinitely! Why not challenge upper years students to create their own rules for a maths game.
For a simple game, idea why not try using our Basic Fact Cards. In a small group, students:
Select a card from the pile of Basic Fact Cards and calculate the answer.
Roll the dice and hop the corresponding number of places shown on the dice.
Apply the operation shown on the floor mat to their basic fact card answer.
Continue to play until the student lands on the 'F' floor mat.
Stylish Storage
Are you forever losing your board pens? I have found this stylish KNALLBÅGE Hanging organiser, that is perfect to keep your teacher accessories safe.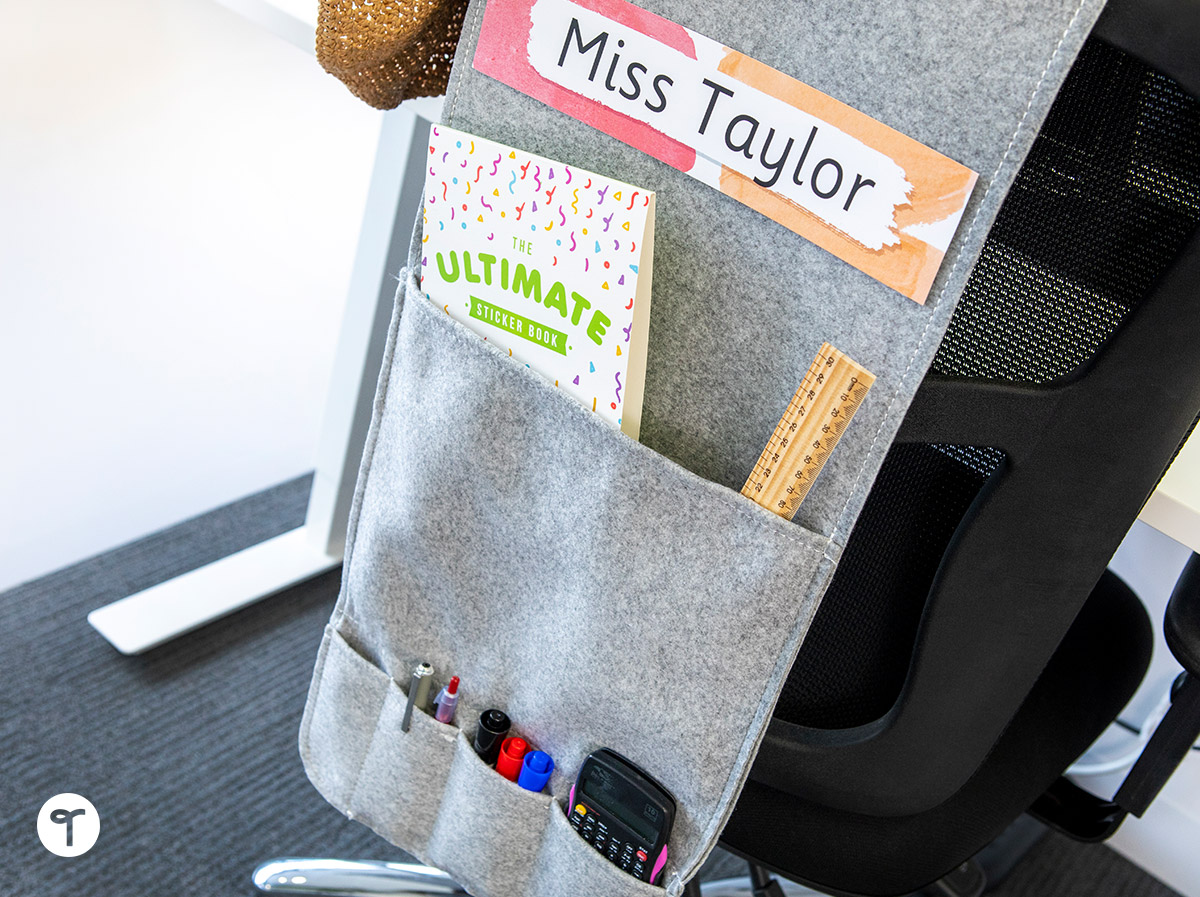 The super handy pocket storage can be:
hung over the armrest of a staffroom chair
attached to the back of your desk chair
hooked on the classroom wall or behind a door
secured onto your whiteboard.
What will you store in yours? For more nifty storage ideas, read Holly's blog 15 Classroom Storage Ideas for the Busy Teacher.
Sit Spots
Sit spots are fantastic classroom management and teaching tools for early years teachers! They can be used to clearly and colourfully mark where you expect students to sit or stand. Also, sit spots can be used as floor games.
The only problem is that they can be expensive. So I've found the perfect IKEA hack to create cheap and cheerful sit spots in a budget. I love these $1.99 PANNÅ Place Mats, in black, red and grey. They are an ideal size (37cm) and have a non-slip grip on most floors.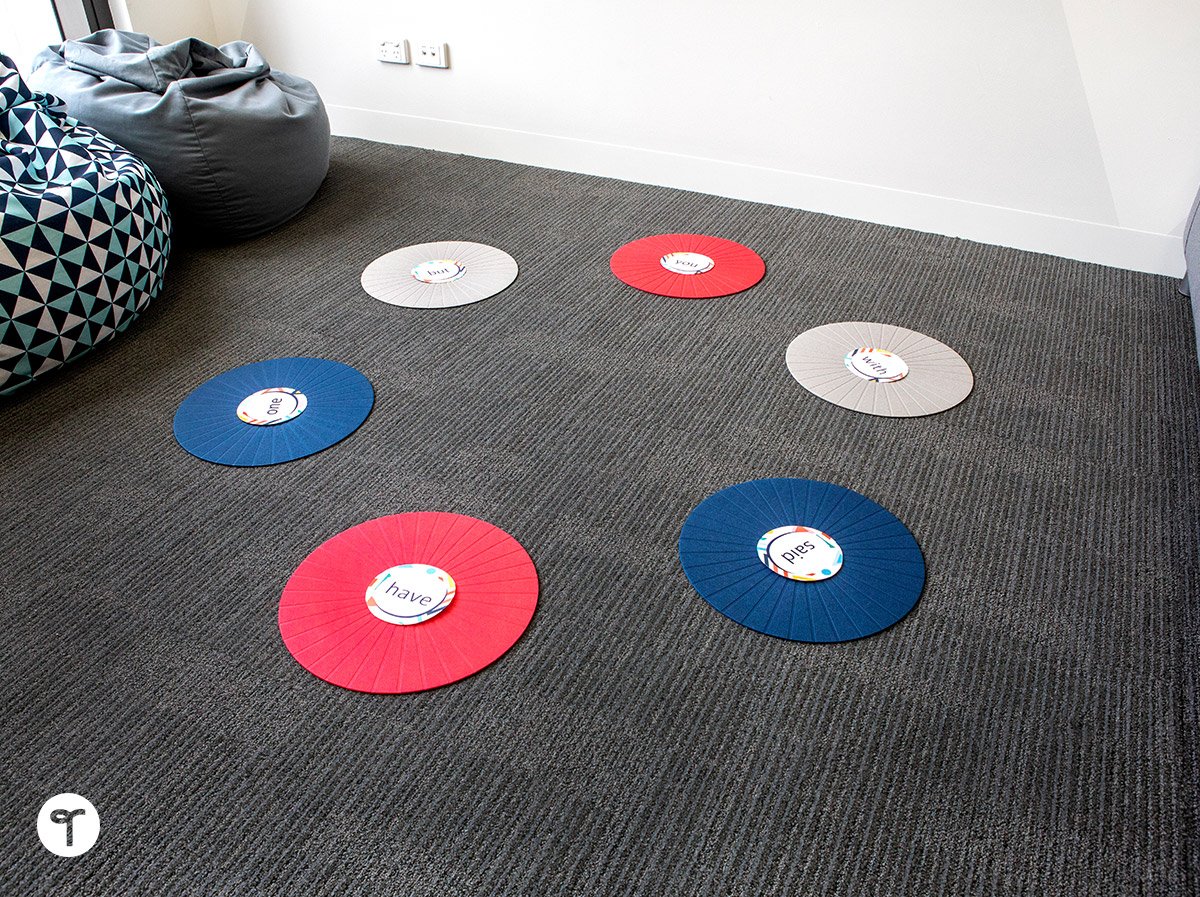 I love to help students increase word fluency by adding sight word circles to the sit spots. Use your sight word circles on sit spots to play floor games! For example hopscotch or bean bag toss games.
It's easy to make the sight word circles with our Geometric Boho – Star Student Badges (enlarged). Simply, attach them with sticky tac so that you can mix them up and move them around!
Dice Mats
Are you tired of the sound of rolling dice? If you are then this IKEA hack could be the answer. These cheap and cheerful PANNÅ Place Mats are ideal to use as dice mats.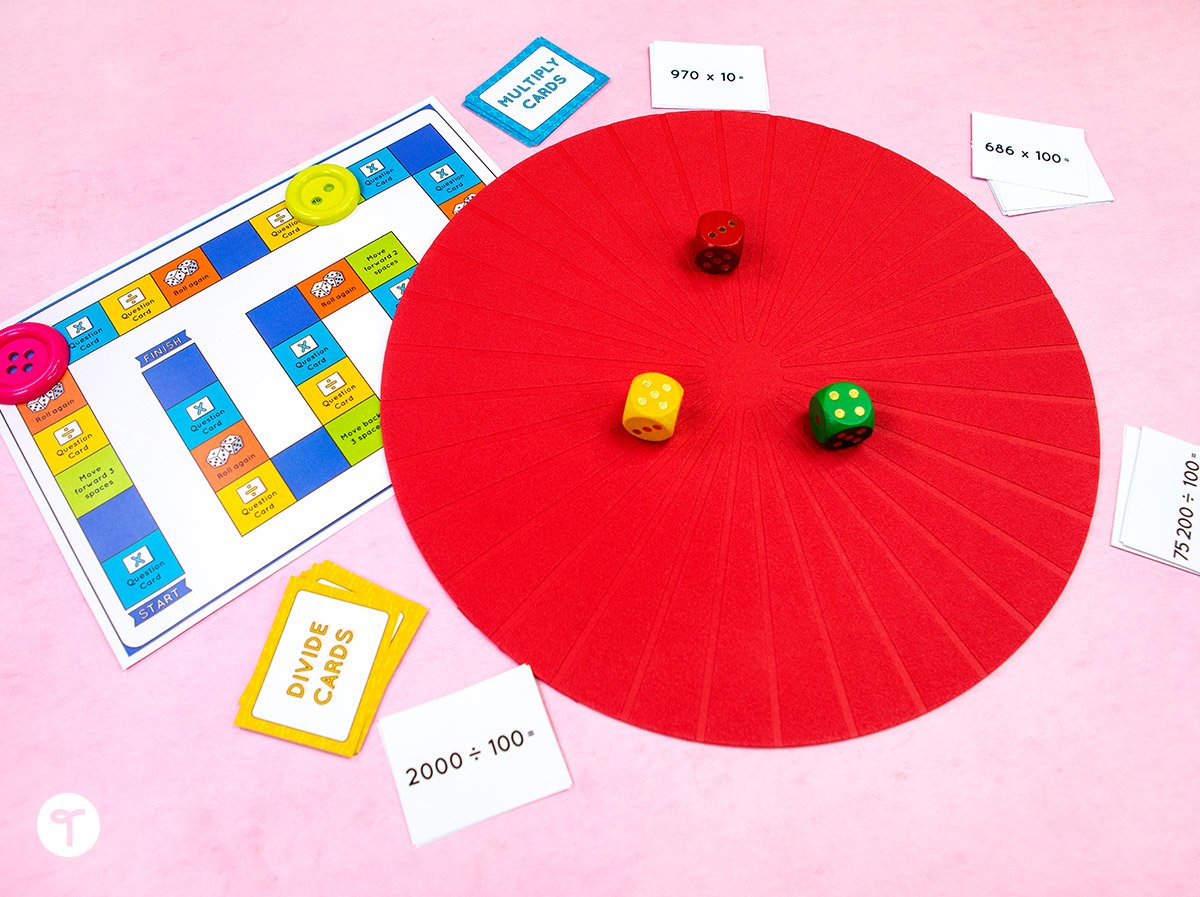 At the bargain price of $1.99 you may be able to purchase enough for a small group of students or even a whole class. Oh, and don't forget to take a look at this popular Multiply It or Divide It! Board Game suitable or upper years students. It's perfect for maths rotations.
Ha, I just thought – you could even use these placemats to teach fractions or angles!
IKEA Hacks – Flip Frames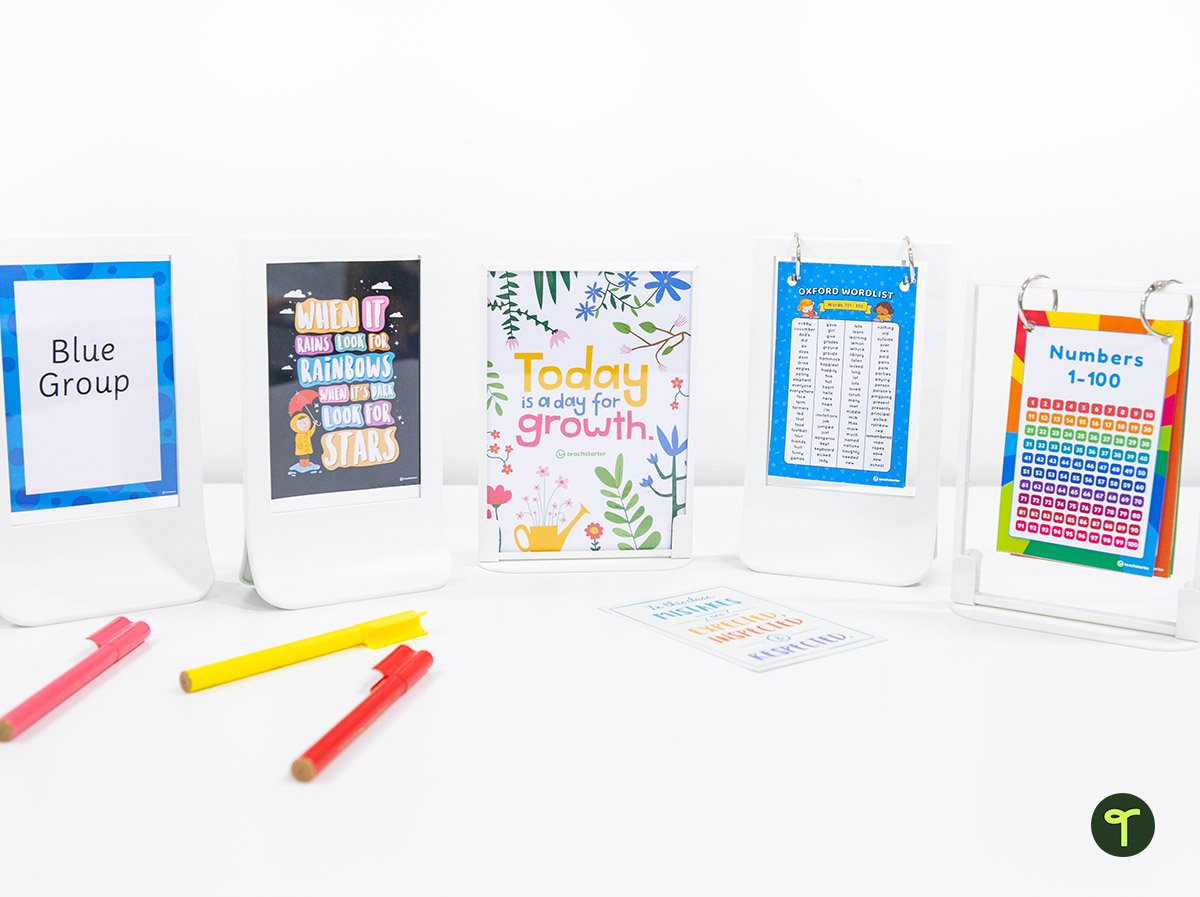 The IKEA Frame Hack is fantastic! It is super versatile because you can use both sides of the frame, it's cheap as chips and it's totally doable. We found two types of frames on the IKEA website which suit this hack perfectly:
Both of these frames are double-sided so they tick the boxes for flip frames or single page displays!
Simply print out any of our resources on 4 to a page, or even 2 to a page for the Revsund frame. Then use a little sticky tack to sit them where you want them to fit in the plastic protector. Alternatively, use some hinged rings to make some flipbooks!
You may have some of the older IKEA Tolsby frames floating around. Even though they are no longer available in-store, our Tolsby frame teaching resources fit very well into the new Fiestad and Revsund frames! Here are some great ideas on how to use them.
We loved the idea of using the frame as a flipchart frame so much, that we even re-created some of our most popular display posters in the correct size for the IKEA Tolsby frame.
Our Tolsby frame teaching resources include:
The (now unavailable) Tolsby, Revsund, and Fiestad frames all work together in much the same way, which means these templates are suitable for all three.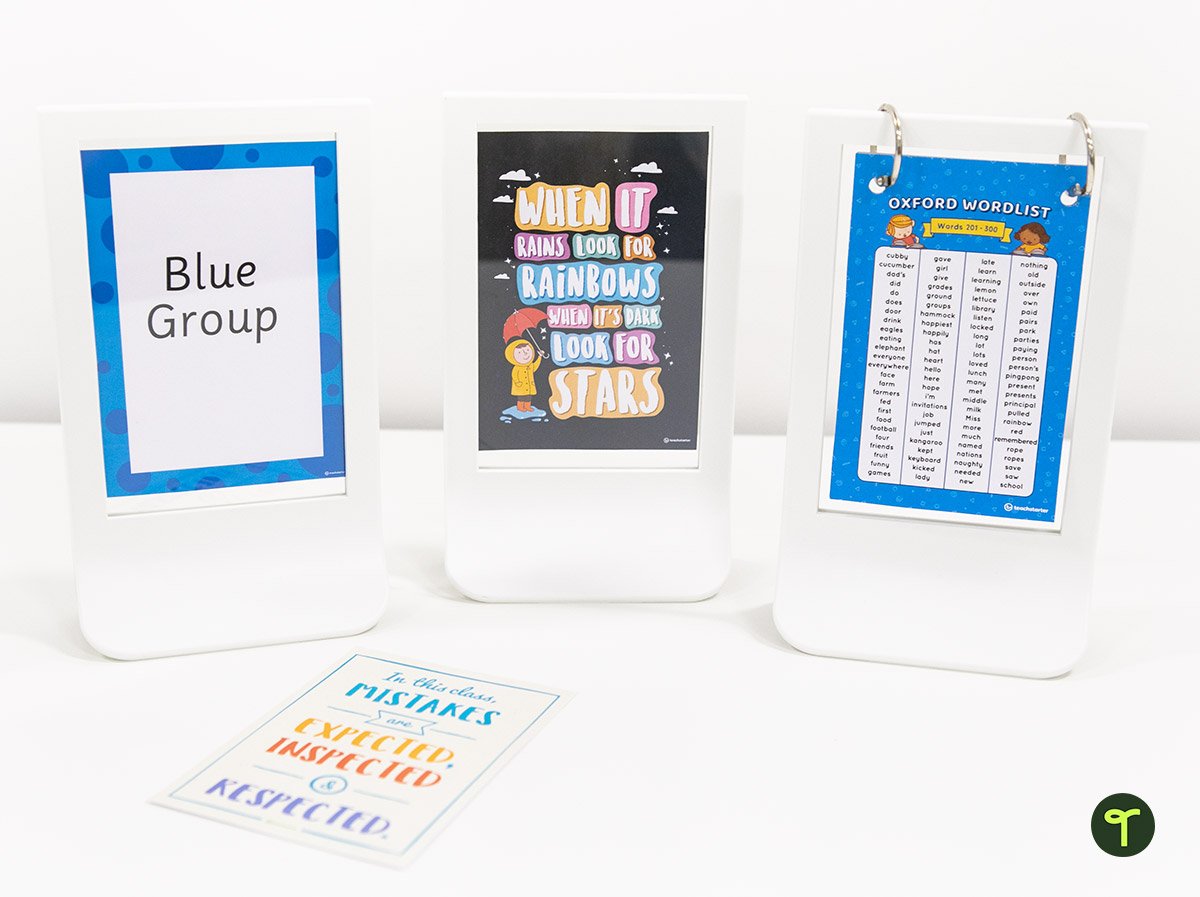 IKEA Hacks – Stationery Storage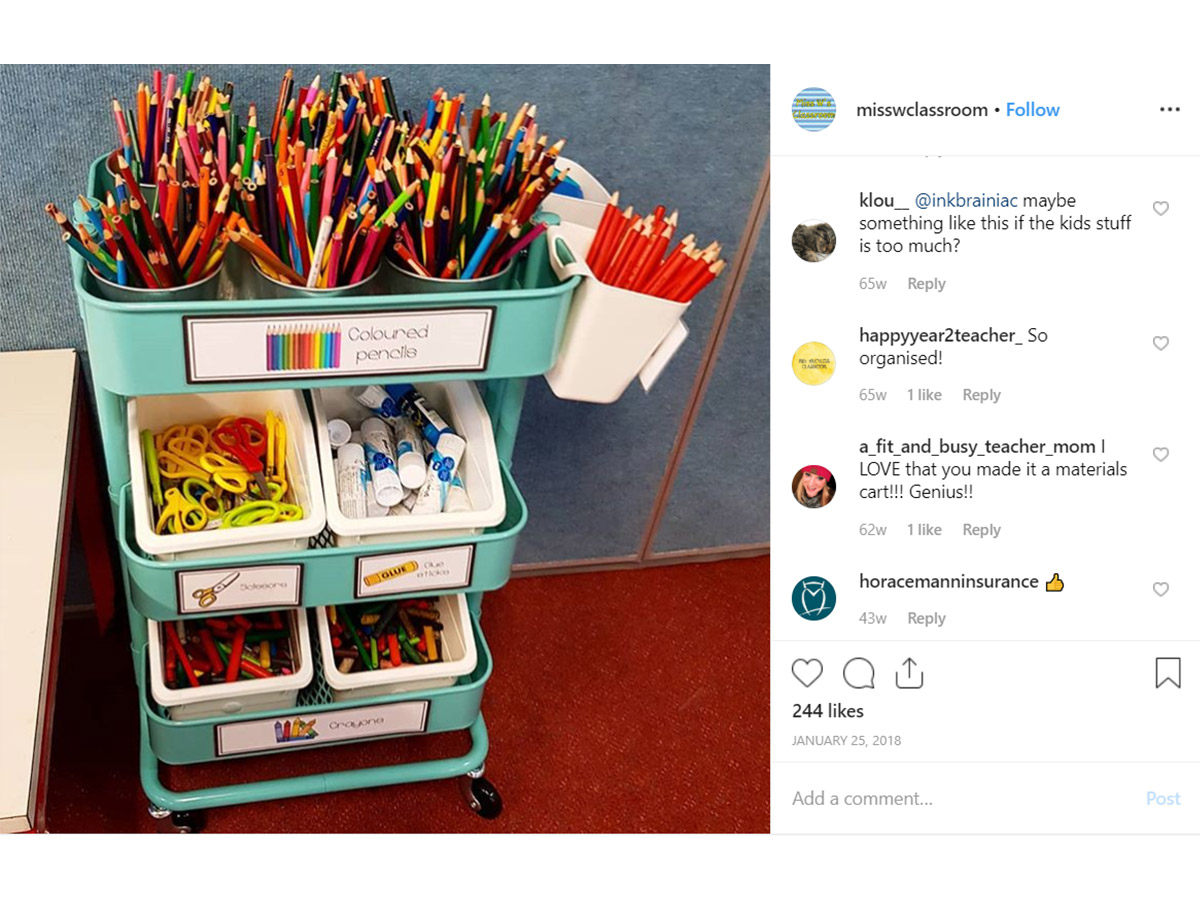 We love this clever use of the infamous IKEA RÅSKOG Trolley by @misswclassroom. This trolley is the perfect height for little people and a great storage solution for stationery. It's the perfect accessory for any makerspace, literacy center or creative corner.
Top tip: Establish a student helper system to keep the classroom craft tray tidy.
For more information on the power of giving your students responsibility in the classroom, read my blog Sharing Responsibility in the Classroom | Classroom Jobs.
IKEA Hacks – Flexible Seating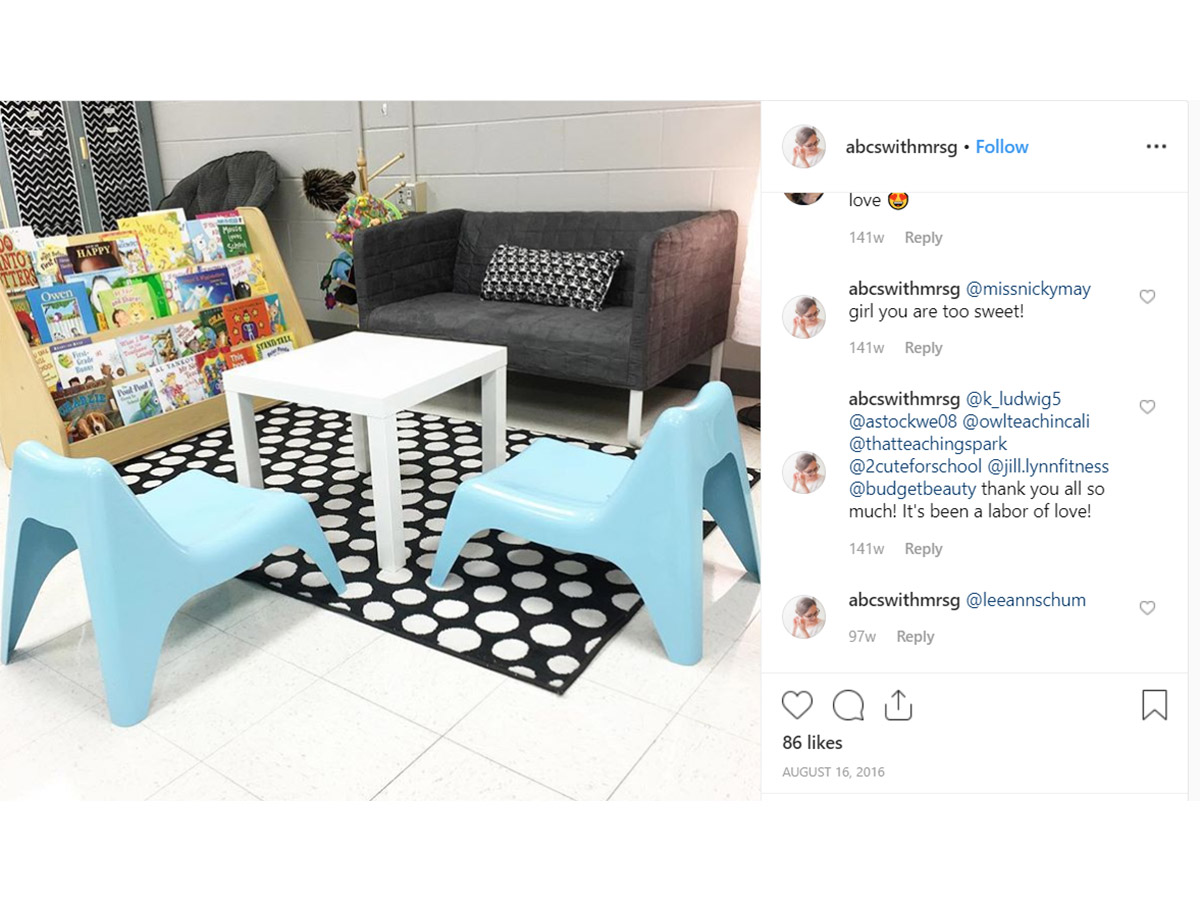 Kids love having flexible options for seating. @abcswithmrsg has done a great job of creating a reading corner with different seating options by using the IKEA BUNSÖ children's easy chair.
For more information on the benefits of flexible seating arrangements in the classroom and for a sneak peek into some inspiring classrooms read our blog A Student-Designed Flexible Seating Classroom Tour.
IKEA Hacks – Book Display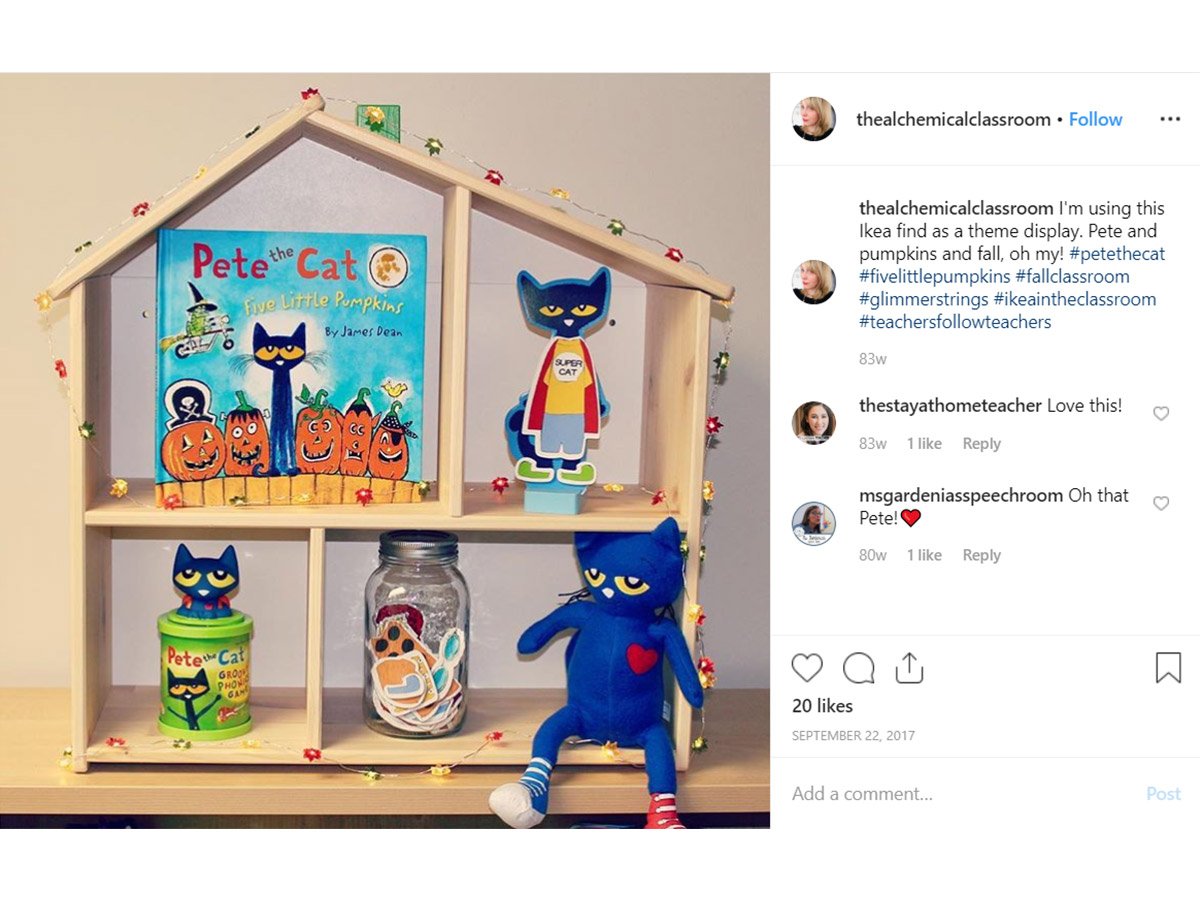 When it comes to IKEA hacks for the classroom, it's not just about being practical and organised. Sometimes, it's about bringing something homely to the classroom, adding some warmth and inspiring imaginations!
I love this FLISAT doll's house/wall shelf (and have one in my daughter's bedroom). I hadn't considered using it in the classroom before I spotted this from @thealchemicalclassroom! What a brilliant idea to add props and figures to the display to inspire reading and writing. IKEA Hacks are the best.
 IKEA Hacks – Parent Communication Board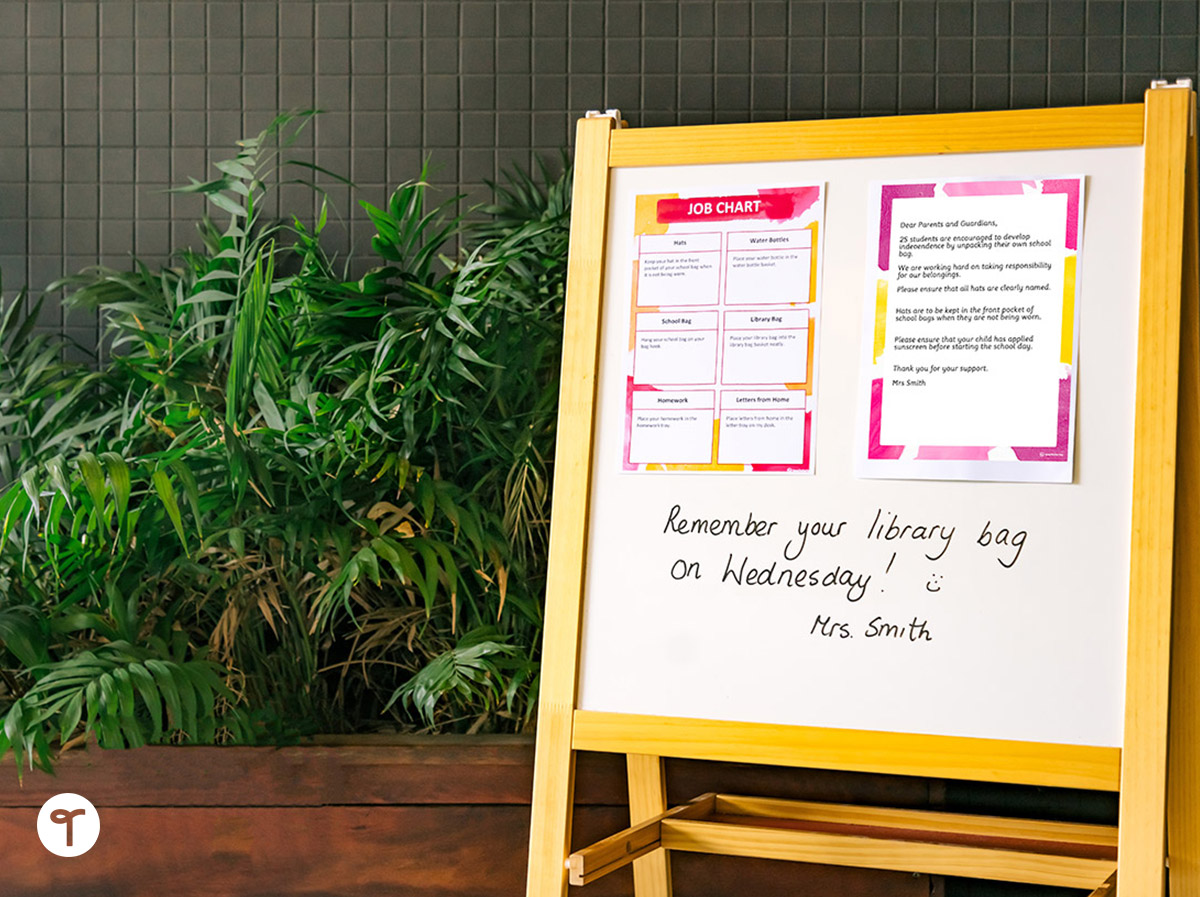 This MÅLA Easel is great value and so versatile. It's brilliant to use as a parent notice board outside of your classroom. IKEA hacks are brilliant because of one idea often leads to the next…
IKEA Hacks – Phonics Wheel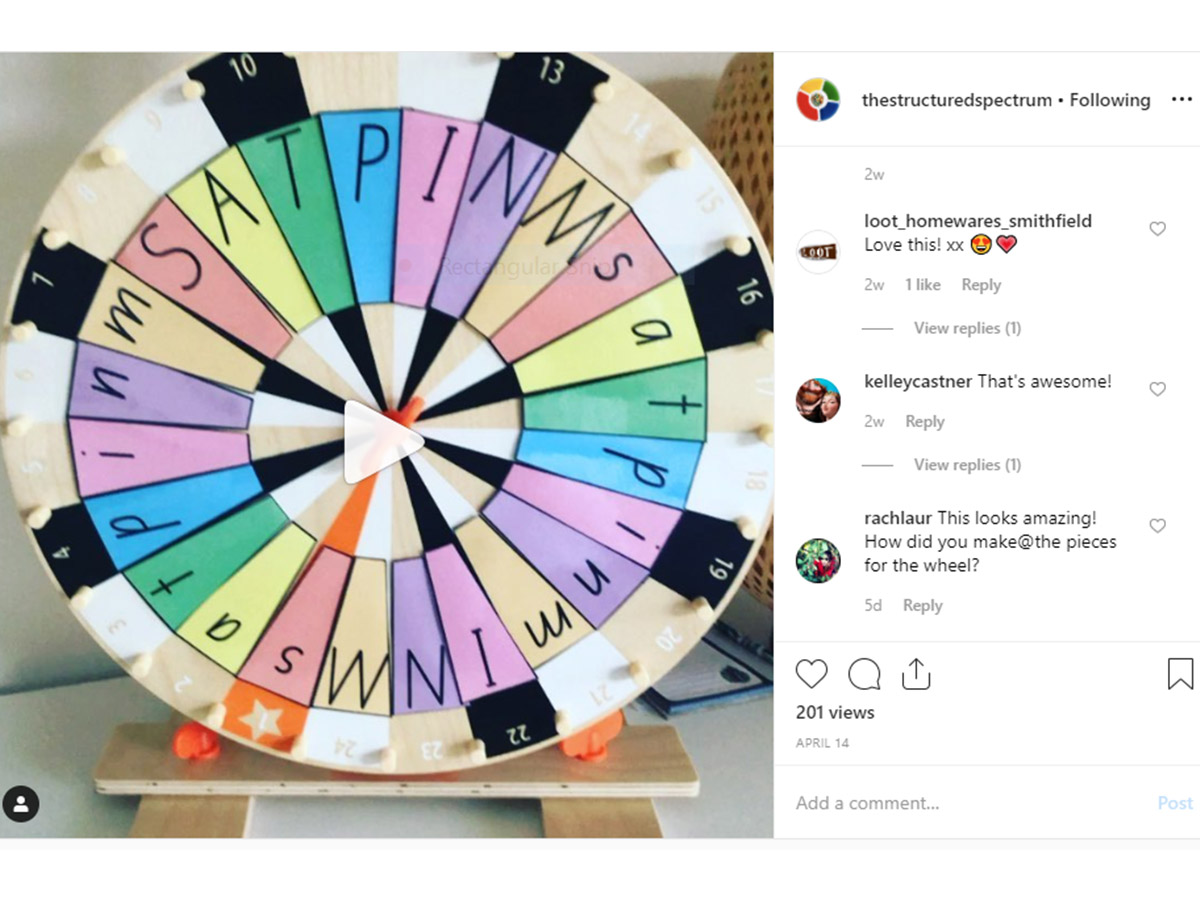 I'm totally in love with one of the best IKEA hacks around. Miss Izzy @thestructuredspectrum can hold her head high with this level of genius.
The IKEA LUSTIGT Wheel of Fortune game at the bargain price of $19.99 can be transformed into a phonics wheel, word wheel or a number wheel. You could even attach name labels to create a random name generator! 
If you are looking for some fun ways to incorporate the IKEA spinning wheel in your classroom read Holly's blog.
IKEA Hacks – Water Bottle Storage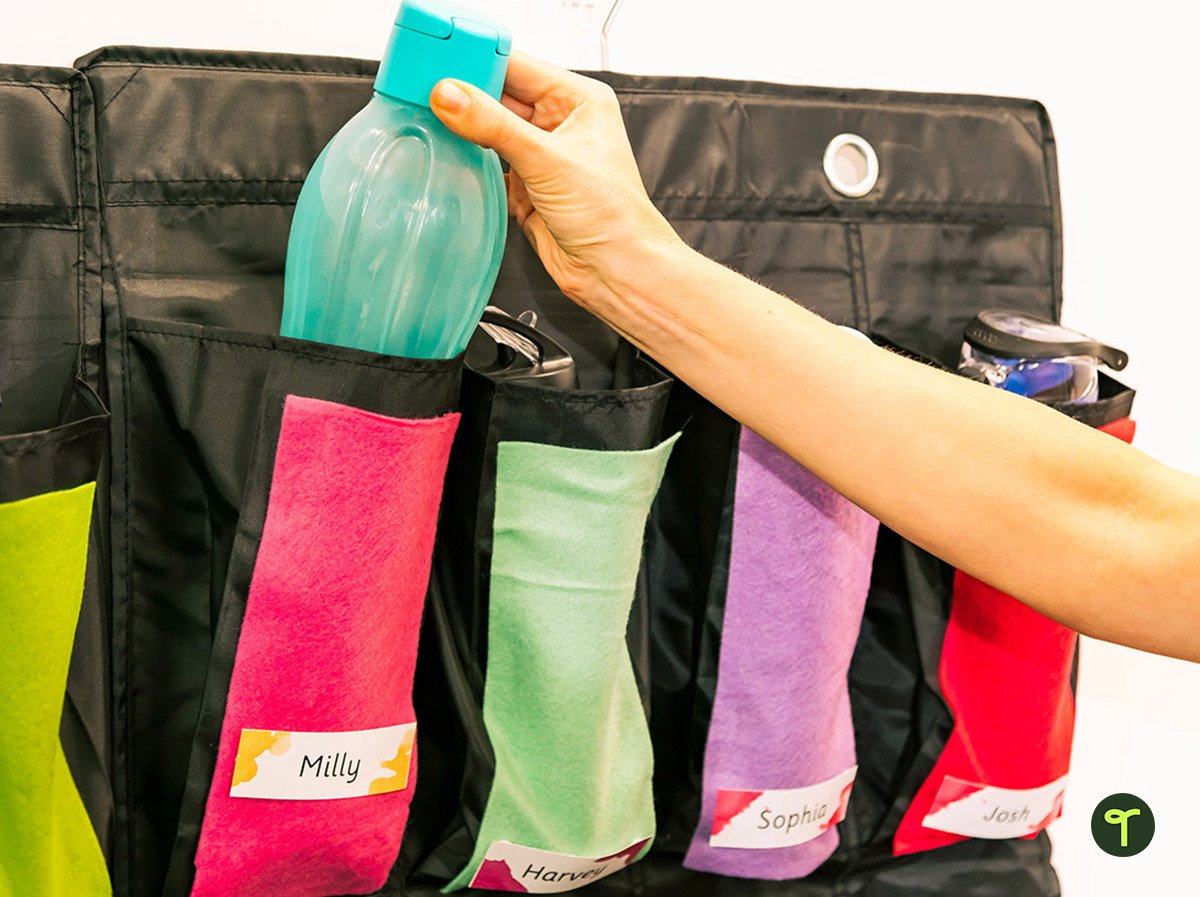 One of my favourite IKEA hacks is the clever use of this SKUBB hanging shoe organiser with 16 useful pockets. They are such a bargain at $5.49 each and they can be used in so many ways!
I love to join two together to create a clutter-free water bottle storage solution.
IKEA Hacks – Parent Pockets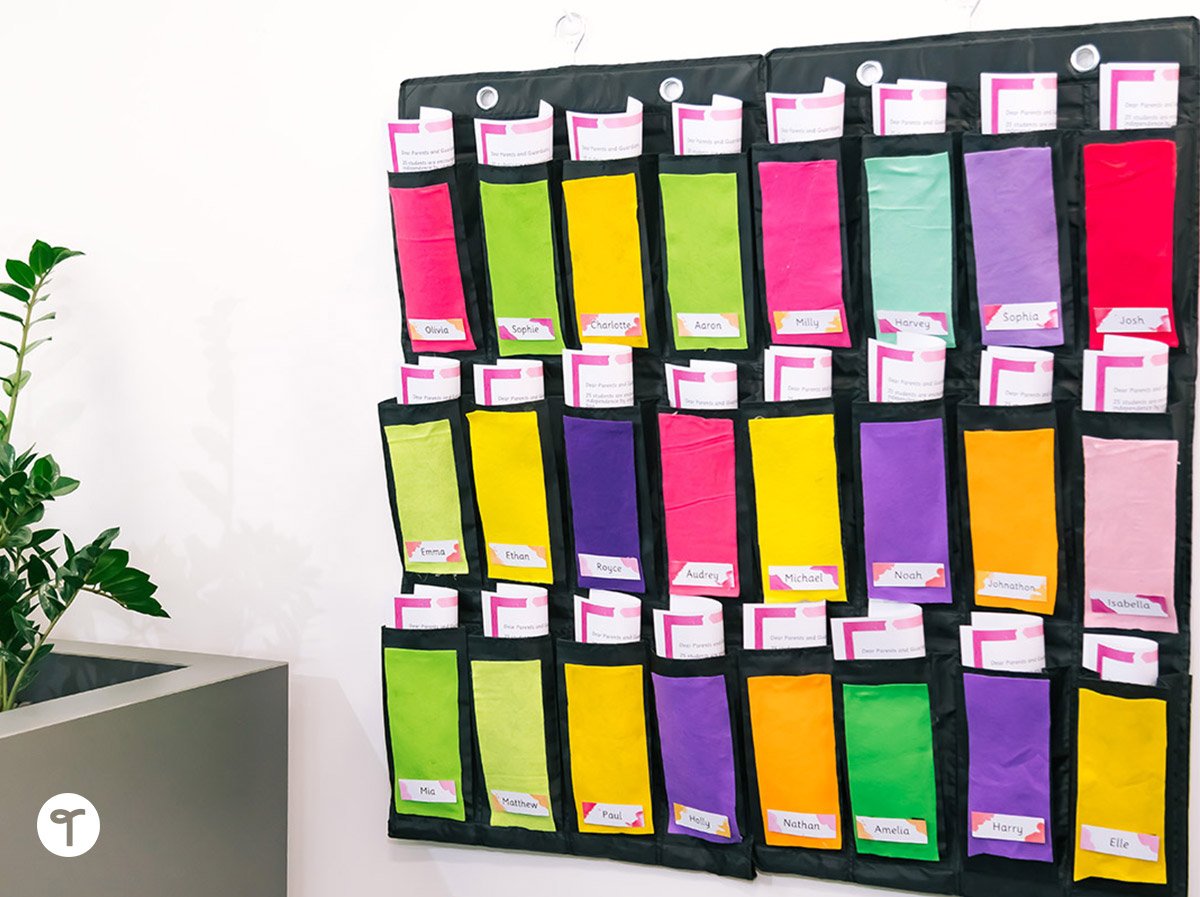 Say goodbye to abandoned or lost parent notes! If you're a Prep or Foundation teacher, you could make your teacher life a lot easier by joining two together with a few velcro dots and creating the all-time parent pockets.
Parent pockets are one of my top ten must-haves for early years classroom organisation. They can be used to pass on notes for individual students as well as for parents to access take-home letters and important information. You'll find it so much easier to post take-home letters, notes and flyers into these easy to reach parent pockets. What's more, parents and guardians will love you for it too!
For more simple ideas that will help to improve your classroom organisation, read 10 Simple Steps to Improve Classroom Organisation.
We'd love to hear from you and for you to share your Ikea hack ideas.
#teachstarter