Teachers, did you know that there are discounts out there for you, just for being … you? Of course, those of us at Teach Starter believe teachers are some of the most important members of our society — we are teachers too, after all! — but we're not alone.
There are bookstores, museums, and more out there where you just need to show your registration to receive a special something. And our team has done a little work to round up some discounts that may help you this school year — from a special Apple teacher discount to save you on your classroom (and at-home) devices to a Frankie4 teacher discount for some much-needed teacher shoes, here are some of the best ways to save.
Bonus: We've even got a little Teach Starter discount!
Teach Starter Teacher Tip: Keep that registration handy, and flash that card where ever you go! You never know where you'll snag a discount just for being a hugely valued community member.
---
Teacher Discounts
Frankie4 – When you are on your feet all day, you need comfortable yet stylish shoes! Frankie4 offers teachers 10% off the RRP when purchasing their shoes online or in their stores.
Apple – Apple provides teachers and staff at all levels with special education pricing. Head to their website to view the different discounts.
Eckersley's Art and Craft – You can apply to receive a 10% off discount on full-priced products in-store.
Feeling crafty? Use your discount along with these ready-to-go craft activities for the classroom!
Canva – Canva for Education makes it easy to create, collaborate and communicate in the classroom. And the best news of all, it's 100% free for K-12 teachers.
Adrift – Adrift sell the most amazing outfits perfect for teachers. If you sign up for Adrift, you'll get 25% off using your education email address.
Costco – While Costco doesn't offer discounted membership for teachers, they do provide an exclusive offer for teachers. When you join as a new member, you'll receive a $20 Costco Shop Card.
Taronga Zoos – Join the Taronga Teachers' Association for just $60 and enjoy many benefits including free admission for 12 months to Adelaide, Melbourne and Perth Zoos. There is heaps more you can access too – head to their website to check it out.
Samsung – Using a qualifying education email address and a Samsung Account, you can unlock savings on some of their latest products.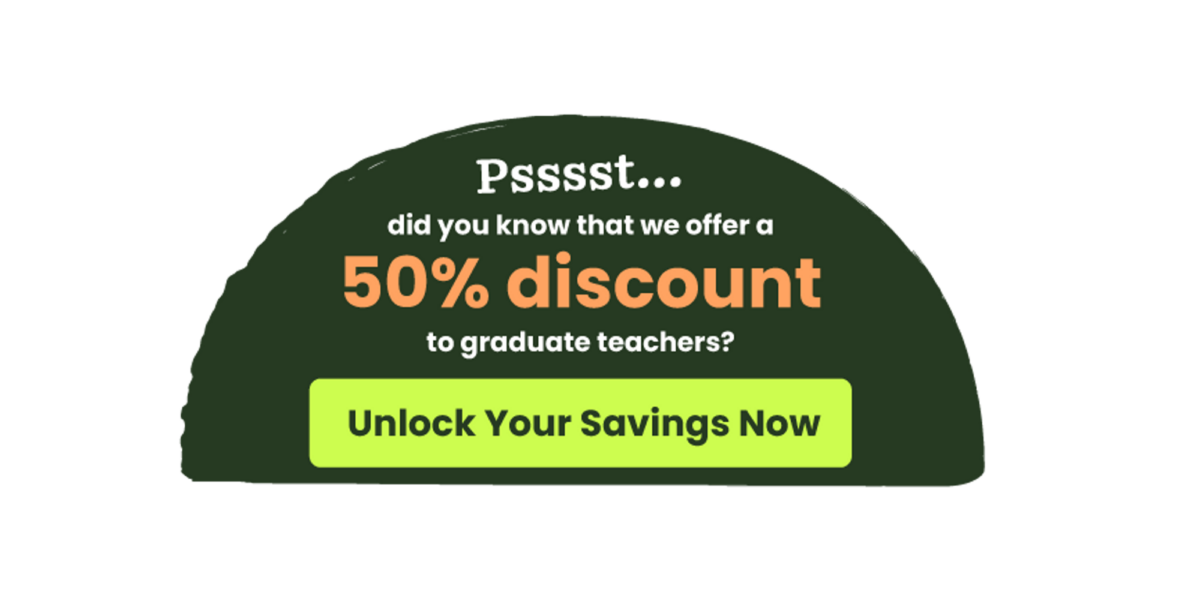 Footgear – At Footgear, they offer all teachers 10% off when purchasing online and in-store. They provide a variety of brands including Birkenstock and Frankie4.
Adobe Creative Cloud – 60% off monthly Creative Cloud subscription.
Microsoft – Teachers can access some products for free, plus 10% off Windows devices.
Rothy's – Stay comfortable all day with 20% off a pair of Rothy's shoes.
Headspace – Enjoy free access to Headspace and bring mindfulness to your students and yourself.
Take things one step further: Explore dozens of mindfulness resources for teachers!
Other Teacher Discounts Available
When we put out the call to the Teach Starter community of teachers to ask about discounts they've found, there were several companies mentioned that don't list specific savings on their websites. Many of our Teach Starter members told us you just need to show your teacher registration in-store, so we are including them here. Companies that were mentioned include:
Dangerfield
Dymocks — 10% off
QBD – Quick Book Delivery
Elm Lifestyle Clothing
Many museums and science centers mentioned
Looking for a car? Kia and Hyundai were all mentioned as having good deals for teachers
Mazda was also mentioned as offering free servicing on new cars for 3 years
Last, but certainly not least, did you know you can access heaps of free resources from Teach Starter? Sign up for a free account now!
If you know of a fantastic teacher discount, let us know in the comments section of this blog.