By teaching your students about different feelings and how to manage them, you are providing them with important tools to navigate life. Emotionally intelligent kids have the ability to understand what they are feeling, why they are feeling this way and an appropriate plan or action to tolerate a particular situation. For example, an emotionally intelligent child has the ability to understand when they are feeling uncomfortable or angry and that perhaps they need to walk away from a particular situation.
Young children cannot appropriately express emotions if they haven't been taught about that particular emotion first. Therefore, it is imperative that we teach our students about different emotions, what they may feel and that it's ok to not always be happy!
When talking with your students about particular emotions, it's also important to talk about what you could do when you feel a particular way. For example, when a student feels they are angry, they can self-regulate this emotion and action it by going to the classroom chill out zone.
"When little people are overwhelmed by big emotions, it's our job to share our calm, not join their chaos." – L.R.Knost
---
Children's Books about Feelings and Emotions
Reading books about feelings is a fantastic way to engage your students in learning about different emotions and recognising their own feelings and what makes them feel a particular way. These three books are beautifully illustrated and fantastic to explain different emotions with your students.

The Way I Feel – by Janan Cain – A colourful book full of expressive images which go along with simple verses to help children connect the word and the emotion.
The Feelings Book – by Todd Parr – A fantastic short book to introduce young children to emotions. It's bright and colourful pictures are inviting and engaging. This book links emotional reactions to their appropriate facial and body languages. The author encourages children to share their emotions – good or bad – with loved ones.
Feelings to Share from A to Z – by Todd Snow – Feelings can be confusing for little minds to comprehend, especially if we don't have the words to express them. This book helps children understand and use vocabulary to communicate their emotions.
---
Teaching Feelings and Emotions in the Classroom
Apart from explicitly teaching the different feelings and emotions to your students. Encourage your students to talk about their feelings daily! These classroom feelings activities are the perfect addition to your classroom.
Feelings Display for the Classroom
This fantastic 'How do you feel today?' display is the perfect way to get an idea of how your students are feeling as they enter your classroom. I used something similar when I was teaching and it definitely guided the teaching for the day.
If half the class put their names on tired or sick, I knew that we needed to ease into our learning for the day.
We used the Auslan Feelings Posters for this display and the Green Emoji Letter Set for the title. I then printed the student's names on the Emoji Desk Name Tags, two to a page.
I stuck the name tags on wooden pegs. The idea is that when the students enter the classroom they place their name on whichever emotion that describes how they are feeling as they walk in.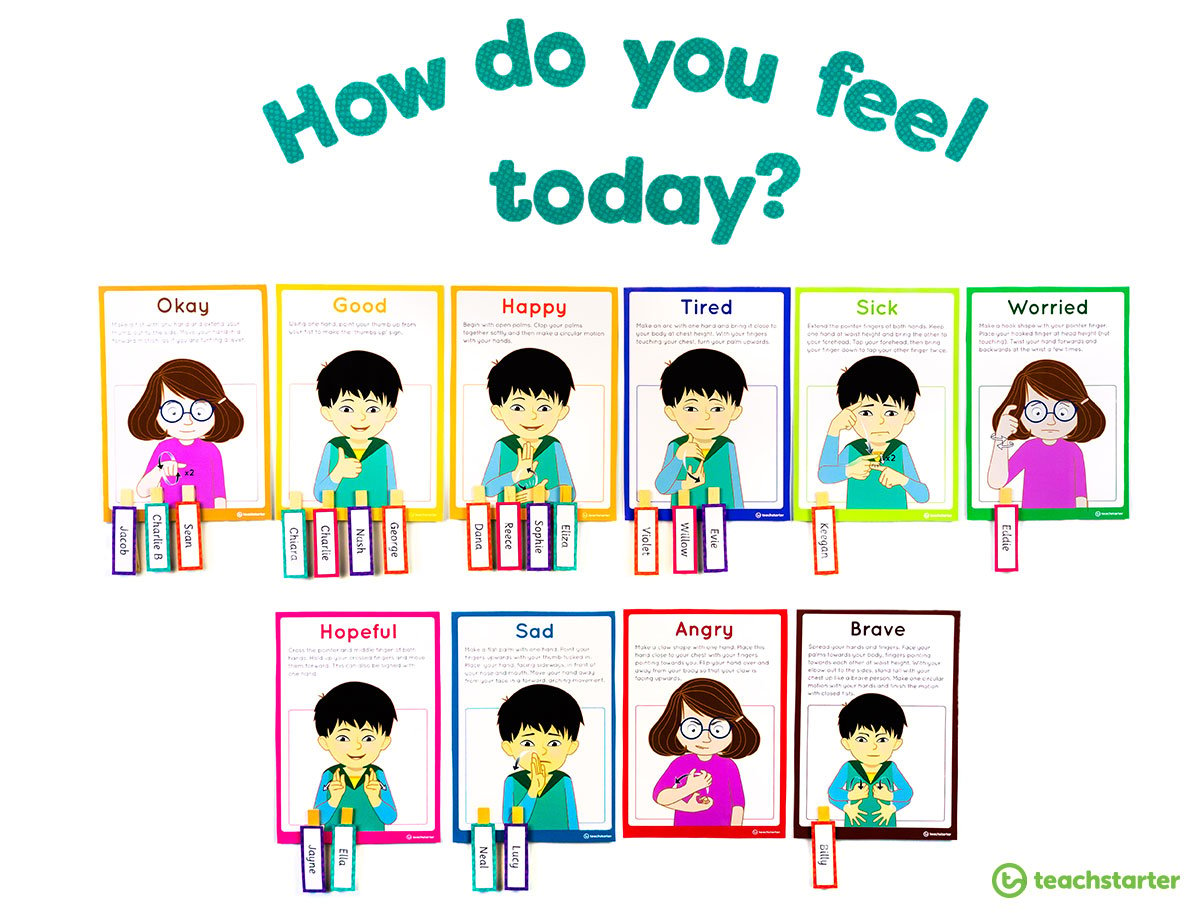 Emotion Pop Sticks
This is such a simple activity that you can do with your students. They are fun to create and can be kept in the students' desks and used in a variety of ways.
All you need is coloured paper and pop sticks! Talk to your students about the different colours and why they have been used. Discuss different scenarios and ask your students to put up the face that matches how that person may be feeling. For example, Amy asked John if she could play with him and he said no. How might Amy be feeling?
Use as a check-in during class, ask the students how they are feeling. Instead of getting the usual 'good…' response, each student can put up the face that shows how they are really feeling.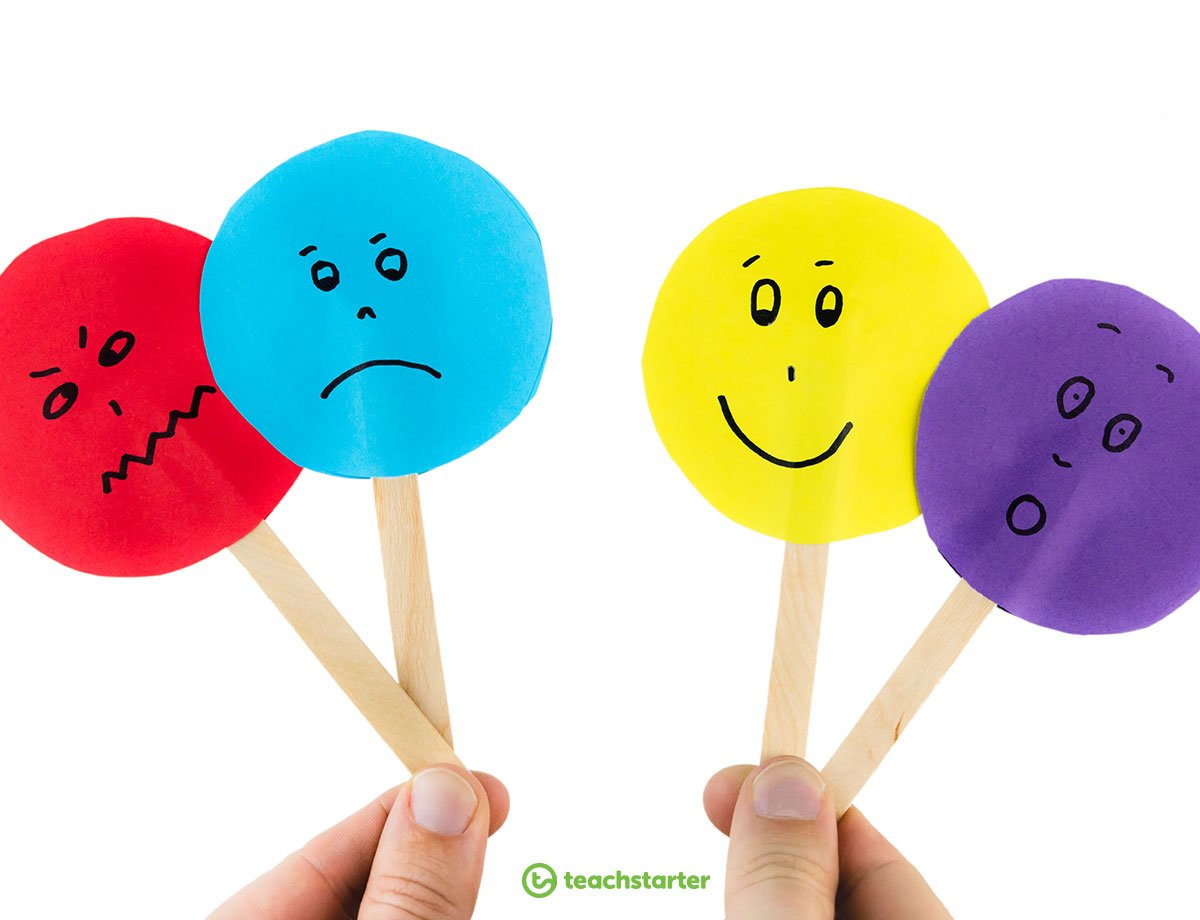 Auslan Signs for Feelings
Teaching your students the different signs for different feelings in the Auslan language is a fantastic way to embed Auslan into your classroom. It also gives your students another way to sign how they are feeling rather than tell everyone.
Download our set of 16 Auslan Feeling Flashcards showing the different signs as well as describing the hand movements to teach your students.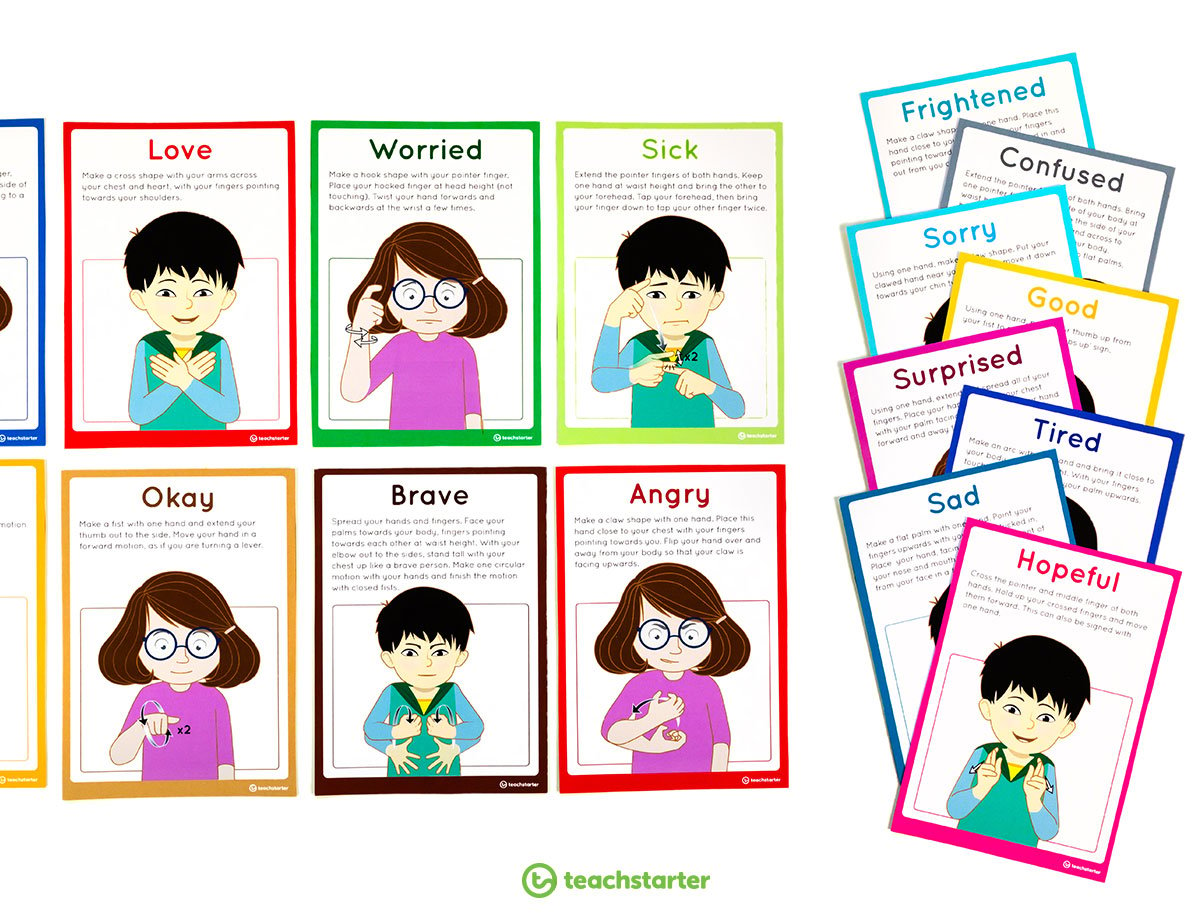 Endless Card Feelings Activity
Create this fun Feelings Endless Card with your students when discussing different emotions.
Recognising Feelings Flashcards
A set of feelings flashcards to help visually describe common feelings and emotions.
With your students, brainstorm different things that can happen to your body when you are experiencing a particular emotion. For example, sweaty hands and heart beating faster when you are nervous or scared. Maybe when they are anxious their tummy starts to hurt a little.
This makes it really clear to students how they can work out how they are feeling, simply by listening to their body.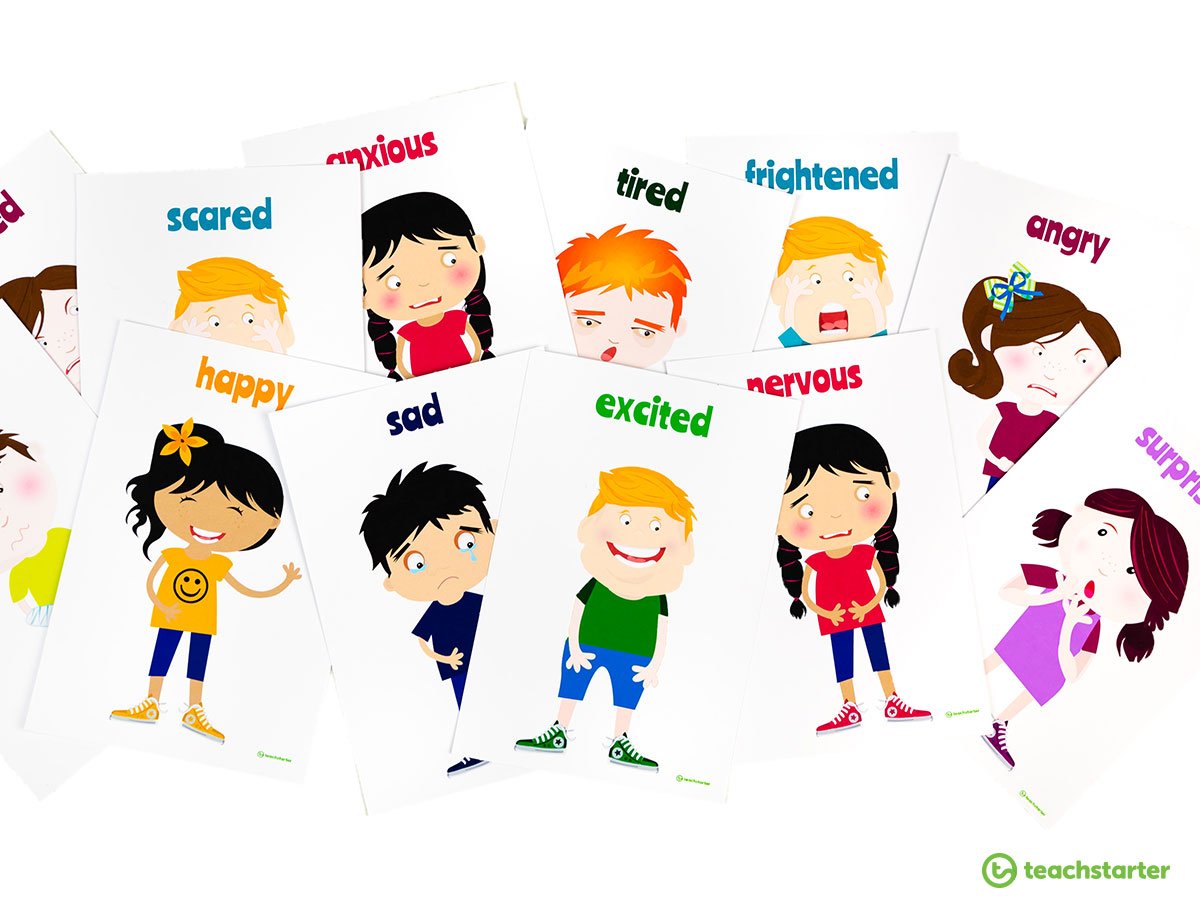 Create an Emotions Wheel
Have students create their very own emotions wheel to communicate how they are feeling.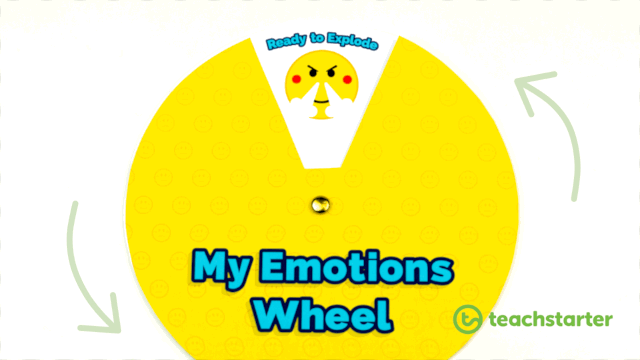 We'd love to hear what you do in your classroom to teach feelings to your students.
Share your ideas in the comments.