"Feelings are just visitors, let them come and go." – Mooji
Eventually, every child will encounter a time when they experience overwhelming emotions. Without self-regulation or a safe place to escape, these emotions can spiral into a chaotic episode.
When children feel great frustration, anger, sadness or anxiety, they become confused and may be unsure how to control their emotions. By providing them with a quiet place to calm themselves down, children are then able to regain control over their own emotions. This also provides opportunities for diffusing a negative emotion or situation before it escalates.
Setting up a 'chill out' corner in the classroom gives children the responsibility of self-regulating their own emotions in a peaceful and safe place.
Setting Up a Chill Out Corner in Your Classroom
In your classroom, the chill out corner should be a designated area for calming down. It needs to be a quiet place – if possible, away from student desks and whole-class meeting areas. Set rules and expectations for the chill out corner with your class for children to respect and follow. Use our 'classroom chill out passes' when you feel the children understand the expectations of using the chill our corner.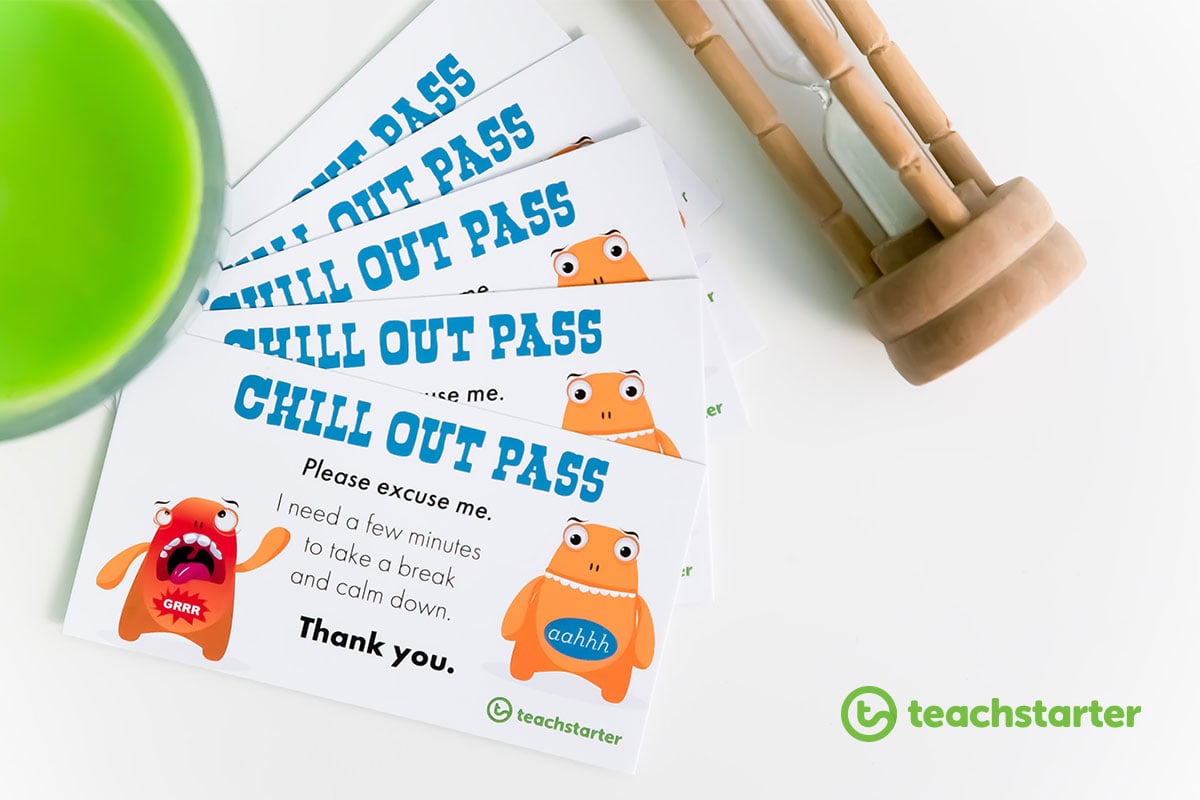 Calming colours, such as blues, greens, purples and greys, should be used to theme the chill out corner. Colours like red and orange can increase negative emotions. By using a light colour scheme, the chill out corner becomes a visible reminder to all children that it is a safe and peaceful place in their classroom for calming down.
Ensure the furniture you choose for the chill out corner is comfortable and relaxing. Use a rug to cover the floor and decorate the area with bean bags, pillows, balance cushions, weighted blankets and soft toys.
Lavender is a known natural remedy for releasing stress. To help calm children down, place a lavender plant, oil or diffuser in the chill out corner.
Deep breathing exercises are a simple but effective way to calm children down. Display posters in the chill out corner that demonstrate to children how they can calm themselves down with step-by-step breathing activities. You may also like to include some basic yoga positions for children on posters or cards.
Having books in the chill out corner provides children with a distraction away from their emotional state. Picture books can help children identify and express to others an emotion they are feeling. Keep a selection of books in the chill out corner to help calm children down and to identify a range of emotions.
Drawing and colouring is a form of art therapy and helps children to calm down and express emotions. In your chill out corner, keep a supply of colouring books, plain paper and sharpened pencils for children to use. Check out some of our calming classroom colouring pages:
Some children will need an outlet to get rid of angry emotions. Keep a supply of scrap paper for children to scrunch or rip up and a small tub of play dough for them to squeeze and roll out.
Sensory tactile objects, also known as 'fidget toys', provide something for children to hold and touch. They also help children to re-focus and gain control over their emotions. Keep a 'calm down tool kit' in the chill out corner filled with a range of sensory tactile objects.
Suggested Items to Place in a Calm Down Tool Kit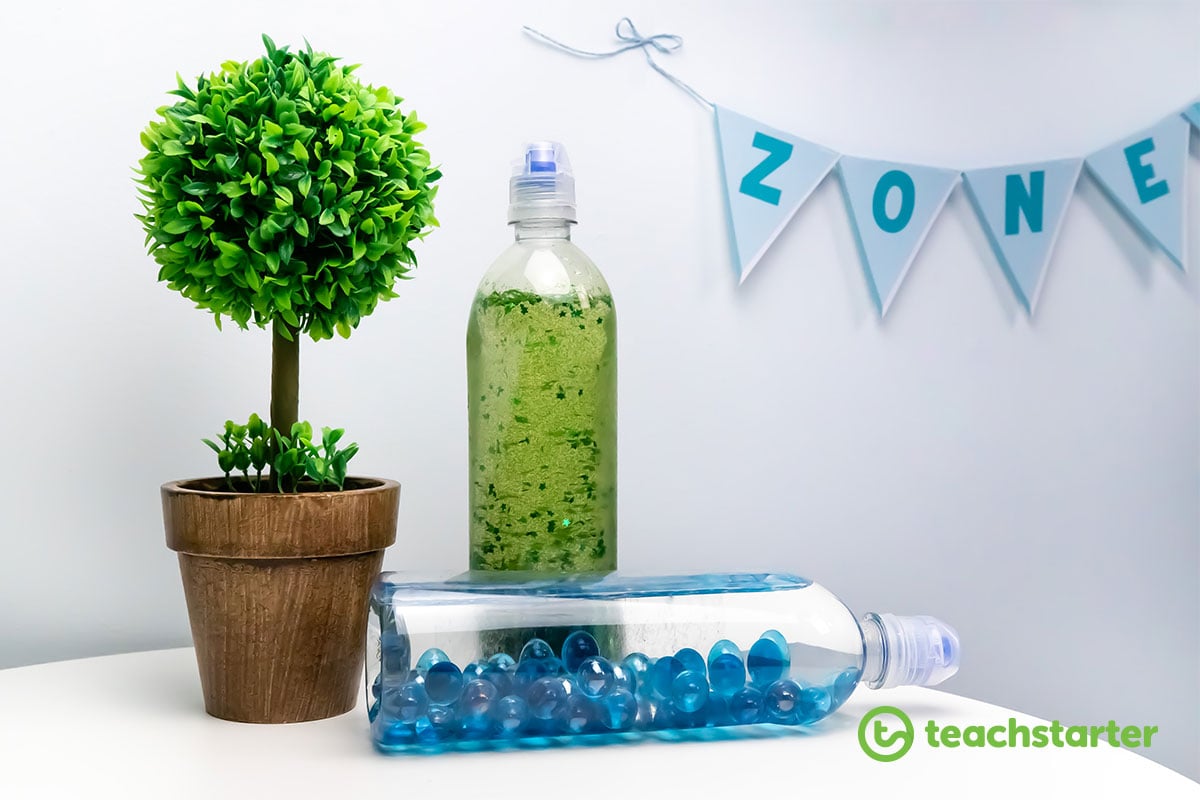 Stress Balls – These can be bought or made out of balloons and rice. Children can squeeze and poke the stress ball to release negative emotions.
Calming Bottles – Fill a plastic bottle with water and items such as glitter and jelly beads. Children can stare at the glitter floating around. This settles their breathing and emotions.
Bottle of Bubbles – These can be bought from discount stores or party suppliers. This helps children control their breathing and calm down.
Small Puzzles – These can be bought from a toy shop. Puzzles distract children away from negative emotions, calming them down.
Stretchy Bands – Put a range of different sized rubber bands in the kit for children to pull and stretch.
Pipe Cleaners –These can be bought from a craft store. Children can bend them into different positions.
Noise Cancelling Headphones – These can be bought from a music or electronic shop. Some children become overwhelmed when there is too much noise. By blocking out the noise, the child can calm themselves down.