NAIDOC Week celebrates the history, culture and achievements of Aboriginal and Torres Strait Islander peoples. A wide range of activities and events are held across the nation, in schools, workplaces and communities. The theme of NAIDOC Week changes each year, bringing focus and awareness to different aspects of Indigenous Australian experiences.
When is NAIDOC week? NAIDOC Week will be held from 3-10 July 2022. This year the dates fall in the school holidays in most states. Is your school celebrating this term or next term?
---
How to Acknowledge NAIDOC Week 2022
The NAIDOC Week theme for 2022 is – Get up! Stand up! Shop Up!
This theme encourages all of us to champion institutional, structural, collaborative and cooperative change while celebrating those who have already driven and led change in Aboriginal and Torres Straight Islander communities.
The 2022 National NAIDOC Poster Design
Encourage the children in your school or class to look at the winning 2022 National NAIDOC Poster 'Stronger', designed by Ryhia Dank, a young Gudanjui/Wakaja artist from the Northern Territory. .
"I created this piece after reading this year's National NAIDOC Week theme – Get Up! Stand Up! Show Up! I knew straight away I wanted to do a graphic piece centred around our flags with text highlighting what we have been through and are still fighting for"
Exploring the NAIDOC Week Theme
Within our NAIDOC Week Teaching Resource Pack, is an 'Exploring the NAIDOC Week Theme' activity. This printable teaching resource works beautifully as a means to consolidate student understanding of the 2022 NAIDOC Week theme after exploring the winning 2022 NAIDOC Week poster design.
NAIDOC Week Assembly PowerPoint
Use this NAIDOC Week PowerPoint to celebrate NAIDOC Week at a School Assembly. In addition to this you could do the following at a school assembly:
Invite an Elder from your community to come in and share a story.
Have class groups share some work they have done in class to celebrate NAIDOC Week.
Have the Principal read on of the many quality children's literature books about Indigenous Culture.
NAIDOC Week Award Winners
Each year the National NAIDOC Committee holds an Awards ceremony to recognise the achievements of Aboriginal and Torres Strait Islander peoples.
This provides a great springboard for students to learn more about Aboriginal and Torres Strait Islander peoples who have made a significant contribution to improve the lives of Indigenous people in their communities and beyond, to promote Indigenous issues in the wider community, or have shown in their chosen field.
You can view past winners of the National NAIDOC Awards on the website.
Create School Garden of Support
Using one diversity craft templates, have students either cut out the heart template, hand template or person template. They need to decorate their template and pledge their support for Aboriginal and Torres Strait Islander rights during NAIDOC week.
This is an example of what you can do from one of our Ambassadors – @teaandcountryteaching – she completed this with her class for Sorry Day – however you can just as easily do this for NAIDIC Week. Students can write a pledge of how they are going to continue to help embed First Nations perspectives into their everyday life.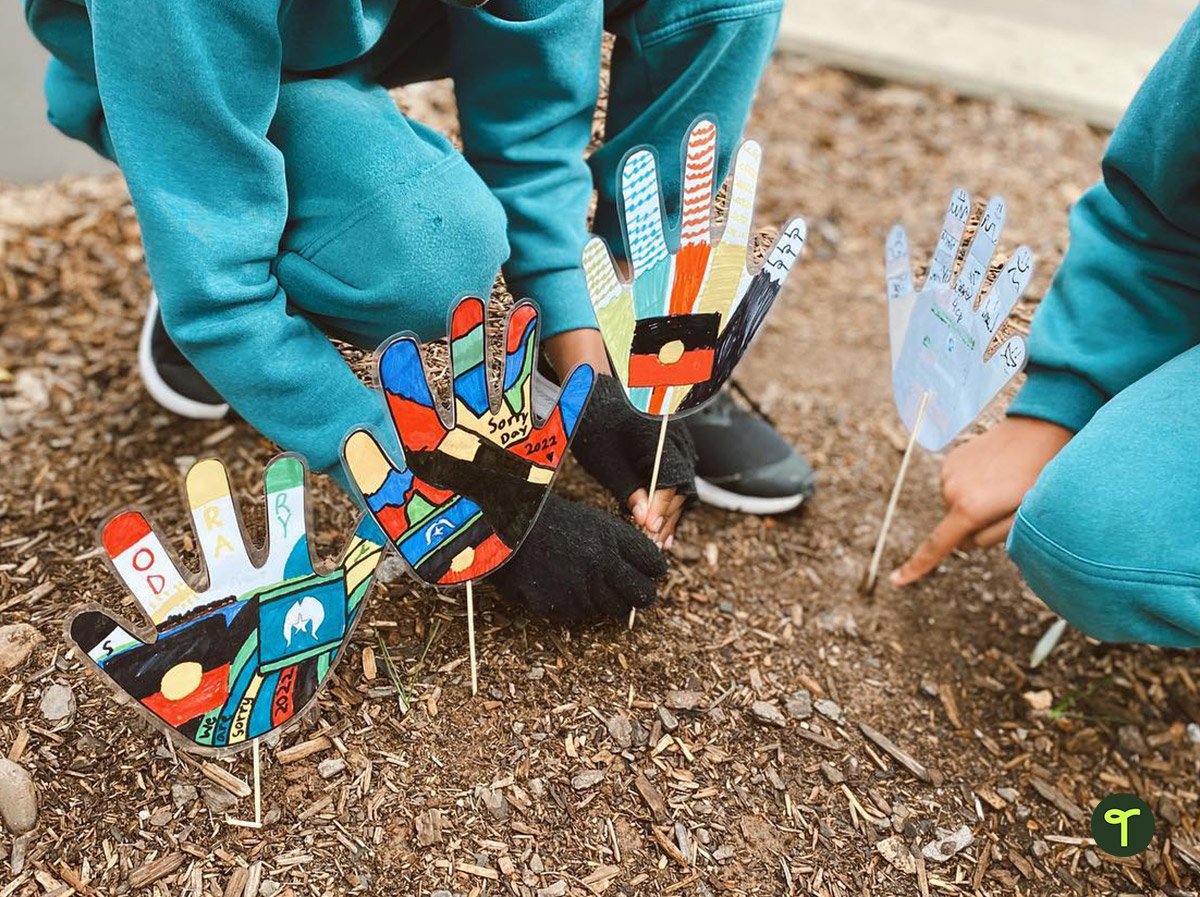 Significant First Nations Australians
This teaching resource shines a spotlight on significant First Nations Australians who have positively impacted the community through their individual fields of endeavour. It is a great way to address the cross-curricular priority of Aboriginal and Torres Strait Islander Histories and Culture.
The fact sheets feature musicians, artists, sportspeople, politicians, social activists, inventors and performers. These individuals are incredible role models for First Nations Australians and non-Indigenous Australians alike.
This inquiry research task enables students to explore and celebrate the life of significant Indigenous Australians. Students will write a biography about an Indigenous Australian, of their choice, who has made a significant contribution to their field. Students could use this inquiry task, and access the database of past winner profiles on the NAIDOC Week website to find an inspirational person to research.
Collaborative Art Activity
Use this NAIDOC Week Collaborative Art template to create a collaborative art activity for NAIDOC week and display in your schools reception area or somewhere prominent within your school grounds..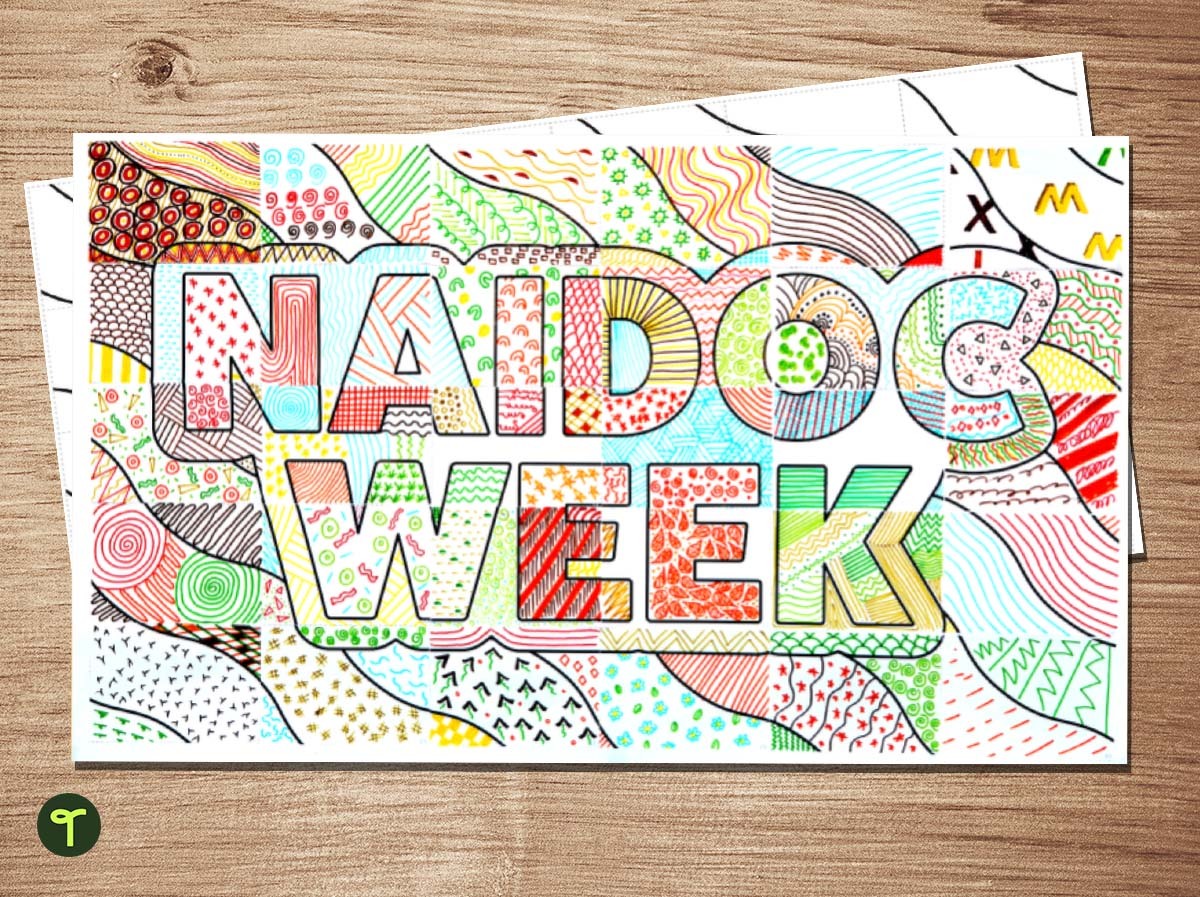 Create a Class Acknowledgement of Country
Encourage the classes within your school to create their very own Acknowledgement of Country. Participating in an Acknowledgement of Country is an effective way of helping students develop awareness and respect for the ongoing relationship that Aboriginal and Torres Strait Islander peoples (the traditional custodians) have with their land. The practice can be done by anyone, at any time.
This video from Reconciliation Australia beautifully illustrates how and why you and your students can create a unique Acknowledgement of Country. The words and actions you and your students share can reflect the age of participants, the lands on which you stand and the feelings you all wish to acknowledge. It is definitely worth taking the time to view this video if creating your own Acknowledgement of Country is of interest to you!
Printable Acknowledgement of Country Poster
The simple wording on this printable Acknowledgement of Country poster can be recited by students each day, and by staff and community members at meetings and events as a way of acknowledging that their activities are taking place on Aboriginal or Torres Strait Islander land.
You can also download the editable MS Word version to change the text on the poster and acknowledge the specific language group whose land your school is on.
What is the difference between a Welcome to Country and an Acknowledgement of County?
A Welcome to Country occurs at the beginning of a formal event and can take many forms including singing, dancing, smoking ceremonies or a speech in traditional language or English. A Welcome to Country is delivered by Traditional Owners, or Aboriginal and Torres Strait Islander people who have been given permission from Traditional Owners, to welcome visitors to their country.
Read Children's Storybooks
There are many children's storybooks that explore the culture and history of Indigenous peoples in a child-friendly way.
You and Me Murrawee is one of our favourites!
Written by Kerri Hashmi and illustrated by Felicity Marshall. This beautifully illustrated story observes a young girl who camps by the river with her family.
Through her eyes, we see life as it would have been two hundred years ago.
For more children's books, check out our blog – 12 Must-have Books for Sharing Indigenous Culture.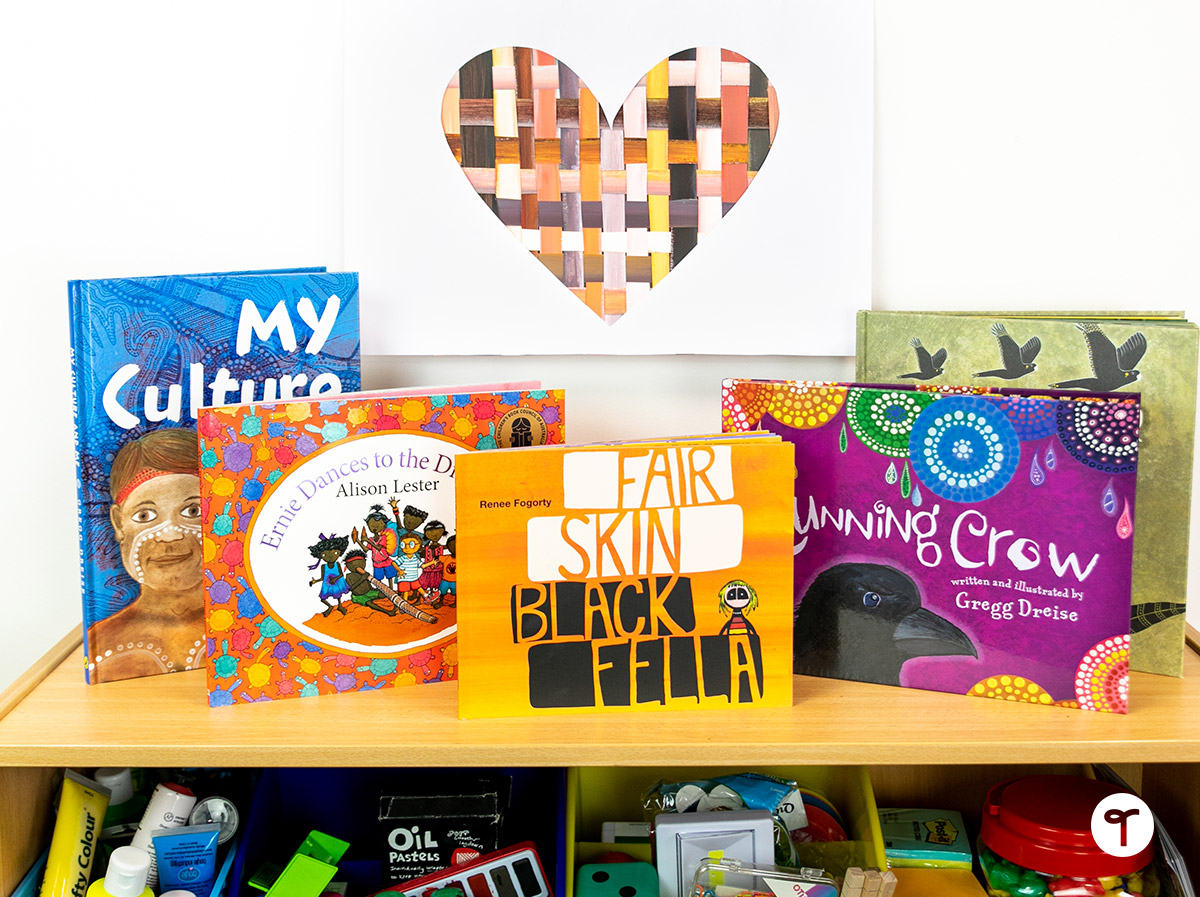 There are so many wonderful things going on during NAIDOC Week and so many great ways that you and your students can continue to engage in learning about Aboriginal and Torres Strait Islander peoples, cultures and experiences.
For more information about NAIDOC Week and to search for events in your local area, head to the NAIDOC Week website!
You might also like to check out these great NAIDOC Week resources from our publishing partners Wingaru Kids.