Print a set of 25 positive affirmations display cards for kids to use in your classroom.
Positive Affirmations for Kids in the Classroom
Building a welcoming classroom environment where students feel valued is important, and positive affirmations can help! This set of 25 printable affirmations cards has been created by our teacher team with students in mind and includes empowering statements students can repeat out loud, such as:
Your perspective is so important.
You are a great problem solver.
You are part of the class family.
What Are Positive Affirmations?
Positive affirmations are statements that can help to challenge and overcome unhelpful and negative thoughts. When you repeat them often and believe in them, you can begin to make positive changes in your life. Positive affirmations can increase self-esteem, motivation, resilience, and self-belief and develop a growth mindset.
How to Use Affirmations in the Classroom
Did you know that experts estimate that we have somewhere between 60,000 – 80,000 thoughts a day? What's even more shocking is that it's estimated that 80-90% of our thoughts are negative ones. When you stop and listen to students' self-talk, you will likely hear comments like…
I can't do this.
This is hard.
No one likes me.
I am not good enough.
Does this sound familiar? Because many of our belief systems are formed in early childhood, it is critical to challenge this.
It's certainly had our teacher team thinking (ha)…how can we get kids to think positively and to have a growth mindset? Why not give affirmations a try?
Here are a few favourite ideas from the Teach Starter teacher team for using these affirmation cards for kids in your classroom. These can help students to develop the skill of positive thinking and self-empowerment.
Teach Starter Teacher Tip: Download the accompanying 'I' statement affirmation cards to expand your repertoire!
Set Them Up Around Your Classroom Mirror
Year 5 teacher Miss Fauni printed out each of the positive affirmations for kids and posted them all around her classroom mirror to ensure every child could see them when they take a peek. Check out the result: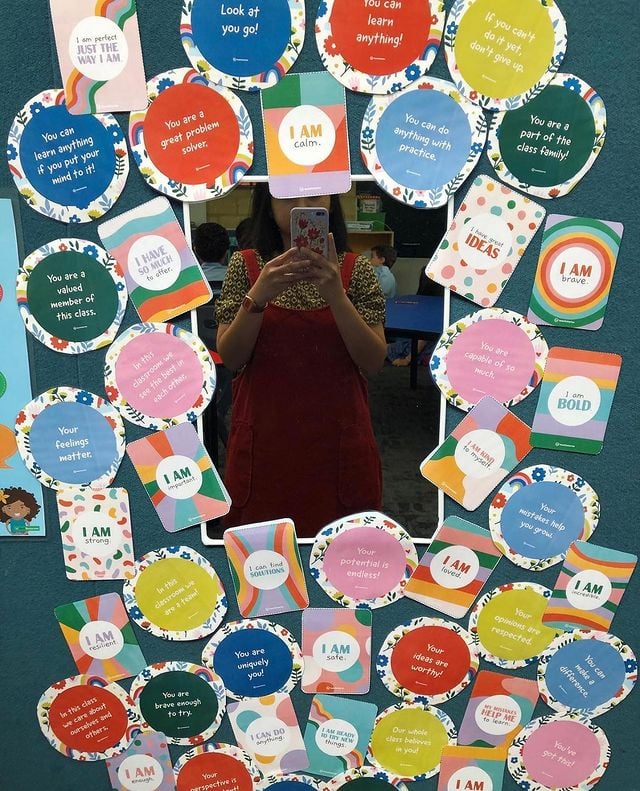 This is a good way to promote body positivity and boost students' self-esteem.
Create an Affirmation Wall
You don't have to set up a mirror to ensure these can be displayed in the classroom. Choose a blank space on your wall, and add the various cards so students walking by read positive messages that build them up.
Mindful Colouring
These cards can be printed in black and white for your fast finishers to use for some mindful colouring in.
Affirmation Treasure Boxes
Affirmation boxes are ideal to use with individual students who need additional support in the area of emotional and social well-being. Affirmation boxes can also be used as an effective initiative for school guidance counsellors during one-to-one sessions.
All you need is a suitable box and a set of positive affirmation cards. Using a small box creates a sense of hidden treasures.
Suggested Activity
Reveal the affirmation box to the student emphasising how special it is.
Place all of the cards (face-up) on a table.
Ask the student to describe how they are feeling. Listen.
Select the card that best helps change the student's negative narrative.
Encourage the student to say the positive affirmation aloud. Repeat this several times with a strong posture and conviction.
Student Gifts
Do you need a student gift for a birthday or a holiday? Print an affirmation card and slip one into each child's gift bag.
Add Them to Your Door Decorations
Let students know your classroom is a safe and welcoming space from the moment they arrive, with affirmation cards used to decorate your classroom door!
Classroom Theme
You may also like to make affirmations your entire classroom theme this school year or term.
Set Up a Positivity Tree
Purchase (or make) a small classroom tree and hang the affirmation cards from its branches.
There are a few different ways that you can use a positivity tree in the classroom:
As a class, gather at the affirmation tree once a day. Choose one affirmation, and say it aloud three times.
Encourage your students to visit the tree when they catch themselves thinking negatively.
Give kids a positive affirmation card (when they need a boost), and encourage them to hang it on the tree.