Describe the love for dad/brother/uncle/grandpa with this fill-in-the-boxes worksheet for older students.
What do all dads (or brothers, or uncles, or grandpas) want for Father's Day? To know they are appreciated, of course!
Inclusive Father's Day Activity
This template challenges students to describe the different things they love about their dad, brother, uncle or grandfather.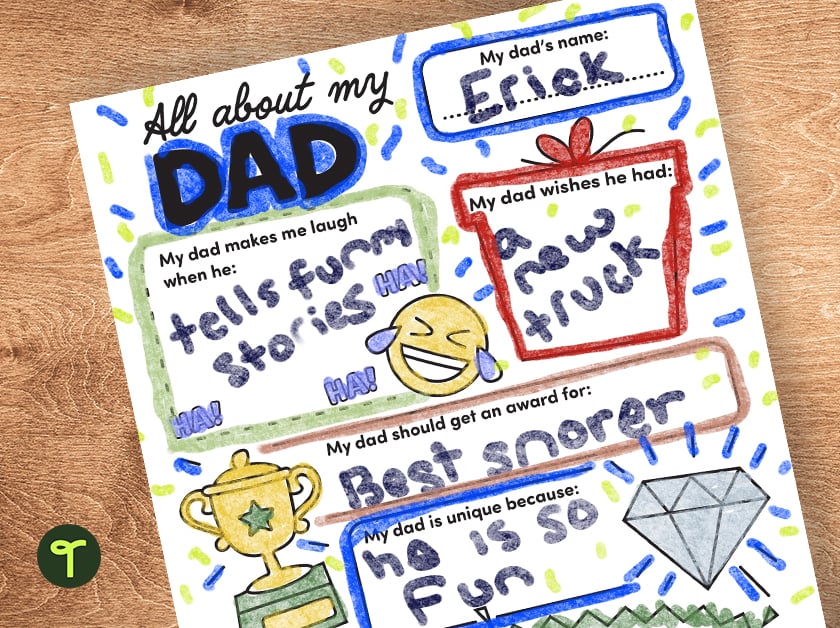 Students fill in the boxes provided with quirky information about the man in their life that they appreciate. Some of the sentence stems include:
My dad/brother/uncle/grandpa makes me laugh when he…
My dad/brother/uncle/grandpa wishes he had…
My dad/brother/uncle/grandpa should get an award for…
My dad/brother/uncle/grandpa is unique because…
My dad/brother/uncle/grandpa loves it when…
My dad's/brother's/uncle's/grandpa's favourite thing to do is…
Send the completed work home for a Father's Day surprise!
Before You Print
Use the dropdown menu to choose between the dad, brother, uncle, and grandpa options presented for this resource. Additionally, print on coloured paper or use card for durability.
Want more inclusive Father's Day ideas? Check out Inclusive Mother's Day and Father's Day Gifts From Kids: Teacher Ideas.
---
Round out your Father's Day activities with some more fun and engaging ideas.