Celebrate the 12 Days of Christmas, and encourage kindness in the classroom with a printable Random Acts of Kindness display.
If you are looking for something a little different to display in your classroom at the end of the year, this printable Christmas-themed Random Acts of Kindness Display is exactly what you need!
12 Days of Christmas Kindness Printable Classroom Display
Random Acts of Kindness Day may be over in Australia, but that doesn't mean you don't want to encourage kindness in your classroom! Celebrate the 12 Days of Christmas early with a printable encouraging students to be kinder to one another.
Download the printable template, and use string and pegs to hang the baubles on a display board. Each day, lift the numbered bauble to reveal a random act of kindness the students have to complete on that day.
Random Acts of Kindness Activities
There are 12 different acts of kindness included in this teaching resource — one each for the 12 days of Christmas. Random acts of kindness activities included:
Give a compliment to 5 friends today.
Leave a happy note for someone to find.
Make Christmas cards for your local nursing home.
Make a thank you card for someone at your school.
and more!
And, if you want some different random acts of kindness that are better suited to your class – this resource is available in an editable version. Yep, we thought of everything!
You may like to use the editable version and have the students brainstorm 12 acts of kindness they can do for each other!
Tips for Creating and Using This Christmas Classroom Display
What you'll need:
Printed display (colour or black and white)
Scissors
Glue
String
Pegs
Instructions:
Each bauble can be assembled to be double-sided, with a number on one side and a random act of kindness on the other.
Once you have printed and cut out the baubles, simply glue the front and back of each bauble together.
Add a bit of string hung up underneath the super easy-to-create display banner.
Add some pegs, and you're almost done!
Simply peg up the baubles with the number facing out!
Each day, you can turn over the card to reveal the random act of kindness your students need to complete on that day — easy!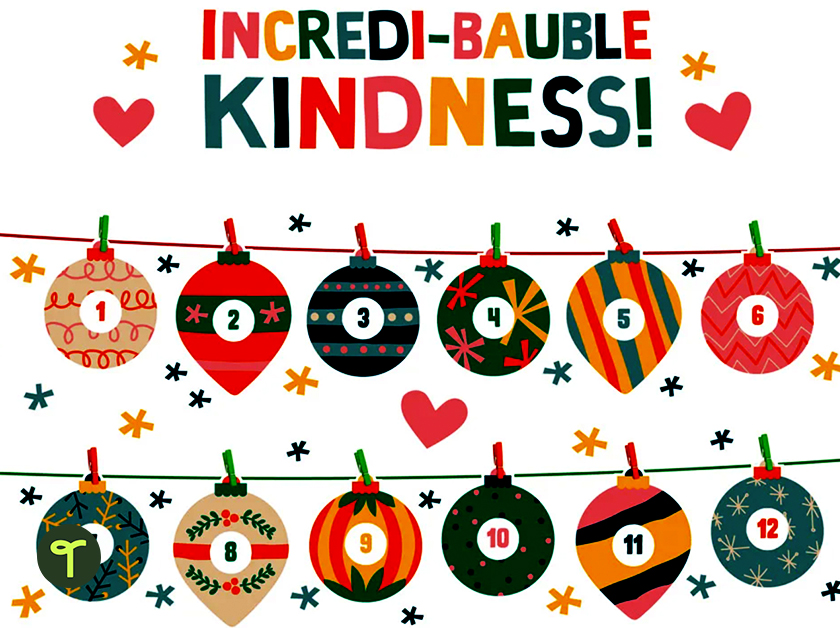 If you're feeling extra creative, some additional cut-out decorations are included in the resource download that you can add to your display to make it a little bit more special.
Don't stop there! Our teacher team has more Christmas Kindness resources to save you time: