Use this printable Christmas Doodle-themed colouring sheet as a collaborative activity for your whole class.
Bring the excitement and wonder of Christmas to the classroom with a giant collaborative colouring page of Christmas doodles for the whole class! This colouring sheet, printed across 8 pages, makes for a creative, seasonally-inspired class collaboration activity. 
Collaborative Colouring Pages
These giant Christmas doodle colouring pages were designed by the teachers of Teach Starter to be completed as a whole-class activity. Students can take the time to colour in their own part of the class colouring in picture when they enter the classroom in the morning, during an end-of-year party, or perhaps as a rainy day activity?
These doodles includes simple line drawings of iconic Christmas images. Amongst festive seasonal images and words like fun, magical, joy, your students will discover creatures big and small in this detailed colouring sheet.  
Can you spot a whale, a skateboard and a runaway muffin? What about a video game, a spinning top, a sunbathing gingerbread man?
They're all there—and more—waiting to be discovered and coloured by your excited students this Christmas season! 
Christmas Doodles Colouring Sheet Directions
After you print your colouring pages, you may like to distribute one page to each student or a group of students to colour in, and the pieces can be put together once all the work is done.  Each colouring in page of doodles can also be laid out on a large table down the back of the classroom for students to dip in and out of. Alternatively, back each page with cardboard and mount on the lower half of a classroom wall for a mural-style colouring activity.
When each piece is glued together, the colouring sheet makes a one-of-a-kind art installation for your classroom.  
This resource is also available in a single-page format.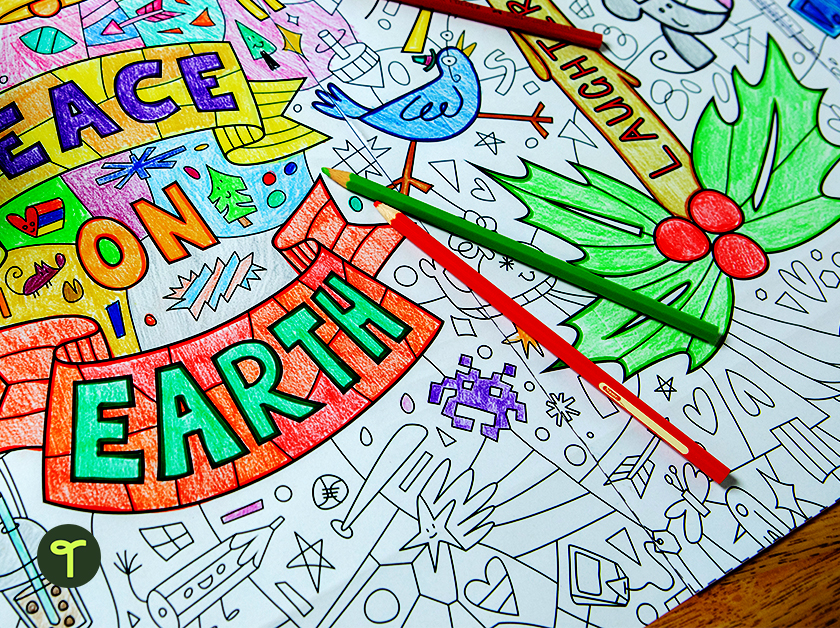 How to Assemble
Cut along the dotted lines, starting with page A1. As you progress through each page, align it with the border on the previous page, e.g., Page A2 aligns with the border labeled A2 on page A1.
Continue through this process, aligning B1 underneath A1 and so forth until finished.
The pages can either be glued or taped together on the backside of the pages, making a beautiful Christmas display when complete.
Before You Download Your Printable
Use the dropdown icon on the Download button to choose between the giant 8-page or one-page version of this resource.