Print a set of 3 mindful Christmas colouring in sheets for student gifts or use in the classroom.
Perfect for a calming down exercise in the classroom, use this mindful colouring in activity in the classroom in the lead-up to Christmas.
Mindful Colouring In Activities
It can be hard not to find yourself and your entire class caught up in the rapid ride towards Christmas holidays. The frenetic energy can wear us all down! These peaceful, mindful colouring activities are great to add to your list of classroom Christmas activities.
It is especially important to provide time for your students to practise mindfulness in the lead-up to school holidays and the new year, as they prepare to face the anxiety of moving to a new class or a new school. Mindful colouring is great for students because it requires them to focus on choosing colours and deciding how they should use them in a design. This brings their awareness to the present moment.
This printable colouring sheet set includes three different versions featuring:
Reindeer
Christmas wreath and peaceful doves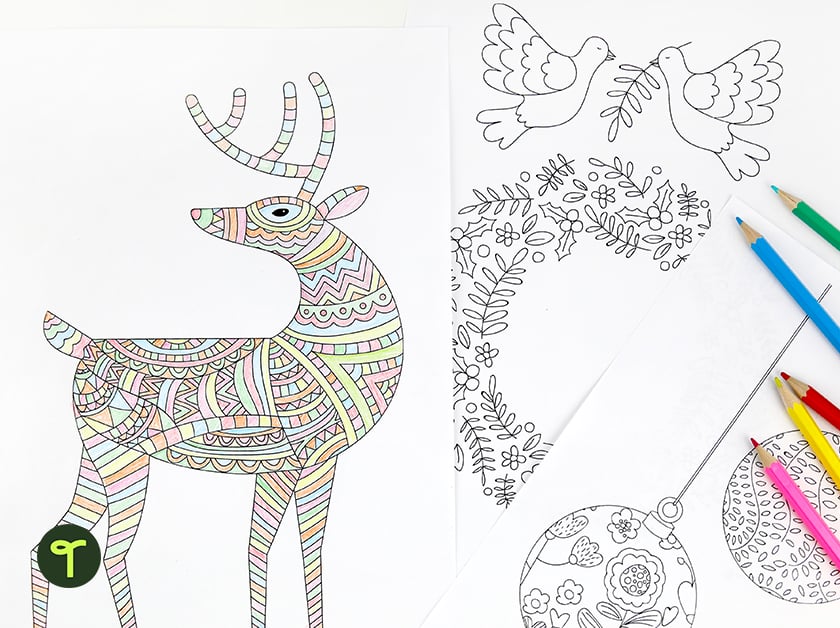 How to Use This Teaching Resource
Our team has created this mindful colouring-in Christmas activity for students to help them focus on the present moment, and there are heaps of ways to use them!
Print out copies, and slip them into your student gifts for the end of the year.
Add a mindful colouring in activity to your fast finishers bin for students to complete while they wait for classmates to complete a task.
Print copies for your calm down or chill out corner.
Challenge your students to colour these pages using only primary colours or only secondary colours from the colour wheel.
Make copies of these sheets available for their morning start so students start the day focused.
Do you have students who do not celebrate Christmas? Print an alternative mindfulness colouring sheet from our Mindfulness collection!