A printable mind map template for students to use when gathering thoughts and ideas.
Mind Maps Made Fun
Using mind map templates with your students can help them organise ideas about particular topics. This brainstorming mind map has a fun and engaging design that can be used across different learning areas and multiple concepts.
Try using this graphic organiser with your students when they are generating ideas for their next:
writing task
research project
presentation.
Printable Brainstorming Templates in the Classroom
Distribute the templates to students individually or allow them to work in teams.
Have students write the topic of their brainstorm on the template.
In each cloud, students write an idea about the topic.
Use dot points to elaborate on each concept within the clouds.
---
Look at our other Mind Map Template specifically designed for ideas with legs.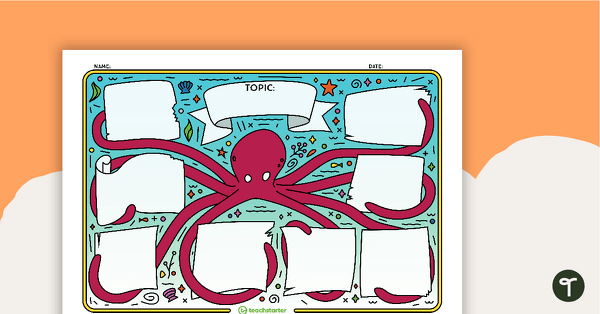 teaching resource
A printable mind map graphic organiser to use when planning ideas with your students.