Print a creative poppy art activity to use when commemorating ANZAC Day and Remembrance Day in the classroom or to teach students about mosaics!
Poppy Mosaic Activity for Anzac Day or Remembrance Day
This mosaic activity has been designed to complement learning about ANZAC and Remembrance Day commemorations and includes all you'll need to create an eye-catching classroom display including a poppy template, 3 black-patterned grids for the centre of the flower, and 6 red-patterned grids to form the petals of the poppy. Instructions to guide students through the mosaic creation process are also included.
Using the template, students will make a mosaic poppy with scissors, glue, pencils and card, creating a craft that you can use to help students understand why a poppy is a popular symbol on either of these public holidays, as well as using for a lesson in how to create a mosaic.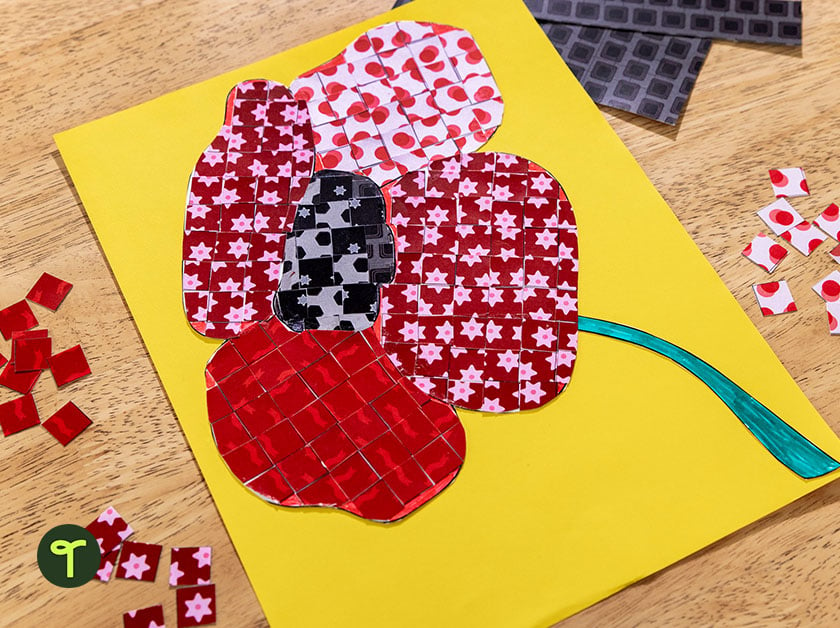 Why Do We Wear Poppies?
Looking to explain why we wear poppies to your students? Here's a bit about the history of the poppy as a symbol of our soldiers' sacrifice to explain the tradition.
The poppy is a symbol of remembrance for both Anzac Day and Remembrance Day here in Australia and other war memorials in many countries.  The tradition dates back to World War I, when Canadian physician and Lieutenant Colonel John McCrae wrote a poem called In Flanders Fields. McCrae's poem inspired the widespread use of the poppy as a symbol of remembrance for fallen soldiers all around the world, including here in Australia.
In his poem, McCrae described poppies growing in the battlefields of Flanders, Belgium, where many soldiers lost their lives during the war.
How to Make a Poppy Mosaic
To make a poppy mosaic with your students, all you will need is this printable template, glue, and scissors.
Select the download button above to download full-colour templates for each part of the poppy, including the petals, stem and flower centre, plus instructions that you can read aloud or print and hand out for students to follow as individuals.
When their mosaics are done, why not hang your students' art to create a beautiful Anzac Day or Remembrance Day classroom display?