Create a special keepsake for mum, grandma, aunt, or another special lady with a Mother's Day acrostic poem template.
Acrostic Poems Make Great Mother's Day Gifts!
Mother's Day is right around the corner! We've been working around the clock to create materials for you and your students to use to celebrate the amazing women in their lives. This resource is designed for students to write their special person an acrostic poem.
This Mother's Day printable gets its finishing touch when students draw and colour a picture of their special lady to add to this special keepsake that they can present to their loved ones as a gift.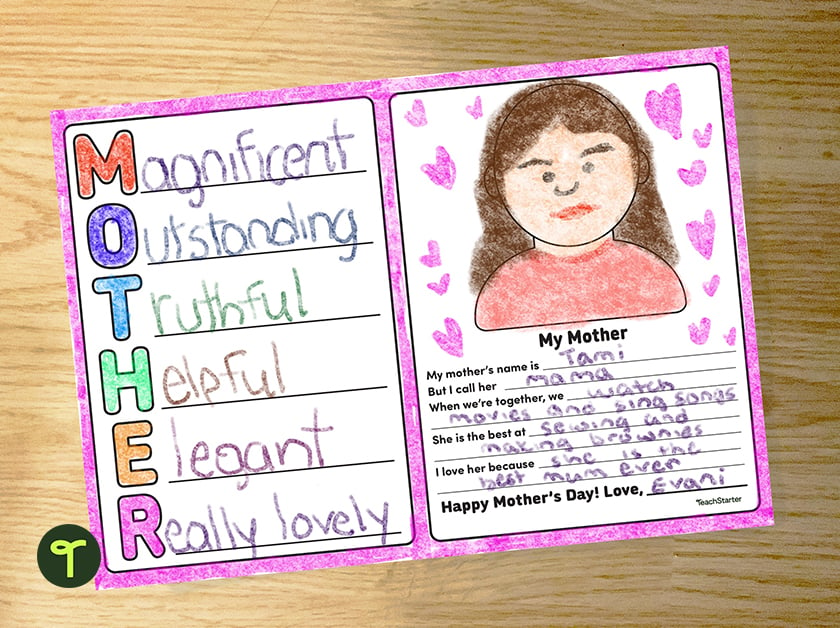 Templates are included for 
Mother

Grandma

Aunt

Sister

Stepmum
Tips for Differentiation + Scaffolding 
Help students struggling to generate their acrostic poems by
Provide students with an adjective reference mat or anchor chart.

Hold a class discussion before completing the activity. Have students share their favourite things about their special lady. Chart the adjectives used and display the chart while students work on their poems.
Easily Download & Print
This resource is available in both colour and black-and-white. Use the dropdown menu to select the PDF resource file you prefer.
---
Don't stop there! We've got more Mother's Day worksheets, activities, and resources here!
[resource:4135658]   [resource:4637741]   [resource:4811942]