This printable worksheet of 'Never Have I Ever' questions for kids is perfect for a first-day-of-school activity!
Bring the fun of Never Have I Ever questions into your back-to-school planning with a printable list of questions for kids! You can use this printable icebreaker game at the beginning of a new school year to help you students get to know each other a little better.
How to Use Never Have I Ever … Questions for Kids
Never have you ever used these questions in your classroom? You're in for a treat with this easy option for a first week of school activity.
The premise of this get-to-know-you game is simple, and our teacher team has made sure all of the questions are kid-friendly. Your students will read the various statements on the worksheet, then tick off a list of things that they have never, ever done. Questions range from 'never have I broken a bone' to 'never have I ever been frightened by a spider,' and are almost guaranteed to generate laughs from your students if you read them out loud for students to tick them off, sort of like a game of Bingo.
When they've finished the worksheet, the person who has ticked off the least number of things is the winner! This means they have done the most number of things! Alternatively, you may want to give a prize to the student who never has done the fewest things on the list.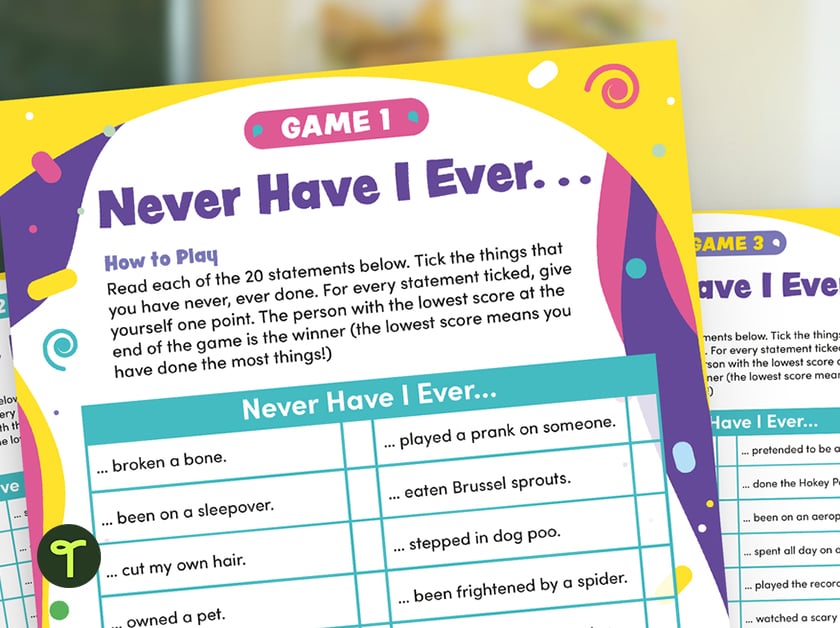 There are three hilarious pages of questions, so your students can play this game multiple times on the first day of school or when you're getting a new group of students together for group work. Because students answer different questions about themselves, this is a low-key way to help students get acquainted with their new classmates, and it's heaps of fun.
We suggest you play the game in small groups, or as a whole class. A great way to extend the icebreaker is to ask students to find a classmate who has done something that they haven't. Then, ask them to interview each other to share their experiences!
Alternate Way to Play
To make this game even more exciting, why not make use of our Never Have I Ever… PowerPoint Version? The PowerPoint can be displayed on your interactive whiteboard and is the perfect way to incorporate a physical brain break into your school day.