Provide digital possessive noun practice activities for your learners with a Google Slides interactive activity.
What Are Possessive Nouns and Pronouns? 
By definition, possessive nouns and pronouns are any noun that shows possession or ownership. Possessive nouns are created by adding an 'apostrophe + s' (or in some cases, just an apostrophe) to the end of a noun, followed by the object being possessed. The concept of possessives is fairly straightforward, and most adults have no trouble grasping it. However, young learners often struggle with possessives more than any other grammatical concept.
This grammar resource is designed to give young learners the opportunity to practice and build skill with possessive nouns. They will drag and drop their way through 16 possessive noun practice questions on the way to possessive noun mastery.
What Are Examples of Possessive Nouns and Pronouns?


A team of dedicated, experienced educators created this resource to support your grammar instruction. 
In addition to individual student work time, use this activity to enhance learning through guided writing groups or whole-class lessons.
If you have a mixture of above and below-level learners, we have a few suggestions for keeping students on track with these concepts. 
🆘 Support Struggling Students
Allow students to reference an anchor chart, lesson notes or reference page while completing the activity.
➕ Challenge Fast Finishers
Have students further their learning by using the possessive nouns from the activity in sentences. 
🧑‍ Group Learning
Project the slides onto a screen and work through them as a class by having students record their answers in their notebooks or mini whiteboards. 
Easily Prepare This Resource for Your Students
Use the Download button to get your copy of the Google Slides presentation.
Assign this interactive activity to Google Classroom. Please be sure to open in Edit mode, not Presentation mode. Students click/drag/drop to use possessive nouns correctly.
---
This resource was created by Lindsey Phillips, a Teach Starter Collaborator.
While you're here, check out more great grammar resources to compliment your lesson planning: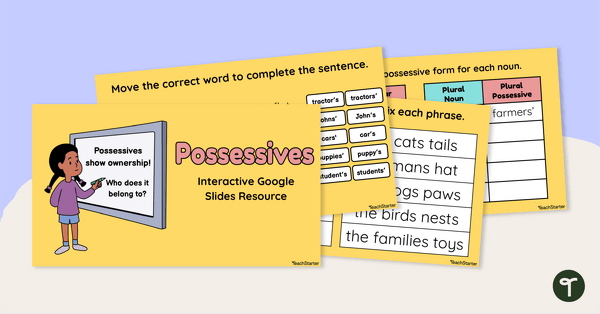 teaching resource
Engage your learners with a Google Interactive activity designed to build skill with possessive nouns.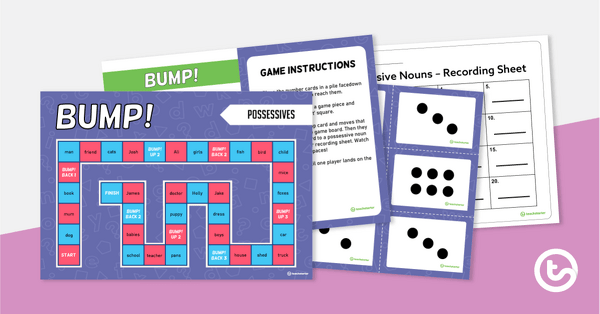 teaching resource
A board game to practise writing possessive nouns using apostrophes.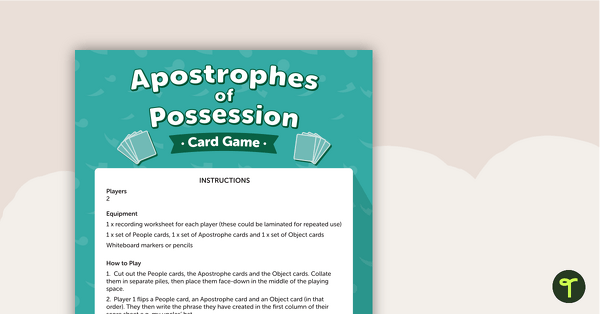 teaching resource
An interactive card game for students to play when consolidating their understanding of apostrophes of possession.