Inspire some spooktacular Halloween writing with a roll-to-create Halloween Writing Prompt creator.
Roll Your Way to a Creepy Writing Prompt!
Do your students have a case of writer's block? Are they struggling with narrative writing? Is it spooky season yet? Absolutely! We know it's tough to engage today's kids, especially when it comes to imaginative writing. They don't seem to remember all of the different components to a story, or they struggle with generating ideas to build a story around. That's where we come in!
Roll to Create Fun and Unique Halloween Story Ideas
This printable resource is the perfect tool to get your reluctant writers in the mood for writing a scary story! This dice-rolling idea generating worksheet will help your students to create a fun list of story elements to use as a story starter to write their own spooky narrative stories. With our Roll-to-Create format, students get their writing ideas from a random roll of the die and must incorporate the elements rolled into their writing.
How to use this Halloween-themed writing prompt resource:
Students roll a die and identify the corresponding narrative elements on the chart.
Each narrative element is recorded at the bottom of the sheet.
Once students have rolled the characters, setting and complication for their story, they can begin to write their narrative.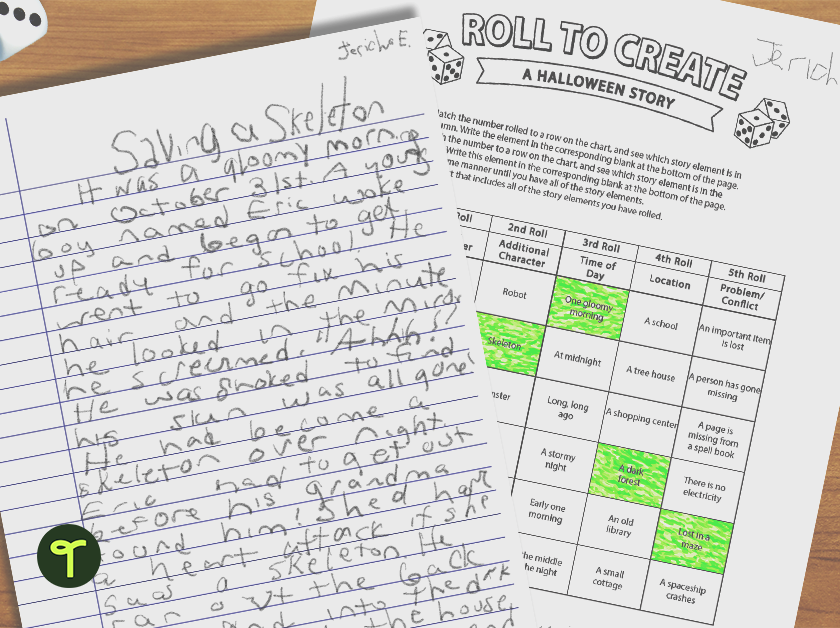 Download and Generate Your Own Halloween Writing Prompts!
You're just a click away from getting your new resources! Use the download button to download your printable PDF resource file. Click print, and you're ready for Halloween!