Print a snowman Christmas tree topper template for your students to decorate or to use when learning about snow and winter.
This Christmas craft activity includes a template for students to DIY a snowman Christmas tree topper for their family tree. It's also a fun craft for students who do not celebrate Christmas to learn about a symbol of winter in some parts of the world.
DIY Christmas Tree Topper
Bring a Frosty feel to your classroom with papercraft students can DIY at school or home!
These printable tree topper templates are the perfect Christmas craft for any classroom, because they're simple and inexpensive, and your students will love creating them. Best of all, children can let their creative juices flow and decorate the templates using a variety of craft supplies, or even glitter (for the brave).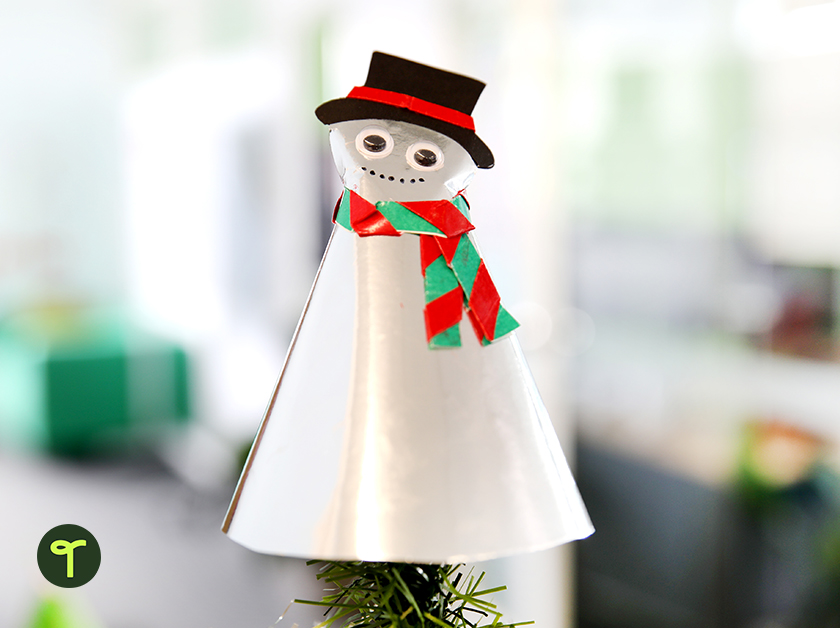 Are there students in your class who do not celebrate Christmas? This craft does not have to be put on a tree! It can also be made to sit on students' desks or on a shelf in their home.
Why not teach students about snowmen and why they are symbols of winter in some parts of the world? You might like to introduce students to the song Frosty the Snowman or read picture books about snowmen.
Expand the lesson with more snowman fun by creating pop-up snowman cards, or learning about digraphs with a snow globe-themed activity.
What Is the Most Popular Tree Topper?
Looking for some fun facts to share with your students about tree toppers in Australia? It's long been a tradition to hang a special decorative ornament on the highest branch of the Christmas tree, and many families have a favorite that they use year after year.
The most popular tree toppers are stars, angels, snowflakes, and Santa! Some people also place ribbons on the top of the tree.
That means your students' snowman tree toppers will truly stand out as special and may even become their family's new favorite tradition to add to the top boughs of their tree.
You might like to ask your students what types of tree toppers and baubles they put on their tree each year!