Print a sweet angel tree topper template for your students to decorate for their family Christmas tree.
An angel tree topper is a classic seen around many homes in Australia during the Christmas season. What better way to celebrate the season than with a printable craft of the popular and iconic figure that students can take home to put on top of their very own Christmas tree?
How Do You Make a Paper Angel Tree Topper?
Create a craft table full of decorative choices for your students, and get students started on Christmas decorating!  This easy paper angel tree topper craft template can be downloaded and printed on thick white card for children to decorate and take home to decorate the family tree — it really is that easy!
Some suggested decorating materials for your tree topper include:
pencils
oil pastels
glitter (if you dare!)
felt material
googly eyes
foil
cotton wool
whatever else you have lying around in your craft containers
Pop on some Christmas music, and get into the Christmas spirit while students prepare a festive friend for their tree at home or perhaps a tree in your classroom.
Encourage your students to decorate the templates first. Next, have them cut them and stick them together. Finally, they can add some finishing touches. Don't forget to have each student write their name on the inside of their tree topper!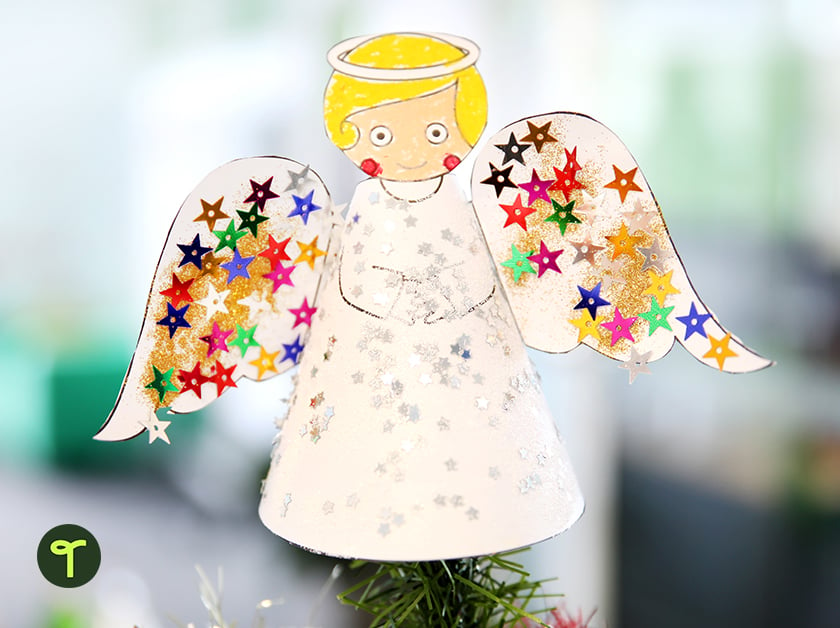 You may also like to print different versions of the tree topper template for students who would like to feature another character:
More Christmas Tree Craft for Kids
Are you setting up a tree in the classroom this holiday season? Your students will love the chance to create ornaments and decorations to help bring the spirit of the holidays into the room. Best of all, each Christmas tree craft can be taken home at the end of term to be added to the family tree this year and for decades into the future!
Here are a few of our teacher team's favorite ideas for creating ornaments that will become treasured by families for years to come: