Teach your students about story settings with this hands-on flipbook.
What Is the Setting in a Story?
We're glad you asked! The setting of a story has two distinct parts: where the story is taking place, and when the story is taking place. The setting is one of the first narrative features taught to early readers and writers.
This hands-on flipbook has been designed to help your students understand the concept of story settings. As they work through the flipbook, they will identify the where and the when of the settings presented to them. The settings included in the flipbook are:
A hot summer's day at a local swimming pool

A soccer game happening at night

An adventure in a forest at sunset

A trip to the zoo in the morning

A favourite holiday spot in winter

A space scene set in the future
How to Create This Story Settings Flipbook
Creating this resource for your students is easy! Just follow the simple instructions below.
Print each student a copy of all pages and create a packet. 

Students cut out the flipbook pages on the dashed lines. 

Stack the individual pages in order, beginning with the largest on the bottom, and ending with the smallest on top. 

Align all pages along the top edge, then staple the book together at marked staple points.

Have students identify and draw the setting based on the prompt given on each page.
Tips for Extension and Scaffolding
If you're catering to a wide range of learning abilities in your classroom (and we're sure you are!), try these ideas for adapting this resource to meet the needs of all students.
Challenge Your Confident Writers

– Got some talented writers in your class? Why not have them write a description of the setting, rather than draw it? Encourage them to use lots of descriptive language in their writing.

Support Your Less-Confident Students

– For many students, coming up with an idea is half the battle! Support your less-confident learners by collaboratively planning ideas for each setting in a targeted small group. Having these students verbalise what they are going to do before they start is also helpful! 
Download to Get Started!
Use the dropdown arrow next to the Download button to choose between the editable Google Slides file or the easy-print PDF.
---
This resource was created by Samantha Rose, a Teach Starter collaborator.
You're just a click away from accessing more great story settings resources!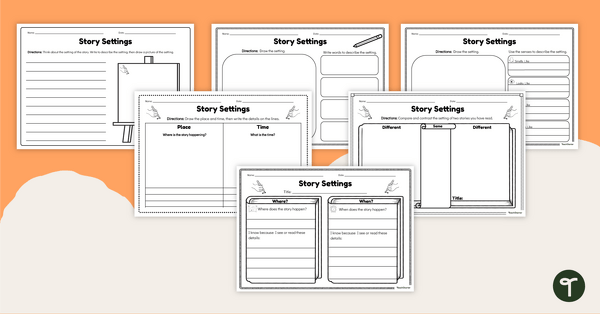 teaching resource
Encourage your students to write and draw about story settings with this set of differentiated graphic organisers.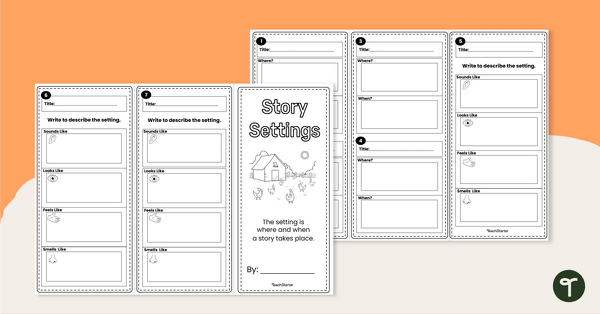 teaching resource
Encourage your students to identify story settings in the books they read with this brochure template.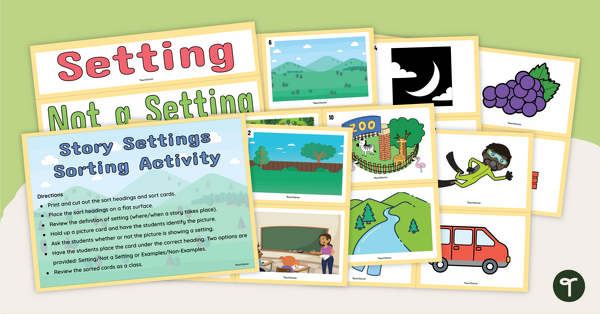 teaching resource
Explore the difference between story settings and non-settings with this hands-on sorting activity.