Download the famous Teach Starter funky reindeer template! This Christmas craft activity is perfect for practising Zentangle patterns.
The printable funky reindeer template you know and love from Teach Starter is back! Practise mindful zentangle patterns with your class, decorate your classroom for Christmas, and enjoy festive fun with this craft!
Printable Funky Reindeer Template
If you're not familiar with the Teach Starter funky craft template series, get ready for some fun! Our Fun Easter Bunny Craft Template is always a treat to see on social media at Easter time, and this reindeer printable is very similar.
Pupils use different patterns to fill in the different sections of the reindeer. They then choose a pair of funky glasses and a hat to finish off the cute reindeer craft!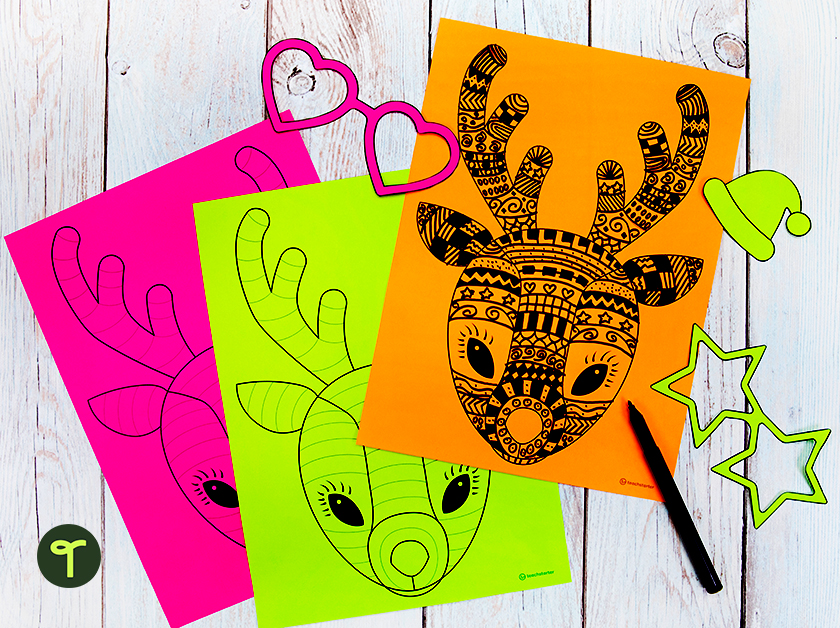 How to Create the Funky Reindeer in Your Classroom
Download the Funky Reindeer Craft Template, and print it on white (coloured) paper.
Trace the outline of the reindeer with a black marker.
Choose either straight lines in each section or different patterns. Our teacher team suggests lead pencil first, and then when the artist is happy, they can go over their lines with a black marker.
Colour in the reindeer's sunglasses and Christmas hat — the brighter the better! You may like to print these on coloured paper, too.
Cut out the sunglasses, Christmas hat, and the Reindeer.
Glue the Reindeer onto a piece of card.
Glue the sunglasses and Christmas hat over the top.
Display in your classroom, and admire!
Zentangle Patterns
Do you practise mindfulness in your classroom? This funky reindeer template is the perfect way to introduce Zentangle patterns for mindfulness!
Zentangle art is all about drawing structured patterns and promoting relaxation. Adult artists using this form will typically use a lead pencil or pen to draw their patterns, creating small abstract works of art. Zentangle patterns also offer plenty of freedom — making it the perfect art activity for pupils in your classroom to relax and have fun!
Reindeer Craft Alternatives
For those pupils that don't celebrate Christmas, there are alternatives to this reindeer craft! Try any of these funky crafts: