Although the first week of school is still a little while away, we know you're on the lookout for fun and engaging lessons to share with your class! This school year may look a little different, but you can still plan a ton of awesome first-day activities! The best part? These activities work whether you're teaching at school or via distance learning!
---
Fun First-Day Activities
To help you out, we've put together five of our favorite first-day activities that can be shared with students wherever they are! Your students will love becoming part of the class family with these fun and engaging activities to welcome them on the first day of school.
#1 Summer Snapshot
Students love to share what they've done over the summer!
While they can't catch up with their new classmates in person, they can still share what they've been up to with our Summer Snapshots template.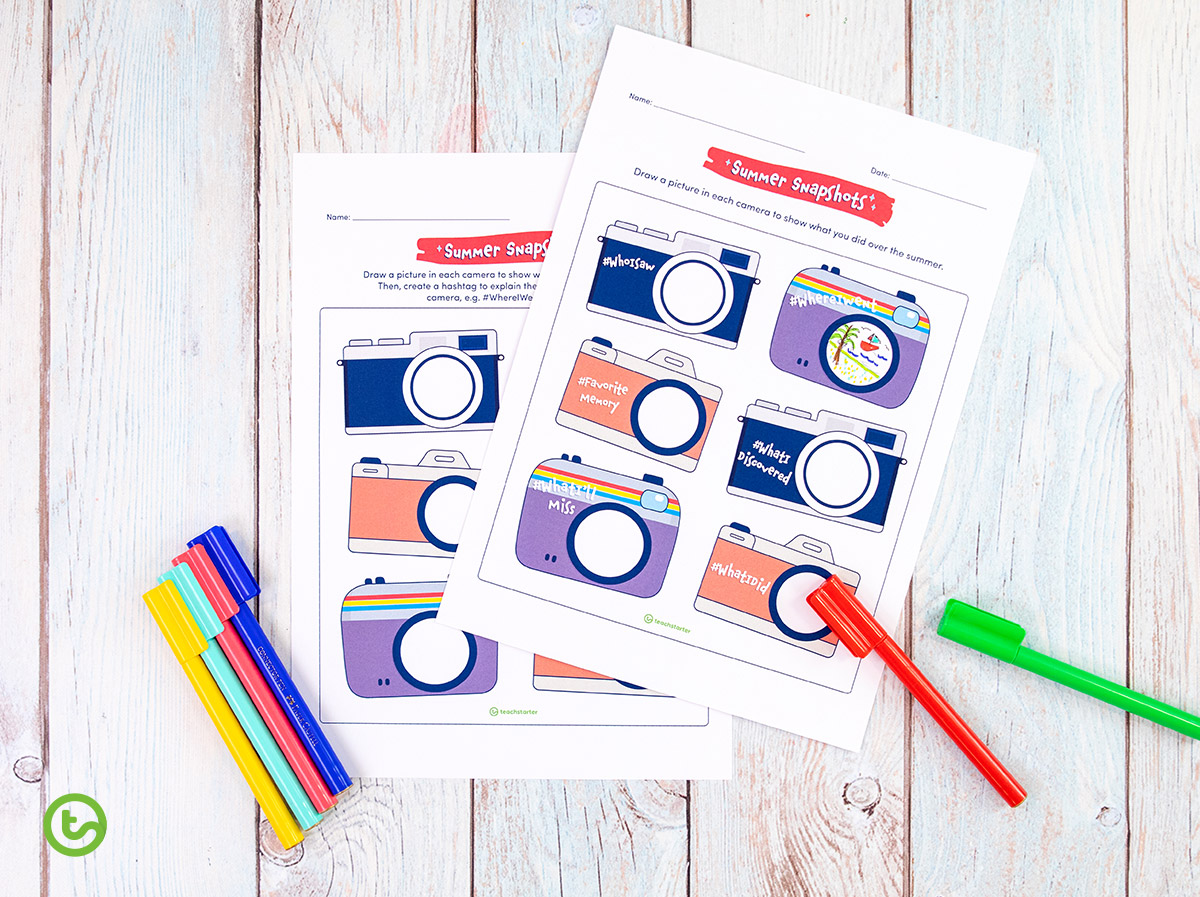 If students don't want to illustrate, they can cut out photos of what they did! Once they've finished the suggested drawing prompts, they can create some of their own original hashtags to share with the class.
#2 In This Class We…
If you really want your class to work as a team this school year, then you need to work together to form behavior expectations for the year.
Using our In This Class… – Expectations Posters, encourage your students to write down what each of these things means to them:
excellence
respect
kindness.
Then, use their responses to create a wonderful classroom display!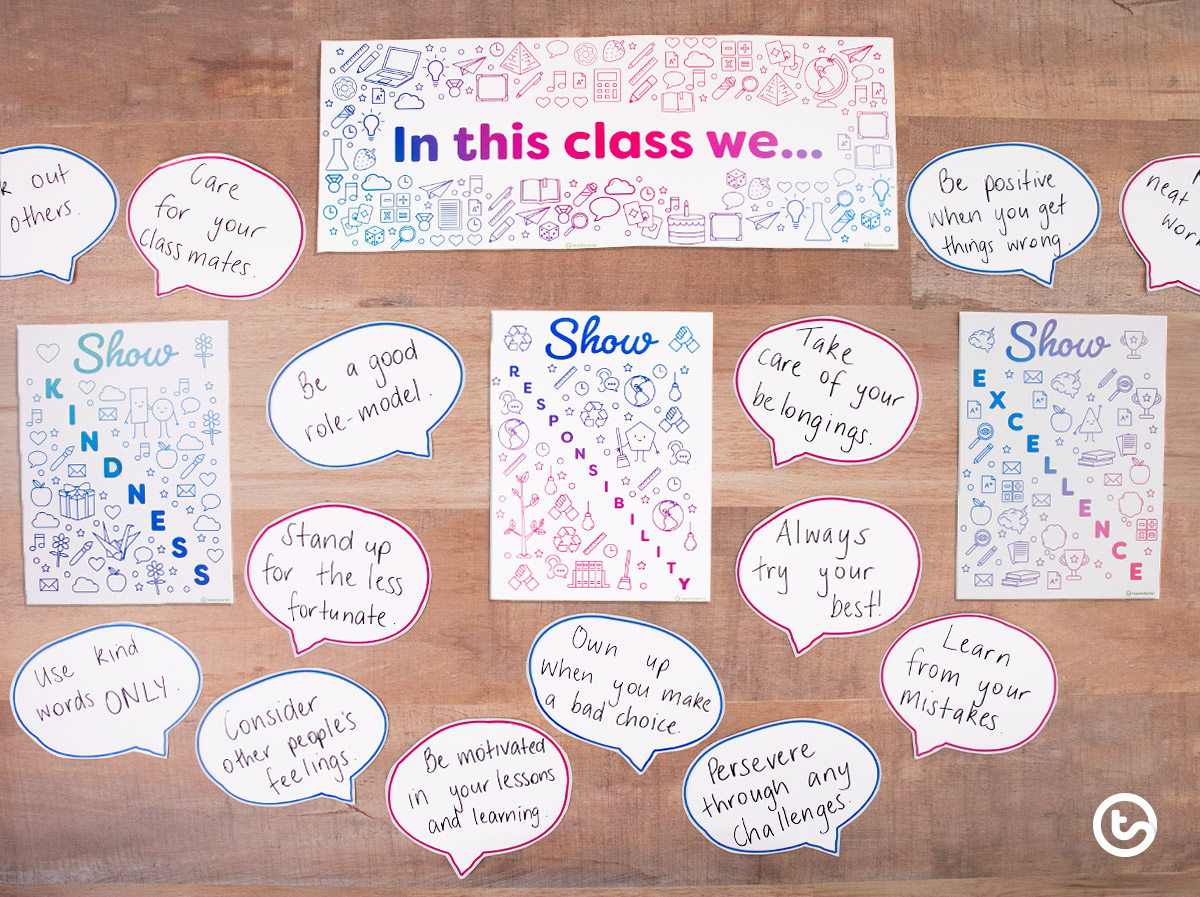 Your students will love that they've already contributed to a whole-class activity. Even better, they will be motivated to demonstrate the class expectations as they will have a clear understanding of what these expectations mean.
#3 Self-Assessment
You might be worried about getting to know your new students, especially when you may not have them physically sitting in your classroom. You may not be able to observe them as they complete each lesson. This will certainly impact how much you can gauge their prior knowledge and understanding.
While you can certainly set some diagnostic assessment to start the year off, why not get some extra help in the form of a student self-assessment?
This resource is available on paper or digitally via Google Slides or through our Assess function! Ask your students to give you some feedback on each core subject on our Back-to-School Self-Assessment Template. Students use a scale of 1–10 to rate their enjoyment and their skill in each subject area.
What a great way to get an idea of how your students feel about school!
#4 Getting to Know You T-Shirt
Of course, it's not all about learning what your students like at school. You can't have first-day activities without getting to know your students' interests out of school too!
This awesome Getting to Know You T-Shirt activity is just the creative lesson you need to get your students to share their interests.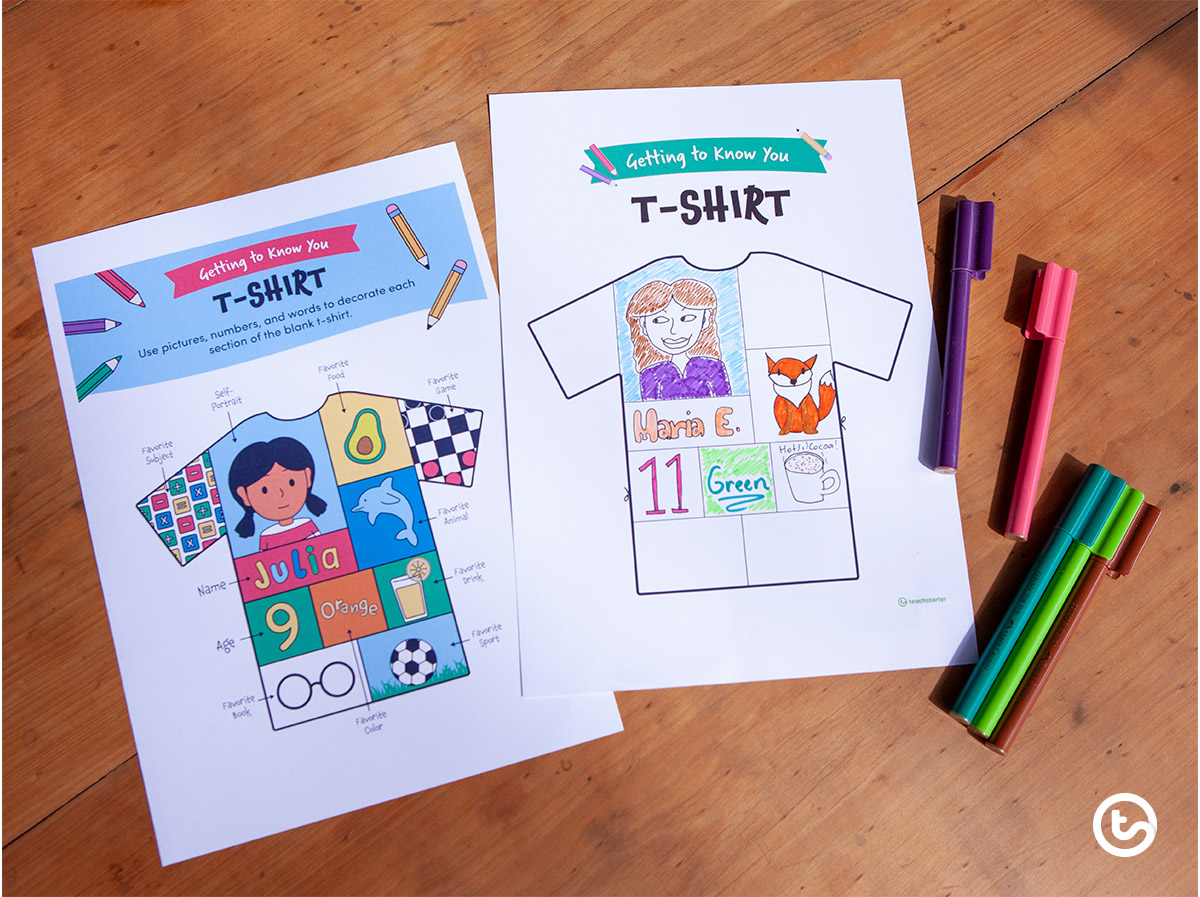 Have the class introduce themselves to each other by sharing their T-shirts! They may find some new friends who share common interests that will set them up for the year to come.
#5 Would You Rather? Writing Task
Lastly, a good ol' fashioned writing task!
There's nothing like asking a student's opinion to get them writing. You can do just that with our fun Would You Rather…? Question Cards! 
Provide your students with a card to prompt them to write an opinion piece, or better yet – a story!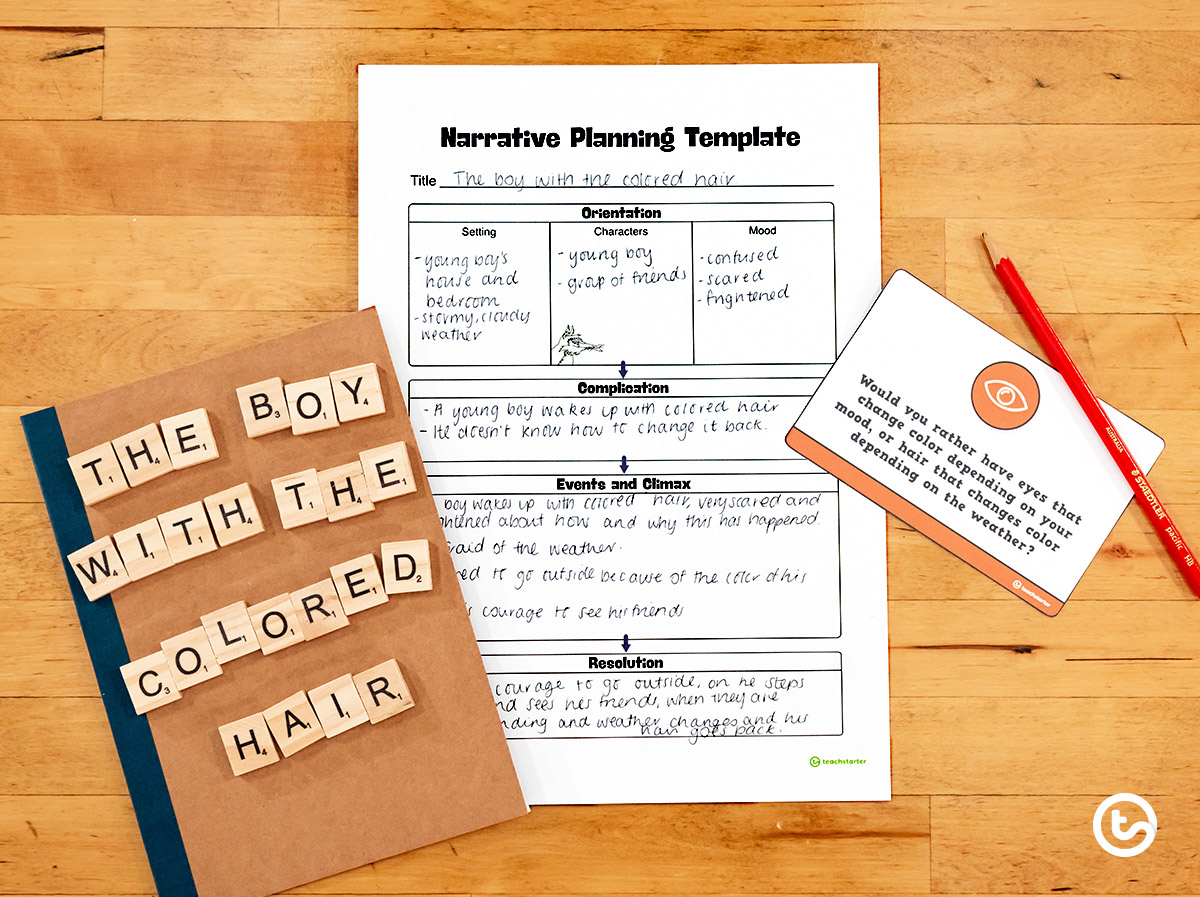 We have tons of writing templates, such as this Narrative Writing Planning Template. Give one to your students and see what creative stories they can come up with.
Oh yeah, don't forget this will help you assess their handwriting, spelling, and narrative writing skills too! It's a win-win!
---
Share these first-day activities with your teacher friends who are teaching in person or online!
We hope you enjoy your first day of school!