You've been teaching your students that there are 12 months in every year, and the 11th one is November. But are you ready to celebrate Dinovember in your classroom? Yes, it's real … and there are plenty of dinosaur classroom activities to make this month dino-mite! Bonus: These dinosaur ideas can be used throughout the year with your students; you don't have to limit them to just one month.
What's Dinovember?
Dinovember was started by parents Susan and Refe Tuma whose kids' plastic dinosaurs got up to some seriously silly antics at night back in 2014. The Tumas' photos of the dinos making messes went viral, and they ended up creating a movement, as well as snagging the family a children's book deal. The Tumas now have a series of hilarious children's books centered around What the Dinosaurs Did … and children's librarians and teachers alike have taken to adding dino-themed activities into their November line-up.
You've got a lot on your plate right now, but if you're looking for some fun ideas to make your students laugh and add a little more dinosaur action into your day, we've got you covered!
Dinosaur Activities for Teachers
Read What the Dinosaurs Did at School
Why not start where Dinovember all began with a tale straight from Susan and Refe Tuma? What the Dinosaurs Did at School is aimed at students in pre-K through grade 2, and it tells the tale of what went down when a child's dinosaurs stowed away in a backpack and wreaked havoc in the classroom. The picture book can start off a lesson on the different types of dinosaurs or be used as a prompt for a creative writing project. Encourage your students to write about what one of their toys would do in the classroom!
Dino Shadow Drawing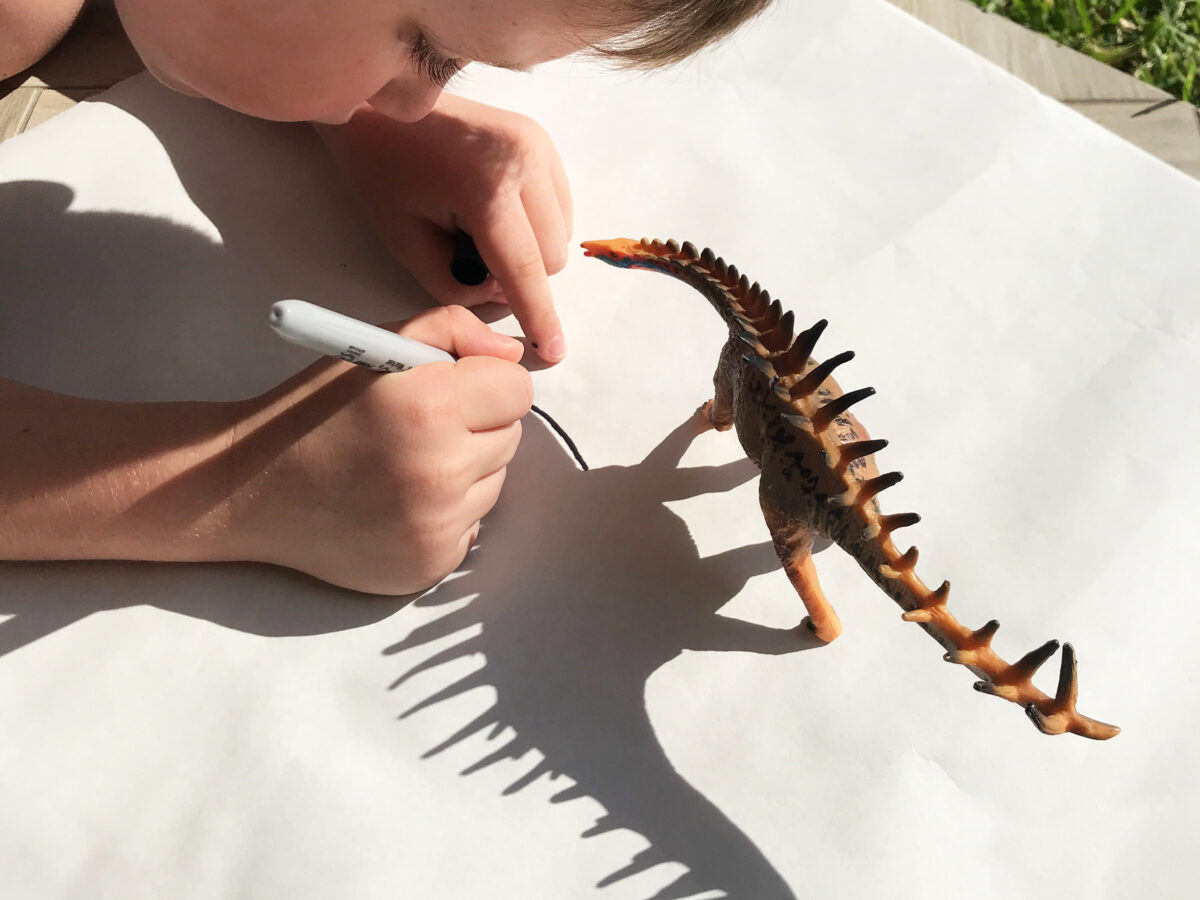 Dinosaur shadow drawing doesn't require a whole lot of supplies — you just need the sun, some paper, a pencil or marker, and a plastic dinosaur. This STEAM activity combines creativity with lessons about how shadows are made, plus students get to work on their tracing skills.
Dinosaur Line Tracing
Speaking of tracing, if there's no sun available, you can keep things simple with dinosaur tracing templates that work those same fine motor muscles:
Make Fossil Imprints
If you've got curly pasta and some playdough, you've got exactly what you need to make fossils with pre-school and kindergartners! Give your students small cups of dried pasta and let them make imprints in the playdough while you talk about fossils!
Make Playdough Skeletons
Older students who are beyond that roll the pasta in dough stage can make their own dinosaur skeletons from their playdough!
Measure with Dinosaur Footprints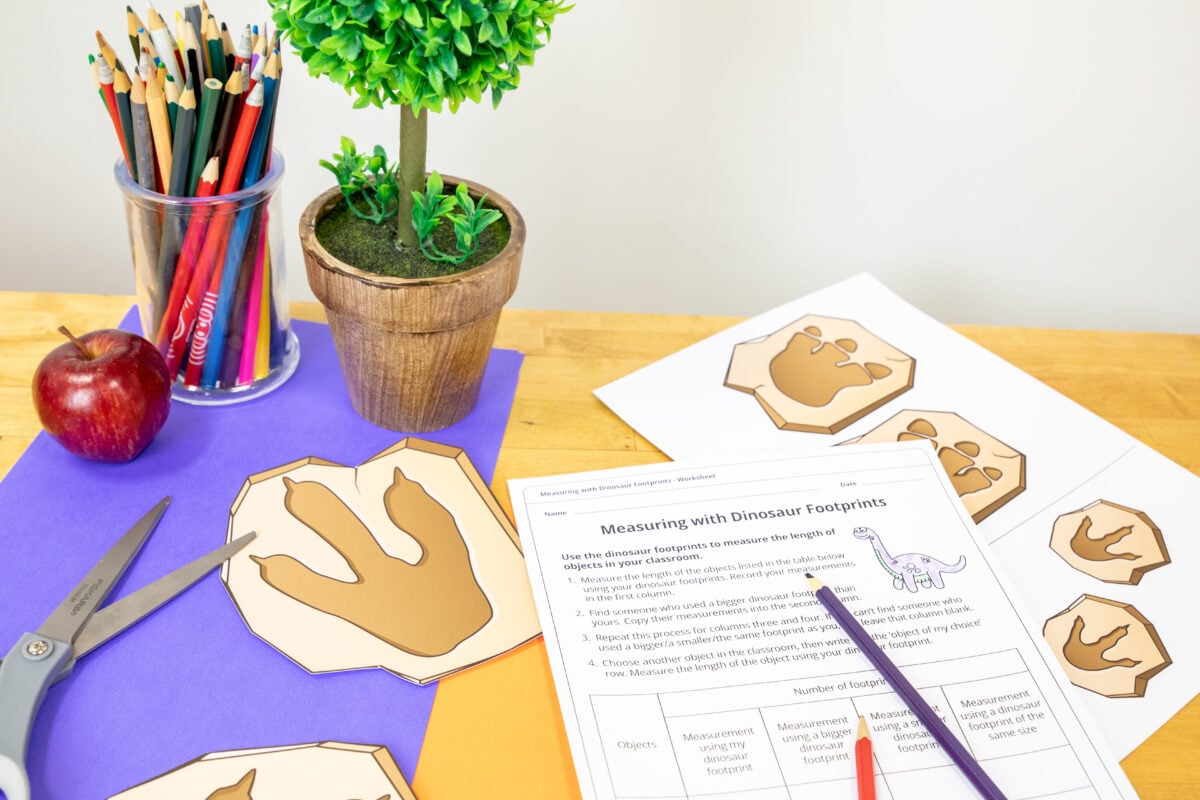 Learning to measure with informal units is a whole lot more fun when one of those units is a dinosaur foot! Use different-sized dino feet for students to compare and contrast their measurements. (Get printable dino feet here!).
Or try these dino-mite math ideas!
Make Dinosaur Hand Art
Will making art out of kids' hands ever go out of style? We sure hope not! These dinos require nothing more than some cardstock, scissors, glue, and a pen to make the smile!
Mindful Coloring — Dino Style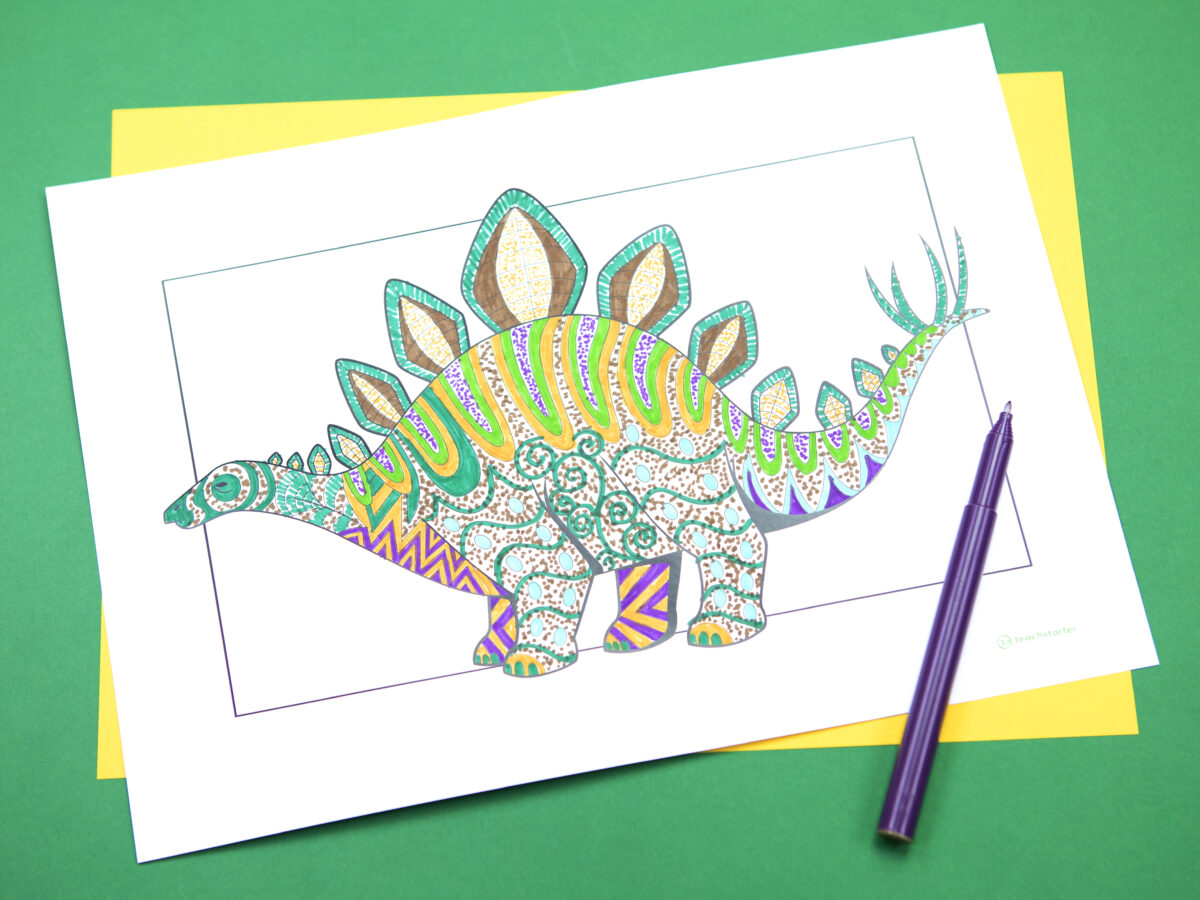 Take a chill-out break with your class for some mindful coloring that is a roaring good time — coloring a stegosaurus!
See our full collection of dinosaur resources for more Dinovember inspiration!
Banner image via shutterstock/Stanislaw Mikulsk