Need some fall poems for kids to use in your classroom this school year? Whether you call it autumn or fall, the season that's all about pumpkins and leaves is pretty perfect for introducing poetry to your ELA students.
After all, fall poems for kids are packed with poetic devices like onomatopoeia (think the crunch, crunch, crunch of leaves underfoot), similes (the fall air is as crisp as fresh lettuce), imagery, personification, and more.
Where can you get started with fall poems for your students? Our teacher team has put together some of their favorite autumn poems to use in the classroom with second, third, fourth, and fifth-grade students, plus each of the poems about fall extends their poetry practice and brings the season inside the school walls for your ELA lessons.
Fall Poems for Kids
With lines from poets like Robert Louis Stevenson, Carl Sandburg, and Robert Frost, these popular poems about fall are kid-friendly!
Autumn Fires by Robert Louis Stevenson
In the other gardens
And all up the vale,
From the autumn bonfires
See the smoke trail!

Pleasant summer over
And all the summer flowers,
The red fire blazes,
The grey smoke towers.

Sing a song of seasons!
Something bright in all!
Flowers in the summer,
Fires in the fall!
Stevenson may be better known for his novels such as Treasure Island or The Case of Dr. Jekyll and Mr. Hyde, but his legacy includes a number of poems for children. This fall poem is a good one to read during Fire Prevention Week in early October and can also be tied into a science unit on forms of energy.
Good for: Third or fourth grade
New fall poem vocabulary: vale, bonfire, blaze
Poetic Device: Alliteration (the S is repeated in "sing a song of seasons.")
Try these alliteration resources!
teaching resource
A worksheet for students to write and illustrate a poem with alliteration.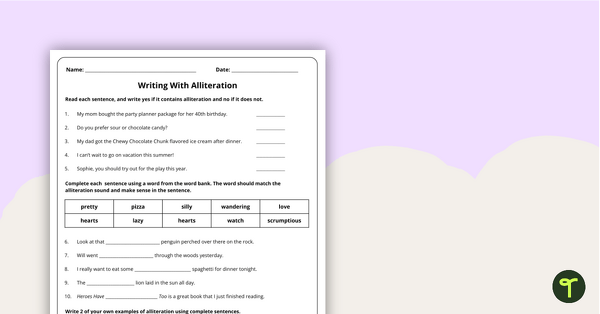 teaching resource
Identify and create alliteration patterns in texts.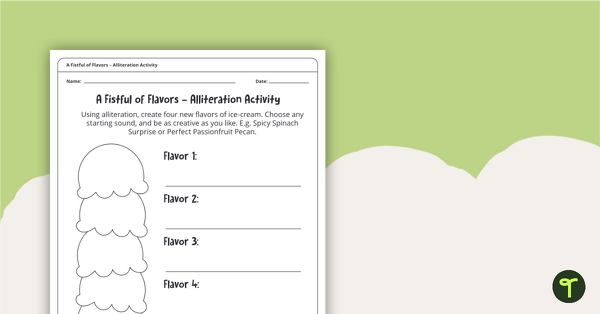 teaching resource
An activity to use in the classroom when learning about alliteration.
Theme in Yellow by Carl Sandburg
I spot the hills
With yellow balls in autumn.
I light the prairie cornfields
Orange and tawny gold clusters
And I am called pumpkins.
On the last of October
When dusk is fallen
Children join hands
And circle round me
Singing ghost songs
And love to the harvest moon;
I am a jack-o'-lantern
With terrible teeth
And the children know
I am fooling.
This fall poem for kids comes is just one of Sandburg's verses written about the third season of the year! Read on for another teacher favorite!
Good for: Second and third grade
New fall poem vocabulary: tawny, prairie, dusk
Poetic Devices: simile and metaphor
Try these simile and metaphor resources!
teaching resource
A template for students to use when learning how to write a simile poem.
teaching resource
Help students identify metaphors with this classroom poster.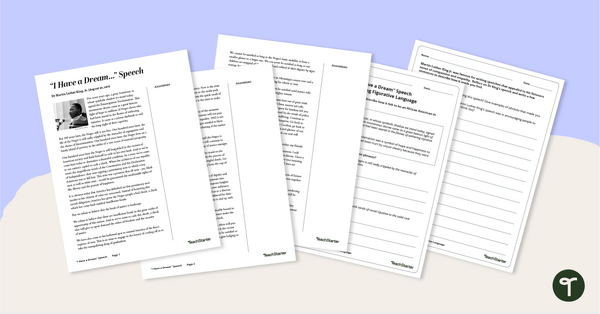 teaching resource
Review MLK's "I Have a Dream" speech text and explore the metaphors he used to convey his message through the accompanying questions.
Under the Harvest Moon by Carl Sandburg
Under the harvest moon,
When the soft silver
Drips shimmering
Over the garden nights,
Death, the gray mocker,
Comes and whispers to you
As a beautiful friend
Who remembers.

Under the summer roses
When the flagrant crimson
Lurks in the dusk
Of the wild red leaves,
Love, with little hands,
Comes and touches you
With a thousand memories,
And asks you
Beautiful, unanswerable questions.
Good for: Sixth grade
New fall poem vocabulary: flagrant, crimson, mocker
Poetic Devices: personification, figurative language, imagery, and symbolism
Try these personification and imagery resources!
teaching resource
A sorting worksheet using similes, personification, metaphors and onomatopoeia.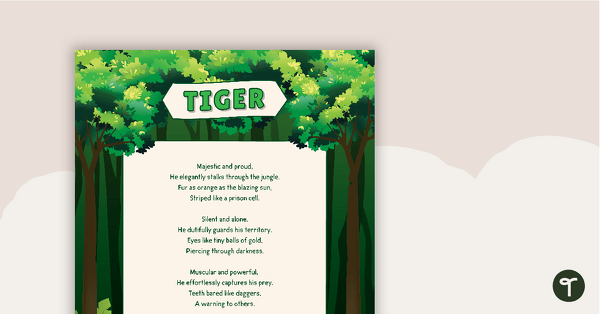 teaching resource
A worksheet to help students understand imagery in poetry.
Gathering Leaves by Robert Frost
Spades take up leaves
No better than spoons,
And bags full of leaves
Are light as balloons.

I make a great noise
Of rustling all day
Like rabbit and deer
Running away.

But the mountains I raise
Elude my embrace,
Flowing over my arms
And into my face.

I may load and unload
Again and again
Till I fill the whole shed,
And what have I then?

Next to nothing for weight,
And since they grew duller
From contact with earth,
Next to nothing for color.

Next to nothing for use.
But a crop is a crop,
And who's to say where
The harvest shall stop?
Good for: Fourth and fifth
New fall poem vocabulary: elude, rustling, spades
Poetic Device: onomatopoeia (rustling)
Try these onomatopoeia resources!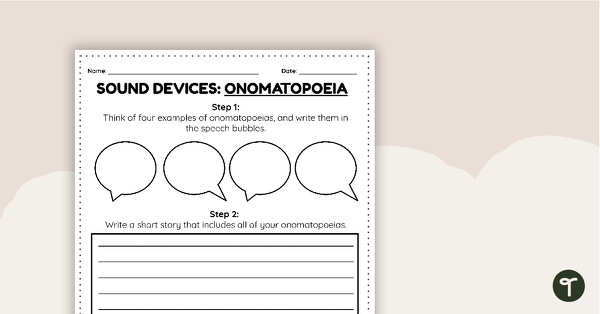 teaching resource
A template to practice using onomatopeias in a piece of text.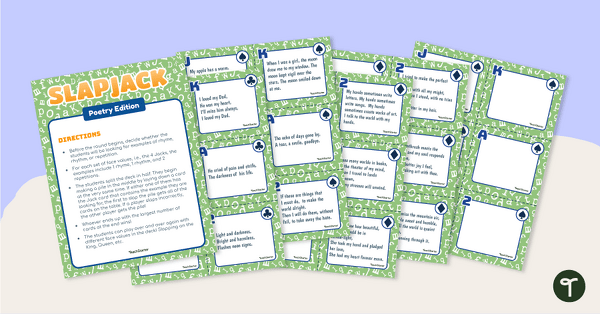 teaching resource
Learn to identify rhyme, rhythm, and repetition with a poetry Slapjack Game!
Banner image via Shutterstock