Ah, field day. It's a time-honored tradition at schools nationwide that students love, but when you're the teacher, it can be a lot of work. As the end of the year and summer break come near, you're often tasked with planning all those field day games and activities that make your little learners look forward to this day all year.
So how do you end the school year with a bang but also plan a manageable field day for you and your fellow teachers — not to mention coming up with field day activities that won't break the bank?
We know you've already got a lot on your hands as the school year comes to a close. That's why the Teach Starter teacher team put together some of our favorite field day activities and field day games to make your planning go more smoothly and give your students a field day they'll never forget — for all the right reasons! You'll want to add these ideas to your teacher toolkit for years to come.
What Is a Field Day?
Didn't celebrate field day growing up? Some schools call this end-of-the-school year tradition fun day, some bypass it entirely. But a field day is typically focused on sports and athletic competitions for students, focused on building sportsmanship, creating community and making sure kids have fun. If the spring weather holds, field day is often held outside, a chance for the class to get away from their desks for a morning or afternoon (or maybe the whole day!) and get active!
The term "field day" comes from the military, where it originally referred to maneuvers that happened on — you guessed it! — a field, but how it jumped to elementary schools is a bit murkier. What's clear is it's got a long history — we've found evidence of the celebrations dating back at least 100 years.
Fun Field Day Activities and Games
Pizza Delivery Relay
Put a fun twist on relay races with pizza boxes for field day, challenging your students to work as a team to get a box filled with "pizza" across the field.
Supplies:
Pizza boxes — If you ask your local pizza joint, they may donate them, or you can purchase a case from a restaurant supply store.
Cones
Large cardboard circles (Cut them out of cardboard boxes to represent your "pizza"
Instructions:
Place cones across your relay race course — one at the starting line, one at the finish line, and one each at the relay exchange points you designate along the way.
Break students up into relay teams, and provide each team with a pizza box and cardboard circle.
Instruct each team to decide which leg of the race each participant will "run," and to stand beside the appropriate cone.
When you shout Go, the first leg should take off running (or walking quickly) with their pizza box open and pizza inside, making sure not to drop that pizza out of the box!
Olympic Torch Relay
Love the idea of a relay? Our teacher team created this Olympic-style torch craft that can be used to kick off field day! Ask students to volunteer to be part of the relay to run the torch to your field day site, and let the games begin!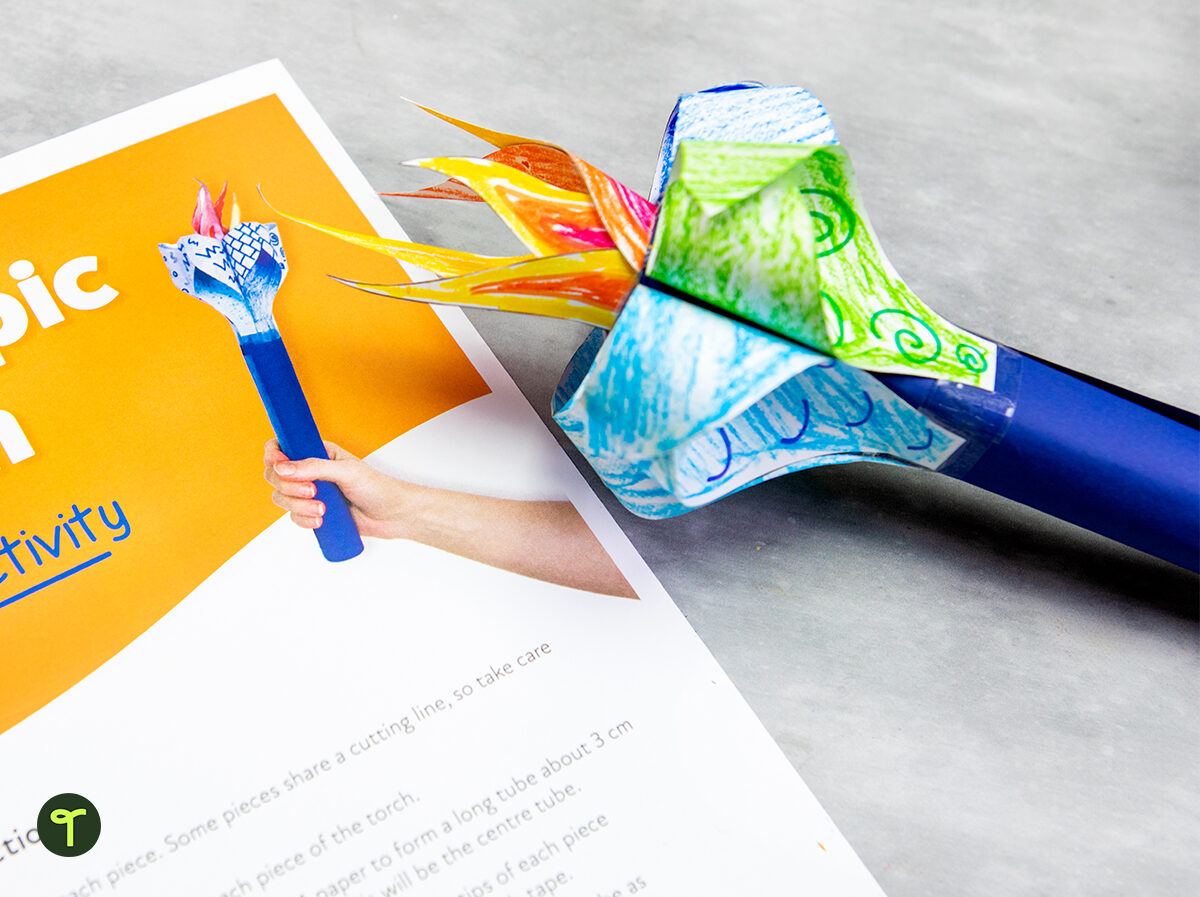 Hula Hoop Rolling
Kids used to roll wheels along with a stick way back in colonial times, but it's a lot harder than it looks. Ask the gym teachers for hula hoops to use for a field day game, and challenge your students to use rulers to roll their hula hoops across the field.
Want to up the challenge? Set out some cones (you can get these from building maintenance) to create an obstacle course for students to roll their hoops through.
Last One Standing
A fun game that draws on the vocabulary knowledge that your students have built up during the school year, Last One Standing challenges students to think on their feet and come up with words that fit into a particular category. This sort of game is good to play as a break from the more active games of field day or set up for students who don't want to take part in some of the more athletically challenging activities.
Print out a free instruction sheet for the game to hand out to students!
Hoop Scotch
If you lucked into a whole lot of hula hoops from the gymnasium, you may want to set up a hoop-scotch course. And no, that's not a typo!
Think hopscotch, but instead of boxes drawn with chalk, students will hop through a course of hula hoops laid out on the grass or playground for some field day fun.
Sidewalk Chalk
Speaking of chalk … as a break from all that running around, why not pull out the sidewalk chalk for a quiet field day activity? Students can get creative drawing, practice writing, or you can incorporate some of the concepts they learned during the school year, like jumping around on this math-themed hopscotch board!
Check out more sidewalk chalk ideas with a learning twist from our teacher team!
Fill the Bucket
If you're brave enough to incorporate water into your field day games, it can be a lot of fun for students — especially on one of those hot, hot days near the end of the school year. In this field day activity, students are faced with two small buckets (usually available at the dollar store this time of year) and one giant sponge. The goal is to get all the water from one bucket into the other, empty bucket — using only the sponge to transport it!
Cheeseball Challenge
The cheeseball challenge is a seriously silly field day game that can get pretty messy, but it's a real treat for students. Assign groups, and hand out one shower cap to each group. The students then have to assign one classmate in their group to wear the shower cap.
That student then gets to cover their own capped head with shaving cream (you can allow classmates to take part, but beware — the shaving cream may not stay on the cap!).
Now it's up to the rest of their group to throw cheeseballs or cheesepuffs at the shaving cream to make as many stick as they can in just one minute! The team that gets the most cheeseballs to stick wins!
Wheelbarrow Races
This field day game is perfect because it requires absolutely no preparation or purchases! The wheelbarrows are your students, and the game can be played just about anywhere from the playground to the gym.
Pair students up, and have one child bend down with their hands on the ground while their partner holds their feet. On your "go," student pairs can race across the field to the finish line.
Keep It Up
One of the reasons so many of us remember field day fondly is the sense of class community that comes with the day. Build on that with a game of "keep it up" using a beach ball. The rules are pretty simple. Place the class in a circle, throw a beach ball in the center, and challenge students to keep the ball from hitting the ground!
Keep the camaraderie going by adding the gym teacher's parachute to the circle and throwing in a few balls that they need to keep up in the air.
Field Day T-shirt Decorating
Did you get a budget for field day this year? Use some of it to buy plain white t-shirts for each student for a fun art project!
Allow your students to draw on their new shirts with permanent markers then hand over spray bottles filled with isopropyl alcohol to spray on the designs. The alcohol will react with the markers, making the ink bleed and creating a tie-dye effect!
Not sure you want students spraying anything in each other's vicinity? You may just want to opt for having students sign each other's t-shirts as a memory of who they shared a class with this school year.
Pillowcase Races
Remember potato sack races? They're a whole lot of fun and games for students, but most of us don't have a ton of potato sacks hanging around. Good news — old pillowcases work just as well, and you can often find them at thrift stores or may be able to get them donated by parents. Just send out an email asking if anyone has cases taking up space in a closet somewhere!
Nature Scavenger Hunting
Do you have students who would prefer wandering around the soccer field, searching for earthworms? Not every student enjoys athletic competitions, and it's important to ensure they have a fun field day too. Consider allowing students who want a more low-key field day an alternative activity like nature scavenger hunting.
Banner image via shutterstock/Sergey Novikov