A significant part of any early childhood educator's role is to facilitate and support children's communication, and in particular, help with dispute resolution. One Montessori education method gaining momentum in mainstream classrooms is called the Peace Table or Peace Corner, and it's no wonder this classroom management trick is taking off!
While the term 'dispute resolution' usually applies to adults and their grown-up grievances, as with all fundamental life skills, it's important to start scaffolding effective strategies in the early years of children's lives. Often, it falls on the teacher or other adult in the room to help children negotiate an outcome.
So What Is a Peace Table or Peace Corner?
The peace table is a quiet, safe, and comforting space within your classroom where children are encouraged to communicate their issues and resolve any upsets they're experiencing. The key to an effective and tranquil peace table is that the environment you create is calming.
Peace tables and peace corners have historically been a hallmark of Montessori learning environments and Montessori peace education, but as early childhood teachers continually adapt their practice to best equip students with social and emotional skills, peace tables have seen a recent rise in popularity in mainstream classrooms.
A peace table can actually take many forms, and it's really up to you to decide how you think it will best work in your own teaching space. Some peace tables are structured, with signs and labels, a table, and two chairs. Others are more laid back, with cushions and a tray on the floor between them. It really depends on your space and your own preferences and also finding out what works for your students.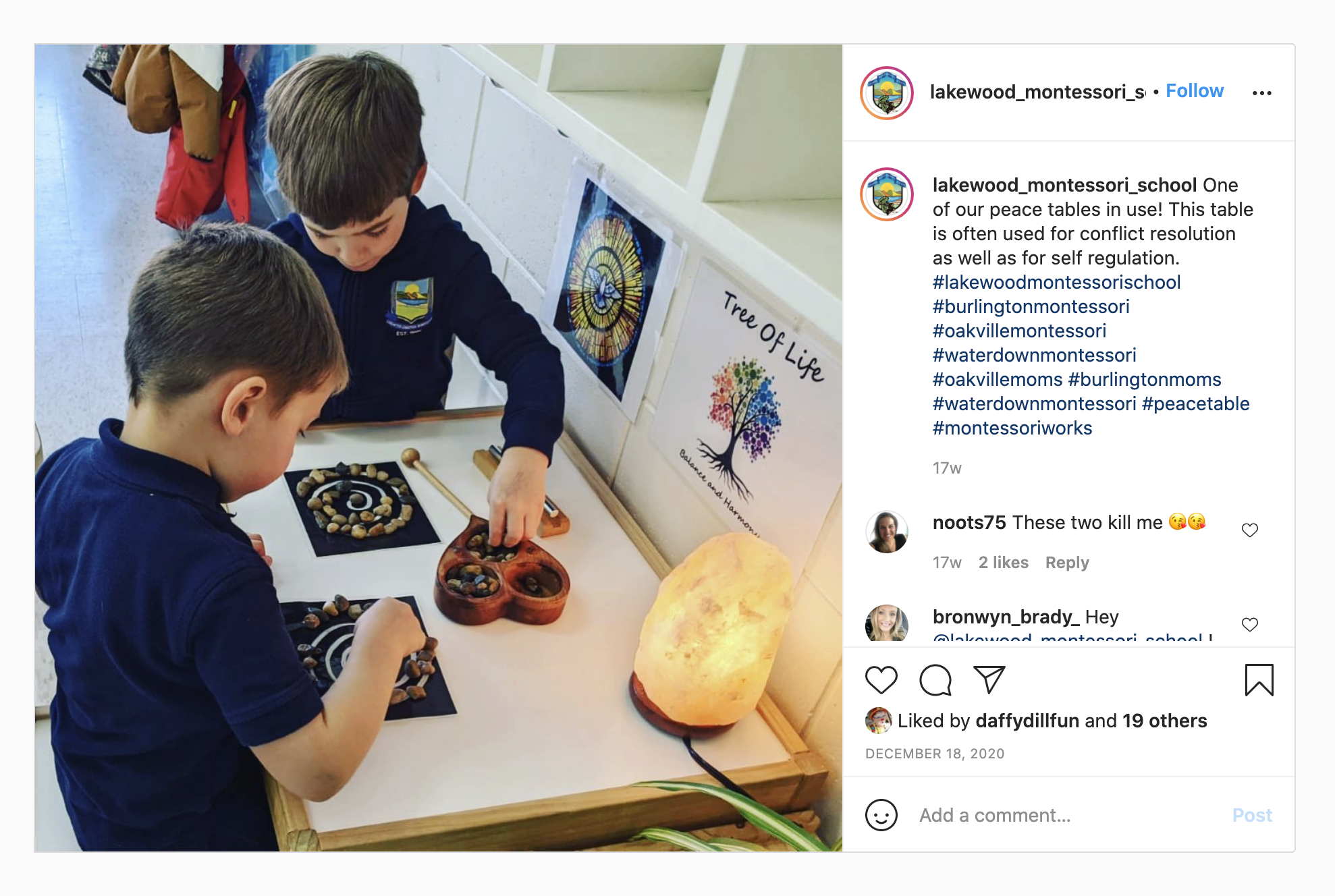 Instagram: @lakewood_montessori_school
How Do I Set Up a Peace Table?
There are so many ways you can resource a peace table, but it is definitely a case of "less is more," so choose your items mindfully.
Here are some items teachers choose to include in their peace table set-up:
table
chairs
bean bags/cushions
stable table
tray
stone garden
rock salt lamp
seashells
hourglass timer
worry beads (or other wooden beads)
plant
dove toy
peace symbol
peace rose or heart stone (more on this in the next section)
any other item which will instill a sense of peace.
How Do I Introduce a Peace Table?
After you initially set up your peace table, create an open discussion with your whole class.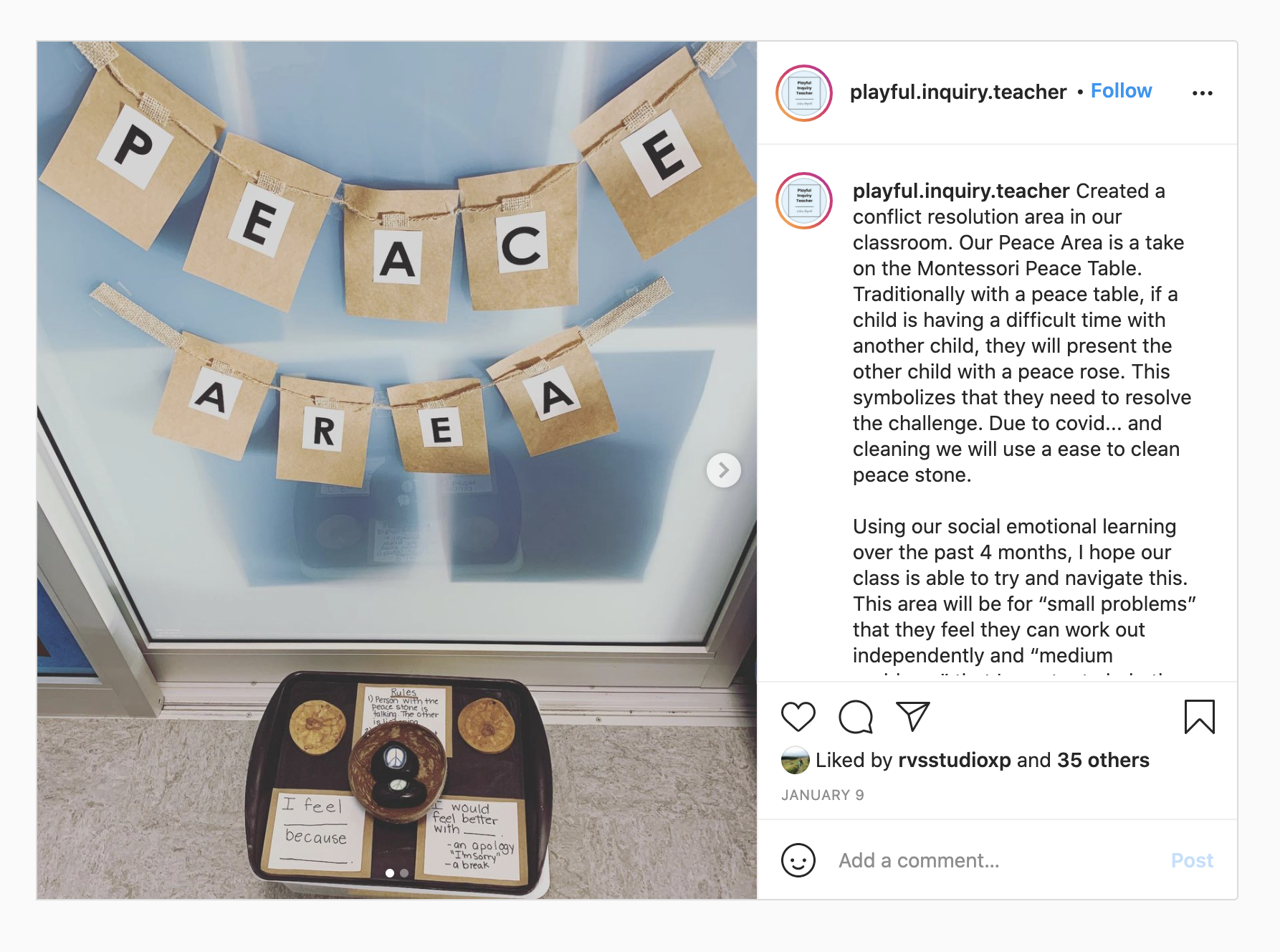 Instagram: @playful.inquiry.teacher
Teach your students about how important it is to swiftly resolve personal issues they have with one another, in order to maintain and build strong friendships.
In Montessori, a 'peace rose' is offered by the aggrieved child to the child with whom they have an unresolved conflict. This is a sign that the child is inviting their peer to the peace table to have a discussion. You could even model how this interaction ideally goes, using some little volunteers from your class. Use the timer to ensure the conversation runs efficiently.
If you choose, you can replace the peace rose with another object (some teachers are using heart stones, heart-shaped small stones, or stones with a heart shape painted on them).
Teach the children that they need to communicate mindfully. A great way to do this is to model the "I" statements: I feel (feeling) when (something happens).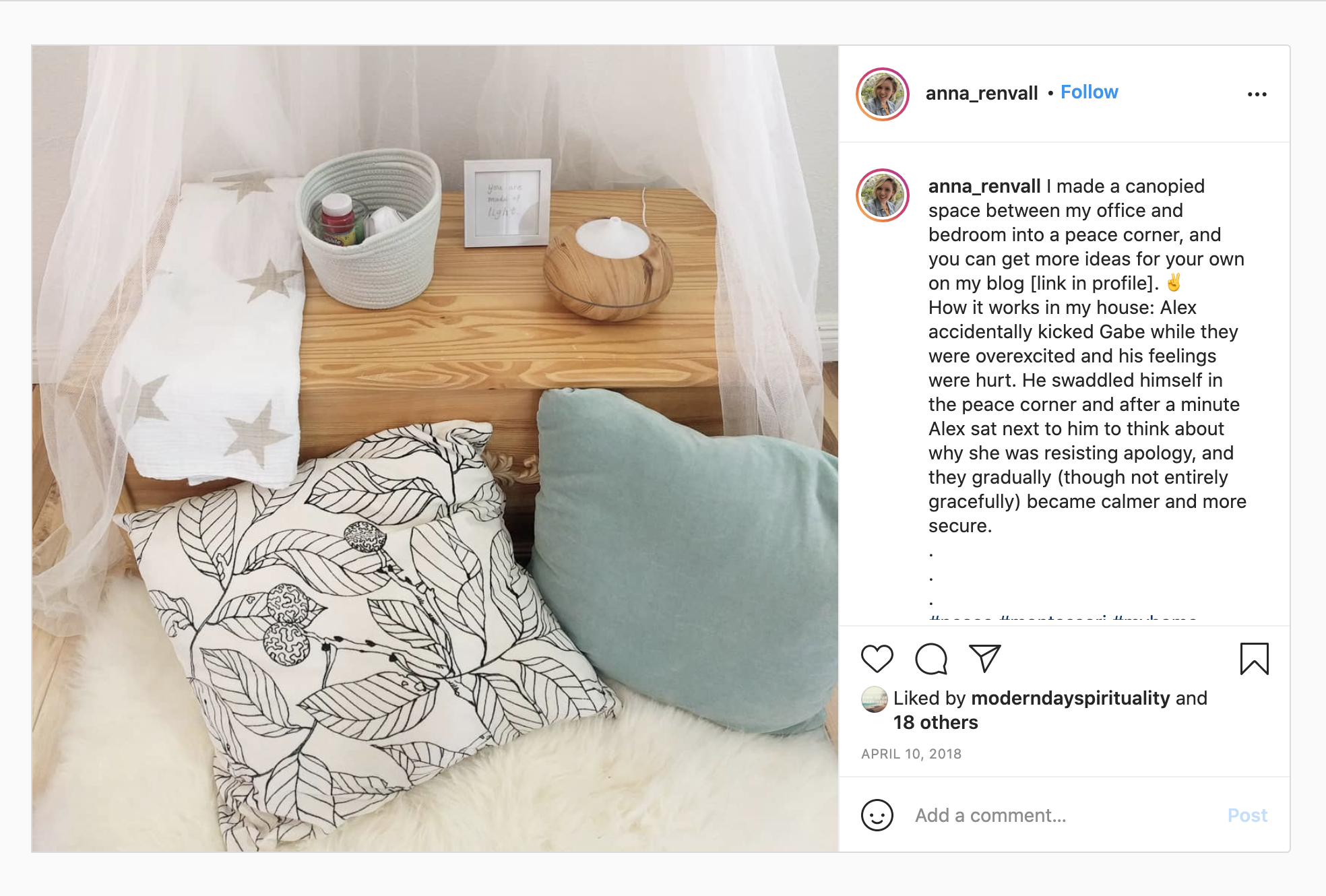 Instagram: @anna_renvall
Should I Use Peace Table Guidelines?
It's a great idea to write up some simple guidelines for your peace table. If your students are young, you could illustrate the steps to help them remember how to work through the process.
An example of peace table guidelines are:
Take turns to speak, and make sure you listen.
Find out what you both need.
List some ways to solve the problem.
Choose the best idea together.
We'd love to know if you use a peace table in your classroom, and how you make it work! Comment below with your tried-and-true tips!