Every fall, teachers find themselves looking for Red Ribbon Week ideas to help make their school celebration a success…and we are here to help! As teachers and educators here at Teach Starter, we know it can often be overwhelming to start each year with fresh ideas. The following are a few ideas you can implement in the classroom to help your students reflect on the consequences of drug use and strive to live a drug-free life.
How do I teach kids about being drug-free this Red Ribbon Week? Look no further, our Teach Starter teacher team is here to help! 
Red Ribbon Week Ideas 
Red Ribbon Week leads all the way up to Halloween and there are various activities to get your students thinking critically while being creative. Here are some tried and true Red Ribbon ideas from US teachers:
Make It Visual: Wear Red Day 
Is there a better way to celebrate Red Ribbon Week at school than by…wearing red? You can host a contest for who wears the most red to class, reward the class with a prize if everyone shows up wearing red, or ask the students who wear red to share what it represents to them.
Red Ribbon Week Words to Live By 
Stop, think, and choice are just a few of the words that come to mind for Red Ribbon Week. Challenge your students to brainstorm words that relate to Red Ribbon Week, and then use our Red Ribbon Week Word Search as a follow-up activity. We have primary and upper elementary versions!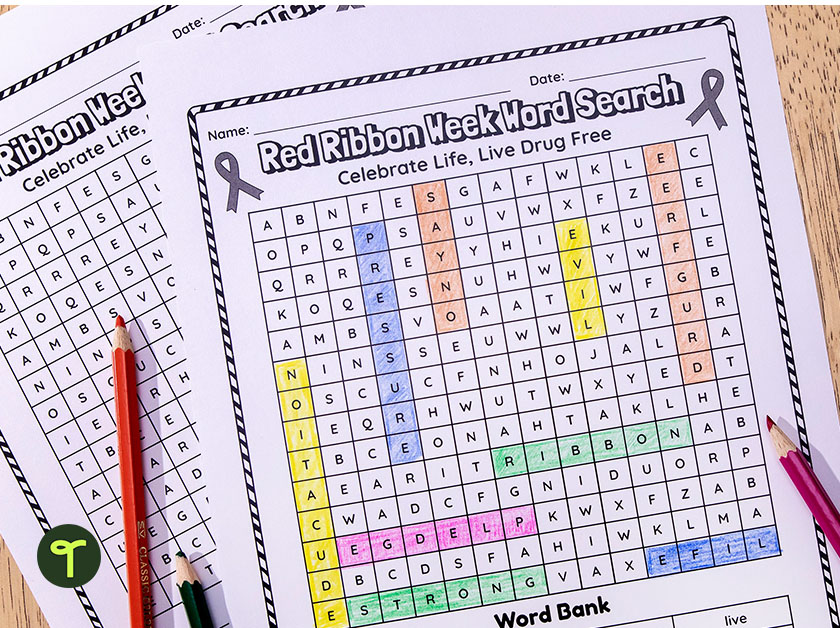 Red Ribbon Week Classroom Door Theme Ideas
To the window, to the door! Try this cute Red Ribbon Week idea and spice up your door. Not only will it give your entrance a fresh look, but students in your school can get a taste of what you're discussing in the classroom. Consider a fun pun for decorations or even tie in some spooky Halloween themes so you get double-duty out of your classroom door decor!
1. Say Boo to Drugs
Boo! Drugs are scary and ghosts are too. The teachers and students of Harpeth Middle School in Kingston Springs, Tennessee got creative for Red Ribbon Week using a Ghostbusters theme and "Drug Busters" takeaway message that led us to a host of ideas to pull Halloween and Red Ribbon Week together on your classroom door or bulletin board.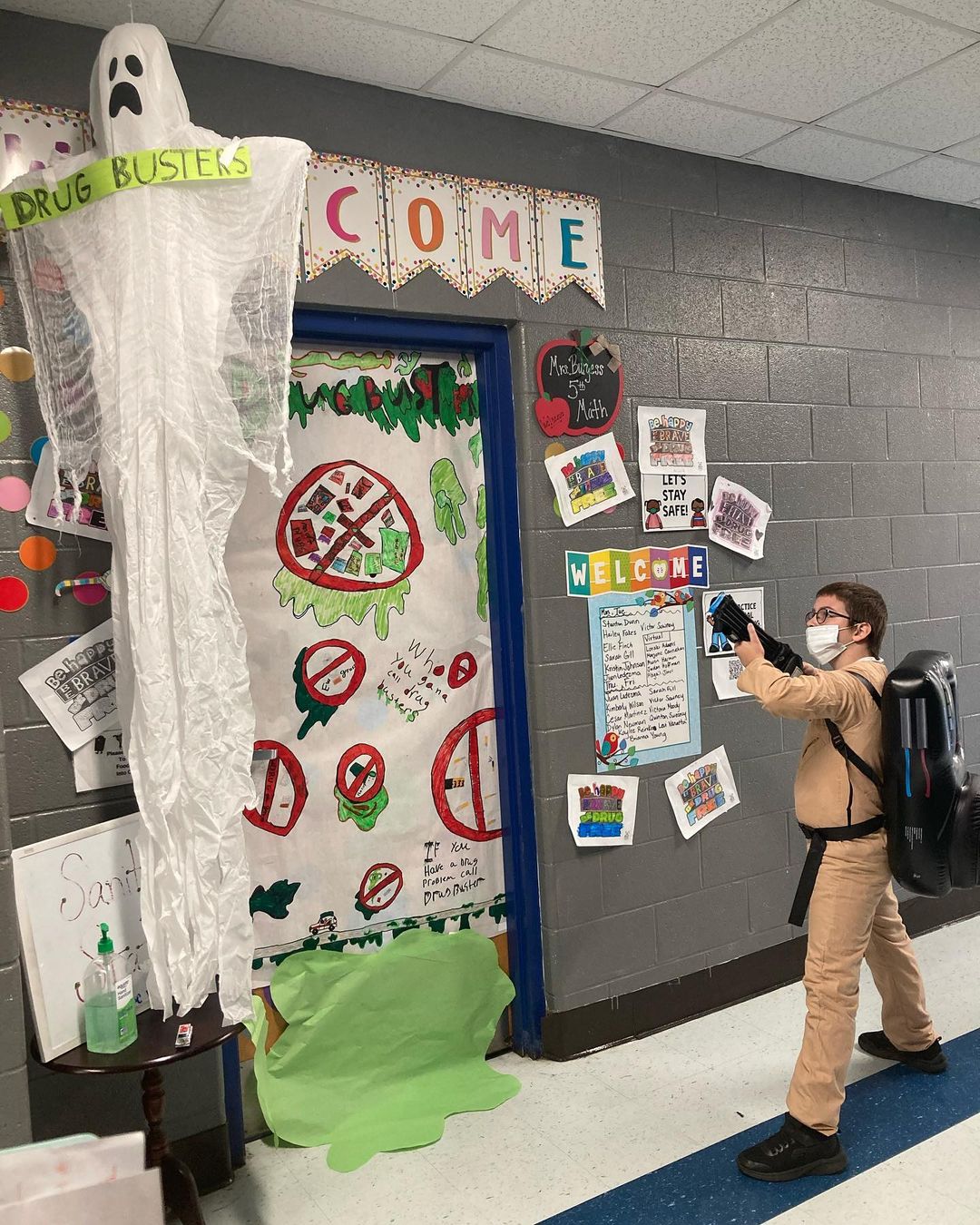 Photo courtesy of Harpeth Middle School in Kingston, Tennessee
Want a simple way to make your own version? These cute ghost characters from our Halloween "Boo Crew" door decoration kit are perfect for decorating a black door. Print out the letters using our no-fuss Blank Letter Cutouts on white cardstock, and it will match the ghosty color theme and complete your title.
2. Lei Off Drugs

Who doesn't love a good tropical theme with bright colors and fruity features? Take a trip to the dollar store for some cute leis to add a 3D look to this Red Ribbon Week door idea!
Our pineapple letter cutouts will give you all the letters you'll need to spell "Lei Off Drugs," and your students can help give a pop of color with these pineapple classroom decor cutouts. To tie it all together, these pineapple bulletin board borders can help give your door edges a clean finish! Lei back and enjoy your Red Ribbon masterpiece.
3. Hand in Hand, We Take a Stand to Be Drug-Free
As a teacher, you have enough on your plate! Get all your students involved in the door decoration process by coloring these Hand Templates and writing why they want to live drug-free. Place the hands on your door in rows with the fingers interlocking so they look like they're holding on to each other.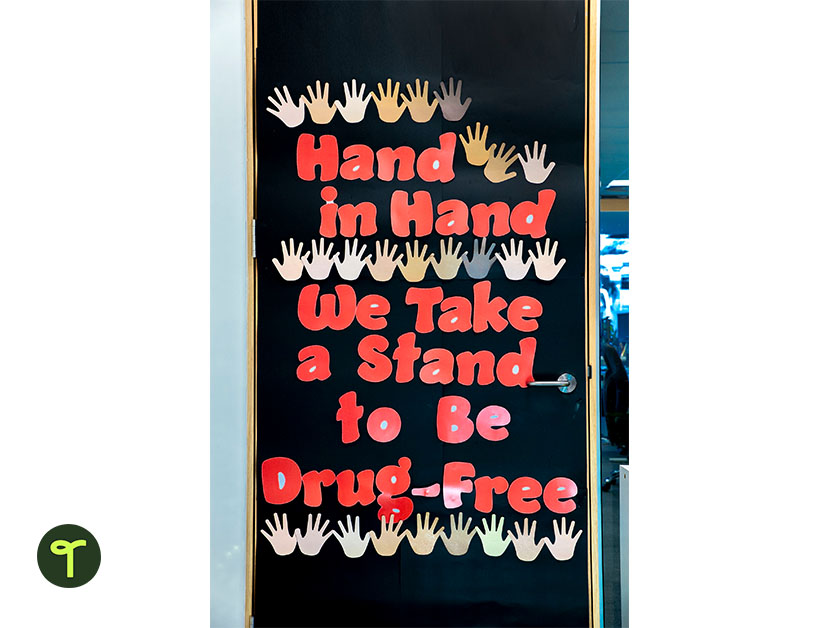 4. Don't Get Wrapped Up in Drugs
Mummy themes are great excuses to use toilet paper outside the bathroom. Find a student volunteer, and trace their outline on a piece of butcher paper. Cut out the figure, hang on your classroom door, and then decorate the figure as a mummy using some cheap toilet paper.
Add some bat and candle cut-outs from our Wrapped Up in a Good Book Bulletin Board Kit for some extra creepy elements!
5. Trick or Treat, Smell My Feet, a Drug-Free Life is Super Sweet
Candy is sweet and so is a drug-free existence! Start with a paper backdrop and use these tasty candy letters to help your drug-free life message pop. Go a step further, and glue on some Halloween candy for fun!
6. We're Having a Ball Being Drug Free
Combine a sport-themed activity with Red Ribbon Week. Use our Bowling Ball Letters for the title and have your students write in how they can have fun being drug-free on these Sports Labels to complete the door.
7. No Drugs in Our Club
From Frozen to Paw Patrol, sometimes pop culture is the best way to get a point across! Tie in a cute character like fourth-grade teacher Raven Durant cleverly included in her Minnie Mouse, "No Drugs in Our Club" Red Ribbon Week door.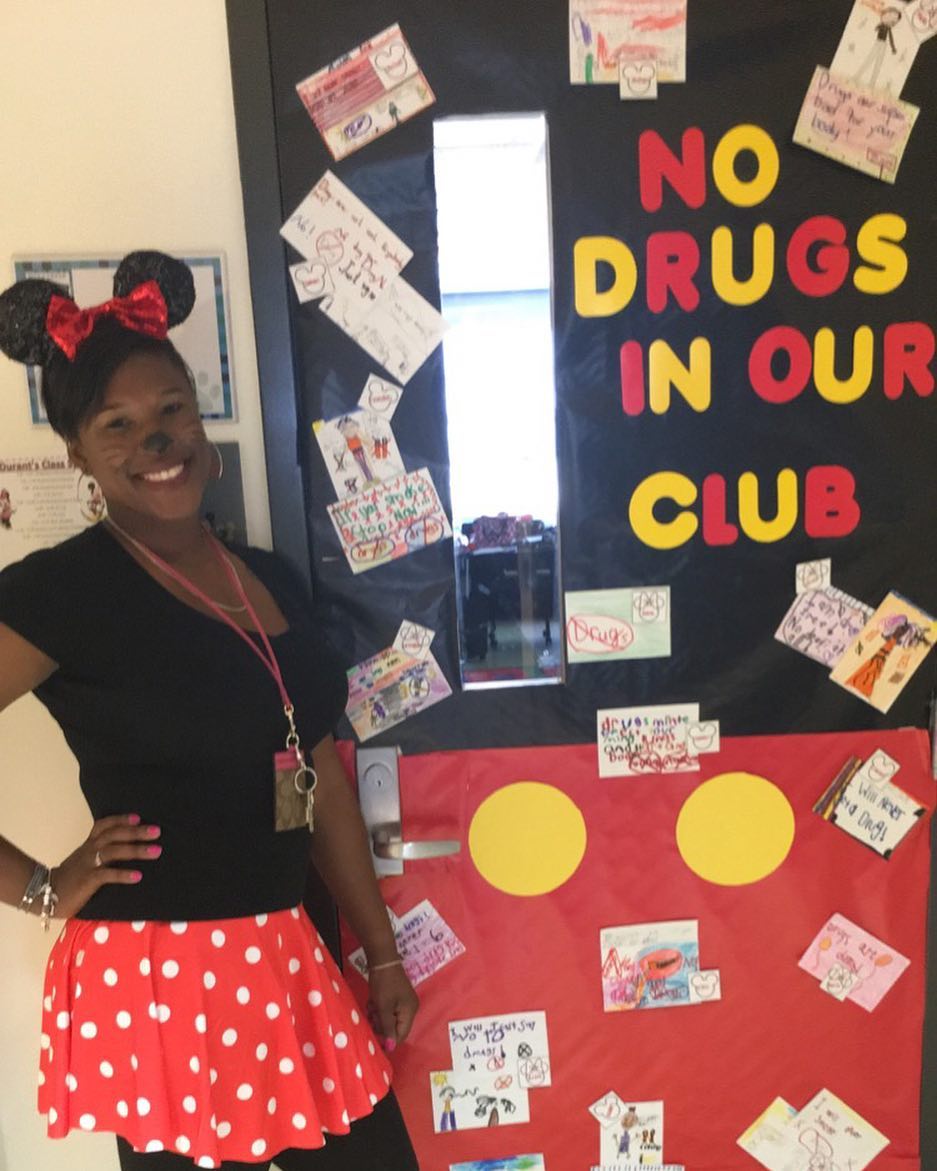 Photo courtesy of 4th grade teacher, Ms. Raven Durant
7. Do the Math, Drugs Don't Add Up
Drugs don't add up, but we love getting kids hooked on math! Decorate your Red Ribbon Week-themed door with Math Symbols or go a step further and make your door a giant calculator with the words in a box where the screen would be.
8. To Be Frank, Drugs Are Scary!
What if there were a way to create a single bulletin board that blends both Halloween and Red Ribbon Week? Have your students cut out our Fran and Frank (Frankenstein's monster) templates from our Red Ribbon Week and Halloween Door Decorating Kit. Once colored in, these frighteningly creative characters will adorn your classroom door..letting everyone know that drugs are scary!
9. Hugs Not Drugs
Don't have much time? Don't you worry! Keep your door decor simple with a rhyme: hugs not drugs, and throw in a pug! This Red Ribbon Week classroom door decoration idea is a hit because you don't need much more than a cute (and huggable) pug, and simple banners that read "Don't Do Drugs."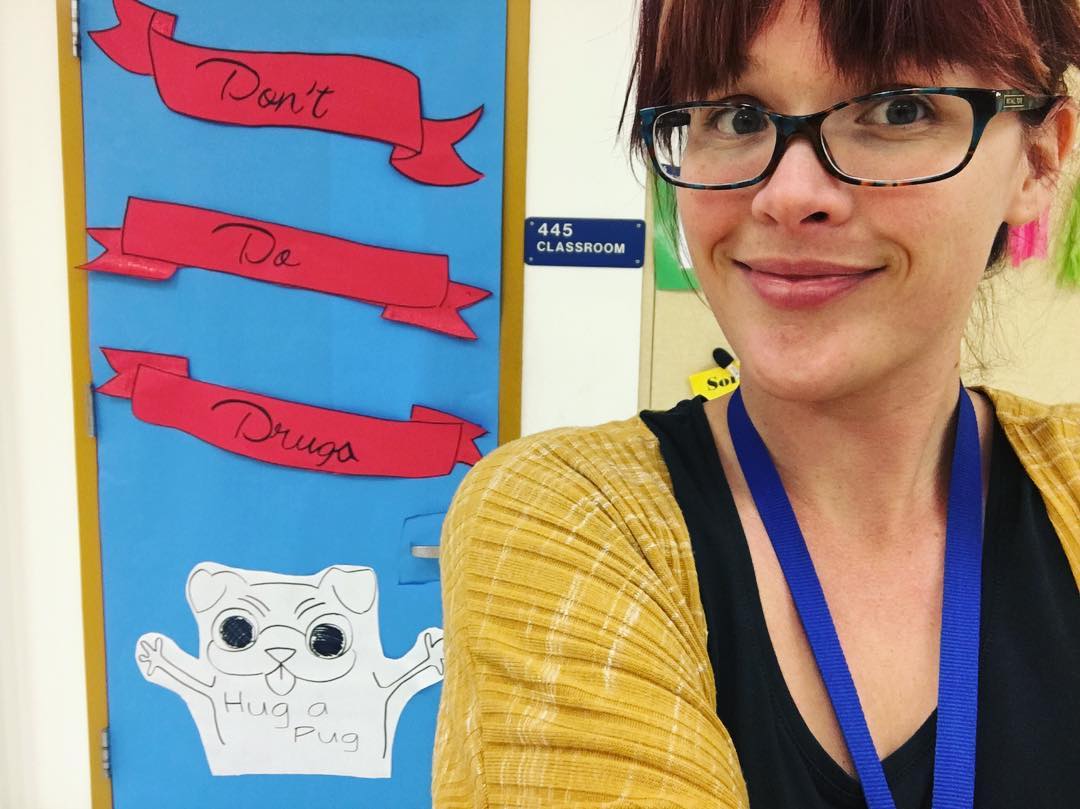 Photo courtesy of 7th and 8th grade ELA teacher Jeanne Nettles
Stay Positive
Red Ribbon Week is all about empowerment. Students learn that they have the right to choose a healthy, drug-free life without sacrificing their bodies, relationships, and future goals.
Encourage your students to reflect on the opportunities a drug-free life can provide with our Reasons to Live Drug Free sheets. These can be used for partner work or as an individual exercise.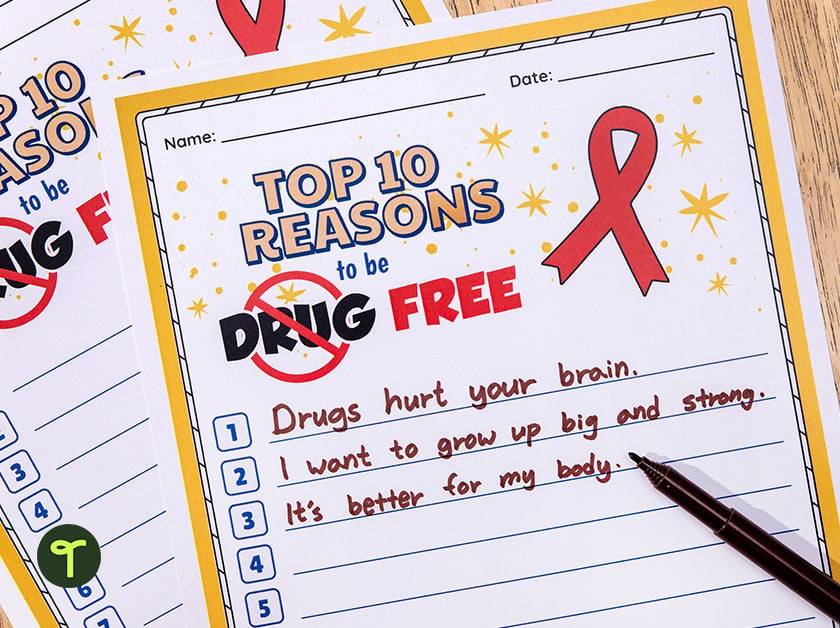 Make The Pledge
Teacher, children's author and foster parent Shenley Seabrook of We Have The Same Heart, created a red banner as a space for students to "pledge and maintain a bully and drug-free school." Try this idea as a Red Ribbon Week bulletin board, classroom banner, or classroom booklet!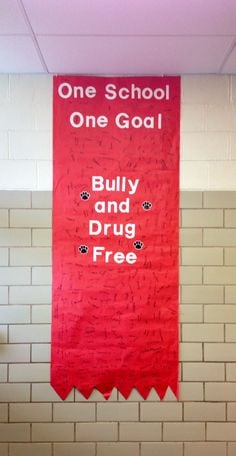 Photo courtesy of children's author, Shenley Seabrook
Want to hand out individual pledges at the end of Red Ribbon Week? Bring an element of your social and emotional learning to the table with Proud to Be Me Certificates your students can take home and hang proudly on the fridge.
We hope you and your students have a positive Red Ribbon experience and share these activity ideas with your fellow teachers and friends. Here's to celebrating life!
Getting Red Ribbon Week ready doesn't have to take up your important classroom time. Explore a Red Ribbon Week collection full of resources created by teachers for your classroom. Print coloring pages, download Drug-Free Headbands, and much more. 
Banner image via Shutterstock/Kenneth Summers