Take your students on a fun end-of-year glyph adventure! Kids will love designing their own beach bags with this glyph activity.
Summer Activities for the End of the School Year!
Enjoy this beach-themed glyph activity with your scholars at the end of the year! 
It's perfect for primary grades, with questions about what they're doing over the summer, and fun activities they enjoy. 
To use, print student copies of the beach basket and cut-out pieces. Give each student or pair of students a single copy of the glyph checklist as well. Students will use the list as a reference on how to design their beach bag, and what it should contain. 
Everyone's beach bag will turn out differently, and they make an excellent summer bulletin board display!
Tips for Differentiation + Scaffolding 
A team of dedicated, experienced educators created this resource to support your End of Year Activities.
🆘 Support Struggling Students
Assist students struggling with scissor skills by pre-cutting the pieces and placing them in a bag or envelope before the activity begins.
Pair struggling readers with another student to assist in reading the checklist.
✂️ Give Them the (Safety) Scissors 
This template makes for a bonus cutting skills activity, depending on your students' ages and abilities. 
With adult supervision, cutting skills help students work multiple muscle groups and their brains, plus:
Strengthen finger and hand muscles

Build dexterity and fine motor skills

Improve hand-eye coordination

Develop focus and attention
Download, Print, Copy, and Go! 
To print your resource, simply click the download button to download the Adobe PDF version of the file. Print a copy of the template for each of your students and you are ready to go! There is no need for extensive preparation.
NEXT: How To Turn Your End-of-Year Party Into a Real-World Math Lesson
---
This resource was created by Lindsey Phillips, a teacher in Michigan and a Teach Starter collaborator.
While you're here, check out more activities and teaching resources that fill your lesson plans and students' brains:
teaching resource
Use this printable poppy template when commemorating Memorial Day and Veterans Day with your students.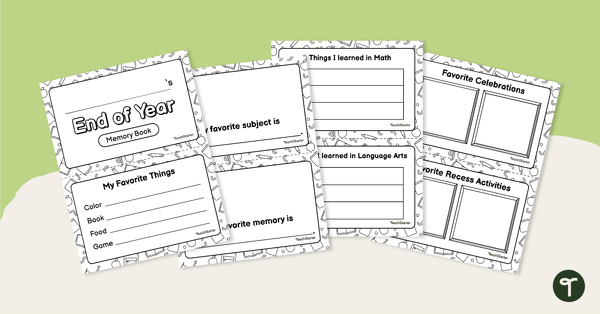 teaching resource
Reflect on the past year by responding to end-of-the-year writing prompts.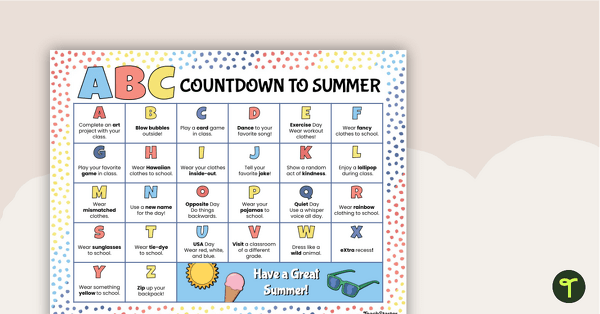 teaching resource
Keep your students engaged during the last days of school by using this ABC countdown chart.