Women's History Month is on the horizon, and with it comes a chance to add some activities to your classroom schedule that celebrate all the impacts women have made to American society. From windshield wipers to coffee filters, some of the important things we use just about every day were created by women. And women have played a role in everything from our most important science discoveries to the civil rights movement.
Looking for Women's History Month activities that will resonate with the kids in your classroom and some new ways to incorporate marking the month? We've got you covered.
What is Women's History Month?
The name may sound pretty obvious, but there are some important things to note for the kids in the classroom. Women's History Month is no Hallmark holiday. It's been officially recognized by the federal government since 1987 when Congress passed a law designating the month of March as a month devoted to women's history.
Before that there was a Women's History Week, also celebrated in March. It started in Santa Rosa, California in 1978 when the Education Task Force of the Sonoma County (California) Commission on the Status of Women designated the week of March 8 as its Women's History Week to run in concert with International Women's Day. Two years later then-President Jimmy Carter gave Women's History Week federal recognition thanks to lobbying by the National Women's History Project (now the National Women's History Alliance).
When Is Women's History Month?
This tribute to women in history is traditionally celebrated during the month of March — from March 1-31. The month-long celebration includes International Women's Day — which is traditionally marked on March 8 — and includes the birthdays of some pretty significant women in US history, including:
Abolitionist Harriet Tubman — exact birthdate unknown
National Youth Poet Laureate Amanda Gorman — March 7
Race Car Driver Janet Guthrie (the first woman to compete in both the Indianapolis 500 and Daytona 500) — March 7
Supreme Court Justice Ruth Bader Ginsburg – March 15
Soccer Player Mia Hamm (the first woman to be inducted into the World Football Hall of Fame) — March 17
Ms. Magazine Co-founder Gloria Steinem — March 25
Supreme Court Justice Sandra Day O'Connor — March 26
The International Day of the Girl Child, on the other hand, is not celebrated until October 11 — the birthday of former First Lady Eleanor Roosevelt.
What Is the Theme of Women's History Month?
In 2022, the theme of Women's History Month will be "Women Providing Healing, Promoting Hope." The theme pays tribute both to the countless women who have been involved in caregiving in America over the last few centuries and the women currently working on the front lines of the pandemic.
Women's History Month Activities
Looking for ways to honor Women's History Month in your classroom? Here are some ideas:
View the Virtual "Girlhood" Exhibit at the National Museum of American History
An online exhibition from the Smithsonian Institution, National Museum of American History, Girlhood takes a look at the way girls have changed history in politics, education, work, health, and fashion. Based on an exhibition that opened at the National Museum of American History in October 2020, it covers important figures from Helen Keller to Naomi Wadler.
Create Code in Honor of Ada Lovelace
Women's History Month programming can't possibly skip the contributions of the one and only Ada Lovelace, the first-ever computer programmer! Teach your students about the British woman who helped kick-start a revolution that led to the phones and tablets they know and love today with a free coding patterns activity!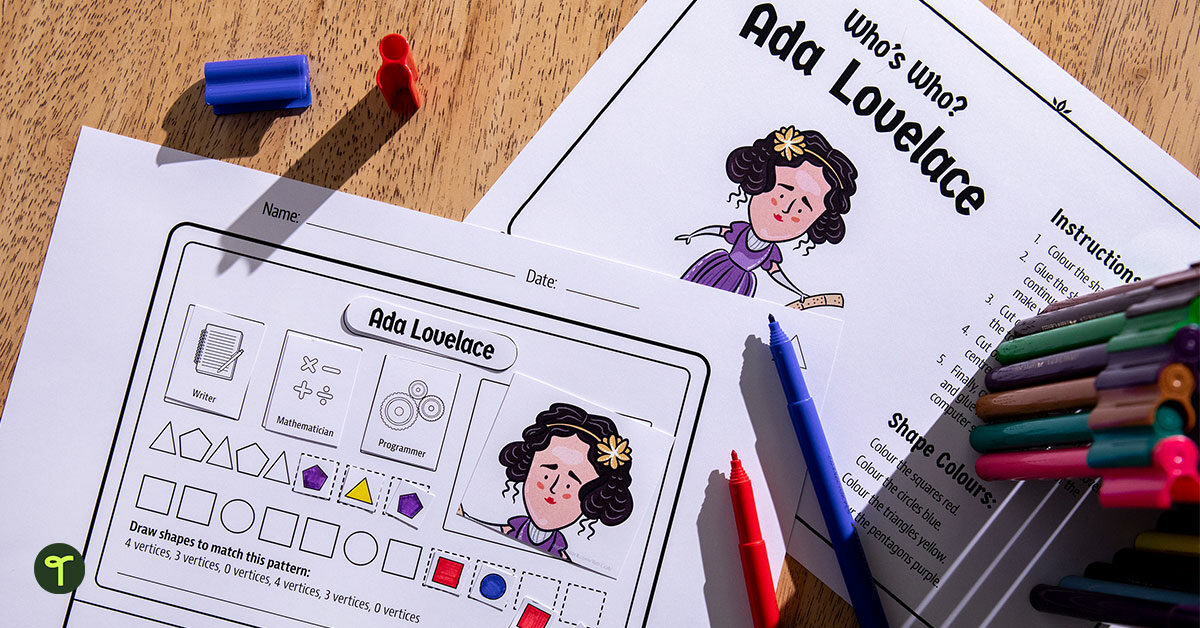 Read Books With Female Protagonists
Is there ever a bad reason to increase the number of children's books featuring women and girls at the center in your classroom library — and the books you're reading aloud? We don't think so. Now take a look at your classroom library. What is the ratio of books with female protagonists? Don't feel bad if there's an imbalance — studies show the publishing industry pumps out a lot more books for children with boys at the center. But this is a good time to right that imbalance, making sure you're ensuring representation of girls in your read-alouds and mentor texts.
We've put together a list of some children's books with female empowerment at the center, plus activities that complement each one. 
Looking for more ways to make texts about women and girls a meaty subject? Try these!
Take Flight With Amelia Earhart
Amelia Earhart was the first female pilot to fly solo across the Atlantic Ocean, and she paved the way for countless women to take flight. Honor her contributions by building small versions of her famous Lockheed Vega 5B with craft sticks and clothespins (plus a little paint), to discuss the science and history of flight.
Watch a video of the airplane being pieced together!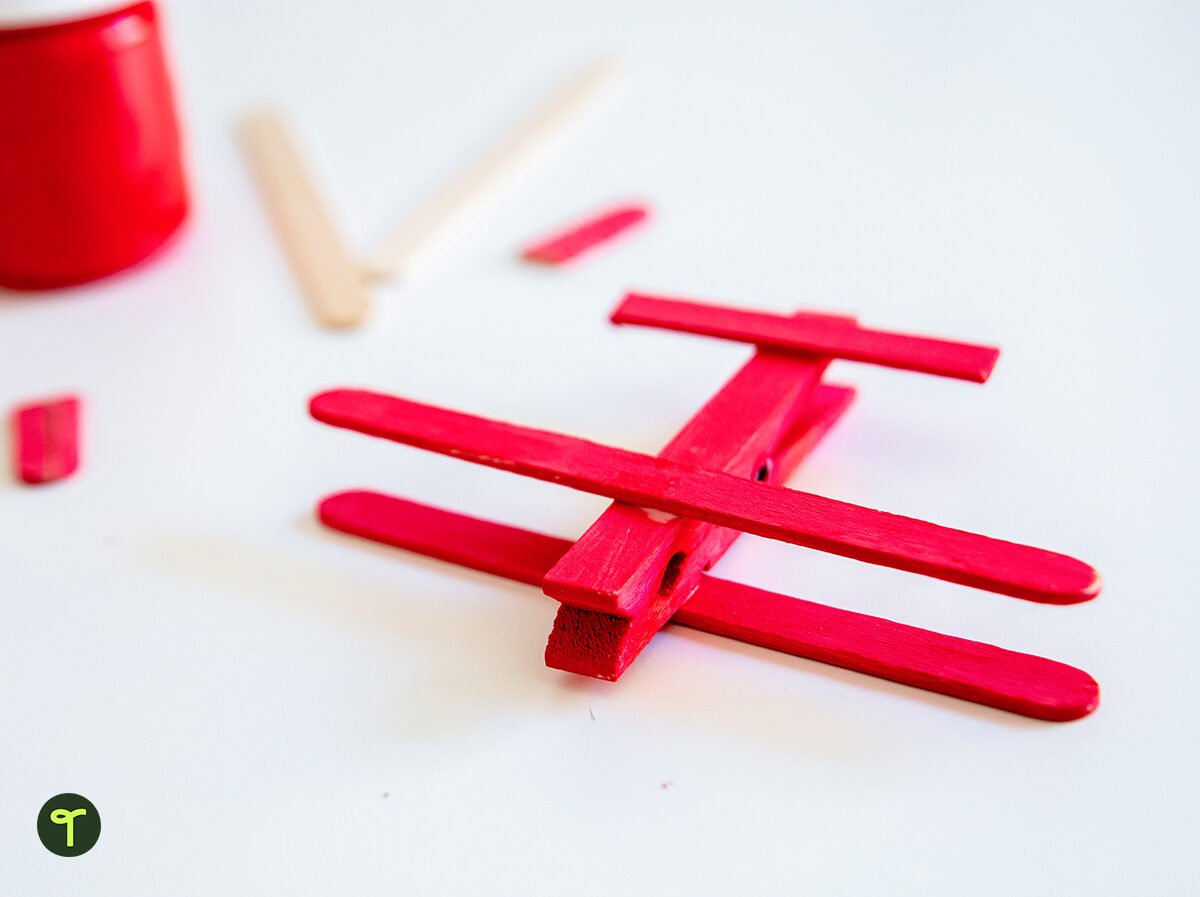 Build 3D Astronauts In Honor of Sally Ride

The first American woman in space was a physicist, so it only seems fitting that kids should learn some of the core concepts of physics in Sally Ride's honor this Women's History Month! Students can use 3D rectangular and trapezoidal prisms to build their own astronauts.
Extend your Women's History Month activities devoted to space by learning about Mae Jemison, the first Black American woman to jet off beyond the Earth's atmosphere. 
Discuss Language Bias
Ever notice how often we, as a society, gender words that could easily be kept gender neutral? Spaceman. Waitress. The list goes on. Discussing this language bias can lead to powerful discussions with older elementary students and help you create a more inclusive classroom. After all, studies show that using "gender fair" language can help create a more equitable world.
You might want to consider changing up the way you address your class with gender-neutral replacements for "boys and girls" to role model the behavior for your class, and adding some activities during Women's History Month that present the concept of language bias in a kid-friendly context.
This jobs by gender sorting activity can help kids see the topic through a familiar lens — job titles — and open the door to discussions about gender equality.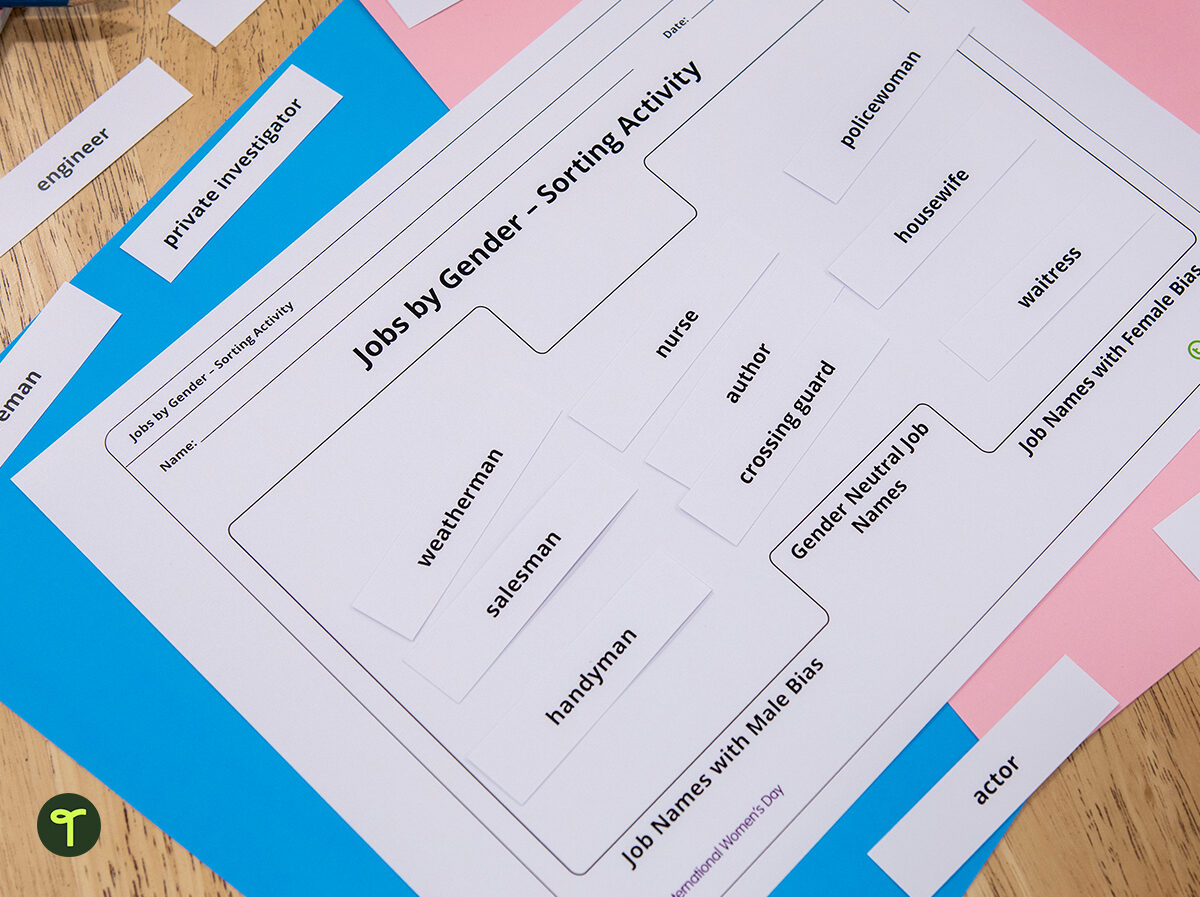 Dive Into Gender Stereotypes
As an extension of the language bias discussion, discussing gender ground rules can help older elementary students think about stereotypes they encounter every day — not just during Women's History Month. This activity is built in comic form and introduces important figures such as Jane Goodall to break down some common stereotypes.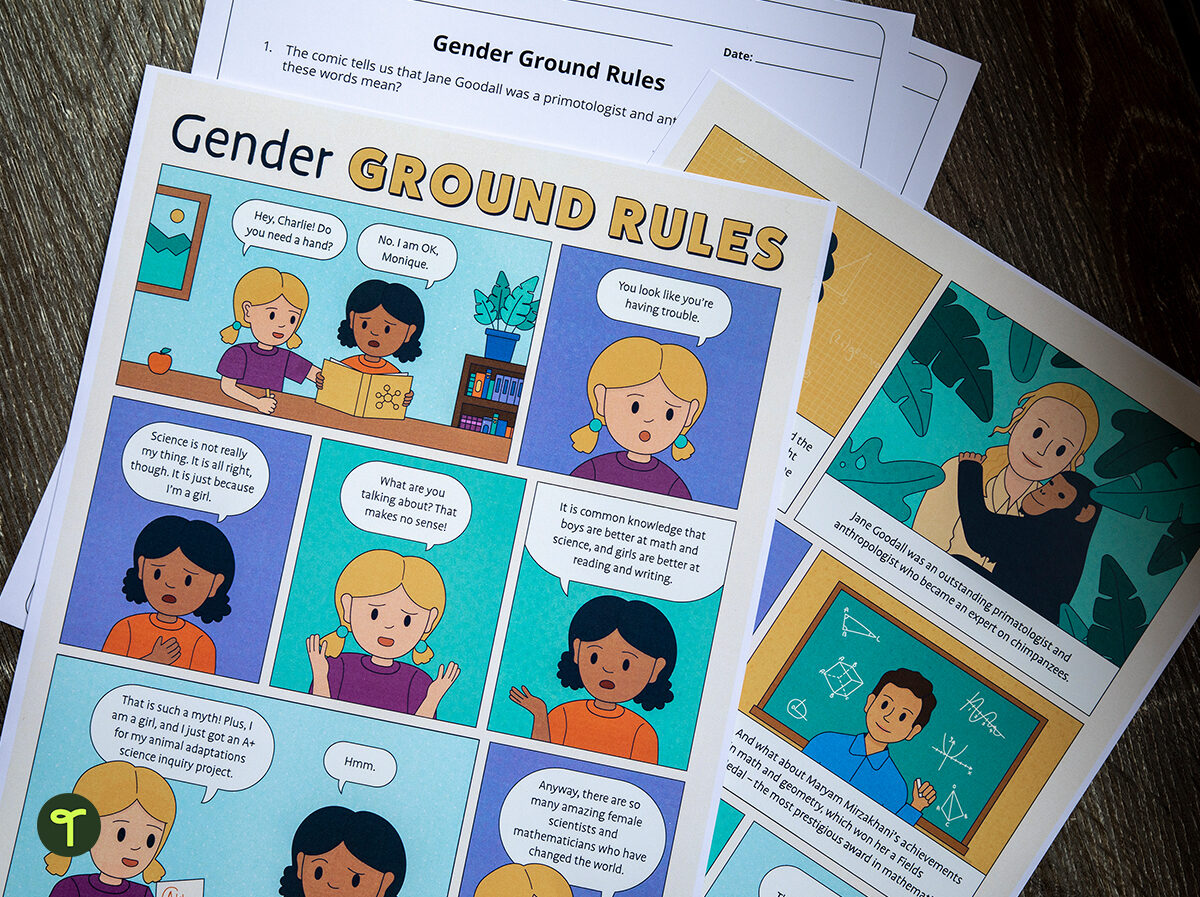 Issue a Reading Challenge
Give your students' at-home reading time a Women's History Month theme this month with a reading challenge. Your kids can be challenged to:
Read books by authors whose last names start with W, O, M, E, or N
Read a book about a woman you find inspiring
Read a book written by a female author
Read a book with a female protagonist
Read a book by an author whose last name starts with G, I, R, or L
Bonus: Students can record their books on this free reading log. 
Write Letters to Important Women in Their Lives
In keeping with the 2022 Women's History Month theme, talk about the important female caregivers out there today — from grandmothers and aunties to mothers, to doctors and nurses, and so on — and how they are shaping history in their own way. Consider writing letters thanking them for the impact they make on others.
Print a Thank You For Putting Others First template for students to color in and write a short note.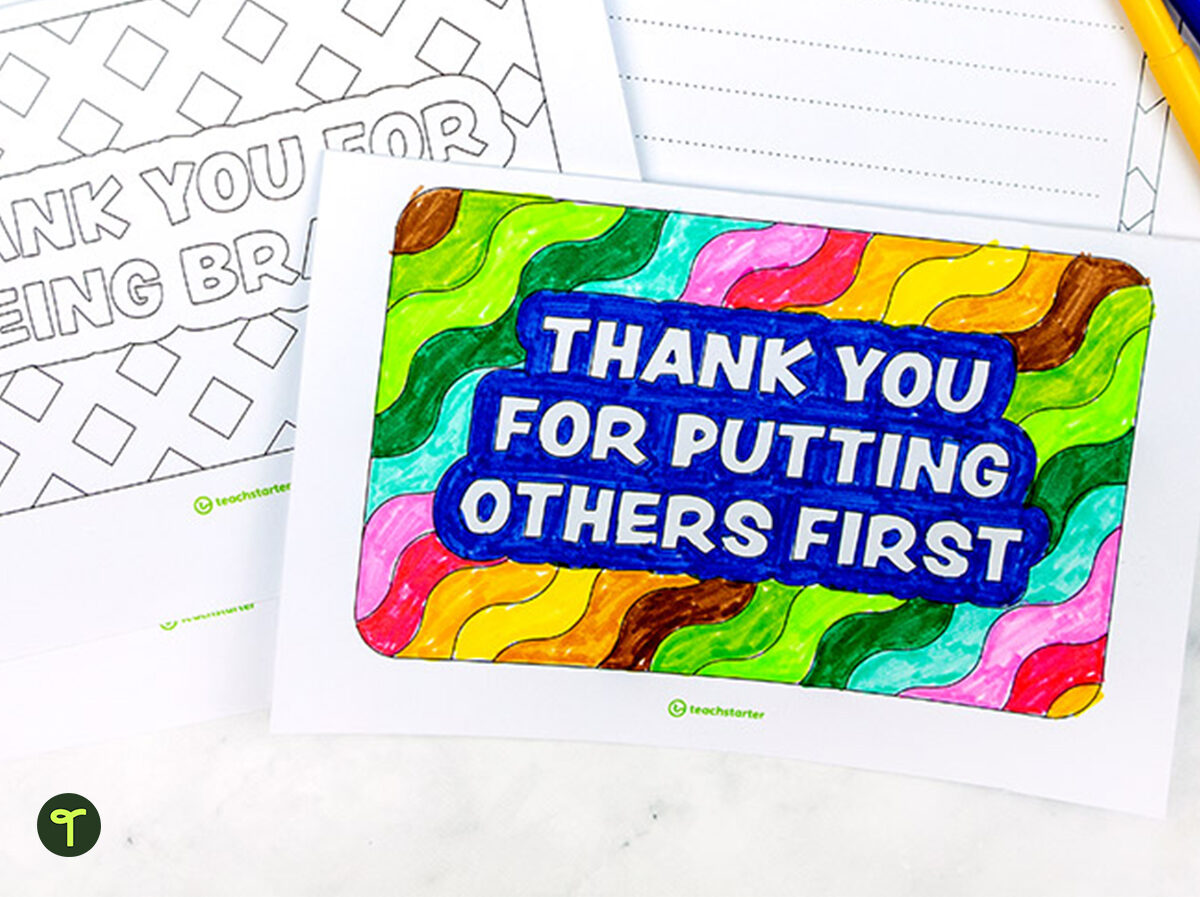 Women's History Comprehension Worksheets
Looking for a few good women for your students to learn about while they build their comprehension skills? Check out comprehension activities about Vice President Kamala Harris, Palestinian education activist Malala Yousafzai, climate change activist Greta Thunberg, and more!