Describe the concepts related to the first ten amendments of the United States Constitution.
Do Your Students Know Their Constitutional Rights?
Use this set of informational posters to support your American History and government lessons.
Teaching government to young learners is a difficult task. The concept is abstract, and the language is difficult to understand. These informational posters provide a display that explains the Bill of Rights for kids.
As students view, read, and interpret the first ten amendments of the Constitution, they will gain a better understanding of each amendment and the rights that it provides to American citizens.
When paired with direct instruction, nonfiction texts, or video lessons, students will demonstrate an ability to read and comprehend history and social studies texts independently and proficiently. 
How to Make the Most of Your Bill of Rights Posters 
Print the posters on letter-size paper and display them in your classroom for a daily reminder of their importance. 

Print the posters at a reduced scale (4 per sheet) and have students insert them into their Social Studies interactive notebooks or learning binders. 

Print the poster on letter-size paper, slide it into a clear sleeve, and hang it on a ring as a reference tool for a learning center. 
We've also come up with bonus ways to turn posters into interactive tools that really make your lessons stick!  
Create learning stations or centers
Place the posters around the room and have students work in groups to read and interpret the ten amendments.  
Student Reference Sheet
Place copies in students' homework folders to reference at home.
Digital Reference
Upload posters on an online platform for your virtual students to access and use.
Test students' memories
Cut the posters in half and ask your students to match each amendment to the correct explanation of the Constitutional right. 
Before You Download 
This resource prints as a PDF. Please use the dropdown menu to choose between the full-color or black-and-white version. 
---
Spend more time lesson-doing and less time lesson-planning when you grab these activities and teaching resources too!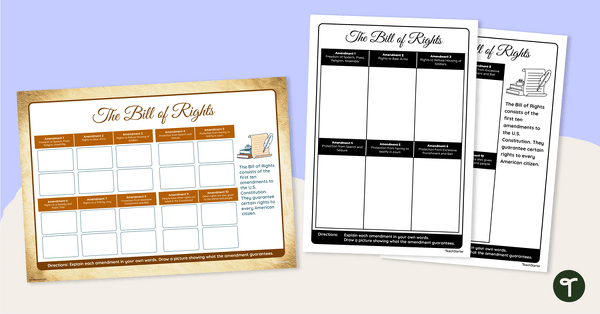 teaching resource
Describe the concepts related to the first ten amendments of the United States Constitution.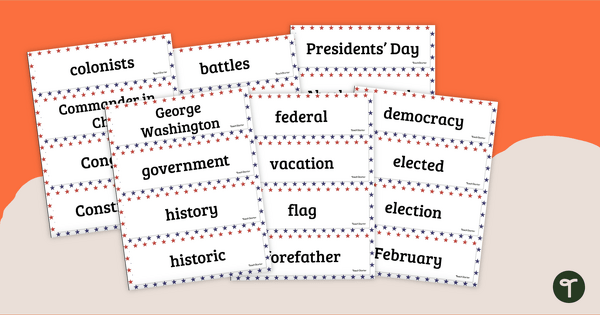 teaching resource
Read, write, and learn about the Presidents' Day holiday with the help of a Presidents' Day word wall!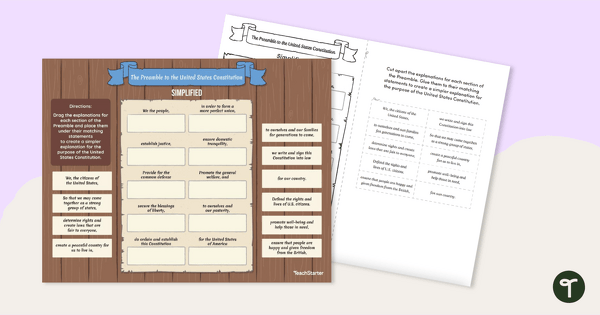 teaching resource
Analyze the Preamble to the US Constitution and translate complex terms into simpler language.