Practice matching rhyming words with this set of 24 picture bowling ball cards and pins.
Have some time to spare to find a rhyming pair?
Pick up a lucky strike with our engaging rhyming words matching game! 
🎳 Bowl 'Em Over With Our Rhyming Words Game
Through this activity, students will show they can discern and produce rhyming words.
To play, students will choose a card, identify the word through the image, and remove the rhyming word bowling pin from their set if they have it. 
Scaffolding + Extension Tips 
Challenge fast finishers who already understand the concept to record the rhyming words on a whiteboard or piece of paper.
Support students who need help understanding the concepts by referring them to a visual reminder like a rhyming words poster or anchor chart. 
Get our 10 Best Scaffolding Strategies here! 
Turn This Activity Into More Fun Rhyming Games 
We created this resource for your reading center as an independent practice activity. You can also use it for small group and full-class instruction through scoot activities, lesson reviews, formative assessments, and more! 
We suggest these: 
👍 True or False Scoot
For this game, you will need to print a set of cards you can number to match the students' answer sheets with the cards. Hang cards around the room in sets of matching and unmatching bowling balls and pins. Working either alone or in pairs, assign students to a starting point and have them rotate through the cards on your signal, recording on a numbered sheet of paper whether the sets are a rhyming match (True) or a mismatch (False) until they have completed each one.
👟 Rhyming Relay
Divide students into two team lines and show a picture card to the students at the front of each line. The student that produces a rhyming word first wins the card. The team with the most cards at the end of the game wins!
🛴 Rhyming Scoot
Shuffle the picture cards to randomize them and number each card before placing them around the room in numerical order. Students number a sheet of paper 1-24 to use as a recording sheet. Assign each student a starting number and set them loose. Give students an appropriate amount of time to identify the word and write a rhyme on their recording sheet, then say, "SCOOT." At this time, the students will rotate to the next card. Continue in this manner until students have made it through all of the cards. 
Easily Prepare This Resource for Your Students
Print on cardstock for added durability and longevity. Place all pieces in a folder or large envelope for easy access. 
Before You Download
Use the dropdown icon on the Download button to choose between the PDF or Google Slides version of this resource. 
---
This resource was created by Lindsey Phillips, a teacher in Michigan and Teach Starter Collaborator. 
Looking for another resource to reinforce rhyme time! Try these: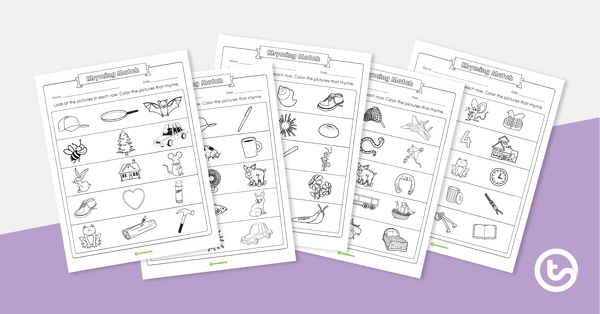 teaching resource
Identify rhyming words through images with this set of 5 worksheets.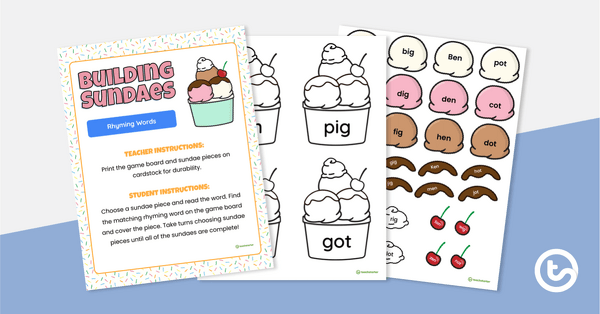 teaching resource
Practice rhyming with this dessert-themed game.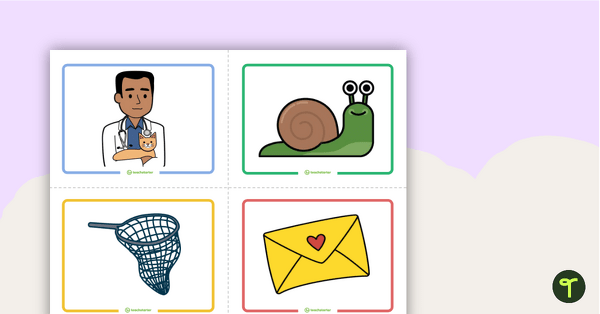 teaching resource
Practice producing rhyming words with this set of 36 picture flashcards.