Practice identifying and writing the beginning sounds of words with this set of 28 task cards.
Banana. Buh. Buh. B!
The chorus of students who are learning letter sounds is music to a teacher's ears. 
This fun letter sounds activity uses task cards and images in a hands-on letter formation game to help kindergarten and 1st-grade students identify the beginning sounds of words.
Teaching Beginning Sounds with Young Learners
When you pair letter sounds with pictures students can easily recognize, you allow students to tap into their established identification skills. They say to themselves, "Hey, I know what this is!", setting up your students for success by building the confidence to master identifying the first letters of common words. 
Furthermore, initial sound games encourage students to identify the first letters of words everywhere they look, developing their foundational language skills and phonological awareness both in and outside of the classroom. 
Use These Task Cards to Teach Letter Sound Association
This resource is best used in a reading center. It can also be used as a small group activity (additional ideas below). 
The student will draw cards and identify the beginning sound in the picture. Then they will use items like play dough, yarn, or cotton swabs to create the beginning letter of the word. 
Early finishers can be encouraged to grab a set of task cards for independent learning once they have completed an assignment. Plus having all the materials pre-collected in a bag or box allows for students to have everything they need to complete the task cards without interrupting your planning time or distracting classmates still working.  
Additionally, you may find you have a few minutes in between lessons, or that your students are waiting in line before heading into the cafeteria, the gym, or art room. Hang a set of task cards up next to your door and grab them on the way out to keep your students engaged and entertained while waiting.
Check Out Our List of Additional Letter Sounds Activities
Looking for more ways to use these task cards with your kindergarten and 1st-grade readers? Try this mix of independent learning and group activities: 
Letter Clips 
This version is especially helpful for those students who are struggling to match the letters of the alphabet with words. Gather 26 clothespins and write 1 letter of the alphabet on each one. Instead of the student crafting the letter out of materials, they will choose the clothespin that matches the first letter of each card. Because there is one card for each letter of the alphabet, you will be easily able to check their work and help with any cards giving the student trouble. 
Alphabet Sort
This game can be done as a solo activity or with a small group. Once students have correctly identified the first letter of each image on the cards, they will then sort the cards in alphabetical order. If doing this as a small group activity, spread the cards on the table and work with students by going through the alphabet one letter at a time, locating the card on the table that would be next in alphabetical order, and lining them up in order. When done, go through the ordered cards and have the students recite the image and the letter (A-apple, B-banana, etc.) to deepen their association. 
Mirror Game
This activity is a spin on the classic "Newlywed Game" and works best with small groups because you'll need enough dry erase boards and markers for each student. Divide the students into 2 groups, and have the students sit down in 2 lines facing each other. Read a word from one of the task cards. Students will get 10 seconds to write the first letter of the word on their board. On your cue (for example, you say "Ready, Set, Go!") the students turn their boards around so their partner can see their answer. If both students in a pair have the correct answer, they get 2 points. If one has the correct answer, the team gets 1 point. 
How to Take this Activity Further & Bring Others up to Speed
You may find that some students master letter sounds more quickly than others. Below are strategies for challenging early adopters, and helping students who need more practice understanding the concept:
If students have mastered identifying the beginning sound, ask them to identify the medial or final sounds in the words. As an extra challenge, have the students try to write the full word.

To assist students who are having difficulty identifying the beginning sound, repeat the word for them several times while emphasizing the initial sound in the word. If you have students who are struggling to form and write the letters, provide them with an alphabet strip.
Preparing This Resource for Your Students
Print the task cards on cardstock for durability to use in small groups or centers. 
Click on the Printer icon at the top left corner of the preview box

From the dialogue box that pops up, make sure the box next to "Print on both sides of paper" is unchecked

Click the "Print" button
Cut out the task cards, punch a hole in the corner of each card, and attach them to a binder ring. Gather supplies needed for crafting the letters. Put the cards, supplies, and directions in a labeled box or bag to make grabbing the task cards easy from your classroom reading center. 
Before You Download
This activity downloads as a PDF. 
---
This resource was created by Lauren Piper, a teacher in Illinois and a Teach Starter Collaborator. 
Don't forget to browse additional activities and resources for teaching letter sounds!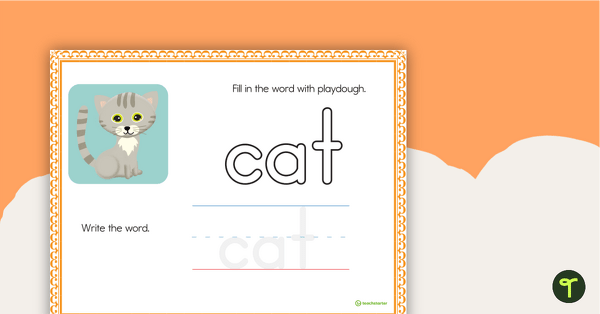 teaching resource
A set of three-letter consonant-vowel-consonant words for students to practice writing and forming in playdough.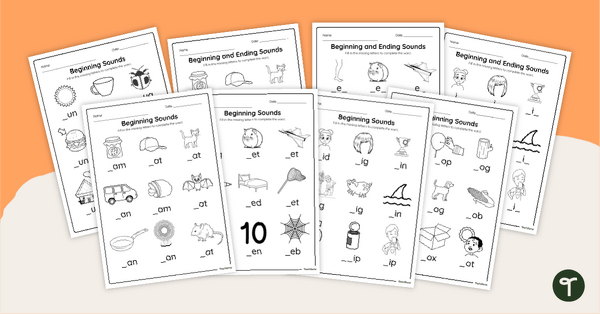 teaching resource
Five worksheets with missing beginning and ending sounds.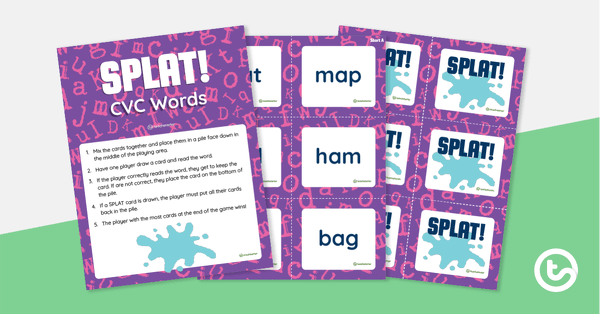 teaching resource
A set of 36 task cards to practice decoding and reading 3-letter words.