Build a sundae to practice decoding words with L consonant blends.
Build a Bigger Vocabulary with Our L Blends Game
Use this resource in your reading center, as a guided reading activity, or a whole class exercise (see below) as a yummy new way for your budding readers to practice decoding words with L consonant blends. ! 🍨 😋
Players take turns choosing a sundae piece, reading the word, and identifying the blend. Then they will find the matching blend on the game board and cover the piece. Take turns choosing sundae pieces until all of the sundaes are complete! 
L consonant blends included in this game: 
Scaffolding and Extension Tips + More L Blends Games
Challenge students who already understand the concept to produce additional words for each blend sound after covering the correct matching blend piece on the sundae. 
Support students who need help understanding the concepts by referring them to a poster or anchor chart. 
Use this resource as independent practice for fast finishers, and full-class learning opportunities like scoot activities, lesson reviews, formative assessments, and more.
Write the Room (Scoot Activity)
Hang sheets of chart paper around the room and post a blend card above each one. Individually, or with a partner, have students rotate around the room, adding one word that begins with the same blend. Words may be used only once.
Show Me!
This game can be done as a whole-class review activity or with a small group of students. Give each student a mini dry-erase board and a dry-erase marker. Project all 4 blends (if needed for reference) and a word piece on the screen. Then, have students write the L blend used in the word on their board. When everyone has recorded their answer, say, "Show Me." Students will flip their boards, allowing you to see who needs extra support with this skill.
L Blends Brain Buster
As a small group or whole class, challenge your students to think of as many words as they can for each L blend. Have them shout out words (or call on students) while you write the words on a smartboard, whiteboard, or other projection devices for students to see. Then have students pick 3 words and draw a picture of each.
Get our 10 Best Scaffolding Strategies here! 
Easily Prepare This Resource for Your Students
Print on cardstock for added durability and longevity and cut out the sundae pieces. Place all of the pieces in a folder or large envelope for easy access. 
Before You Download
Use the dropdown icon on the Download button to choose between the PDF or Google Slides version of this resource. 
---
This resource was created by Lindsey Phillips, a teacher in Michigan and a Teach Starter Collaborator. 
Mix things up with more L blend activities for your classroom games area!  
teaching resource
A worksheet consolidating the initial L blend sound.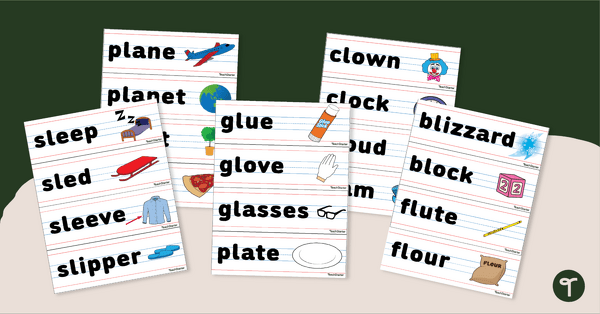 teaching resource
Introduce and explore words containing an initial l-blend with a set of 32 sound wall cards with L-blend words.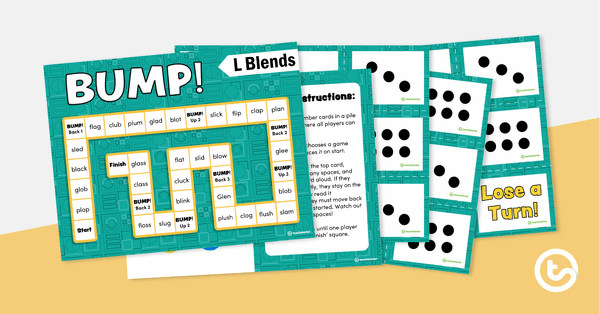 teaching resource
A board game to practice decoding words with an l-blend.