Use context clues to determine the meaning of an unfamiliar word.
Context clues are gold nuggets that help us discern new information. 
By knowing how to identify them, students can piece together the meanings of unfamiliar words, building a more extensive vocabulary and appreciation for language!  
How to Use This Context Clues Activity
This resource can be used as a whole class activity (see below) or with your guided reading group to practice using context clues to determine the meaning of an unfamiliar word. You can also use the task cards as a reading center activity. 
To play, hang the cards around the room. Then provide students with a recording sheet and assign each student to a starting card. Give an allotted amount of time for students to read the sentence on the card and decide the meaning of the bolded word. Students will write the definition on their recording sheet in the matching numbered box. 
Use a signal like clapping your hands, flicking the lights, or calling out, "Scoot!" to motion students to rotate. Students will repeat this through each card until they return to the card where they started. 
Scaffolding and Extension Tips + More Context Clues Activities
Challenge students who already understand the concept by having them create their own scoot cards.
To support struggling students, highlight the clues in each sentence to help the reader determine the meaning of the underlined word.
Be the Writer
We turn the game above on its head for this version. Instead, read off only the underlined word on the card and then discuss the definition of the word as a group. Then, on a separate sheet of paper, students will put pencil to paper to write their own sentence using the underlined word. This activity will allow you to assess each students' understanding of the concept while letting them get in some creative writing practice of their own. 
Circle Up
To use this activity for partner work, divide your class or small group into pairs. Print off enough task cards as worksheets (no need to cut them out), and provide each team with their own sheet of 4 cards. Ask students to take turns reading the cards aloud to each other and use a pencil to circle the context clue words on their cards. Then, on a sheet of paper, the pairs will write the underlined word and work together to develop its definition. This partner activity is beneficial for students who need extra practice understanding context clues and are comfortable working as teams to build reading comprehension confidence. 
Fill-in-the-Blank
As a whole class or small group activity, start by giving each student a recording sheet. Read the sentence out loud in order, omitting the underlined word. Challenge students to think of their own substitute words they would use, looking at the context clue words in the sentences. They will write their suggested words in the spaces provided on the recording sheet. When you've gone through all 20 cards, start at the beginning again and this time, call on students to give you their suggested words and tell you which of the clue words in the sentence helped them determine their answer.  
Please note: the directions on the answer sheet provided can be deleted or edited in Google Slides before printing if you use this version of the game.
Easily Prepare This Resource for Your Students
Print on cardstock for added durability and longevity. Place all pieces in a folder or large envelope for easy access. 
To turn this teaching resource into a sustainable activity, print a few recording sheets on cardstock and slip them into dry-erase sleeves. Students can record their answers with a dry-erase marker, then erase and reuse.
Before You Download
Use the drop-down icon on the Download button to choose between the PDF or Google Slides version of this resource. A recording sheet and answer key are also included with this download.
---
This resource was created by Heather Chambers, a teacher in Texas and a Teach Starter Collaborator. 
Looking for more activities to teach your students about context clues? Check out a few of our favorite resources below!
teaching resource
A worksheet to practice using context clues.
teaching resource
Practice defining unfamiliar words by looking for context clues within a sentence.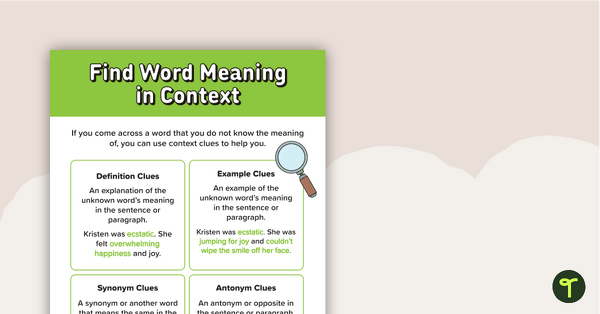 teaching resource
A poster highlighting how to find word meaning in context when reading a piece of text.