Play this figurative language game with a group to practice recognizing and inventing metaphors, similes, and personification.
Express Yourself With Our Figurative Language Game
Students will have a blast (idiom) demonstrating their unique way with words! 
Play this group game during your reading lesson to practice using figurative language techniques, including, but not limited to:
Metaphor

Simile

Personification

Onomatopoeia

Hyperbole

Alliteration

Idiom
Gather students in a circle and provide the group with a figurative language sentence to start. For instance, "The sunset lights the sky on fire," is an example of a metaphor. 
The first student in the circle builds on the example provided by using the end of the previous phrase, such as "The fire is as hot as the sun," illustrating the use of simile. 
Moving around the circle, students take turns building on the example given by the student before them. 
Extension Tip 
If your students need an extra challenge, limit them to a specific type of figurative language (rather than a mixture), for that entire round. 
You can also create figurative language stations, dividing groups into teams that rotate on your queue through different language types. This allows them to focus on creating and hearing examples of one figurative language type at a time during your lesson.  
Before You Download
Use the dropdown icon on the Download button to choose between the PDF or Google Slides version of this resource. 
---
This resource was created by Emily Pate, a teacher in California and Teach Starter Collaborator. 
Don't stop there! We've got more figurative language activities to help you cut down on lesson planning time: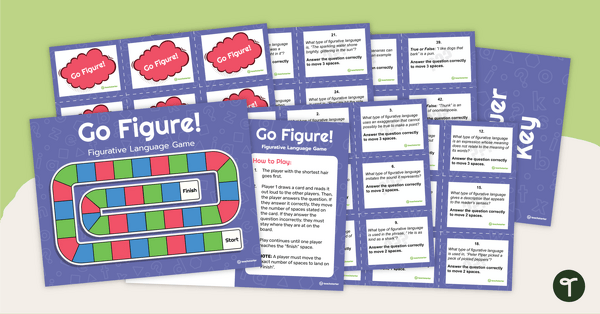 teaching resource
Practice working with different types of figurative language with this hands-on board game.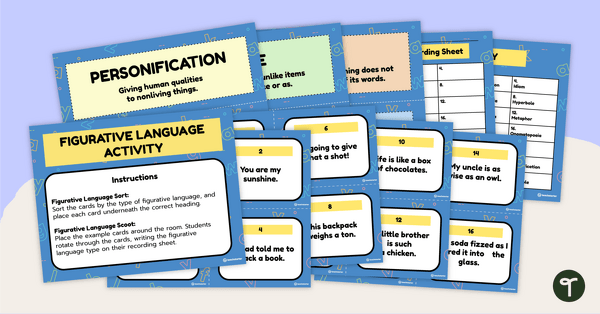 teaching resource
Explore figurative language in context with this set of 28 sorting cards.