Practice recognizing rhyming words with this set of 12 picture cards and game board.
It doesn't matter how old you are…
Rhyming is ALWAYS fun! 
And with our Rhyming Words 4 in a Row game, your students will be able to put their rhyming skills to great use. 
Rhyming Match Game
Use this resource in your reading center, as a guided reading activity, or a whole class exercise (see below) to practice recognizing and producing rhyming words.
To play, students will identify the object on the card and find an object that rhymes on the game board. Students use a manipulative to cover the rhyming word on the game board, attempting to connect four in a row.
Scaffolding + Extension Tips 
Challenge students who already understand the concept to keep a list of rhyming words for the cards they pull. They can use the board as a reference if needed. 
Support students who need help understanding the concepts by using an anchor chart or other visual reference to guide them.  
Get our 10 Best Scaffolding Strategies here! 
More Ways to Practice Recognizing Rhyming Words 
Use this resource as independent practice for fast finishers, and for full-class learning opportunities like scoot activities, lesson reviews, formative assessments, and more.
🔤 Alphabetical Ordering
After students finish the game, challenge them to put the rhyming word cards in alphabetical order. 
🛴 Scoot Activity
Place the cards around the room. Ask students to stand up with a blank sheet of paper numbered 1-12 to use as a recording sheet. Assign one card to each student (or pair) as a starting point, having them rotate through each card to write a rhyming word for the corresponding card when you call out "Scoot!" 
Note: We suggest printing a second set of cards for this activity that you can number.
✋ Swat! 
During small group instruction, lay the picture cards on top of a table. Give each student a fly swatter. Read a word off the game board and have them swat the picture card that rhymes with the word. The first student to swat it correctly sets the card aside in their own pile to keep score. The student with the most cards wins. 
Easily Prepare This Resource for Your Students
Print on cardstock for added durability and longevity. Place all pieces in a folder or large envelope for easy access. 
Before You Download
Use the dropdown icon on the Download button to choose between the PDF or Google Slides version of this resource. 
---
This resource was created by Lindsey Phillips, a teacher in Michigan and Teach Starter Collaborator. 
Planning time to rhyme with your students? Then look no further for activities to fill your lesson plans!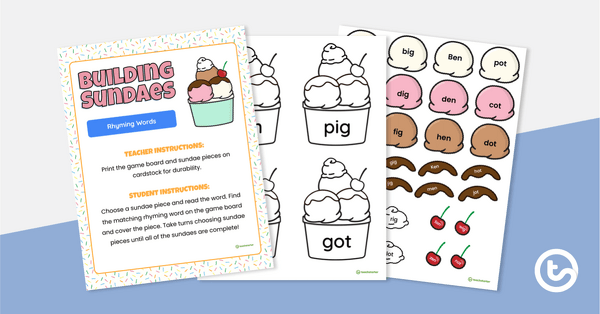 teaching resource
Practice rhyming with this dessert-themed game.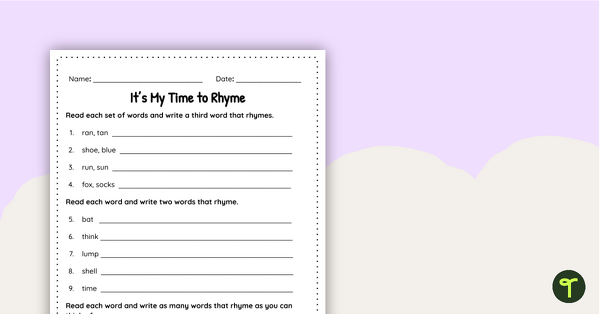 teaching resource
Practice producing rhyming words with this 2-page multi-challenge worksheet.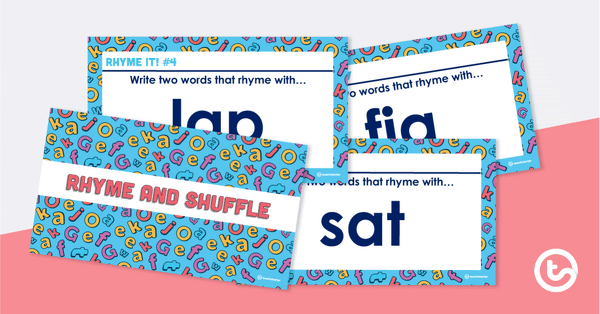 teaching resource
An active PowerPoint game to practice producing rhyming words.